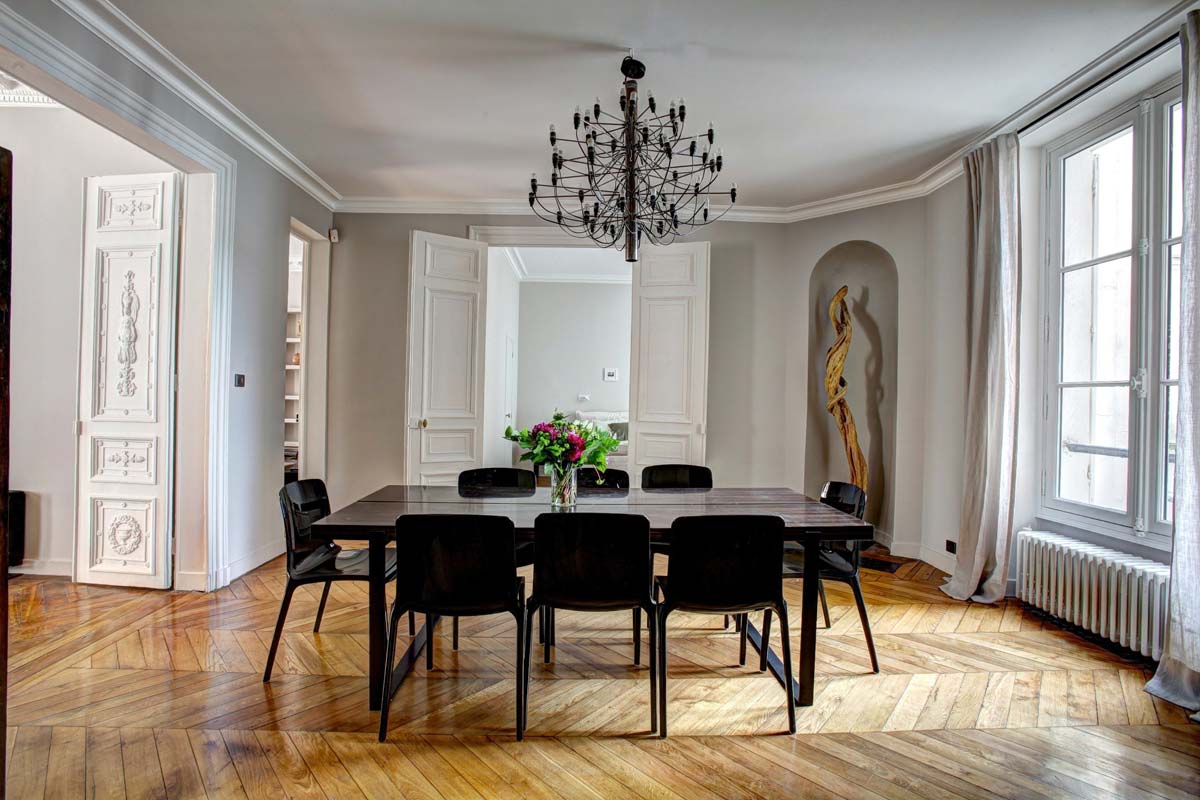 Hermès Interior: exclusive furnishings, furniture, cosy blankets and cushions
Hermès Interior – The birthplace of the Birkin and Kelly Bag has a reputation for the exquisiteness of its designs and the materials it uses. The label's interior design is no exception. On the contrary, those looking for refined design and unique carpentry will find it at Hermès. In addition, the label offers services for the personalization of products. Get to know the world of Hermès Interior here and get inspired for your next interior design project or collect inspiration and tips for your personal interior style.
Style of Hermés Interior with furniture and home accessories
Hermès stages its furniture in an unusual environment. The elaborately produced pieces were unceremoniously shipped into an open environment. The resulting contrast optimally sets the scene for the extraordinary furnishings. The fashion house is a pioneer in minimalism and entered the furniture business early on. In 1924 a collection was created with the designer Jean-Michel Frank, which is considered a prime example of minimalist interior design.
Tip! All luxury brands for the perfect interior from A-Z can be found in our comprehensive XXL article Interior brands!

Germany - Spain - USA
Pillows and blankets with characteristic "H
If you like browsing interior design tips and sample homes on Pinterest, Instagram and other social media channels, you'll already be familiar with the blankets marked by the distinctive 'H'. Hermès offers different versions that bring the brand's flair into your home.
Ceiling H Drapeau: color selection of the classic
The H Drapeau blanket selection includes 4 colours. Each blanket is 135 x 175 cm and is made of 100% cashmere.
Acier/Pearl
Naturel/Grége
Fuchsia/Orange
Terracotta/Gris
So you can find the right colour for every home.
Scott'H: colour variations of blankets and cushions with Hermès tartan
Tartan is used in Scotland to express the affiliation to a certain clan with the differently colored check patterns. Hermès has taken up the check pattern and provided the back with an H-pattern, which is also remotely reminiscent of checks. Cushions and blankets are available in the following colours:
Ecru
Colvert
Potiron
Rouge H
Gris
Marine
The cushions are additionally complemented by an Or/Fuchsia colour variant.
Price Blanket-Pillow-Combination: 1.030€
Top 3 cheapest Hermès blankets
Depending on the material and pattern, Hermès blankets can vary greatly in price. These are the cheapest models of the label:
Escapade: 710 €
Scott'H: €710
Les Sangles: 810 €
Top 3 most expensive Hermès blankets
At the opposite end of the price spectrum are the following models:
Hermès Electrique: €8,350
Croquis de Tigre: €3,550
Cheval Cosmique: €3,400
The price differences arise due to differences in materials, different dimensions and the effort associated with the pattern. Woven patterns are more affordable than, for example, printed blankets.
Lamps from Hermès for suitable light
The right lighting can have a huge impact on the atmosphere of a room. That's why Hermès offers different versions that help you to immerse your rooms in the right light. Of course with the quality you are used to from Hermès.
Selection of table and office lamps for long evenings at the desk
Sometimes you get the feeling that work never stops. Until late in the evening you sit at your desk and still no end is in sight. In such moments it is surprising how much the right light helps to stay focused, so that the work soon has a result. Hermés has the following models for these situations:
Table lamp Hécate: €12,700
Office lamp Pantograph: 7.700 €
Table lamp Harnais: €6,700
Collection: Floor lamps for atmospheric lighting
Floor lamps have several advantages and disadvantages. On the one hand, they can be used more flexibly than ceiling lighting, as only a working socket is required for installation. However, floor lamps take up a little more space in the room than a ceiling light.
Pantographe floor lamp: €11,200
Pantographe with LED ring: €11,200
Floor lamp Harnais: €13,500
Pantograph arc lamp: €21,300
The different models offer a wide choice and guarantee to find the right model for your needs.
Lantern D'Hermès: exceptional, poetic light source
Lantern D'Hermes stands out not only visually, but also in its functionality. The design is inspired by oil lamps as they were found in the 19th century. A bit of Hermès history plays a role here as well, after all, the house finds its origins in the days of horse-drawn carriages and racetracks. The Lantern D'Hermès is a reinterpretation of the lanterns found on carriages and in the streets at the time. What makes this light source particularly unusual is that you can carry the 4 light components with you individually. So if you don't want to walk down the corridor in the dark at night without light, you can take a part of the constellation with you.
Tableware: Plates and cups refined with platinum and gold
Even when it comes to tableware Hermès takes it upon itself to bring a bit of extravagance into the matter. The porcelain of the label is decorated with elaborate paintings and precious metals. These exquisite pieces of course come with the appropriate price tag.
Balcon de Guadalquivir Collection: Bringing the sun to the table
The design of this collection was inspired by the balcony lattices of Andalusia. The bold red catches the eye and ensures that the table setting becomes an eye-catcher.
Dinner plate
Cups
Bread plate
Carreés
Vases
Salad bowls
Soy sauce dishes and much more…
The collection is really extensive and the parts often come in different prints. Some with a little more color, others a little more restrained. This allows the collection to be combined at will and thus create a very individual set.
Mosaique tableware collection : homage to the first boutique
The first Hermès boutique is located at 24 rue de Faubourg Saint-Honorè in Paris. Hermès finds itself in good company with Gucci, Chanel and Burberry. The flagship store where people come in and out and Birkin and Kelly bags are regularly passed over the counter, has occasional works of art of its own on the walls, floor and ceiling. These have inspired the design of the tableware collection. In addition to the classic plates and cups, the collection also includes:
Trays
Candleholder
Soup bowls
Creamer
The series is ideal for bringing a piece of fashion history into your own home.
Furniture by Hermès: tables, chairs, sofas and co. with video
Extravagant furniture is able to transform a room positively. Extravagance here often refers not only to an extreme appearance, but above all to high-quality materials and an exceptional manufacturing method. For this, you are at the right address at Hermès.
Collection Equilibre D'Hermes: Simple designs with a special finish
At first glance, the designs from the Equilibre series do not seem particularly unusual. Here, the love is in the detail, because the slanted table and chair legs are elaborately made from a single piece of oak wood. This ensures extra durability. Part of the collection are:
Tables (large/small): 15.500 – 17.500 €
Chairs: € 5,500
Armchair: 6.500 €
Chairs and armchairs are additionally equipped with leather upholstery, which increases the seating comfort.
Reéditions J.-M. Frank par Hermès: minimalist sofas, dressing tables and more
Jean-Michel Frank is a pioneer of minimalist interior design and worked with Hermès on a collection of furniture almost 100 years ago. This series was relaunched in 2011 and is now available again at Hermès.
Wrought iron bench: €31,200
Cosmetic table: €35,200
3 seater sofa: 51.500 €
Screen: 33.100 €
Wrought iron console: €10,400
These and many more objects can be found in the collection. Thus the objects move in a price range of 4.400 – 52.500 €.
Most expensive Hermès furniture: Top 5
High-priced furniture can be found at Hermès in abundance, some are unexpected and others are simply large and understandably more expensive. We've rounded up the most expensive pieces for you.
Sellier sofa: from €42,600 to €113,000
Reédition J.-M. Frank side table: €52,500
Sofa Reédition J.-M. Frank: 40.700 – 51.500 €
Mute servant Les Neccessaires: €43,300
Cosmetic table Reédition J.-M. Frank: 35.200 €
Decoration: Curiosities from Hermès
After Hermès has presented itself rather reserved in terms of interior design, the decorative objects of the brand are a little more unusual. Under the collective term curiosities, Hermès sells small works of art that are particularly interesting for enthusiasts.
Globes: Odyssey and Apollo 24
In leather and stainless steel Hermès produces extraordinary globes that inspire dreams of distant journeys and endless expanses. Comparable pieces are hard to find and this shows the uniqueness that comes with Hermès pieces.
Magnifiers: Third eye
The magnifying glasses Œil are set in a brass frame and represent an eye. The magnifying glasses should not only be an object of use, but also serve as decoration. Of course, the need for magnifying glasses is not something that occupies everyone. Thus, the offered magnifying glasses are a very special piece
Hermès Car Interior Video: With the label to the dream car
The fashion house is particularly committed to exquisite leather products. This includes not only bags and furniture. Hermès also offers an exclusive service for car interiors. In addition to seats and surfaces that are covered by the label with specially selected leather are part of the program, to the special designs include wood details and personal embroidery. How such a process can look like you can follow here:
Video Bugatti Chiron: Top class sports car with finest interior by Hermés
Even the breathtaking Bugatti Chiron can be equipped with Hermès interior. But: The waiting time for such exclusive cars is not without anyway. The equipment with Hermès seats and surfaces extends the duration even further.
https://fivmagazine.com/wp-content/uploads/2020/11/hermes-interior-einrichtung-einrichten-wohnung-moebel-haus.jpg
800
1200
Lisa-Marie
/wp-content/uploads/2023/08/fiv-magazine-logo-news-influencer-fashion-interior-travel-real-esates.svg
Lisa-Marie
2021-01-18 07:00:09
2021-07-17 17:40:50
Hermès Interior: exclusive furnishings, furniture, cosy blankets and cushions