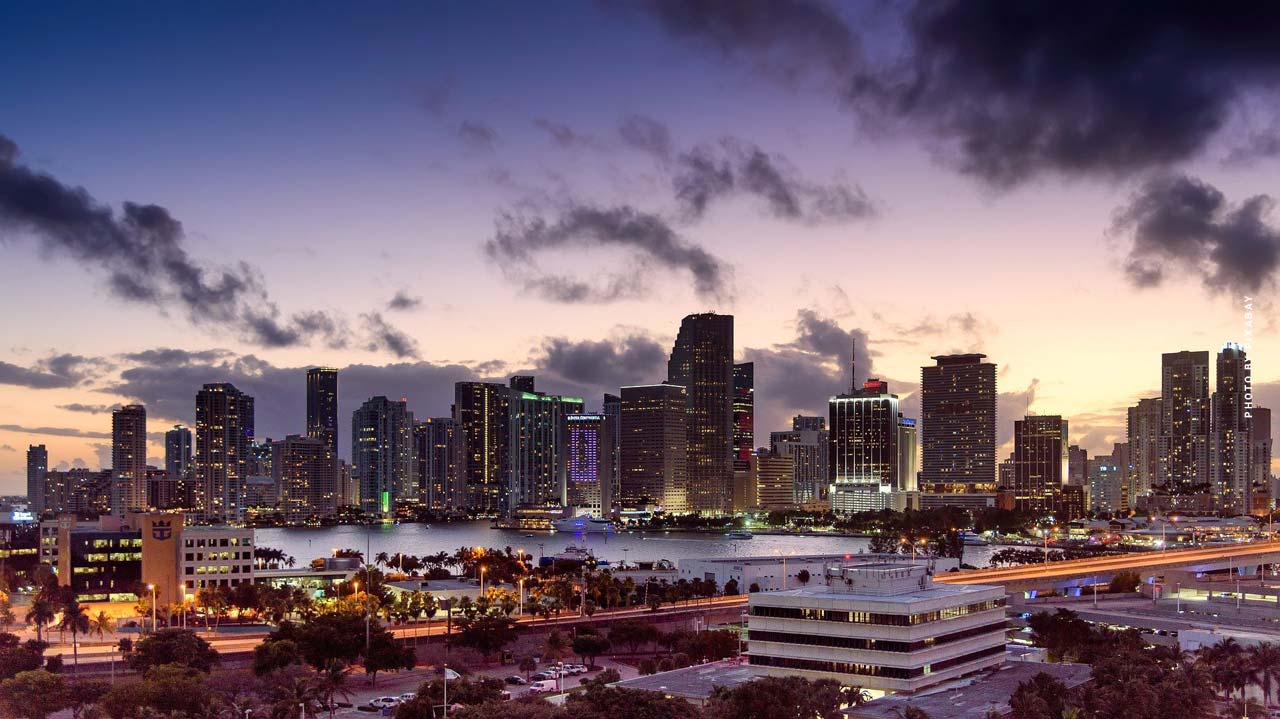 Miami: Holidays in the City, Beach, Attractions, Map & Weather – Tips
Miami. Welcome to Miami. Miami is known for its vibrant arts and culture scene, legendary nightlife, quality restaurants. Over six million travelers from all over the world, Miami attracts every year. Miami is one of the most exciting cities in the world.  The abundance of colorful cultures such as the Caribbean, Latin American and European creates a vast array of international flavors. Legendary nightlife, luxurious resorts, various attractions are part of this experience. Models, movie stars, musicians and millionaires are attracted to this place and together with the locals and tourists contribute something to the dynamic personalities of the city. Miami is hot! And this not only refers to the weather, but also to its nightlife with Latin American influences. Miami's favorite color is: Colorful! Influenced by many cultures, Miami presents itself in a colorful mix of tradition and carefree attitude to life.
Welcome to Miami
Sightseeings: Top 10 attractions
There are so many things to do in Miami. Miami has something for everyone, for romantics some parks and natural areas are just right. For those looking for the most exciting attractions, check out the activities in downtown Miami. The Miami Children`s Museum is a great destination for the whole family, especially for children who don`t like normal museums. For those who prefer to relax and soak up the sun, we recommend South Beach, the most popular beach on Ocean Drive. The beach is the catwalk for the young and beautiful people. Especially the South Beach attracts for its natural beauty, this beach is a must for a visit in Miami. The FIV Magazine has selected the top 10 activities in Miami for you.
Sightseeings
South Beach
Art Deco Historic Discrit
Little Havana
South Pointe Park
Wynwood and Design Discrit
Key West
Bayside Marketplace
Vizcaya Museum and Garden
Lincoln Road Mall
Crandon Park
Miami has everything that makes a dream vacation. From picture-book weather, clean beaches, incredible attractions to the first-class hotels and exclusive restaurants and the flourishing art and culture scene. The sunny city is absolutely hip. Rich culture and rhythms invite you to swing your hips. The city is safe and comfortable, let the inundating energy of this city take effect on you.


Germany - Spain - USA
Map: Miami
Accommodations in Miami: Apartments, Holiday houses & Co
Miami is divided into 4 main districts, each district has its own characteristic atmosphere. For those who prefer peace and quiet, Coconut Grove is the place to be. This area attracts artists and writers. For party people, the Washington Avenue is exactly the right one. Some of Miami Beach's famous clubs and bars are located here, and the most popular areas for travelers are South Beach, Mid- Beach and North Beach. The city, famous for its beaches, the sea and its bars.  How about a vacation home for your family vacation, your romantic getaway for two or your trip with friends? Miami has the largest selection of vacation homes for a long vacation or just a weekend trip.
Value holiday homes &holiday apartments in Miami
The most common accommodation options are apartments and holiday homes. For all travellers, a holiday apartment or holiday home is the perfect way to spend some time alone and feel at home. A vacation home in Miami is full of contrasts, suitable accommodations with or without a pool for the whole family can be found everywhere in Miami. As a couple or with family and friends to enjoy your vacation? Then you are in good hands in a holiday apartment or holiday home. Often it is even allowed to take your dog with you. Even last-minute you will find family-friendly vacation apartments and holiday homes in Miami from private.  Surprise your kids with the great news and book a family-friendly holiday apartment in Miami here directly from private. The USA is an extremely child-friendly country and in every restaurant and business the wishes of the little ones are read from the lips.  Especially for families with children the many shows and the newest rides are a welcome change.
Camping – Top 10 campsites
For the nature lovers Miami is full of variety. For camping enthusiasts, it's a unique opportunity to experience Florida's unique ecosystem up close and personal, sleep under the stars, fall in love with the city, and want to go there again and again. The camping offer is as versatile as Florida. The Everglades National Park, one of the nation's most popular parks, attracts visitors from all over the world who hope to experience Florida's wild side. But Florida has literally hundreds of great campgrounds from remote, coastal islands ideal for camping to full-service campgrounds that accommodate luxury RVs.
Perry KOA
North Beach Camp Resort
Mouse Mountain RV & Camping
St Ptersburg / Madeira Beach KOA Holiday
Juniper Springs Recreation Area
Boyds Key West Campground
Miami Everglades RV Resort
Fort De Soto Park Campground
Lake Kissimmee State Park
Turtle Beach Campground
Weather Miami: Temperature and Trend
Weather today / In 3 days
Music: Celebreties, Parties, Hip-hop, Electro, House & CO
Miami-Miami and music are simply inseparable. Celebreties like Lenny Kravitz, have set up their own recording studios in the city and P.Diddy has been spotted here several times in the city. Miami is also known for one of the biggest electro festivals in the world. The city in Florida has long been known among musicians for its experimentation. The best House, Hip Hop and Electro – Djs from all over the world cavort in the clubs, and at pool parties they test the intoxicating effect of their mixing skills. But Miami has a different musical life. If you're looking for more than just the sand and palm trees for parties here, you'll have to study flyers and notices on lampposts and music stores. Today, Miami is more than ever a cultural experimentation field – and the Jazid a kind of public test tube.
Will Smith: The legendary song "Miami"
The well-known actor, film producer and rapper Will Smith released his song "Miami" in 1998. The song won an MTV VMA Best Male Video Award.  "Miami" reached number 17 on the Billboard Hot 100 and number 3 on the Uk charts. In the video, Will and members of his band freeze in Philadelphia, where – 30 degrees and a band mate curses Jack Frost. They get on a plane to Miami and are guided through Miami in their car. Different scenes turn into each other. The video ends with a concert by Will Smith and his band.
Questions and Answers
When is the best time to travel to Miami?
The best travel time for Miami is between April and July, the sun shines the longest with an average of ten hours per day and the water temperature is between 25 and 30 degrees Celsius.
What sea is in Miami?
The city is located at the mouth of the Miami River into Biscayne Bay, which is part of the Atlantic Ocean.
When is hurricane season in Florida?
The hurricane season in Florida is from the beginning of June to the end of November.
How many inhabitants does Miami Beach have?
Miami Beach is a very densely populated city in the Miami-Dade County in the US Federal State of Florida with 92.307 inhabitants (as at 2017).
https://fivmagazine.com/wp-content/uploads/2020/02/skyline-nacht-hochhaus-pauschalurlaub-miami-urlaub-reisen-empfehlung-hotel-camping-flug-wetter-tipps.jpg
719
1280
Stephan
/wp-content/uploads/2023/08/fiv-magazine-logo-news-influencer-fashion-interior-travel-real-esates.svg
Stephan
2020-02-13 12:00:35
2020-11-11 11:39:28
Miami: Holidays in the City, Beach, Attractions, Map & Weather – Tips