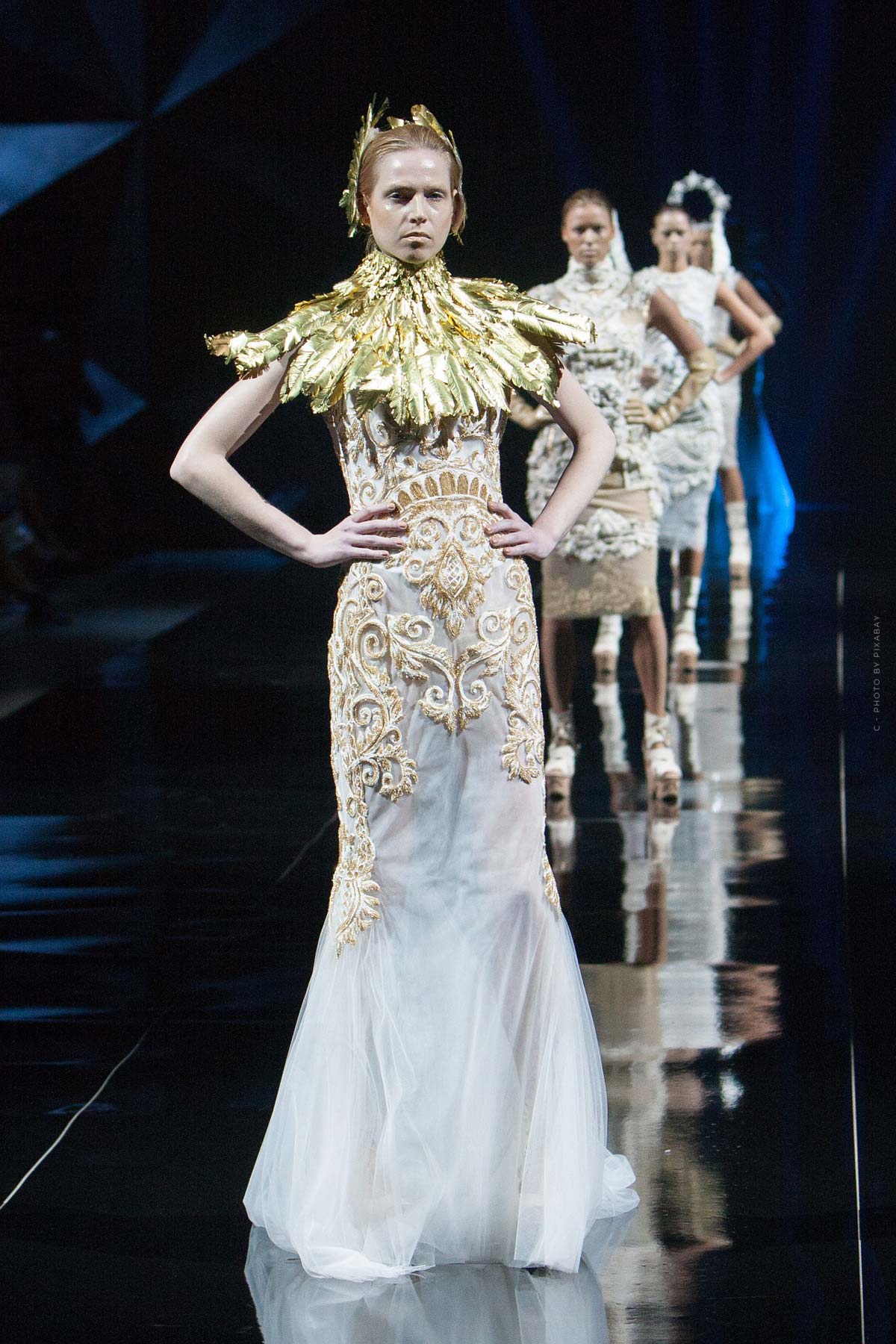 Alexander McQueen – Visionary, provocateur and exceptional talent
Alexander McQueen – an exceptional talent who shocked the fashion world not only with his innovative, creative and above all provocative designs, but also with his suicide at the age of just 40. His eccentric collections shocked and delighted, but the British fashion star had it anything but easy. His shy, sensitive nature and various strokes of fate pulled the extraordinarily creative designer further and further into a depression that he was ultimately unable to overcome. What remains is the legacy of his name and many legendary and iconic fashion shows of the past. Alexander McQueen was an exceptional designer – albeit a tragic one.
Alexander McQueen: The career of a child prodigy
Lee Alexander McQueen is one of the most important British fashion designers of his time, alongside Vivienne Westwood and John Galliano. He was born on 17 March 1969 in London. Even as a small boy he was tailoring clothes for his three sisters and thus discovered his passion for fashion and design at an early age. At the age of 16 he trained as a men's tailor at the traditional tailors "Anderson & Sheppard" in the famous London Savile Row. He then worked as a costume designer for the theater and as an assistant to Romeo Gigli in Milan. He then studied fashion design at London's Central Saint Martins College, which also produced greats such as John Galliano and Stella McCartney. He received his Master of Arts in 1992 with a legendary graduation collection, which was immediately bought by the British Vogue stylist and fashion journalist Isabella Blow. Blow was to become a muse, pioneer and mentor for him, but above all a close friend. One year after graduation he founded his own label "alexandermcqueen", which has been successful ever since.
In 1997, with the help of Isabella Blow, McQueen became the designer of haute couture for the fashion house Givenchy – succeeding John Galliano. The aim of this change in personnel was to rejuvenate the label's appearance. However, McQueen was not able to develop a clear line for Givenchy, which is why he finally lost his post in 2000. He remained creative director of his own label under the luxury goods group PPR, to which the Gucci Group also belongs.


Germany - Spain - USA
The last fashion show "Platos Atlantis" 2010
The last show McQueen completed before his death – Platos Atlantis is considered one of the designer's most legendary, innovative and spectacular collections. Especially Lady Gaga loved his designs.
Success with provocation? Not an easy task
Alexander McQueen is today celebrated in the fashion world as an exceptional talent and genius, but the road to this fame was rocky. With his provocative, eccentric and sometimes scandalous creations, he often met with incomprehension at first. For example, his final thesis at London's Central Sant Martins College was entitled "Jack the Ripper Stalks His Victims", an allusion to the famous British serial killer Jack the Ripper. He quickly earned the title of 'enfant terrible' or 'bad boy' in the fashion scene, both through his collections and his own behavior. After a runway show, for example, he showed his naked buttocks to everyone present during a bow by deliberately pulling down his pants. He also made himself rare for the press and cancelled several interviews.  His collection "Highland Rape"(1995) was inspired by the abuse of McQueen's Scottish ancestors by the English. The models wore dresses made of tattered lace and were splashed with fake blood. He was repeatedly accused of misogyny, but he himself always affirmed his goal of taking over women. McQueen himself said about this collection: "I want people to be afraid of the women I dress".
"I didn't care about what people thought of me, I didn't care what I though of myself. So I pulled out my dark side and put it on the catwalk. Alexander McQueen about his collection "Jack the Ripper Stalks His Victims" (Source: Documentation about AMQ by Ian Bonhote and Peter Ettedgui)
McQueen was always considered a shy character. He was reluctant to make a large public presence, was sensitive and had few friends. According to his psychiatrist, he had been suffering from depression and various feelings of anxiety for a long time before his death. He was very ambitious and was always under immense work pressure. On the one hand he felt that fashion design was the only area in his life where he had achieved anything, on the other hand he usually felt very depressed and isolated after the hard work and the final fashion shows. He could never really savor his success, always wanted more, was never enough for himself – and yet he was aware of his genius and talent and always remained persistent. Also his coming out as a homosexual was not easy for McQueen, especially his father needed a long time to accept his son as he was. Anger, romance, darkness and melancholy were always part of his work.
Collaborations
Damien Hirst & Alexander McQueen: The Collaboration (2013)
PUMA x Alexander McQueen (2005)
Legendary Fashion Shows
"Jack the Ripper Stalks His Victims" (1992): In reference to the famous British serial killer
"Highland Rape" (1995): his treatment of Scottish history, according to which English troops violently occupied Scotland (look: bared breasts, torn clothes, painted bruises, stumbling across the catwalk, fake blood)
"Dante" (1996): took place in a church whose architects were said to have Satanic tendencies, named after the poet (look: models with horns, skeletons or lace masks)
"Joan" (1998): inspired by the catholic martyr Joan d'Arc (look: models in chain mail shirts, dresses printed with the faces of the children of the murdered Russian tsar family Romanov, hair hidden under silicone caps, red contact lenses, real fire on the catwalk)
"No.13" (1999): the legendary show in which supermodel Shalom Harlow, dressed in a white dress, stood on a turntable between two painting robots, which sprayed her and the dress with paint
"Platos Atlantis" (2010): McQueen's last show, vision of an underwater world as a consequence of climate change, ambience of a research laboratory (Look: models as alien hybrid beings, prosthetic make-up)
Fashion Show "Highland Rape" 1995
Fashion Show "No.13" 1999
Alexander McQueen is dead. How it went on with the label
McQueen led a life full of hardships and often got into the press through drug escapades. In the summer of 2000 he married the documentary filmmaker George Forsyth in Ibiza (Kate Moss was his maid of honor), but only a year later the two of them officially separated and divorced. In 2007 his muse and close confidante Isabella Blow took her own life. When his mother Joyce died in 2010 at the age of 75, McQueen couldn't seem to stand it anymore. Mother and son had a very close and intimate relationship and Joyce was one of McQueen's closest friends. He was found dead in his Mayfair apartment on February 11, 2010, the day before his mother's funeral. In a farewell note he had asked
"Take care of my dogs. Sorry, I love you".
His death came as a surprise, but a successor for the label was quickly found: Sarah Burton – McQueen's right-hand man since 1996 and most recently designer of the women's collection – took over his role and has now been creative director of the British fashion house since 2010. So the label still exists, but is more commercially oriented and is primarily intended to produce "wearable fashion". Under Sarah Burton, the brand only gained new fame with the designs of the bridal gown by Kate Middleton and the bridesmaid's dress by her sister Philippa.
https://fivmagazine.com/wp-content/uploads/2020/10/alexander-mcqueen-designer-fashion-show-high-fashion-catwalk-brands-alexandermcqueen.jpg
1800
1200
Lisa-Marie
/wp-content/uploads/2023/08/fiv-magazine-logo-news-influencer-fashion-interior-travel-real-esates.svg
Lisa-Marie
2021-05-03 14:51:31
2021-05-03 14:53:41
Alexander McQueen – Visionary, provocateur and exceptional talent