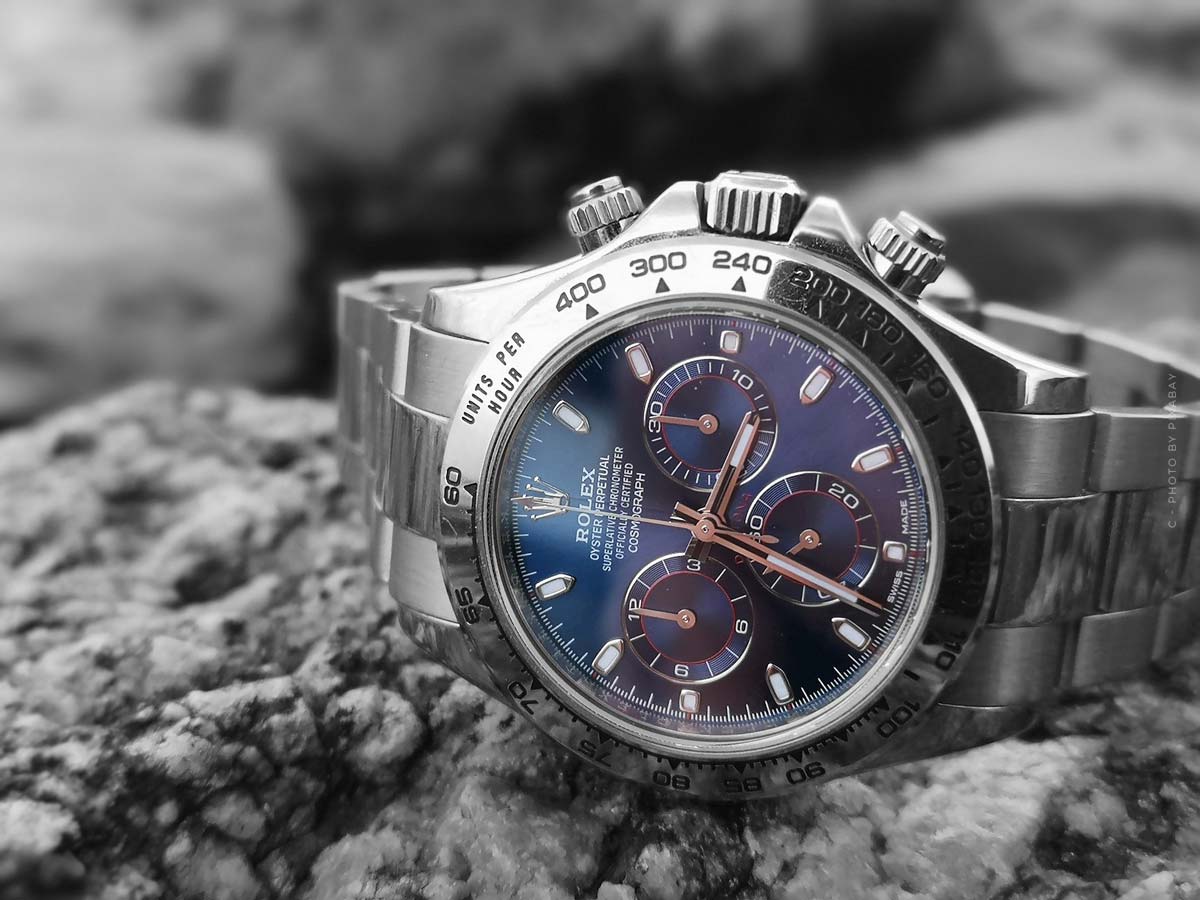 Rolex Daytona Cosmograph: Material, Price, Design
Introduced in 1963, the Cosmograph Daytona was originally designed to meet the needs of professional racing drivers – hence the name Daytona, chosen after the legendary Daytona race track in Florida. This watch, whose name and special features are intended to remind us forever of the exclusive world of automobile racing, has now achieved icon status. More than 50 years after its introduction, the Cosmograph Daytona is still considered the absolute reference among sports chronographs. In addition to its technical excellence and diverse, individual design, the Rolex has now also become an exclusive status symbol.
Rolex Daytona: The wristwatch with motorsport DNA
Originally designed for racing drivers, the Rolex Daytona is not only distinguished by its impressive design and high-quality materials, but also by a number of other highlights such as the revolutionary Calibre 4130 movement, the Oysterflex bracelet and the rose gold alloy manufactured by Rolex. In addition, the Rolex Oyster Daytona owes its name to its water resistance, as all models are water-resistant to 100 meters.
A small selection of Rolex Daytona models
Cosmograph Daytona Oyster stainless steel "Oystersteel" and yellow gold (dial black-gold)
Cosmograph Daytona Oyster white gold (dial silver-black)
Cosmograph Daytona Oyster stainless steel "Oystersteel" (dial black-silver)
Cosmograph Daytona Oyster Platinum (dial platinum-light blue)
Rolex Daytona Prices
Depending on the material and combination, the Rolex Daytona can vary extremely in price. Many people who want a Rolex also buy a used model. Depending on age and model, the watches can then be cheaper, but under certain circumstances also more expensive than the new model. Usually the prices for a Rolex Daytona vary between about 12.000€ to 40.000€. Special models can exceed 40.000€ by far – such prices are only available on request. Here are a few models as an example:
Rolex Daytona Oysterflex ribbon in white gold: 28.900€
Rolex Daytona white gold, mother of pearl dial with diamonds: 40.200€
The most expensive Rolex Daytona
Rolex watches are an enormous capital investment: as a rule, their value increases immensely over the years. For example, the original Rolex Daytona by Paul Newman (actor, racing driver and representative for the first Rolex Daytona, reference 6239) was auctioned in a New York auction house in 2017 for a legendary $17,752,500 (approx. €15,230,000). With the Patek Philippe Grandmaster Chime, it is by far one of the most expensive watches in the world.
Design: High quality, luxurious and elegant
balance and symmetry
The Cosmograph Daytona was developed to provide endurance racers with the best possible tool for timing. Its tachymeter scale, its three totalizers and its chronograph pushers allow the racer to measure elapsed time, which is displayed in hours, minutes and seconds.


FragranceTip.com by FIV
The bezel is fitted with a tachymeter scale that allows average speeds to be determined over a predetermined distance as a function of the time measured. The tachymeter scale also ensures optimum readability. This makes the Cosmograph Daytona a perfect instrument for measuring speeds of up to 400 units per hour, both in kilometers and miles.
The Cosmograph Daytona chronograph function is activated by pushers that can be screwed into place. When starting, stopping or resetting the chronograph, the pushers produce a clearly audible click. Rolex's watchmakers have designed the mechanism so that the push-pieces respond optimally to each finger pressure, ensuring an immediate and precise start to timekeeping.
The Cosmograph Daytona is equipped with Caliber 4130, a mechanical chronograph movement with a self-winding mechanism developed and manufactured by Rolex. The chronograph mechanism has been implemented with a reduced number of components, thus improving the reliability of the movement. The space thus gained was used to accommodate a larger mainspring: The power reserve of the movement is thus approximately 72 hours.
Rolex Daytona: a chronograph made for the racetrack
The high-tech ceramic monoblock Cerachrome tachymeter bezel used in certain models of the Cosmograph Daytona offers numerous advantages: Due to its hardness, it is not only extremely scratch-resistant, but also UV-resistant and corrosion-resistant in color. In addition to its extreme durability, the figures on the tachymeter scale are extremely easy to read. The one-piece monoblock Cerachrome tachymeter bezel ensures water-resistance and a firm fit of the watch glass on the middle section.
Material: Design your Rolex yourself
When choosing a Rolex, the customer can choose from a wide variety of design and material combinations. If none of the models released to date appeals to the customer, Rolex also offers the possibility of designing, assembling and manufacturing their own, completely individual watch. The following options are available:
Stainless steel Oystersteel
Stainless steel Oystersteel and gold
Yellow gold
Pink gold
White gold
Platinum
Bright dial
Colored dial
Dark dial
Dial with gemstones
Diamond applications
Metal bezel
Cerachrome bezel
Oyster
Oysterflex-Band
Technical data
Chronograph movement: Caliber 4130
The Cosmograph Daytona is equipped with a fully integrated, specially developed new generation self-winding chronograph movement: Caliber 4130, a high-performance movement that sets a new standard for high-quality self-winding chronographs, not only in terms of robustness, reliability, efficiency and accuracy, but also in terms of ease of maintenance.
The special performance of Caliber 4130 is mainly due to the use of a vertical – instead of a horizontal – clutch to control the chronograph function. This solution, based on the principle of two superimposed discs working in direct contact with each other by friction, offers significant advantages: it allows the chronograph seconds hand to start and stop with extreme precision when the pusher is pressed. The chronograph can also be operated for longer periods without affecting the accuracy of the watch.
.
dial: colored, bicolor or monotone
The Daytona's dial allows a racer to accurately measure his times and adjust his driving strategy. The central second hand allows the eighth of a second to be read off accurately, while the two totalizers on the dial show the elapsed time in hour and minute increments.
Materials: From gold to platinum, produced in-house
Rolex wristwatches in gold have a particularly fascinating shine thanks to the brand's many years of experience in the processing of the finest precious metals. Rolex uses only 18-carat gold, a precious alloy of 750 ‰ (thousandth) pure gold, and a perfect blend of other elements, including silver and copper, to create yellow gold, white gold and Everose gold, Rolex's exclusive rose gold alloy. Well-kept formulas guarantee exceptional durability, polishability and a unique luster that will last for generations.
Lunette: Waterproof and UV-resistant
The monobloc total station bezel made of high-tech ceramic offers numerous advantages: Due to its hardness, it is not only extremely scratch-resistant, but also UV-resistant and corrosion-resistant in color. In addition to its extreme durability, the figures on the tachymeter scale are extremely easy to read. The graduation is first formed in the ceramic mass and then coated with a fine platinum layer using the PVD (physical vapor deposition) process. The one-piece Cerachrom monoblock tachymeter bezel ensures that the watch glass is watertight and firmly seated on the middle section.
.
Wristwatch: Innovation Oysterflex-Band
The Oysterflex bracelet developed and patented by Rolex offers a sporty alternative to metal bracelets. The strap is attached to the case and the Oysterlock safety deployant clasp by means of a flexible metal spring leaf made of a nickel-titanium alloy. The metal leaf is coated with high-quality black elastomer, which is said to be particularly resistant to environmental influences, extremely durable and absolutely compatible for the wearer.
.
clasp: durable and robust
No other component of a Rolex is operated as often as the clasp, the tactile connection between the watch and its wearer. Hardly any other component is more crucial for the wearer of a Rolex to protect her valuable possessions. The requirements for the "Professional" models have been met with the new generation of the Oysterlock clasp: a combination of robust and innovative technology that promises uncomplicated handling, soft lines and above all safety.
pink gold alloy
To preserve the beauty of its rose gold watches, Rolex developed and patented an exclusive 18-carat gold alloy, which is produced in its own foundry: Everose gold. Everose gold was introduced in 2005 and is used in rose gold on all Rolex models. Its formula, which is protected by several patents, demonstrates the care Rolex takes in developing materials that exactly meet the aesthetic and quality requirements.
The chronograph function
The chronograph functions of the Daytona are activated by pushers which, like the winding crown, can be screwed down and are therefore guaranteed water-resistant to a depth of 100 meters. When starting, stopping or resetting the chronograph, the push-pieces produce a clear and distinct click, which should be a clear signal for the wearer.
Rolex introduces: The Rolex Cosmograph Daytona
https://fivmagazine.com/wp-content/uploads/2020/10/rolex-daytona-uhr-luxus-preis-rolex-kaufen-material.jpg
900
1200
Lisa-Marie
/wp-content/uploads/2023/08/fiv-magazine-logo-news-influencer-fashion-interior-travel-real-esates.svg
Lisa-Marie
2021-05-03 16:06:49
2021-05-03 16:06:49
Rolex Daytona Cosmograph: Material, Price, Design