Patek Philippe pocket watches: Collection, Material & Prices
Patek Philippe Pocket Watches – Who thinks of luxury watches, immediately thinks of Patek Philippe. And when you think of Patek Philippe, you automatically think of wristwatches. But the renowned, traditional Swiss watch manufacturer produces not only wristwatches, but also pocket watches – and this since the founding of the company in 1839. These pocket watches are by no means accessories, but even fill a separate collection of the brand. These watches are considered absolute luxury goods and status symbols. Especially historical models are highly coveted and extremely valuable in good condition. Here you can find out everything about the Patek Philippe pocket watch collection – from prices to design, finishes and materials. Here you will find a large overview: Patek Philippe all models.
Patek Philippe: status symbol & store of value
Choosing a particular watch model is not easy. After all, there are several different models in various price segments. The watches from Patek Philippe, for example, are considered an absolute status symbol. The brand is internationally renowned and most people know how expensive a Patek Philippe is – and that despite the understatement design. Models of the pocket watches, for example, start at 35,000 €.
The motives of buying a watch can also be quite different. Some people pay attention to the material, others to the design. However, there are also many people who buy a watch primarily to be able to use it as an investment.
The pocket watches collection
Patek Philippe is a company with a long tradition and very high prestige. In the field of luxury goods, this watch manufacturer from Switzerland is at the forefront in the field of watches. Even though the company contributes less than 1% of the current annual production of the Swiss watch industry, it is one of the most famous and prestigious in the world. So it is often said: If you wear a Patek, you've made it! In addition to wristwatches, the house has also been making wristwatches since its beginnings in the 1840s – in different designs, materials and, of course, at different prices. Find out more about the Patek Philippe pocket watch collection here.
Patek Philippe: a watch manufacturer with tradition
As an independent, owner-managed family company, Patek Philippe affords itself a very special luxury: the traditional Swiss manufacture is committed to its origins, its roots and its philosophy of quality and aesthetics. Founded in 1839 by Count Norbert Antoine de Patek and master watchmaker Jean Adrien Philippe, the claim to quality "only the best" runs like a thread through the company's history. After a good century and a half of striving for perfection and visual understatement, the company is surrounded by an aura that is also recognized by competitors without envy. The most famous models are: Calatrava, Nautilus, Aquanaut, Twenty-4 and Ellipse d'Or.


FragranceTip.com by FIV
Pocket watches: The tradition continues
For many decades, pocket watches were the main stage on which the manufacture demonstrated its skills. Although wristwatches have since taken their place, they continue to delight connoisseurs of rare timepieces to this day. A guardian of the art of watchmaking, Patek Philippe continues to produce pocket watches in small numbers that fascinate with their refined aesthetics. These timepieces with hand-wound movements are crafted with the artistry and precision demanded by the Patek Philippe seal.
Prices pocket watch
Currently, Patek Philippe offers a total of 9 models on its own website, both in gold, as well as in white gold or rose gold. These models are available in different designs as well as with different dials. However, there are also numerous historical models that are no longer produced today and have therefore meanwhile experienced an immense increase in value, whether with or without signs of wear. Here you will find some exemplary models and their prices listed:
Lépine 972/ 1J-010: yellow gold, white lacquered dial, 44mm: ca. 35.000€
Savonnette 980G-010: white gold, opaline siber dial, 48mm: ca. 44.300€
Savonnette 980J-010: yellow gold, white lacquered dial, 48mm: ca. 41.200€
Savonnette 980R-001: rose gold, opaline silver dial, 48mm: ca. 44.300€
Patek Philippe Gold Pocket Watch: Presentation
In this video you will be introduced to a Patek Philippe Savonnette men's pocket watch in yellow gold from around 1990. This historic piece has a heavy, smooth case, a white lacquer dial with Roman numerals and filigree hands. Despite visible signs of use, this watch is still very valuable. (Technical details: high quality, rhod. Bridge movement cal. 17-170 with Geneva stripes, 18 jewels, in 5 layers just, fine reg., d. approx. 48 mm, EZ 1-2).
Design pocket watches
Although pocket watches are a rather seldom demanded accessory nowadays, the company Patek Philippe offers various models in its pocket watch collection. On the one hand, you can choose between Savonnette and Lépine, on the other hand, the watches are available in yellow gold, white gold or rose gold. The dials can also differ: There are white lacquered or opaline silver dials with either Roman or Arabic numerals. All cases are round and each model comes with a watch chain made of the same precious metal as the watch.
Technical details
All Patek Philippe pocket watches are hand-wound, dust- and moisture-proof, but not water-resistant. All current models are equipped with the mechanical hand-wound calibre 17" SAV PS or LEP PS (IRM) movement. The Savonnette 972/1J-010 and the Le'pine 983J-001 have a power reserve indicator on their dials in addition to hour and second indicators. The dimensions of the watches can also vary in two sizes:
Height 9,9mm/ Diameter 48mm
Height 7,77mm/ Diameter 44mm
Savonnette
The term savonnette originally comes from the French and refers to a pocket watch whose dial is protected by a spring cover over the watch glass, which can be opened by pressing a button, causing the cover to spring open. Unlike the open design Lépine, the seconds display is not in line with the crown and winding stem, but orthogonal at 6 o'clock, which makes it easier to handle and read the times. This arrangement can now also be found on wristwatches. Due to the jump cover, the watch case has two bases (lids).
Lépine
The term Lépine or Lépine caliber refers to a design for pocket watch movements and watch cases in which the seconds display is in line with the winding stem and crown. Here, the upper movement plate and the pillar are omitted and instead bridges and cocks are used to fix the wheels. The usual fusee with chain is replaced by a barrel. Lépine calibres can therefore be made flatter. Lépine cases are mainly used for dress watches. Unlike Savonnette watches, Lépine cases do not have a spring cover.
Patek Philippe Half-Savonette 1880
In this video we present a historical half-savonette in rose gold. Production number is 54951 and the watch is from around 1880/90 (Switzerland). The outer hour markers are black enamel and the dial is two-piece perforated enamel. It has an engraving of origin, very fine bridge lever movement, elaborate wolf gearing under winding & mainspring barrel bridge, moustache anchor and much more.
Patek Philippe Watches XXL: Nautilus, Calatrava & Co. – Overview
Patek Philippe – That watches can be diverse and not all look the same is proven by the brand Patek Philippe. Here are some watches for ladies and men to choose from. From classic models to extravagant shapes: Patek Philippe watches are diverse. Various collections of Patek Philippe have been maintained for several years. Be it the Nautilus collection, the Calatrava collection or the Gondolo collection, the designs of the watches are diverse in shape and color. You can also find out which are the latest models or the most expensive models from Patek Philippe.
Patek Philippe Watches XXL: Nautilus, Calatrava & Co.

Most expensive Patek Philippe watch: price & models – top 7
The Most Expensive Patek Philippe – When it comes to luxury watches, there is no other manufacturer that can match Patek Philippe. Founded in 1839, the Swiss watchmaker is considered absolutely the crème de la crème when it comes to high-end (and expensive) watches. The current record among luxury watches is held by the Patek Philippe Grandmaster Chime Ref. 6300A-010 for $31.194 million, auctioned at Christie's in Geneva in 2019. If you're looking for a watch that you're sure to love, you should get yourself a Patek Philippe watch. These are the 10 most expensive Patek Phillipe watches in the world. More luxury watches? Our tip: The 50 most expensive watches in the world.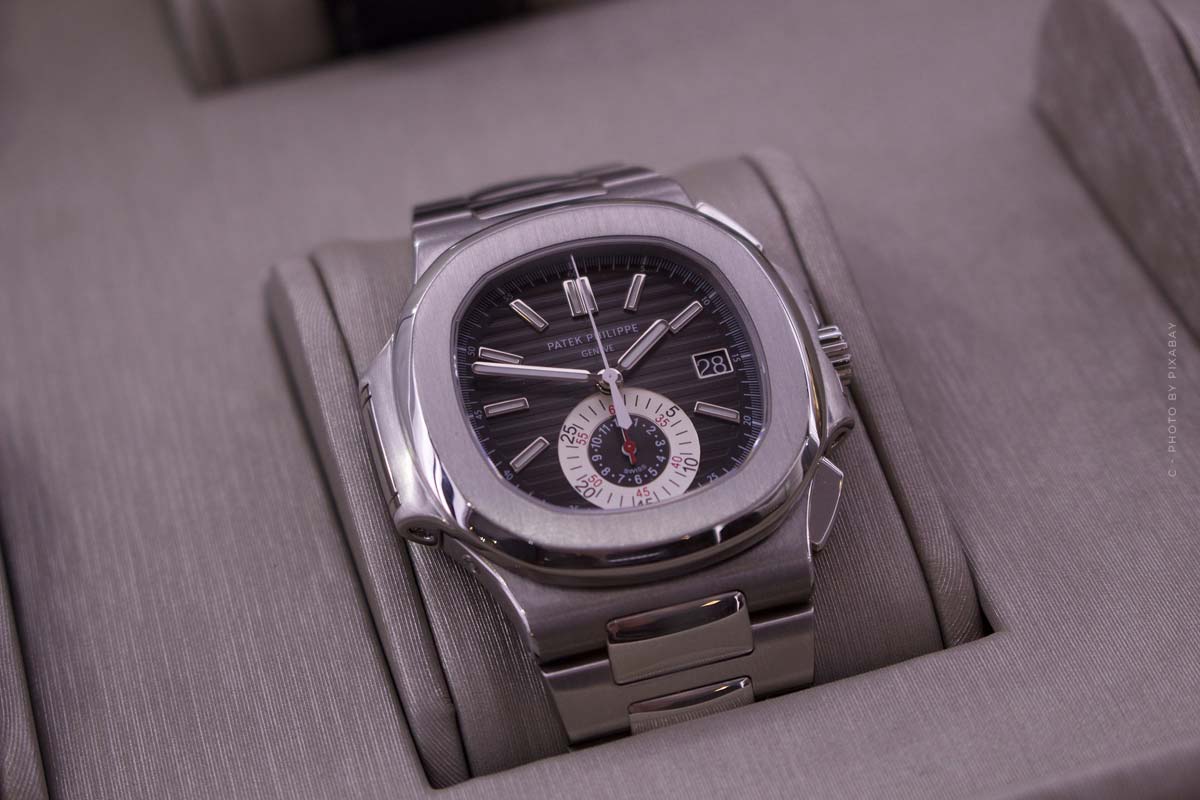 https://fivmagazine.com/wp-content/uploads/2020/10/patek-philippe-taschenuhr-damen-herren-uhr-luxus-preis-gold.jpg
800
1200
Lisa-Marie
/wp-content/uploads/2023/08/fiv-magazine-logo-news-influencer-fashion-interior-travel-real-esates.svg
Lisa-Marie
2020-10-20 16:50:22
2020-10-20 16:50:22
Patek Philippe pocket watches: Collection, Material & Prices