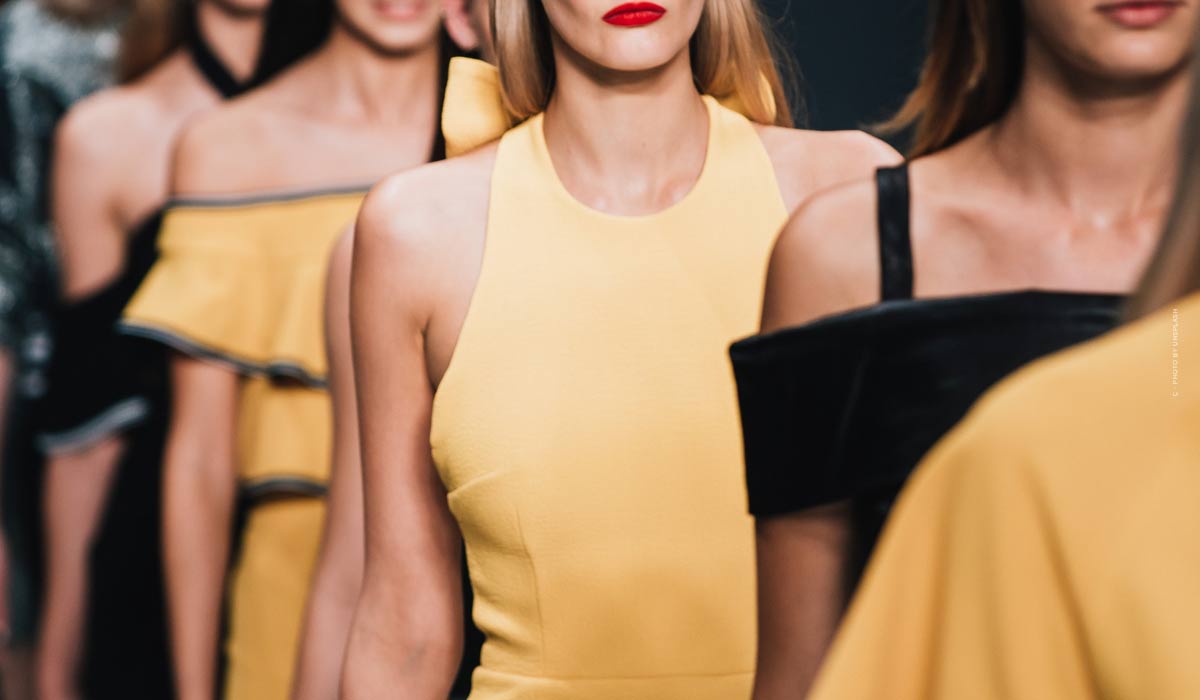 Prada – exceptional haute couture, collections and elegant accessories
Prada is a simple company, which in the beginning produced fine leather goods such as suitcases, handbags and gloves, up to worldwide Italian luxury brand, which convinces again and again with exclusive collections and products. The designer Miuccia Prada presents the most elegant and creative collections, without losing her signature and adhering to a style. If you want to learn more about a special luxury brand with extravagant fashion, read here everything about the latest collections up to exclusive backstage scene.
Prada – Italian luxury brand with extraordinary fashion
The Italian luxury label and fashion company Prada was founded in 1913 by the grandfather of the famous and creative designer Miuccia Prada. At 28, the designer finally took over the family business and continued the production of luxury leather goods. With her unique handbags and suitcases the company did not remain unknown for long and even gained popularity with the Italian royal family. Prada's first women's collection was presented as early as 1989 and achieved an international breakthrough. Today, the Prada brand includes feminine, minimalist, classic and equally comfortable collections as well as leather goods, shoes and perfumes. Her creative and impressive designs even earned her the McKim Medal, which she received for her extraordinary success and performance in the fashion business.
Miuccia Prada: creative and amazing fashion icon
The Italian designer was born in Milan in 1949 and continued the family business Prada. The Prada brand was founded in 1913 and was already in the third generation of the family. Miuccia Prada, before becoming head of Prada, earned her doctorate in science and even completed a five-year acting course in Milan. But eventually she took over the family business, which initially produced mainly leather goods such as suitcases and handbags, and led it to become one of the most important luxury brands through her collections, which were characterized by simplicity and ascetic character. A cornerstone of the brand was the designer's line of black and durable nylon handbags, which contributed to the company's success. The first elegant women's collection was launched in 1989, the men's collection in 1995, and the fashion label was able to establish itself especially with its daughter label Miu Miu, which was inspired by Miuccia Prada's private clothing. Today Prada presents its stunning collections again and again at the worldwide Fashion Weeks.
Exclusive insights behind the scenes of Prada
Prada's products are all made by hand, using only the finest fabrics, with special details and high quality. In addition, each Prada bag is a unique and individual item, because of the feminine and elegant design, each Prada bag is a real eye-catcher and perfectly suited for every occasion, whether everyday or leisure. So now take a look behind the scenes of the brand and learn about the unique production and the qualitative end result of a Prada brand bag and other Prada products.
Stunning, elegant and feminine collections
Miuccia Prada managed to create new trends with her innovative ideas and inspired many designers with her collections, because the designer can radically change her style from season to season without losing her own signature. She is reluctant to commit herself to one style and can therefore change her collections from minimalism, to glamorous chic or vintage look and can still be written to the designer. In her collections Miuccia Prada always experiments with unusual prints, different fabrics or even aesthetic details. With her mostly straight and restrained lines she continuously stands out from the crowd and has coined many different looks. Even today, this unmistakable character remains in her collections and continues to enchant all age groups.


FragranceTip.com by FIV
Innovative designs and contrasting looks
For the Prada Spring and Summer 2021 collection, a statement about the new Prada fashion is expressed through the different perspectives of different picture makers and artists, such as Terence Nance, Joanna Piotrowska or Martine Syms. The film, which captures the facet of the Prada collection and presents it clearly and unambiguously in five chapters of its creative statement and ideology, thus shows a slightly new way of looking at Prada and the exciting new collection, which stands out clearly with its dark, contrasting looks and cloudy colour palette.
Classic, elegant cuts with playful details
With its new autumn and winter collection Prada shows both femininity and strength of all women. That's why her looks consist of large eye-catching earrings, spectacular necklaces and diamond-studded clothing. Silk trousers with a simple cut and sweaters with a classic crew neck have also been seen more often. Here, the designer has again opted for a completely different style, but still shows her signature. But with outfits that are both classic and yet exciting, Prada also made a statement this season.
Elegant Haute Couture made of noble fabrics & embroideries
In Prada's last spring and summer collection, the beauty lies in the detail, as the looks were a mixture of elegance, naturalness and elaborate details. The outfits of the models consisted mainly of bright and cheerful colors, floor-length dresses, tailor-made jackets and summery knitwear. Especially the dresses and skirts of the collections stand out because of the light and airy fabrics and the unique combinations of colours. Therefore the summer and spring collections are definitely worth a look.
Exciting and matching accessories
The Prada brand includes not only extraordinary collections and excellent fashion, but also exclusive and special accessories such as glasses, belts, bags, jewellery or even perfume. Even today, accessories such as sunglasses or handbags still play a major role in the collections and are made of the famous Saffiano leather, among other materials. The products are manufactured with loving attention to detail, high standards and quality, making them unique to the Italian brand. In a wide range of the Prada brand you will find a variety of accessories, which give your looks and outfits the missing detail and are the right eye-catcher at any moment. The accessories are characterized by their simple elegance in minimalist design and exciting prints.
Fantastic sunglasses in a bizarre setting
In the short film Cinema Prada presents his latest collection of glasses for spring and summer, which are a playful homage to the cinematic escape and transformation fantasies. The short film presents a deceptively simple story of a day in the cinema, but the seemingly ordinary escape gives way to an unexpected plot. The film documents the attempt to capture the joys of going to the cinema with bizarre moments of surreal nonsense. Elegant and playful sunglasses in shades of gold, brown and silver are shown.
Noble handbags as a perfect gift
Prada shows his latest handbag collection, which are presented as objects of unexpressed love, expressing feelings through subtle ways. The bags are presented in contrasting black, white and gold and are made of high-quality materials such as leather.
Stylish shoes and perfumes made of precious materials
As already mentioned, Prada offers a wide range of products, with the fashion label's assortment ranging from dresses and skirts to shoes and accessories such as bags and sunglasses. For example, Prada is also well known in the cosmetics industry, although Prada is more known for its first-class and outstanding perfumes with elegant designs and special scents, reaching a large clientele from young to old with them. But not only the perfumes of the fashion brand give you the perfect look, but also other articles of the luxury brand complete their ouftift as well as the noble and high-quality shoes made of leather. Every Prada product is unique and reflects the values of the Italian fashion brand, but above all, the leather goods are very special products of the label.
High quality workmanship of elegant leather shoes
In addition to many accessories and unique collections, Prada also produces men's shoes in lovingly detailed handicraft. The shoes are made of high quality fabrics and materials, such as fine leather or special soles, because this gives the shoes an elegant design and attracts attention, no matter what the occasion. So now take a look behind the scenes and learn more about the excellent production and high quality of the Prada fashion brand.
Sweet and floral perfume in an unconventional flacon
The commercial shows the Candy perfume by Prada, available in different variations. The special thing about the Prada Candy is its base note of caramel, which has never been used in any other fragrance before. Surrounded by a heart note, the Prada Candy is surrounded by the particularly noble benzoin. The top note of the Candy perfume consists of warm, white musk. This simple yet sophisticated combination makes the Prada Candy unique. Also by the fantastic and unconventional bottle in pastel colors, which supports the fragrance ducrh the design especially.
https://fivmagazine.com/wp-content/uploads/2020/07/Prada-fashion-shows-runway-commercials-videos-models-clothes.jpg
700
1200
Laura
/wp-content/uploads/2023/08/fiv-magazine-logo-news-influencer-fashion-interior-travel-real-esates.svg
Laura
2020-08-20 12:14:07
2020-11-10 16:11:14
Prada – exceptional haute couture, collections and elegant accessories