Buying a dog: Puppy moves in! Going for a walk, staying alone & Co. – Your first week
Buying puppies – What accessories do you need for your puppy around leash, bowl, sleeping place and food? Every year millions of little puppies are born and find a new home! Also with us there is now one or two little puppies: Neppa & Peppa. You are thinking about getting a dog? If you have time to spare and love, then a little puppy is something wonderful. But, what do you have to consider?! Learn here about the daily life with a little puppy: My first day with Peppa (Dwarf Spitz, or Pomeranian puppy), my first week and my experiences. If you're thinking of getting a dog, here are the ultimate tips for the first week with your puppy and a few insider tips, like puppy pads, tips for walking and staying alone – all in the first week!
Buying puppies, equipment and the first car ride
My everyday life has changed, but we are getting more and more used to it! This is how our mornings start since the purchase: So the A&O is 1) love, 2) food and 3) walking. Much more about that later, in Day 3. First, we'll talk about the basic equipment for your puppy from the specialty store and buying from the dog breeder, from getting to know him, to the price, to the first car ride to your new home!
Before buying: Off to the pet supply store
Some breeders will give you a small starter kit. But it's even better if you prepare well for the purchase of your puppy. So before we really get to Day 1, your journey as a future dog owner begins at the pet supply store. Don't worry, you won't need much, but you will need a little. More specifically, 6 things you can use to keep your day 1 pup happy and provide a beautiful new home. Up front though:
More important than all the toys and accessories is you! Take your time to cuddle, walk, comb the fur, wash and much more. This is what makes you and your "teamwork"!
A puppy, like human babies, is playful, sleeps a lot and does his business when he has to. You are the "rock in the surf", the calm soul. So you will quickly become a good team!
So now, before you buy, let's get to the basic equipment for your puppy. I write here from my experience with Peppa! Peppa is a small Pomeranian, or dwarf Spitz puppy. Pomeranian, by the way, is simply the international, English term for the dog breed dwarf spitz. Since I travel a lot, very practical, because you can take dogs up to 7kg, for example, quite easily on the plane, in the hand luggage. We met, I fell in love with the little one and bam! My first day and the first week as a dog owner went by quickly, because everything is new, for her and for me.
So that you have a great start with your puppies, here is my guide, for you! With tips for your puppies basic equipment for house and apartment, tips for walking, staying alone, pee outside, go to sleep. Everything important for your first days.
This is little Peppa: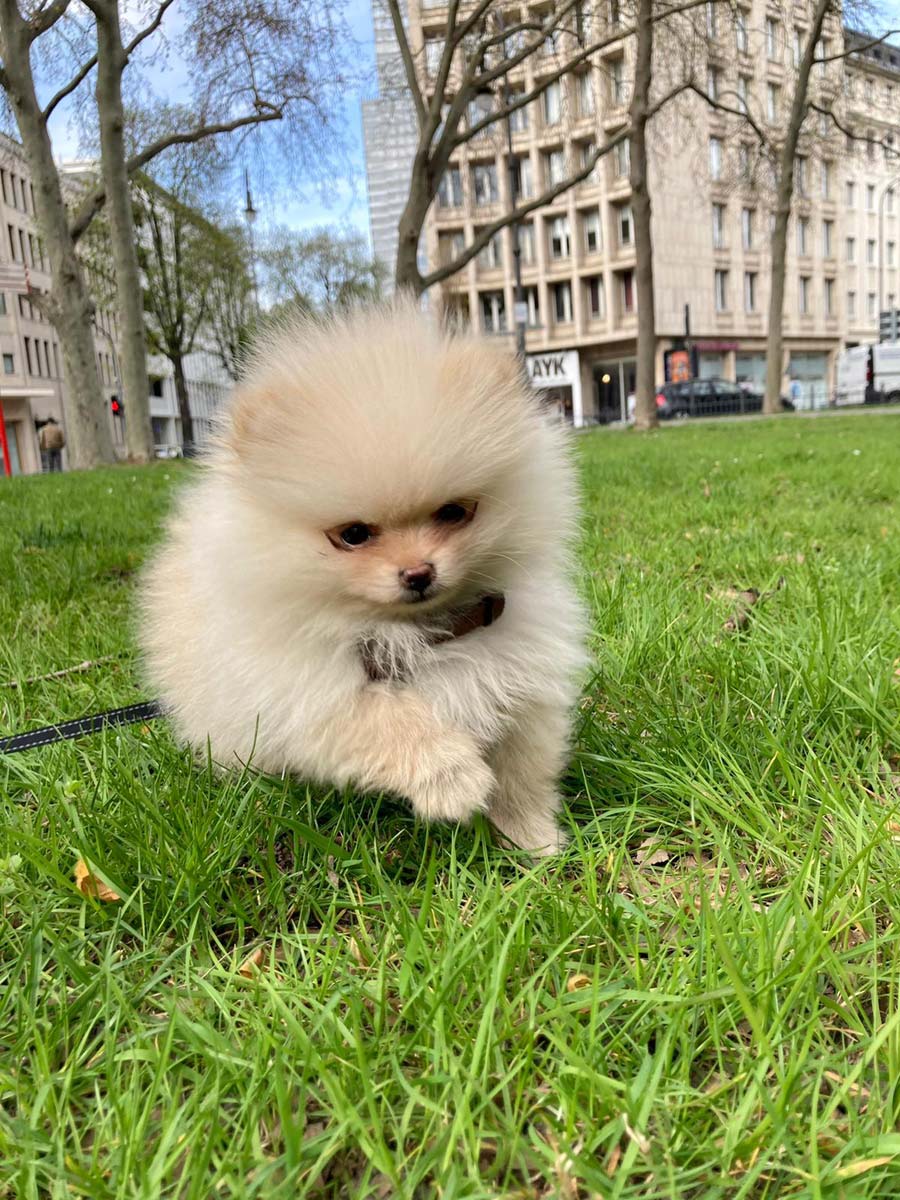 Basic equipment: 6 things you must have on day 1!
Buying Puppies: Basic dog supplies – There are exactly 6 things you need when buying your first dog or puppy! So to speak, the basic equipment for your puppy and the first days together in the house or in the apartment. With this checklist, you have everything important! The right food for puppies, two bowls for food and water, a leash with collar and / or harness (safer), toys and very important, especially if you have no garden or live on the first floor: Puppy Pads!
Basic equipment for your dog:
Lining (dry and wet)
Bowl (food and water)
Leash, collar and harness
Blanket (sleeping place)
Toys (chewing and distraction)
Puppy Pads
Learn all the essentials here, with tips for times to eat and other interesting checklists for beginners and novices. Simply explained and free! Here is the A&O for the first trip, from the breeder to home and the first days with your puppy.

Toys and distraction for home
As you learned in the basic kit for your first puppy, it's not important to have a lot of toys. Just three or four things for your puppy to chew on when he or she is busy. The most important thing for a puppy is you, the owner.
My little Pomeranian loves sticks, for example. Very simple pieces from the meadow!
Already on the third day she took a little stick home with her and since then she grabs a stick almost every time and if not, I take the one she liked the most while walking. She then chews on it for hours.
The stick doesn't cost me a euro, it's super fun for her and it's an absolutely natural product.
Don't buy your little puppy 20 or 30 plastic toys, take your own time and work with small things, a rope, a small soft toy and of course the good old sticks.
And now comes your very first day, you are back from the breeder and believe me your little puppy is absolutely knocked out! Everything is super new, including you, the entire environment, mom and siblings are gone. So focus right on one thing, a comfy place to sleep!
Warm and cosy, the sleeping place: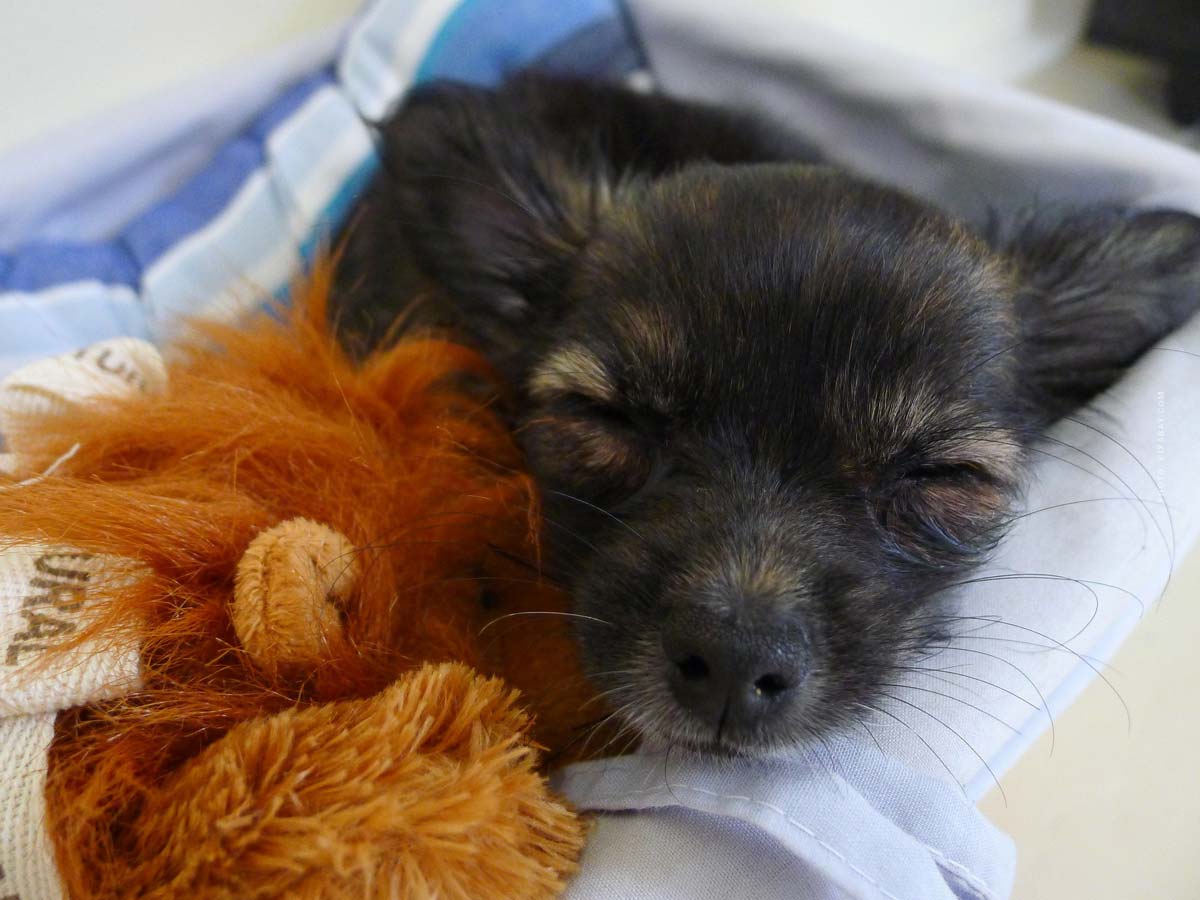 Sleeping, sleeping place and going to sleep
As you may have learned in the basic dog stuff, it doesn't have to be a very creative sleeping spot either, for example, my little miniature Pomeranian sleeps on a simple fur. Of course, this is also especially cute because Pomeranians are super fluffy. Fluffy fur, fluffy Pomeranian, perfect and absolutely sufficient.
Optional: dog gate for the night
Build the sleeping place directly near you, so that your dog can see you, you also get when something happens. Now there are basically two options, one option is that you let your puppy, like me just sleep on a fur or that it is the second option, you buy a small dog gate.
The great advantage of such a dog gate is that your puppy can not move freely overnight in the apartment or in the house. Accordingly, his or her radius is very limited and you have quick access to all activities. More importantly, your dog is not housebroken to begin with. How could it be, it's still a baby! So your puppy will have to learn how to go to the bathroom little by little. One thing I can promise you, you will clean up a lot of pee and a lot of poop, but it's your dog and in fact, all of a sudden it doesn't bother you at all. In the past, I would never have touched poop! But when your little pup poops, you just can't stay mad at him or her.
Tip: Always clean up puppy's little messes inconspicuously, so that you don't pay any special attention to them. Your puppy will gradually learn to do his business outside when you take him for a walk. Your task is to have enough patience!
That's why it's so important to take your puppy outside regularly, right from the start. This way the little dog learns to do his business outside of the room he or she lives in. But more on that later! Let's stay with day 1 for now.
Making wee-wee: Poop Piles & Co.
You brought your little puppy home safely from the breeder, you bought the basic equipment for your dog, your puppy had delicious food, enough water, a warm place to sleep and some toys.
Day 1 is something completely new for both of you and after you wake up, the, so to speak, real first day together begins!
Purchase, price and delivery
Our first day together was a Monday! Shortly after lunch break I took the time to pick up little Peppa from the breeder. When we got to know each other, her mum was also there.
The handover of the little ones took about 30 minutes, from the first hello, to the first caresses, to the official purchase contract. In the contract of sale, various details are recorded, of course the data of seller and buyer, as well as times of deworming or vaccination. By the way, breeders reserve a right of repurchase. If the puppy does not do well with the new owner, they can get the little dogs back quickly and easily.
So that you are well prepared for the first ride home, you should buy the most important accessories right away.
Time: Handover approx. 30 minutes to 1 hour
Purchase price: 2.500 Euro (Pomeranian, Miniature Spitz)
This is what your 1 day looks like!
That's kind of what your first day looks like! She or he will be super knocked out and sleep a lot.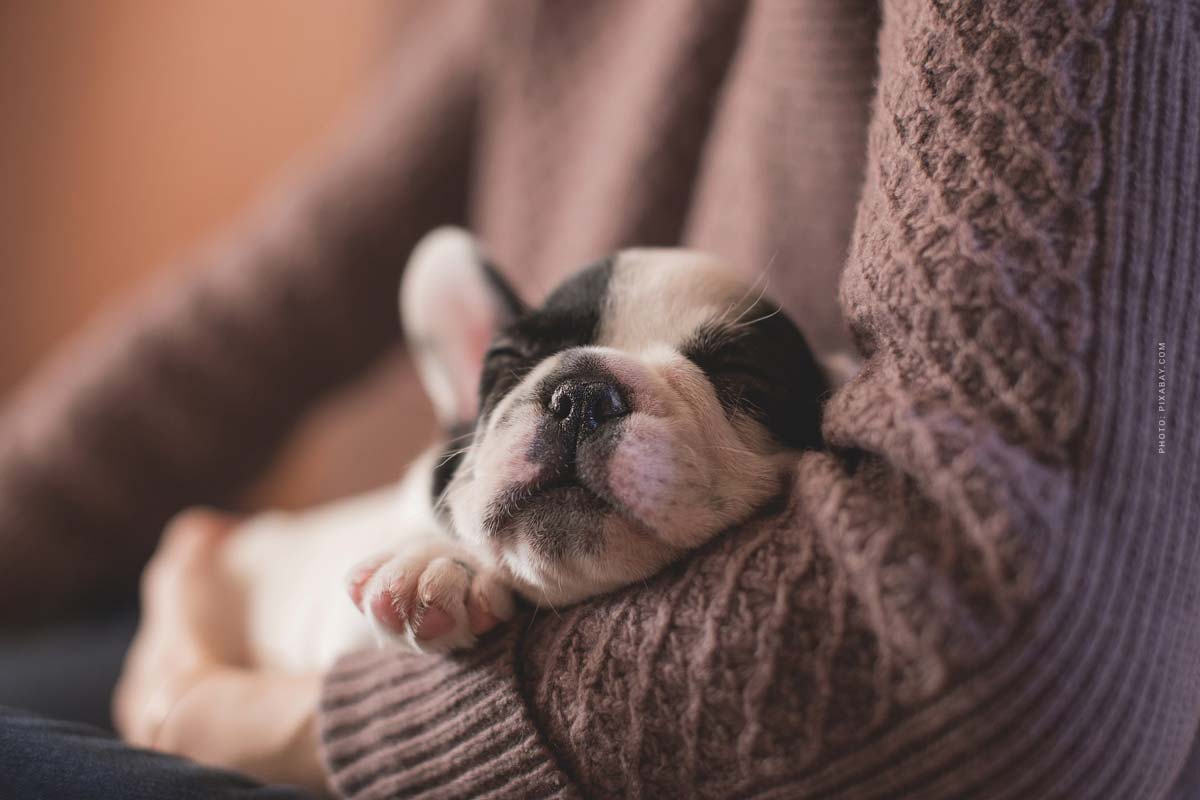 How long does it take for your dog to grow up?
Before we get to the basic equipment, here's a question you ask yourself right from day 1, how long will it take for your dog to be fully grown? As a rule, you can expect a year, then doggy is fully developed. That is, from puppy to adult dog, you have about 1 year of joy with your puppy – that is: play, sleep, play, sleep, sleep, play and sleep!
This is my little Peppa! Pomeranian (dwarf spitz) as a puppy on the first sunny day: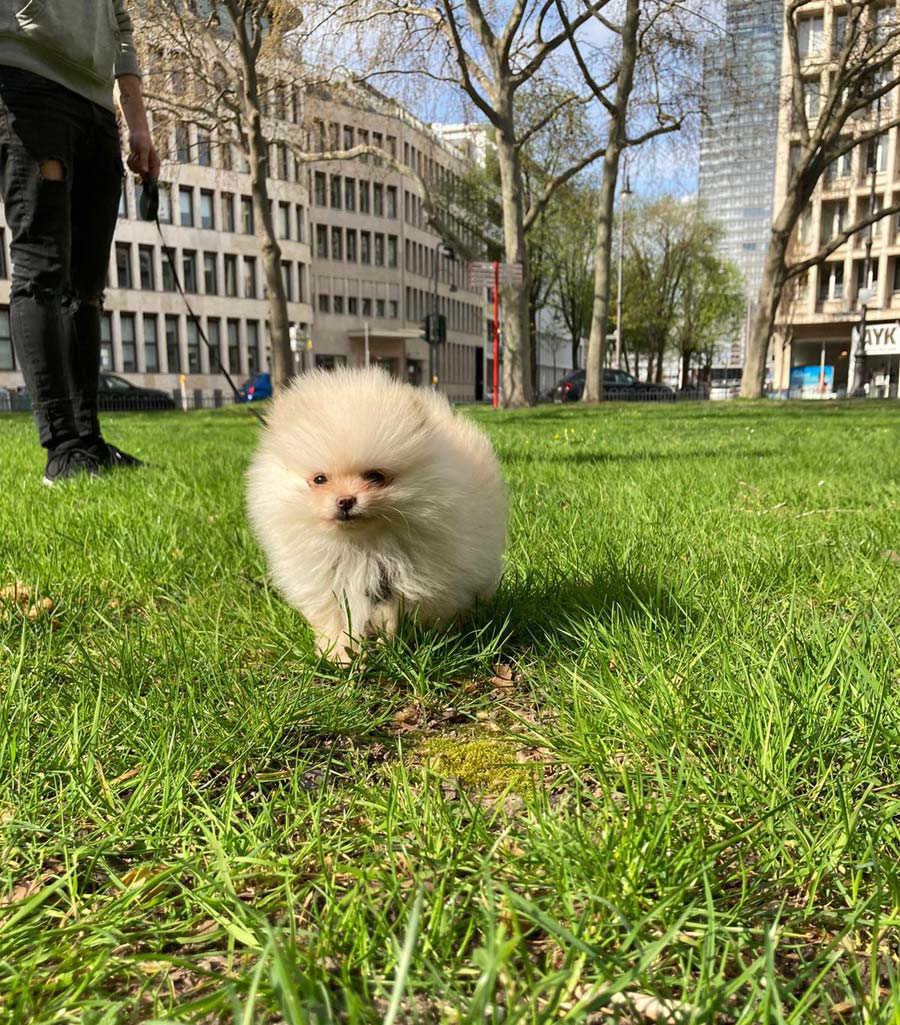 My little Pomeranian was white on day 1, like a little polar bear. Now after 10 days it is slowly getting a little more reddish. Let's see if the little one looks like a fox later!
This is how my puppy might look one day, as an adult Pomeranian (dwarf spitz):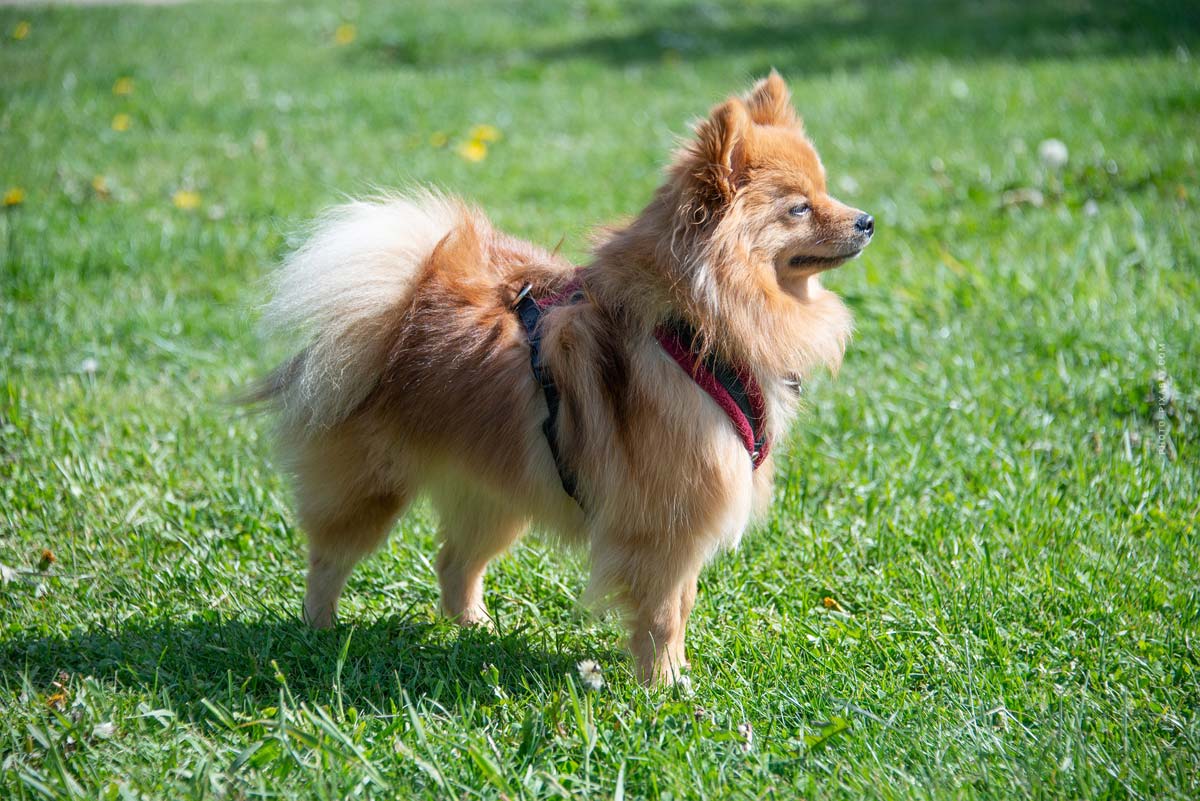 Get to know each other, go out & buy accessories – Day 2
From now on, it's about you guys getting to know each other and spending time together.
The first night: puppy is restless
The first night my puppy was super active and woke me up every hour. What to do? My tip for you: Talk in a calm voice and gently bring your little puppy back to sleep. If he or she refuses to sleep, let your puppy do it and be a good role model, keep sleeping. You'll develop teamwork and your dog will learn from you too. Be a role model during the day, acting calm and level-headed, and in the evening too.
Your little puppy will get used to sleeping at night extremely quickly. Already on the second day she was much calmer and woke me up only 3x. After a week, she only made herself noticeable briefly, early at 5 o'clock.
By the way, this is also an indicator for you to say, "I have to pee! When your puppy gets restless, it can be a sign that he or she needs to relieve themselves. As a dog owner, you should ideally go out immediately, especially if you don't have a garden and live on the 3rd, 4th, or even 5th floor.
Sleep in the bed? By the way, my puppy is not allowed to sleep in the bed. For hygiene reasons, for one, and also later I don't want my dog to sleep in the bed with me. She should have her own place. As described above, I bought Peppa a soft fur that lies next to my bed, about arm's length, so that in the evening, when she wakes up, I can stroke her briefly, look down and we'll go back to sleep.
Sleep rhythm of the puppy in the first week:
Day – Restless, wakes you up every hour
Day – Calmer, wakes 3x, 4x
Day – 7th day, wakes only 1x, 2x
While we are on the subject of "restless" and that this can be an indicator for "walking the dog". Every morning you have a new job: walking the dog.
The first visit to the meadow, the park, the forest
Your first visit together in the green, no matter if garden, meadow, park or forest is something new for both of you, like every day in the first week with your puppy.
Tip. Keep your walk times the same length (extending is ok)
From my experience, it's best if you always take 15-20 minutes. Why? Your dog should learn to do his business outside, so that you don't find pee and poo in the apartment. So don't go back immediately after your puppy has done his business. If you do that, your dog knows "ok, if I wait longer to do it, I can stay outside longer". So regardless of whether he or she has already done it, stay outside for a certain amount of time.
As a businessman I like to use the time to check the news, I look at current stock market prices and give her time to run around freely. Of course on her leash and in my radius (meadow). But she is free to play wherever and however she wants, with sticks, daisies, also with other dogs and people.

Getting to know dogs and other people
Puppies are cute! That's a fact. So you will be approached by people, or rather your puppy and also dogs will say hello directly when you meet them. Dogs are curious, especially puppies.
It is very important for dogs to interact and play with other dogs. Dogs are pack animals and seek social interaction with people and with other dogs. I usually kneel on the ground when a dog comes and shows that he wants to go towards my puppy. This way my pup can retreat protectively if she wants, but can also sniff or even play with the other dog if she wants. So offer your puppy protection, but also let him or her choose quite freely if you judge the other dog to be harmless to him or her.
Tip. Especially for small dogs it is important, protect them from big dogs.
For example, let's say a German Shepherd meets a Miniature Spitz puppy. Even if the adult sheepdog just wants to play, the puppy's neck is still extremely sensitive and the consequence can quickly be that your puppy dies in the big dog's play. My little Peppa still fit easily in my hand at 3 months old.
The first visit to the meadow, in the park, in the forest is thus certainly a complete success for both of you. And now guess what: Afterwards your puppy is knocked out again and will sleep for a long time.
Peeing Outside, Staying Alone & Co. – Day 3
New day, new challenge. Today we continue to get used to each other, to the walk and I leave the little one alone at home for the first time.
Morning routine: checklist
Start into the day! Day 1 was getting to know each other and picking them up from the breeder, day 2 we got to know the new home and the meadow in front of the apartment building. Today we want to solidify our routine. The day starts like this:
Cuddling after getting up / watching breakfast TV, about 30 minutes
Getting ready for the day / food (wet food) for her, getting dressed and brushing my teeth for me.
Put the harness on, put the bowl away and go outside.
Walking on the meadow, about 20 minutes with cappuccino for me
Way to the office, mostly worn, sometimes she already runs
That's how our morning starts since then and until today. So the A&O is 1) love, 2) food and 3) walk.
You need to practice this process with your puppy every day. The sooner he or she gets used to you being out of the house on a regular basis, the sooner the little one will adapt to this possibility. Therefore, as with food, routine is important. Regular times will help your puppy become housebroken much faster.
In the beginning it is therefore worth going out every 2 hours. Of course, this is super easy if you have a garden. If your dog is already used to the green from the garden at the breeder, your puppy will go out almost automatically. If you're not so lucky, train and walk frequently. Don't worry if you can't make it every 2 hours, I didn't always have the option either. First, because we had 2 days of snow in April and it was just too cold and wet for the little one. She stayed indoors all day and I only carried her when, in my arms when going out. Nevertheless, it was important to me to go out, because so she learns, we are always outside.
At least (that's how I do it) for small dogs:
In the morning after getting up
Noon
Evening
At night, before going to bed
Everything else is currently solved by the Puppy Pads or my dog toilet with meadow. For little Pomeraians this works well, after all their pee is so little, it would easily fit in a bottle cap. Their poop piles are, well, more like little chocolate bons from the grocery store. If you have a slightly larger puppy, such as a German Shepherd or Labrador, then you'll definitely want to go out a little more often to keep your apartment or house clean.
Ideally, medium and large dogs:
In the morning after getting up
Morning
Noon
Afternoon
Evening
At night, before going to bed
During bedtime
Stay at home alone
How long can you leave a puppy alone? If you provide a safe environment, water in the bowl, you can practice being alone from the beginning. I also started on day 3 to take 30 minutes time out in the evening. Since then I always go for a walk alone in the evening.
Again, the secret is silence. Don't make a drama out of goodbyes and reunions. Simply put, be "cool" about the situation. When you're leaving the apartment or house, take advantage of a moment when your pup is distracted, such as playing or sleeping. When you come back, pet your dog and say hello, then go on about your usual business. Just follow through, it's the best way for your dog to get used to the fact that when you're not there, it's not a drama, it's just normal.
Again, I try to incorporate a little routine, the evening. She has played during the day, we have spent a lot of time together and just before going to bed, we will again spend a lot of time with each other.
Regarding the question: How long can you leave a puppy alone?
Up to 1 hour, from my experience
Start with small units of 5, 15 or 30 minutes
Routine helps with habituation, example every evening after walking when the puppy is asleep.
Tip. If you are a cautious type yourself, you can also start like this: Leave the room for 5 minutes, for example, just make yourself a snack in the kitchen while the dog has no access, for example, because you have closed the living room door. Then come back, just as calmly and continue as if nothing had happened.
This is the fastest way to get your puppy used to being alone!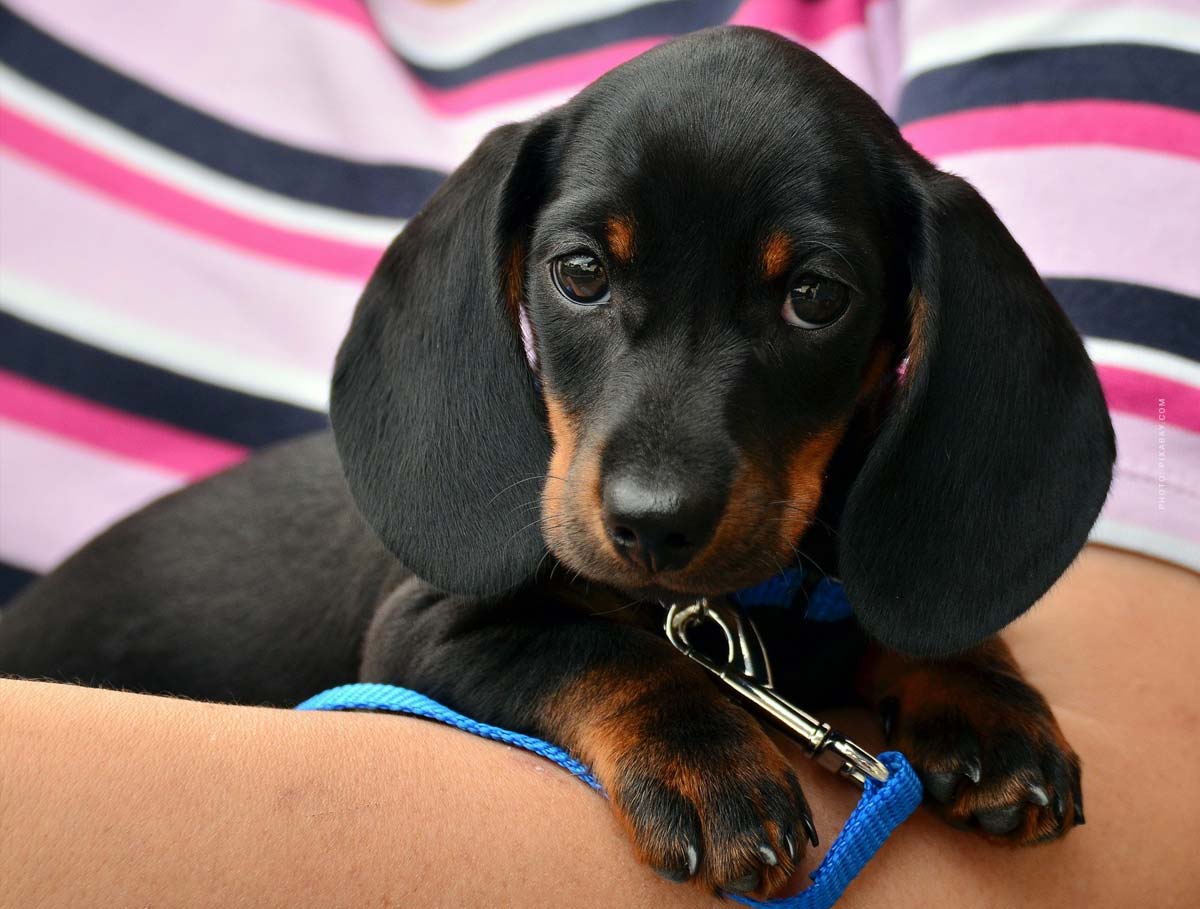 Teamwork, Love and Routine – Week 1
The rest of the first week you get to know each other. So that you understand in the next weeks already much better, "how the other ticks". The most important tip, I hope you have also read out, you are master and mistress! The time you invest in the beginning, you save in the coming weeks.
One week vacation
So that you really have time and not distracted or even annoyed by hectic office life, maybe buy your dog exactly when you have taken 1 or 2 weeks off anyway. That way you can get up together, you can spend the day together and also the evening. Another 2 hours of cuddling in the morning? No problem! Reminder: you can a puppy, cuddling is at the top of the agenda.
The dog gets to know you, but even better, you get to know your pup too:
Leave me alone! Learn together
Your puppy is getting to know you and you are getting to know your puppy. Just like we talked about before, you can tell by restless actions (easiest case, your dog scratching at the door) that she or he needs to go for a walk. At first puppies are super affectionate, but after day 5, 6, 7, they also slowly develop a "leave me alone" attitude, which is great because that way you know it's not going to be a full time job forever!
My favourite example: Peppa is sleeping and I want to stroke her. Immediately she stretches her legs, wiggles them around until I take my hand away again. Clear sign for: "Let me sleep".
In such cases, just let your dog be a dog. He or she is not a stuffed animal and wants to have his or her peace and quiet, just like you. Be happy, because now you have time to do something for yourself.
https://fivmagazine.com/wp-content/uploads/2021/04/welpe-hund-kaufen-checkliste-arm-frau-traegt-kleinen-hund-niedlich-suess-arm-stadt-zuechter.jpg
801
1200
F_kinski
/wp-content/uploads/2020/07/fiv-magazine-news-instagram-youtube-tiktok-influencer-fashion-interior-jewelry-real-estate-tips-help-logo.png
F_kinski
2021-04-11 12:00:56
2021-07-17 17:08:28
Buying a dog: Puppy moves in! Going for a walk, staying alone & Co. – Your first week