Dog food: wet food, dry food, treats – snack ideas for your dog & puppies
Dog Food – What is the best dog food on the market? What is the best dry / wet dog food? Which snack is the tastiest? I'm on the hunt for tasty snacks for my puppy pretty much every weekend. Since I've basically bought out my favorite dog specialty store a few blocks away, I've been on the hunt online. Here I am collecting new, interesting brands and snack ideas for you. My puppy is currently 5 months old, so you'll be discovering more here as time goes on!
Dog food: The big test
I currently feed my puppy three times a day, morning, noon and night. Between the meals there are then of course still small snacks! Especially small dogs are very active in the first months and years! They like to play, they like to bark. We have two puppies at the same time, brother and sister, accordingly they are the whole day at the romp and also hungry, at noon, in the evening and in the morning.
Variety is a must! Nobody wants to eat the same thing every day, not even your dog.
Dog food: regular feeding besides snacks
Before we get to the snacks, here's a little look at what my little pup likes best!
Dogs love anything from the animal – If you're going to buy your first puppy, be sure, dogs love pretty much anything with and from animals; no matter what you think. Even if you're a vegetarian yourself, dogs love dried ears (yes), feet, little wound up skewers, pretty much any scraps left over from the animal.
Wet food or dry food?
I try to feed wet food in the morning and evening and at lunchtime they have a bowl of dry food. But when it comes to wet food they also like small carrots, peas, sbe4 but noodles and of course rice in the meals.
Besides your regular feedings, there are of course little treats.
Snacks and treats: recommendations
I like treats best that my puppy can chew on for a long time, for example chew sticks. Because, now it's not just about food, it's also about activity. Trust me:
Dogs love to chew. It calms them down!
On a single chicken foot, my little dog can nibble for up to five, six hours. Sometimes she nibbles for two hours at a stretch without a break.
In general, I make sure that my dog doesn't get too many snacks, in addition to her regular meals. I don't want her to get used to having food all the time. Sometimes I give her treats because she did something great or to cheer her up in between meals. But usually I give a maximum of five small snacks (mini-snacks) and maybe two bigger ones (chew sticks) in between. That is easily enough for my little Pomeranian!
How many snacks and treats your dog can tolerate should depend on your dog and his personality. Are you out and about a lot? Is your dog big or small? Have more questions? Read all about it here:

Now let's get to my big snack test!
Snack test: These treats give my dog
As you've read, I've bought the pet supply store down my street before. That's why I sometimes go on the search for new little snack ideas for my dog during my lunch break. I want to share a few treats that she particularly enjoyed with you here.
Organic dog food?! Yarrah ordered & tested
Summer is starting and by now my dog has had his fill of the supplies from the supermarket and pet supply store. So I need some new treats and snacks in my cupboard. This week I took a look at Yarrah. They've been producing Organic-Organic since 1992, what's the advantage of organic products? The manufacturer produces pure organic certified food. That means no chemical fragrances, colors, flavors, pesticides, or GMOs (genetic engineering).
Everyone loves organic, but does my dog? Food for your dog has effects on the coat, but also on digestion, well-being and energy, whether puppy or older dog. Organic is an important topic for many, it's about farming methods and animal welfare. But it is also about taste and a better feeling when buying. That's why, for example, I also like to go for organic products at a fair price.
Now the question: Are there also good organic alternatives for dog food and snacks? With this question, I came to Yarrah. Yarrah is the largest supplier of organic dog food. Summer is starting and by now my dog has had enough of the supplies from the supermarket and pet supply store. So I need some new treats and snacks for my dog, in my pantry. This week I ordered from Yarrah for the first time, and everything arrived today. What can organic from Yarrah do? Our little taste test!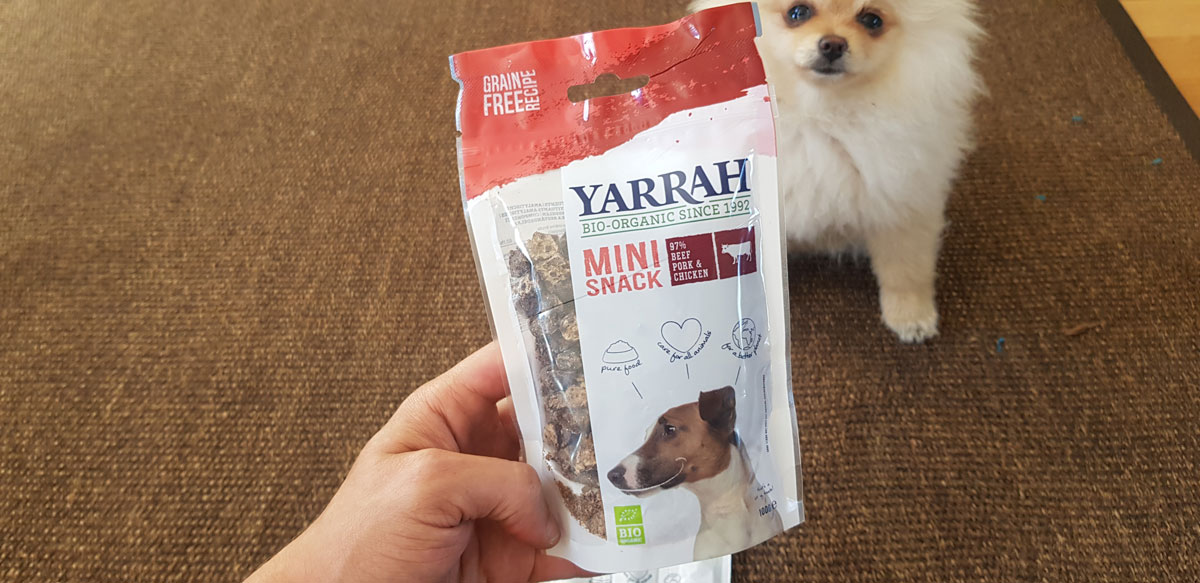 Buying your first dog: XXL Guide
Great snacks, a fair price and organic production since 1992. The delivery was fast. All in all: 4.7 / 5.0 from our tester! Plus, the good feeling and purely organic certified, so without chemical fragrances, colors, flavors, pesticides and GMOs (genetic engineering). Read more about Yarrah here and find these and new snacks for your dog online:
Your first puppy: guidebook
Buying puppies – What accessories do you need for your puppy around leash, bowl, sleeping place and food? Every year millions of little puppies are born and find a new home! Also with us there is now one or two little puppies: Neppa & Peppa. You are thinking about getting a dog? If you have time to spare and love, then a little puppy is something wonderful. But, what do you have to consider?! Learn here about the daily life with a little puppy: My first day with Peppa (Dwarf Spitz, or Pomeranian puppy), my first week and my experiences. If you're thinking of getting a dog, here are the ultimate tips for the first week with your puppy and a few insider tips, like puppy pads, tips for walking and staying alone – all in the first week!
Basic equipment for your puppy
Buying Puppies: Basic Supplies for Your Dog – No matter what breed of dog or type of mixed breed, there are exactly 6 things you need when buying your first dog or puppy! So to speak, the basic equipment for your puppy and the first days together in the house or apartment. With this checklist, you have everything important! The right food for puppies, two bowls for food and water, a leash with collar and / or harness (safer), toys and very important, especially if you have no garden or live on the first floor: Puppy Pads! Learn all the essentials here, with tips for times to eat and other interesting checklists for beginners and novices. Simply explained and free! Here's the nuts and bolts for the first trip, from breeder to home, and the first few days with your puppy, from my experience.
Pomeranian! Pomeranians as a pet
You want to buy your first puppy? Maybe even a small Pomeranian for you or your family? Then you surely have many questions! Here you will find the answers, among others to questions like "how much does a Pomeranian cost?", "what do you have to look out for in a Dwarf Pomeranian?", "how much does a Pomeranian shed?" and "how do you groom a Pomeranian?". – First of all: Pomeranians are really cute as a button. Grown up they are only 25-30 inches tall and as a puppy, barely a handful of dog. Walking, peeing, Pomeranian care, our little guide to your first puppies!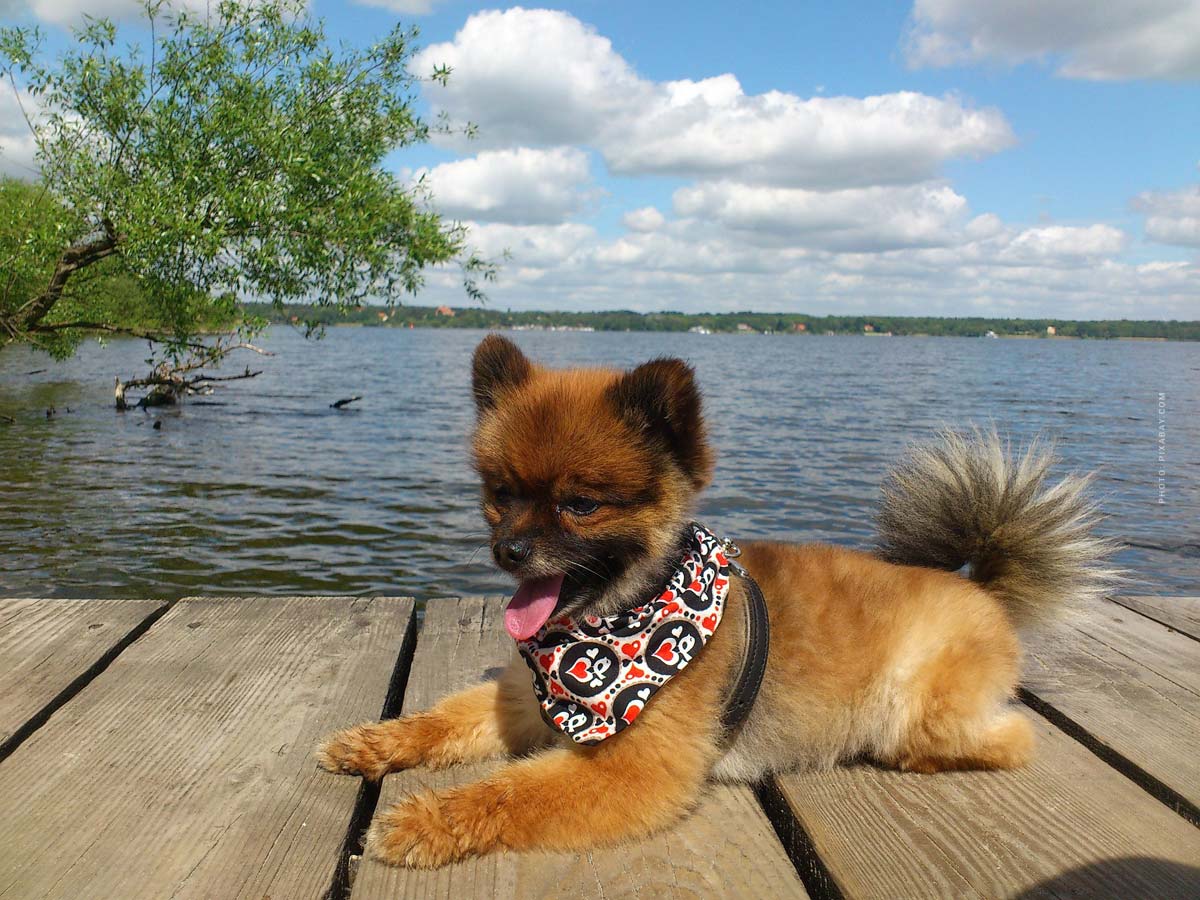 https://fivmagazine.com/wp-content/uploads/2021/06/bio-hundefutter-yarrah-test-huhn-rind-schwein-was-schmeckt-am-besten-bio-alternativ-organic-hund-pomeranian-zwergpitz.jpg
583
1200
F_kinski
/wp-content/uploads/2020/07/fiv-magazine-news-instagram-youtube-tiktok-influencer-fashion-interior-jewelry-real-estate-tips-help-logo.png
F_kinski
2021-01-14 17:02:30
2021-07-17 17:41:37
Dog food: wet food, dry food, treats – snack ideas for your dog & puppies