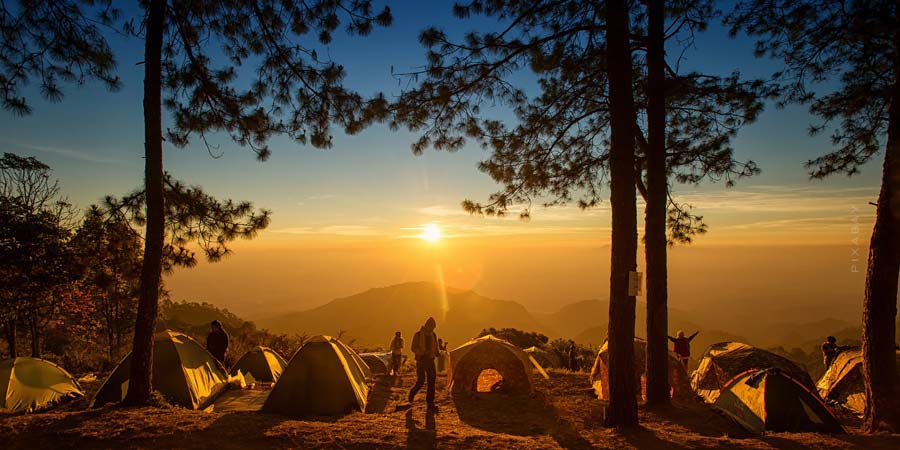 Camping in tents: Sleeping bags, Sleeping mats & Hammocks
To come back to camp after a long day and just cuddle up in bed – a dream. But sleeping in a tent, caravan or even in a self-built camper can become quite uncomfortable after a few weeks. In order to get a good night's rest it is important to have a comfortable place to sleep. This is where the sleeping bag and the camping mat come into play. But what should you consider so that you don't get cold at night and don't suffer from back pain? Here are our most important tips for buying a sleeping bag and a sleeping mat.
Sleeping bags – down & synthetic fibre
To decide on a sleeping bag, you should know that there are different materials for the filling. Whether down or synthetic fibre – when filling a sleeping bag, you should bear in mind that the different materials keep you warm differently. For different campers there are different equipment, you just have to decide which criteria are most important to you.


Germany - Spain - USA
The arguments in favour of down sleeping bags are that they keep you warm, take up little space and are very light. On the other hand, down sleeping bags are relatively expensive and very sensitive to moisture compared to synthetic sleeping bags. They have a long drying time and do not insulate well when damp.
Advantages of down sleeping bags:
keep warm
small pack size
are very light
Disadvantages
Disadvantages of down sleeping bags:
quite expensive
very sensitive to moisture
do not insulate well when damp
Synthetic fibre sleeping bags
A synthetic fibre sleeping bag, on the other hand, is hardly sensitive to moisture, insulates even when damp and dries quickly. It is a cheaper alternative, but takes up a lot of space and is relatively heavy compared to down.
Advantages of synthetic sleeping bags:
hardly moisture-sensitive
insulates even in a damp state
dries quickly
cheaper alternative
Disadvantages of synthetic fibre sleeping bags:
takes up a lot of space
relatively heavy compared to down
Sizes and shapes of sleeping bags
It should also be noted that there are sleeping bags of different sizes and shapes. Here, a simple calculation applies: Just take your own height, add 25 cm and you have the optimal length of the sleeping bag. With children, you should make sure that you do not make the sleeping bag too big so that you can use it for the next few years, because this way it will not insulate properly and the little ones will quickly freeze. The sleeping bag keeps better warm when it is tight-fitting.
That is why there are three different sleeping bag shapes: mummy sleeping bags, egg-shaped sleeping bags and blanket sleeping bags. Mummy sleeping bags are close-fitting and have a small pack size and weight, but keep you warm even in freezing temperatures. Egg-shaped sleeping bags offer more freedom of movement and despite more space in the leg and hip area, there is still enough insulation in the sensitive foot area. The ceiling sleeping bag, on the other hand, offers plenty of space but does not protect against cold feet. They are not suitable for cold temperatures, but on warm summer nights it is very practical that you can turn the sleeping bag into a large blanket by opening the zipper. This offers a lot of freedom of movement and the possibility to stretch one leg out of the sleeping bag. You are still not sure which sleeping bag is the best for you? Here you will find a summary of the most important factors for a decision.
Isomats – different types for different climates
What is also essential for a good night's sleep while camping is a good mattress. Here again there are a few important factors to consider, such as the R-value. The R-value measures the insulation capacity of a mat, i.e. how much heat the mat lets through. The R-value is the one that allows the least amount of heat to be lost, making these mats the best choice for cold temperatures. I have selected the different R-values and listed which mat is suitable for which climate.
R-value 0: up to +15°C: suitable for midsummer
R value 1: up to +7°C: for summer and mild spring and autumn nights
R value 2: up to +2°C: spring to autumn, without ground frost
R-value 3: down to -5°C: suitable until mild winter
R-value 4: down to -11°C: 4 seasons, suitable for winter
R-value 5: down to -17°C: suitable for winter
R-value 6: down to -24°C: suitable for winter, suitable for high alpine tours
R-value 7: down to -32°C: suitable for expedition
R value 8: down to -38°C: for extreme expeditions
R value 9: down to -45°C: for extreme expeditions
R value 10: down to -50°C: for extreme expeditions
Source: underway.biz
The three types of mats: foam mats, self-inflating mats and thermal mats
A distinction is also made between foam mats, self-inflating iso-mats and thermo-mats or insulating air mattresses. Foam mats insulate even if the material is damaged, are not sensitive to moisture and are permanently pressure-resistant. A big disadvantage, however, is that foam mats cannot be folded and can only be rolled up and therefore require a large packing size and are also not the most comfortable option.
The self-inflatable mat is a variant that offers more comfort and is also self-inflating and also lets the air out on its own when a valve is opened. This means that the mattress can be folded and takes up almost no space when compressed. The self-inflating mattress is very light and also very heat-insulating. The only disadvantage: if damaged, it cannot be inflated until the hole is mended.
Thermo mats or insulating air mattresses offer the highest R-value, as they are filled with air as well as down or synthetic fibres. Because of these fillings, insulating air mattresses are of course much heavier than self-inflating mats, but there are also modern light versions that are lighter than conventional thermal mats. Also with this type of mattress you have to be careful with sharp-edged objects, because as soon as there is a hole in the mattress, it cannot be used until it is mended.
foam mats:
not moisture-sensitive
permanently pressure resistant
large pack size
not the most comfortable option
Self-inflatable mats:
a great deal of comfort
self-inflating, deflates alone
little packing size
extremely lightweight
heat-insulating
cannot be used if damaged
Thermal mats
best thermal insulation
relatively heavy (except light variants)
cannot be used if damaged
For those who like to relax in nature, it is a great idea to buy a hammock. When buying a hammock, you should pay attention to the weight, the packing size and the loading capacity. Outdoor hammocks are weatherproof and are the perfect place to relax when camping or as a travel hammock when hiking. Most outdoor hammocks are made of a nylon fabric, also known as parachute silk, and therefore offer a lot of comfort through elasticity and at the same time strong robustness.
An outdoor hammock dries quickly after a shower and is the perfect place to end your evenings or take some time for yourself. This way you can enjoy nature to the full. By the way – some people also sleep in a hammock. So the tent can stay at home and you can spend a few nights under a clear starry sky.
If you are afraid of rain you can also put a so-called tarpaulin over the hammock. Tarps are waterproof tarpaulins that can be stretched over the sleeping area. Parallelogram-shaped tarps protect in light rain, while diamond-shaped tarps also protect in heavy rain and storms. So you can really enjoy pure nature. If you sleep in a hammock you should pay attention to the correct lying position to avoid backache and you should inform yourself beforehand how to fix the hammock correctly.
Camping in tents: sleeping bags, sleeping mats & hammocks
Camping in a tent is the camping variant that promises the most adventure. In a tent you are closest to nature. Surrounded by plants and animals it is something very special to spend the night in a tent. But to still have a certain level of comfort it is important to take the right equipment with you. The right sleeping bag and mattress will ensure that you don't get cold at night and that you can start the next day well rested and motivated.
https://fivmagazine.com/wp-content/uploads/2020/03/camping-vacation-tent-sunset-sky-germany-europe-camp-beach-sea-mountains-travel.jpg
450
900
Lisa-Marie
/wp-content/uploads/2023/08/fiv-magazine-logo-news-influencer-fashion-interior-travel-real-esates.svg
Lisa-Marie
2020-04-06 14:48:30
2020-11-10 16:32:09
Camping in tents: Sleeping bags, Sleeping mats & Hammocks