Virtual Influencers: Digital Toplist! Lil Miquela, Ella Stoller, Shudu Gram, Noonoouri & Co.
We dive into the world of digital models, Influencer and Instagram starlets. Virtual influencers are take over, they are not a hype anymore. It's all about fashion and the enthusiasm these virtual personalities create in the fashion world. Who are you? Who created them? What role do you play in today's fashion and social media world. We introduce you to models, including Lil Miquela and Shudu Gram, the first two virtually created models, and what exactly makes each of you so special.
Miquela Sousa: Instagram Star Lil Miquela
Miquela Sousa better known as Lil Miquela is a 19-year-old Brazilian-American digital model, music artist and influencer with over two million Instagram subscribers. Trevor McFedries and Sara DeCou designed Miquela together with Brud, who specializes in artificial intelligence. She lives in Los Angeles, wearing real clothes from well-known streetwear labels like Supreme, Stussy and luxury labels like Chanel and Balenciaga.
Will digital influencers replace the stars of today? Read more about this topic (external on Social Media One): Virtual Influencers in Marketing.
Trevor McFedries & Sara DeCou/ BRUD
In May 2019, Calvin Klein hit the headlines when he had Lil Miquela appear alongside supermodel Bella Hadid in a surprising campaign video. The model has a real personality, in her free time she hangs out with musicians, artists and influencers from real life, they visit the hippest restaurants in New York and Los Angeles. She supports the Black Lives Matter movement and the US protest against the sale of weapons. 
2016 developed (19 years old)
Origin: LA, California – half Brazilian
Presents fashion, appears in magazines, gives interviews
Singer
2.4 million subscribers
Miquela x Bella Hadid
References
Alexander McQueen
Ugg's Kampagne zum 40-jährigen Jubiläum
Samsung Mobile Galaxy S20
Porsche
Jacquemus
Jean Paul Gaultier
Moschino
Loewe
…
Micquela Sousa has her own Youtube channel, in this video she introduces herself.


FragranceTip.com by FIV
Micquela is a singer and released her first own music video in 2019. You can watch it here.
Ella Stoller
Ella Stoller is a 21-year-old digital model and influencer from Tel-Aviv, Israel. She represents a multi-faceted virtual personality, at Instagram alone, Ella has a community of over 12,000 subscribers. Ella is not only active at Instagram but also maintains her nearly 7,000 subscribers at TikTok and participates in Challenges. As multifaceted as a model can be, she lives a life with ups and downs, playing the roles of good and bad girl.
Digital Influencerin, Model
Active since November 2019
Origin: Tel-Aviv, Israel
12,800 subscribers
First cooperation
Fix Underwear
Pallet Swim
Zoe Dvir
Zoe Dvir is 22 years old, she is a social media star and model. On Instagram she has already gained more than 30,000 followers. She is studying art and design and also works as a bartender in a restaurant in her hometown Tel-Aviv, Israel. She loves to paint, visit the beach and walk her dog. The special thing about her is her love for animals and her social commitment, because Zoe is also an activist who leads a vegetarian lifestyle and works as a volunteer for the animal welfare association. Zoe and Ella Stoller are friends and post on their social media channels about their adventures together.
Digital Influencerin, Model
Active since January 2019
Origin: Tel-Aviv, Israel
28,600 subscribers
Studied art and design
Barkeeper
activist and vegetarian
First cooperation
Shanili Vegan Shoes
Bird Scooter
First VR Fashion Show (Fashion Movie) @ Fashion Week
Virtual Fashion Movie @ Moscow Fashion Week – This year everything is different – the Fashion Weeks did not run as usual thanks to Corona. But as the saying goes: necessity is the mother of invention. And digitalization is also making its presence felt in the fashion industry with super news. Fashion Week in Moscow has its finger on the pulse when it comes to digital and is starting another round exclusively with our Zoe from CM Models. Zoe is our first digital model who will turn the fashion world upside down.
Show #2: Zoe @ Fashion Week Berlin (MarcCain)
Marc Cain @ Fashion Week Berlin – Spectacular print and quality of the finest. The fashion shows of Marc Cain can be seen. But this year something new comes to the screens. Marc Cain's Fashion Show 2021 titled "How Wonderful" is completely upside down. Fiction and reality meet and create something completely new. The first on the market with virtual model, which will start on January 19 at 18:00, a fashion show.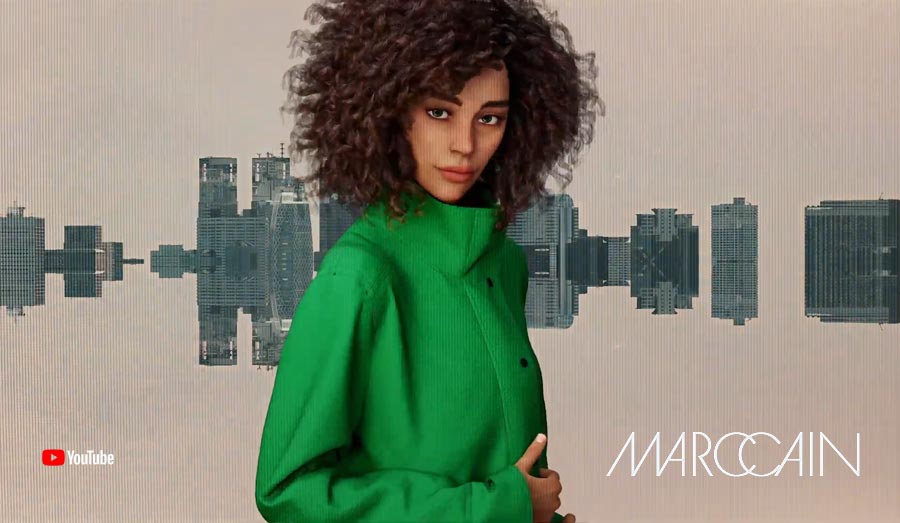 Shudu Gram / Cameron-James Wilson
Shudu, known as one of the most beautiful models on Instagram, was created by former photographer Cameron-James Wilson. She is the first virtually created supermodel and when you walk from the animated world, Wilson's main inspiration, the South African princess Barbie, comes from. The supermodel has over 204,000 subscribers on Instagram. Shudu's attention began to rise when Rihanna posted a picture of her on Fenty Beauty with the model wearing Rihanna's Fenty Beauty lip gloss. That's how the snowball started rolling and this was just the beginning for Shudu. Together with Margot and Zhi, who were also created by Cameron-James Wilson, you pose for the pre-fall campaign 2018 for one of the most famous luxury labels of our time, Balmain. The virtual icons of the Balmain Army should reflect the beauty, rock style, self-confidence and power of the brand. Besides Shudu, Wilson created the matching male model as her counterpart, his name is Nfon.
First digital supermodel
month of birth: end of April 2017
Origin: Africa
First Virtual Supermodel
CMJ founds model agency from virtual models "The Diigitals"</li>
Balmain Pre-Fall campaign 2018 with Margot and Zhi
204,000 subscribers
First references
Oscar de la Renta – Jewelry Line
Pat McGrath Cosmetics campaign
Fenty Beauty by Rihanna – Lip Gloss Mattemoiselle
Cover for Harpers Bazar Arabia, dressed in Lavie CK
nelly.com
Lake Ellesee campaign
Swarosvki
Balmain
Tiffany & Co
Vogue
Here are the models, Shudu, Margot and Zhi pose for Balmain.
Noonoouri / Joerg Zueber / Opium Effect
Noonoouri is a 19-year-old virtual model. The creator of this digital fictional character is Joerg Zueber. Together with his creative agency Opium Effect, Noonoouri was conceived eight years ago. Despite the fact that she was conceived in Germany, her life takes place in the fashion metropolis Paris. With her 19 years of age, she has already achieved a lot that many young girls dream of. She has over 200.000 followers on Instagram and works with the biggest and most prestigious labels. Among her friends is supermodel Naomi Campbell. Noonoouri has taken the fashion industry by storm and has promoted labels like Versace, Marc Jacobs, Dior and even Kim Kardashian's cosmetics line. What sets Noonoouri apart from the other virtual models and influencers is its doll-like appearance, which is supposed to offer the possibility of entering a dream world.
Digital Influencer
month of birth February 2018
Origin: Munich DE, lives in Paris
Take over Dior's Instagram account during Cruise Collection
360,000 subscribers
Refrences:
Dior – AW20
Lancaster Beauty
Bulgari – Jewelry
Yeezy Season 8
Fendi
Versace
MiuMiu
Valentino
Burberry
Marc Jacobs
Tommy Hilfiger Kampagne – ELLE
YOOX
Mercedes
Escada Perfume – Flor del Sol
Lacoste x Jeremy Ville
MiuMiu – Perfume Twist
LeCoq Sportive – Kampagne Patou Boxing Shoes
TV Show Making the Cut x Amazon Prime Video
Bermuda / BRUD
Bermuda is a controversial blonde virtual model known for stirring up the digital world of social media. She is
Pro-Trump and calls himself a 'robot supermacist'. She also once hacked Lil Miquela's site, won followers for both accounts and brought Lil Miquela over the 1 million mark on Instagram, a milestone that opens a lot of doors in the world of influencers, including lucrative branding deals with prominent designers.
Now Bermuda and Miquela are friends who hang out, eat out, and do make-up on each other – digitally
Digital Model
Origin: LA, California
Active since 2016
runs a Youtube channel
is a musician
263,000 subscribers
First cooperation
Chanel
Balenciaga
Tesla
Adam Selman
Starbucks
Blawko22 / BRUD
Miquela and Bermuda are joined by Blawko, another brother-born character with whom they both seem to be in love. Just like Miquela and Bermuda, he offers an incredibly authentic personality. He plays video games, goes out on dates and is reluctant to clean up his room. As for the bizarre love triangle between him, Miquela and Bermuda, each time it causes a stir and entertainment.
Digital Model
Origin: LA, California
Active since 2016
156,000 subscribers
Cooperations
KingKong Magazine Cover
Stussy
Yeezy
Glossier Skincare
Off-white
Absolut Kampagne beim Sonar Festival
Balenciaga
Supreme
Daisy Paige / Spark CGi
Daisy Paige, the youngest up-and-coming digital supermodel from Los Angeles, she already has a modeling contract with LIPPS LA, a well-known modeling agency from California. Daisy was created by the start-up company Spark CGi. LIPPS LA is known for working with famous faces like supermodel legend Helena Christensen, rapper Cardi B and rocker Courtney Love. Through Daisy's exceptionally perfect appearance, brunette hair and freckles, CGi and her agency hope to enter an age where people in many traditional roles coexist with CGI characters. Apart from modeling, Daisy is expected to influence and entertain actors, fashion presentations and her future followers.
 First digital supermodel, under contract with LIPPS LA
19 years old
Origin: LA, California
First virtual model, which was taken under contract by an important agency
Cooperations
Luxury fashion retailer YOOX – presented as a virtual dress-up doll, the fashion & Accesoires
Virtual models and artificial intelligence
One question that the fashion world is constantly asking itself is about progress, what is innovative, how will things continue, what does the future hold for the fashion world? With the advancing digitalization and the more and more discussed issue of artificial intelligence, things are made possible today that were unthinkable a few years ago. To what extent artificial models and creators will influence the future of fashion and marketing we have taken a closer look.
In the meantime, it is possible to create an avatar with an inhaled personality and the appropriate scenario with the help of 3D designers. The avatar, or in this case the model, can be customized according to the ideas of the brand or the client. The advantage for brands & Co. is that there is no need for long castings and associated costs. In the search for the right type, the right type can be designed. Virtually there are no limits for creativity. Whether for editorial shoots, fashion shows or advertising campaigns, the possibilities are endless.
Creation of a 3D avatar
Breathing in personality and character
No costs for castings
Creation of the correct type by AI
Virtual no limits for the setup of a job
Will virtual models replace real people?
The answer is no, they will not replace their human colleagues. Maybe they are better suited for specific jobs and assignments than humans. It all depends on who is the right model for that particular job. Who is better suited for what depends on what the goal is. Is it editorial or commercial work, what should be achieved? Especially nowadays virtual models are very suitable, because physical photo shootings and fashion shows are currently not possible.
Will digital influencers replace the stars of today? Read more about this topic (external on Social Media One):
https://fivmagazine.com/wp-content/uploads/2020/09/digitale-virutelle-influener-strategie-marketing-frauen-outfit-modenschau-taschen-werbekampagne-kampagne-werbung.jpg
650
1300
F_kinski
/wp-content/uploads/2023/08/fiv-magazine-logo-news-influencer-fashion-interior-travel-real-esates.svg
F_kinski
2020-09-04 13:36:54
2021-01-19 19:35:24
Virtual Influencers: Digital Toplist! Lil Miquela, Ella Stoller, Shudu Gram, Noonoouri & Co.