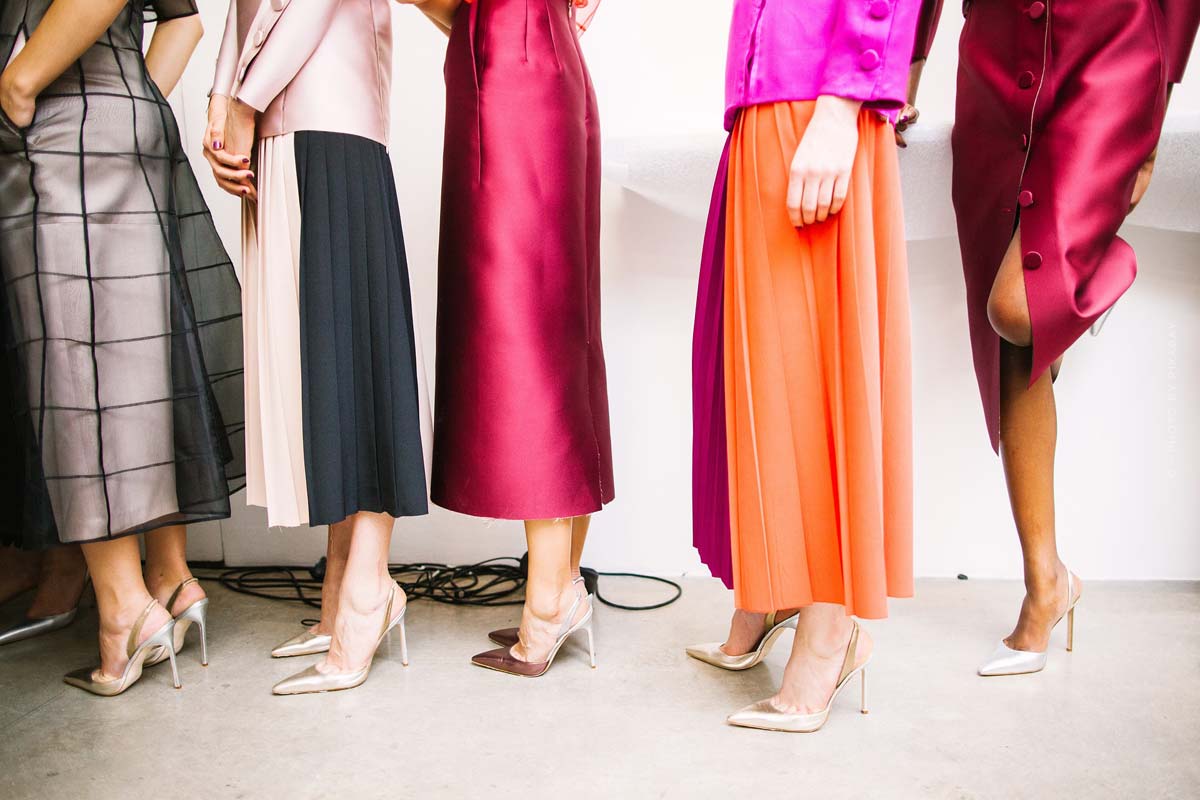 Moscow Fashion Week: Virtual supermodels & newcomer designers
Milan cancelled, Paris cancelled, Berlin cancelled, New York cancelled. Corona's effects also present the fashion world with special challenges.  Fashion shows with presence? Hard to imagine in times like these. So it is all the more wonderful to see how the world of fashion defies the crisis and demonstrates innovative flair with future-oriented ideas. Because necessity makes creativity. The Merzedes Benz Fashion Week Russia goes online! The fashion shows will be streamed live from Russia on all popular social platforms and pages of fashion magazines. Well-known virtual influencers such as Zoe or Lil Miquela present the latest collections of international designers with a focus on sustainability. Go back to all: Virtual influencer.
The most important at a glance:
What? Moscow Fashion Week, 8 virtual fashion shows with 6 digital models and 8 digital artists
When? September 4 to 6 (Sept. 6: Fashion Show CHAIN with virtual influencer Zoe)
Who? 50 international newcomer designers from 20 countries with a focus on sustainability
Where? Streamed from Moscow, shown on all major online platforms and fashion magazines
Moscow – City of a Revolution
Russia's capital Moscow has developed into a true fashion metropolis in recent years. As one of the largest cities and metropolitan regions in the world, the city with over a million inhabitants is Russia's political, economic, scientific and cultural center. By opening up the Asian market, the giant is driving forward the digitalization of the world. A controversial city, which on the one hand acts traditionally and conservatively and on the other hand strikes the nerve of its time, is becoming the scene of a revolution. In the past, the gray, dreary and cool city in the East has attracted attention too often through negative headlines. But away from politics and crises, there is a spark of hope on the horizon. The Global Talents Digital Fashion Show where reality meets digitalization.
Mercedes Benz Fashion Week Moscow
6 digital models, 8 digital artists, 8 virtual shows, 38 video presentations, 50 designers from 20 countries As the first hybrid fashion project, the Global Talents Digital Show from September 4-6 brings together designers and technology to create something never seen before. Global Talents is an initiative of the Russian Fashion Council that gives newcomers the chance to prove themselves in the fashion world. This year, the focus is on "sustainability". Fifty international designers such as Alexey Severin (Italy), Chain (Argentina), Femme de Mars (Belgium) and many more will show, spread over eight shows, how fashion can be designed and presented innovatively. Global Talents Digital is one step ahead of "normal" fashion shows in many ways. With more than 2.5 million viewers worldwide, distributed on the most popular social platforms and websites of well-known brands, Global Talents wants to build on the success of the last show.
Sustainable fashion despite corona
Innovative design contradicts sustainability? Not at all. The Global Talents Digital Designers deal with responsible consumption, concern for the planet Earth and various design strategies and present upcycling and recycling processes, zero waste and slow fashion in the form of fashion shows and workshops. From Japan to South Africa, designers from all over the world will participate in this unique event completely digital.Alexander Shumsky, President of the Russian Fashion Council and Mercedes-Benz Fashion Week Russia says:
"In our project we expand the boundaries of sustainability, (…). The idea of the project is to take designers outside of Instagram for widespread attention of clients, celebrity stylists, and the press. (…) viewers will gain wide knowledge of sustainability and will be engaged through AR" (Source: Global Talents Digital)
Zoe: virtual model and influencer
Digitizing a fashion show presents many designers and organizers with some unforeseeable problems. First of all: the catwalk. Running live models up and down a catwalk and filming them while doing so seems too simple and not innovative enough. But a solution has already been found. Her name is Zoe, she has blue eyes, brown curly hair and works in a bar. And that is not enough. Zoe is a virtual model and will run on the shows of Global Talents Digital. A true revolution in the fashion world. The Israeli model with the piercing eyes deals with sustainability in her spare time, lives a vegan lifestyle and is a real enrichment for the Russian Fashion Week.
Zoe for CHAIN
Zoe will celebrate her premiere as a catwalk model at the fashion show of the hip label CHAIN. The label recently signed her for the Russian Fashion Week. The Argentinean fashion brand stands for sustainability, slow fashion, craftsmanship and zero waste. The plant-based clothes are handmade in a small local studio in Buonos Aires and focus on timeless, minimalist and extraordinary design. The designer behind the brand, Lucía Chain, is not an unknown. After successfully completing her studies in fashion business and sportswear design in Argentina and Paris, the talented young designer founded her label CHAIN. Just one year after the founding, Vogue Italy Chain awarded her the title "Next green Talent". With her victory at the Global Talents Mercedes Benz Fashion Week Russia competition, the up-and-coming Argentinean secured one of the coveted spots at the Global Talents Digital Show in September. The plant-based brand CHAIN now wants to storm the fashion world with Zoe and presents a new collection at the Russian Fashion Week.
Chain: Gloabal Talents Digital
Chain is an aspiring brand whose fashion is modern and futuristic. See here what makes Chain so special.
Virtual Influencer
Miquela, Zoe, Ella, Bermuda, Daisy Page, Shudo. What do these six people have in common? They are successful influencers and models on Instagram and Co. They are considered the new discovery in social media. But what makes them so special? They are not alive. The pixel-creatures only exist online and thus fool some people. Their whole appearance seems so real that even big fashion brands book the influencers for shootings and fashion shows.
The trend of virtual influencers is a phenomenon of the 21st century. After Facebook and Instagram came the bloggers, real people who exploit the platforms to their advantage and entertain their fans on various topics. At the latest since the advent of digital photography and Photoshop, the difference between real and fake can no longer be seen anyway. The advantage of a virtual character: He can be everything and very fast! The developers behind the virtualities create an answer to a prominent demand. In elaborate miniature work a story around the person is invented, character traits are cultivated and pixel by pixel new marketing possibilities are created. In this way, new opportunities open up for the fashion world.
https://fivmagazine.com/wp-content/uploads/2020/09/modenschau-moskau-virtuell-global-talents-digital-models-bunt.jpg
800
1200
Lisa-Marie
/wp-content/uploads/2020/07/fiv-magazine-news-instagram-youtube-tiktok-influencer-fashion-interior-jewelry-real-estate-tips-help-logo.png
Lisa-Marie
2020-09-19 17:00:52
2021-01-19 11:47:10
Moscow Fashion Week: Virtual supermodels & newcomer designers