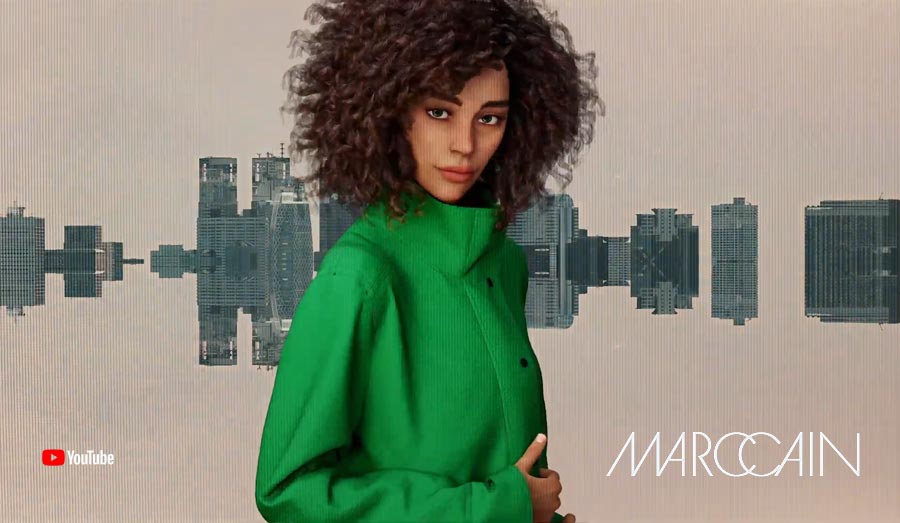 Marc Cain "How Wonderful" @ Fashion Week Berlin: Wow! Future fashion show? Virtual Reality
Marc Cain @ Fashion Week Berlin – Spectacular prints and quality of the finest. Marc Cain's fashion shows are well worth seeing. But this year something new is coming to the screens. Marc Cain's Fashion Show 2021 with the title "How Wonderful" is completely turned upside down. Fiction and reality meet to create something completely new. The first on the market with virtual model, launching a fashion show on 19 January at 18:00.
Marc Cain: Fashion Show "How Wonderful"
The Fashion Show Berlin – high fashion, haute couture and lots of familiar faces, that's how you imagine the fashion show in Berlin! But this year something completely new will be presented, something that has never been seen before! A meeting between two worlds. Fiction and reality. At Marc Cain's Fashion Show 2021, this year there will be no real models as we know them, but virtual models. How should one imagine such a thing? You can see all this live on 19 January. At 18:00 you can watch the fashion show live on YouTube, mbfw.berlin or Vogue. Be sure to tune in and don't miss this unprecedented fashion show with virtual models (Agency and production CM Models / Zoe 101). Read more about: Virtual influencer.
Show by Marc Cain
Virtuelle Models (Screenshots): Fashion Movie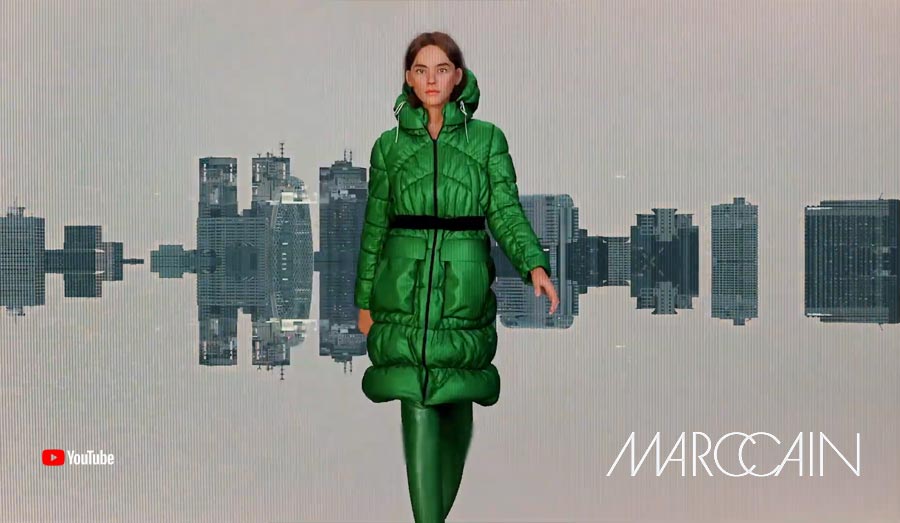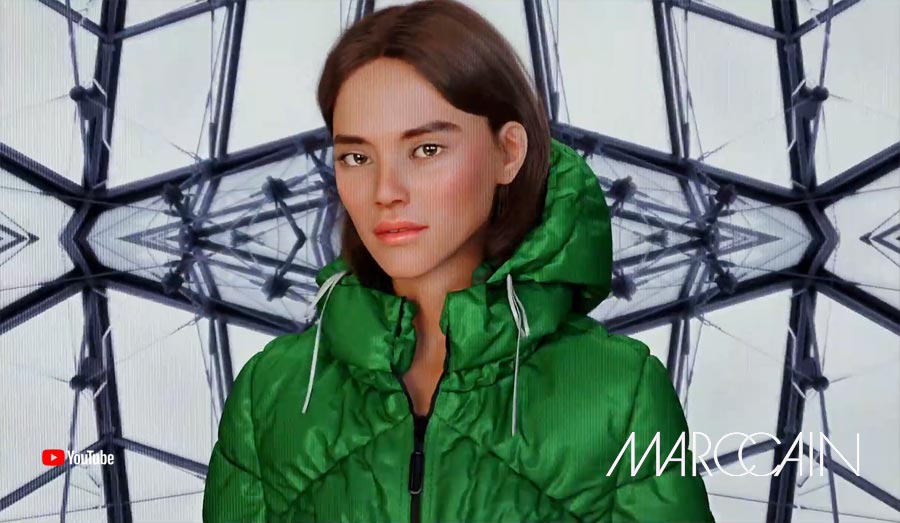 FragranceTip.com by FIV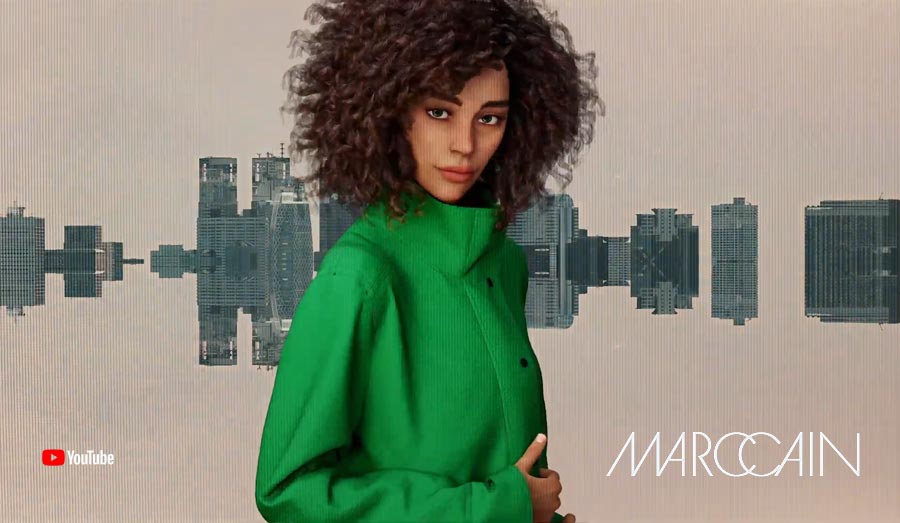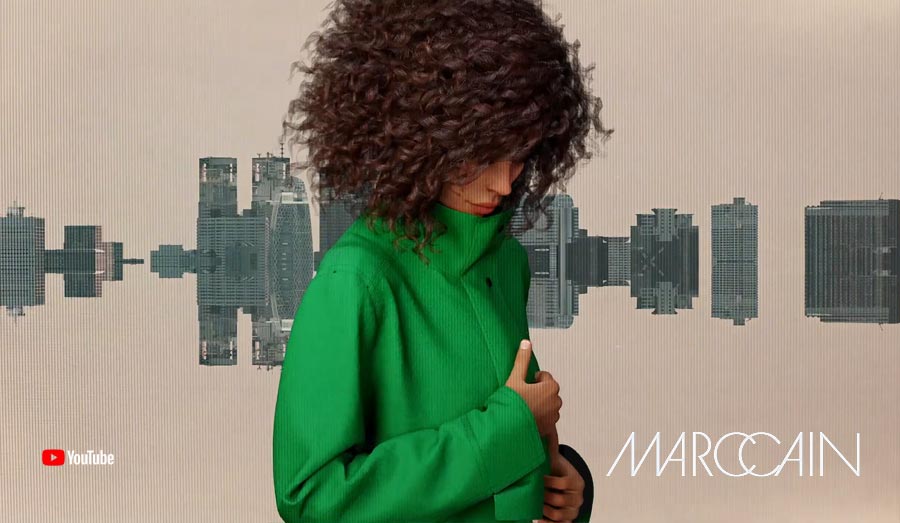 Marc Cain: From Italy to Germany
The company was founded in 1973 by Helmut Schlotterer in Carpi, Italy. A few years later, the headquarters were moved to Bodelshausen in Baden-Württemberg, where the company is still based today. To this day, Marc Cain produces a large part of its collection there and is one of the most important employers in the region. The focus is always on the high-quality product that arouses emotions in the consumer. Like his father's company, Marc Cain also specialises in knitwear, which is still one of the core competences.
3D printers and radiant colours
Marc Cain attaches great importance to its knitwear, which is why it owns one of the most modern knitting machine parks in Europe. He already invested in electronically controlled knitting machines in the 1970s. In 2013, 3D Knit & Wear was introduced. Here, the garments are purely programmed in a 3D printer and a finished product comes out of the knitting machine. With digital printing, different materials such as cotton, leather or wool can be printed. Marc Cain uses its own reactive dye for this, with which particularly radiant, brilliant prints can be created. The dye does not just lie on the surface of the fibre, but forms a permanent bond with the fibre. This makes Marc Cain particularly unique.
Marc Cain Fashion Shows 2020
To give you an insight into how Marc Cain's fashion shows are run, here are the fashion shows from 2020. Rich fabrics, deep colours and elegant cuts.
A spectacular light show and colourful looks with striking Marc Cain prints, dynamic florals and exciting colour mixes. The collection for spring/summer 2020.
Marc Cain featuring fashion artists
Marc Cain cooperates with bloggers, painters, photographers and illustrators. The artists create exclusive designs for a product, which is then incorporated into the collection as a limited edition. The collaborations started when the project with a fashion blogger with the theme "From Paris to Tokyo" was totally successful.
Virtual Influncer: Digital Top List! Lil Miquela, Ella Stoller, Shudu Gram, Noonoouri & Co.
Here you will find an overview of the virtual influencers you may have already met. What role digital influencers play and what you need to know about them. Whether these virtual influencers are on the live show?
https://fivmagazine.com/wp-content/uploads/2021/01/virtual-fashion-show-first-world-premiere-marc-cain-digital-models-4-zoe-new-style-jacket-women-green-city.jpg
523
900
Lisa-Marie
/wp-content/uploads/2023/08/fiv-magazine-logo-news-influencer-fashion-interior-travel-real-esates.svg
Lisa-Marie
2021-01-19 15:15:53
2021-01-19 19:42:06
Marc Cain "How Wonderful" @ Fashion Week Berlin: Wow! Future fashion show? Virtual Reality