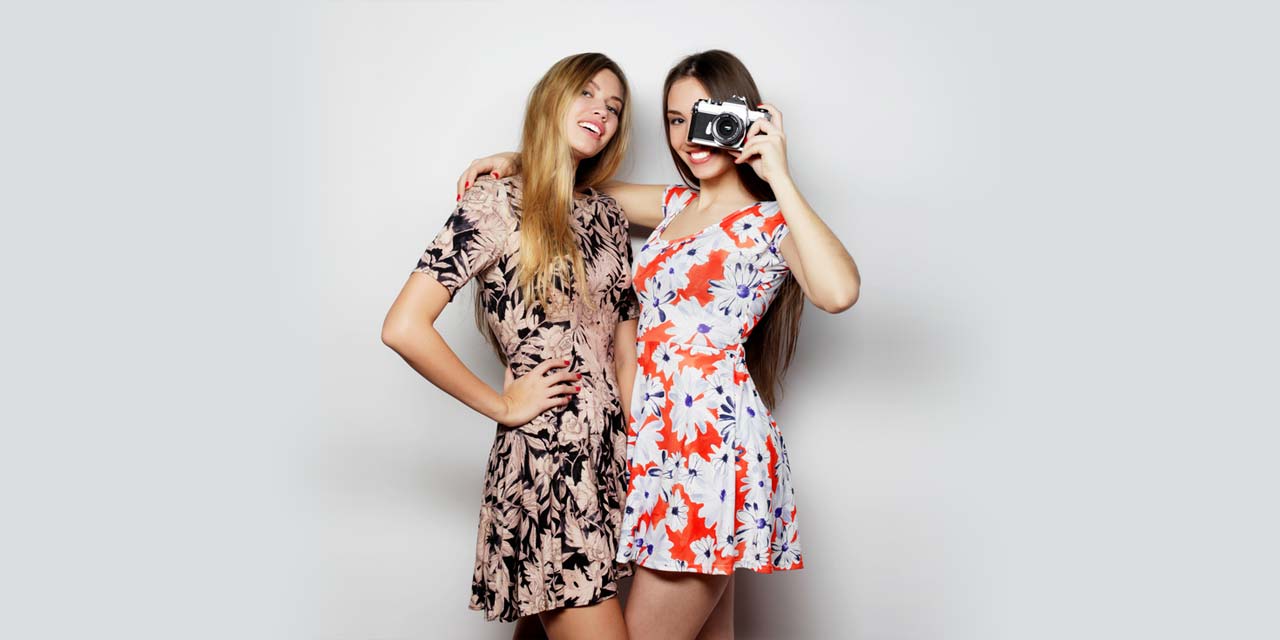 The summer trends 2016 – outfits for beach, city & your next summer evening!
Trends come, trends go – What's left in 2016?
Always new fashion trends arise and say goodbye again. Often we see an old acquaintance again, because trends come and trends go. Some trends we want to say goodbye forever, but find that years later we wear it again with passion and conviction. According to designers, that's the way it looks for summer 2016. We are happy to welcome old trend sins, like creped hair or chain belts, back into our fashionable everyday life. Besides these trend boomerangs, we are also looking forward to quite a few trinkets, like gold leg hoops, leather dresses or water colors! Following are the top 10 fashion trends for summer 2015.
Photo (c) by Raisa Kanareva, fotolia.com
1.leather dresses
Leather dresses – a dream for those of us who can trump with a perfect figure. Also this year on summer nights you could see beautiful women in brown suede dresses strolling through the streets. Unlike 2015, 2016 will see the color khaki dominating leather dresses. Instead of suede, nappa leather will take center stage in the fashion industry. To liven up the clean leather look, various designers are focusing on eye-catchers, such as sexy lacing at the décolleté or around the hips.
2. the tennis look
Did you come from sports? Um…no?! The tennis look is becoming suitable for everyday wear. Even though tennis is back in fashion, we are especially looking forward to tennis outfits in 2016, not on the court but on the street as well. Pleated skirt or satin panties, polo shirt and snow-white sneakers. We become the everyday athlete and we beat our way through everyday life.


FragranceTip.com by FIV
3. leg maturity
Leg ripening? What's that? Yes exactly, a bangle, only for the legs. This leg band is worn on the thigh and preferably in a beautiful gold tone. Perfect for a radiant appearance: A maxi dress with a large slit sets off your leg band especially beautifully. Even with sexy shorts, you can make a statement with a leg band. This jewellery trend can be combined with very large, gold creoles and gold bangles.
4. crimped hair
We welcomed back the 90s in terms of clothing in 2015. 2016 is also the time for the hair: Girls, get to the crepe irons! Yes, that's right, we're creping again for all we're worth. A trend we didn't really miss, it will dominate summer 2016. Straighteners and curling irons adé. We wear our hair cool and frizzie.
5. traditional look
For the romantics among us: the folklore look. Pretty peasant blouses, wide swinging skirts and a flower ribbon in the hair. This is how the hobby hippies can present themselves on the summer meadows this summer.
6. watercolors – the mermaid look
A cool ocean appeals to the overheated mind, especially in summer. In 2016, we're bringing the ocean into the city. Water-colored clothing, such as long, aquamarine skirts or deep blue silk blouses are THE must-haves in summer 2016. Refreshing, sensual and with plenty of room for creativity. Feel like a little mermaid in the big city jungle. A refreshing sight.
7. mini backpacks
Say whaaaat? It's that time again: We are officially crazy about small, cute backpacks in candy shades. The fashion classic from 2000 & Co. is back! We've already gotten used to backpacks again in 2015, so now it's back to the mini variety. The small, colorful it-pieces are perfectly staged with clean outfits, such as plain maxi dresses or overalls.
8. the beach look
The straw hat is back: Say hellooo good old friend! But we don't only wear it on the beach, but also in the evening with a delicious cocktail. Combine the cool accessory for the head with simple, but quite chic summer dresses or a cool jumpsuit. During the day also like á la cowgirl with skimpy jeans shorts and cool boots.
9. the chain belt
We put ourselves in chains – yes, we already know this trend from the 90s, but it was already created in the seventies: The chain belt! It is cool, sets the waist or hips (depending on the height at which it is worn), perfectly in scene. The chain belt can be strikingly large, very casual or glamorous. The simpler version, a fine link chain or radiant rhinestones, can look very classy and feminine. But be careful: Overloaded is a no-go! As the chain belt is already a very eye-catching piece of jewellery, further accessories such as flashy earrings or chains should be avoided! The chain belt serves only as a piece of jewelry and has no other function than to pretty up your outfit.
10. the turtleneck dress
Blouses under sweaters, turtlenecks sweaters under dresses – we've seen it all before in 2015, but in 2016 we're welcoming a quirky new trend: the turtleneck dress. How we can imagine this? Simple: the summer dress has a turtleneck. Visually, it looks like The Décolleté disappears into a turtleneck sweater. But actually, the turtleneck is cleverly sewn onto the dress. We still have to get used to it, but according to various deisgner this creation will be THE hit in summer 2016. Let's just hope that the turtleneck dress doesn't get too warm for us.
We can't wait to see when the trendy pieces hit the stores! But it's still a while until summer 2016, so there's still plenty of time to get used to the unusual or unloved trends.
https://fivmagazine.com/wp-content/uploads/2015/09/sommer-trends-2016-mode-fashion-outfits-strand-stadt-abend-liste-tipps.jpg
640
1280
Stephan
/wp-content/uploads/2023/08/fiv-magazine-logo-news-influencer-fashion-interior-travel-real-esates.svg
Stephan
2016-05-18 18:09:08
2016-05-18 18:09:08
The summer trends 2016 – outfits for beach, city & your next summer evening!