Merry Christmas! Influencer Kisu about family, travel and fashion!
The likeable blogger and Youtuber Kisu lives in Berlin Mitte since 2016. Together with her sister Mai she runs the blog "sistersloft", on which Mai does the editorial work so that her sister can focus on her main activity Youtube. I talked to her about family, travelling and of course fashion.
"Right now, I can't imagine my life being any better"
Kisu, you have a very high reach on Instagram with 284,000 subscribers and the blog you run together with your sister is obviously doing really well. You post new fashion, beauty, lifestyle and travel inspirations almost every day. Isn't it really exhausting to be creative every day and do you have crises as a blogger when you just can't think of anything?
Right now I can't imagine my life being any better, I couldn't have even dreamed of this life a few years ago! It's definitely a challenge to inspire yourself every day, however, I've worked so long for my success that I can't complain at all. Of course there are times when I just don't know what to do, but I have my sister Mai by my side to motivate me, I have great partnerships with companies that create new opportunities for me, so those "crises" only ever last for a few days.


Germany - Spain - USA

Many of my readers will know you or at least have heard of you. Introduce yourself for those who don't know you yet! How would your friends describe you in three words?
Ambitious, relaxed & clumsy to the point of no return!
Travel vs. fashion?
Travel and fashion are very important parts of your life. If you had to do without either, would it be getting around the world or dressing stylishly?
If I had the opportunity to travel the world, I would definitely be able to do without dressing stylishly! Firstly, no one in the world is interested in how I look and secondly, travel is so important for your own education! When you get to know and understand other cultures, you become more tolerant, more open-minded and you broaden your own horizons.
Sibling Love – "Mai is my closest friend, I spend a lot of free time with her too".

You run your blog "sistersloft" together with your sister. Accordingly, you must get along very well. Are you family-conscious people and which values play a big role in your family?
Family is a very important topic for us. Even though we both don't come from a perfect family, we have grown together a lot over the past years. We can trust each other, since she is my sister, she would never betray me. Mai is my closest friend, I also spend a lot of free time with her. Now that she also works with me, she even comes along on my jobs! But in the end we are still sisters and even with us the sparks fly from time to time haha.
Girly…Pink, Dresses and Plush
Your clothing style is very chic and girly. You like to wear dresses and skirts and do elegant hairstyles. In your opinion, which piece should not be missing in any woman's wardrobe and what would the perfect winter outfit 2017 look like for you?
In fact, I used to dress completely differently! And now I love pink, dresses and plush! A must-have for me are well-fitting over-the-knee boots (I even found the perfect ones just yesterday!) and a small collection of beautiful coats and jackets that can be worn for years. My perfect winter outfit looks like this: Pink fakefur jacket, over-the-knee boots, and a cute beanie.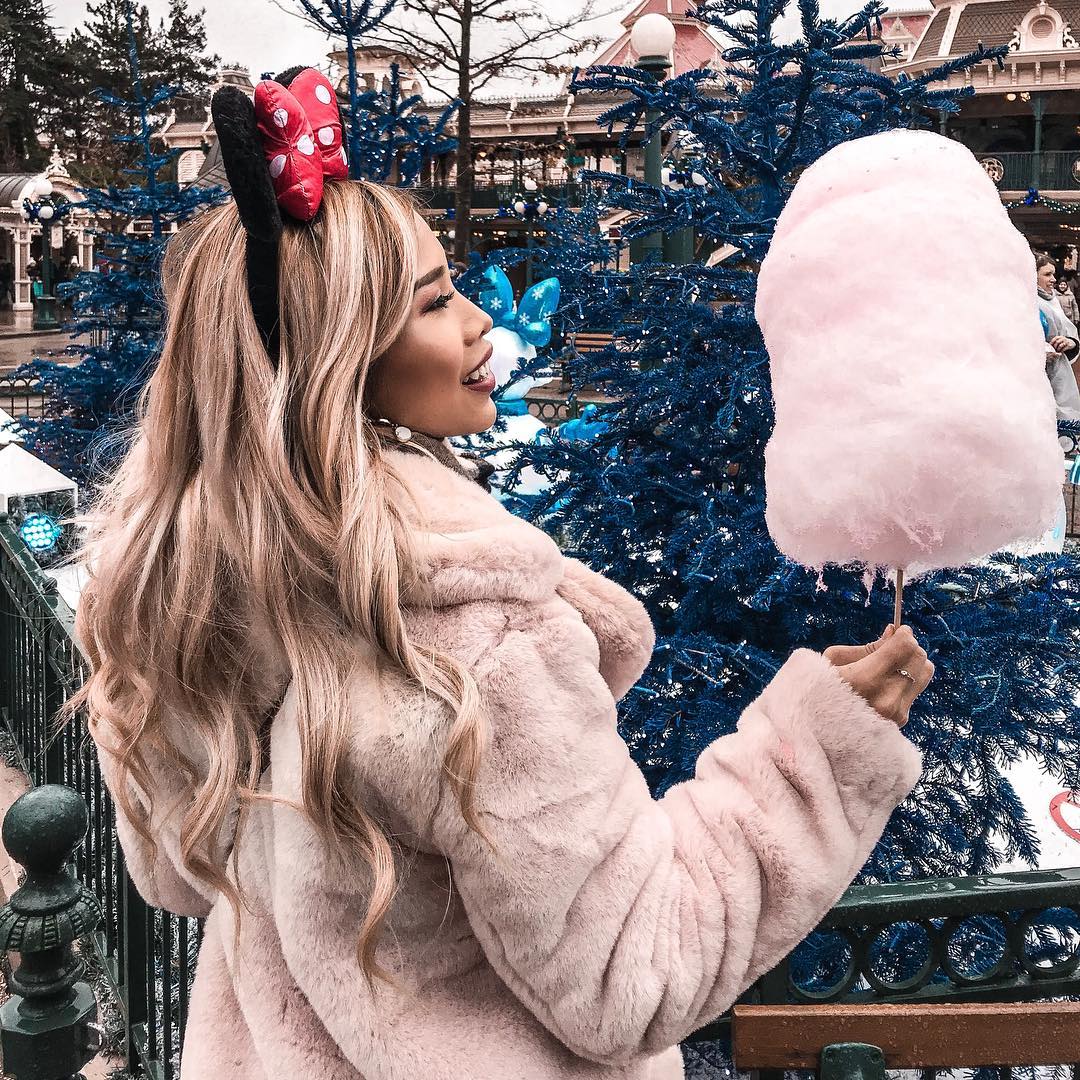 In one category of your blog you deal with the topic "Beauty". As a professional in this area, you surely have one or two tips against dry skin in winter for my readers, right? What are your top 5 beauty essentials without which you would never survive the winter?
Alcohol-free makeup removers are so incredibly important! If you pay attention, most tonics contain alcohol, which dries out the skin even more.
Top 5 Beauty Essentials:
Kiehls Cucumber Wash Gel
Pixi Glow Tonic
Benefit Facial Cream
Kiehls Avocado Eye Cream
Burts Bees Lipbalm
When you deal with fashion a lot, you often come across trends that you don't like at all or that have simply become "stale" over time because they have been worn too often. What is your personal no-go of 2017 and what would you call a fashion sin?
Of course everyone can wear what they like and what everyone finds beautiful themselves. I personally don't like it when you see the bra straps when you wear off-the-shoulder tops, for example, unless they're cool straps! For 2017 I don't have a specific no-go at all, but I used to hate it when guys tucked their pants into their socks, haha!
Rather vlog than blog?

You have also been active on Youtube for 6 years. Do you like it more to upload videos on Youtube or to write entries on your blog?
With my sister doing most of the editorial work on the blog, I can continue to focus on my YouTube videos. They still take up most of my time and beauty just remains my favorite. I also watch almost only beauty videos in my free time.
As a Youtuber, it's getting harder and harder to stand out these days. Many videos are duplicated on this platform and certain topics are already talked out of order.
What's so special about your channel and how do you stand out from other Youtubers?
That's right. I still wouldn't call myself a professional. But I think my viewers like my style and I always try to find treasures in the drugstore that my viewers might like. So I show that you don't need expensive products to get a great look!
Through your jobs as a blogger and Youtuber, you've certainly met a lot of people and seen a lot of places. Which people have inspired you the most and which places have impressed you?
My four favorite YouTubers are: Lydia Elise Millen, Zoella, Nikkie Tutorials and Carli Bybel! They inspire me from day to day and one day I want to meet them! Luckily I could already meet Nikkie, a real love!
The place I would choose is Cape Town. Cape Town opened my eyes in many ways.
Do you have specific goals you want to achieve and where do you see yourself in 5 years?
I want to keep working on myself. My dream is to put out my own products that I stand behind and that have my name on them. Away from that, I'm also interested in real estate. In 5 years I would like to have my own house with lots of pets as well as a few condos.
https://fivmagazine.com/wp-content/uploads/2017/12/kisu-bloggerin-youtube-instagram-influencer-blond-fashion-mode-weihnachten-bunt-1.jpg
600
1200
Lisa-Marie
/wp-content/uploads/2023/08/fiv-magazine-logo-news-influencer-fashion-interior-travel-real-esates.svg
Lisa-Marie
2017-12-24 15:00:25
2017-12-24 15:00:25
Merry Christmas! Influencer Kisu about family, travel and fashion!