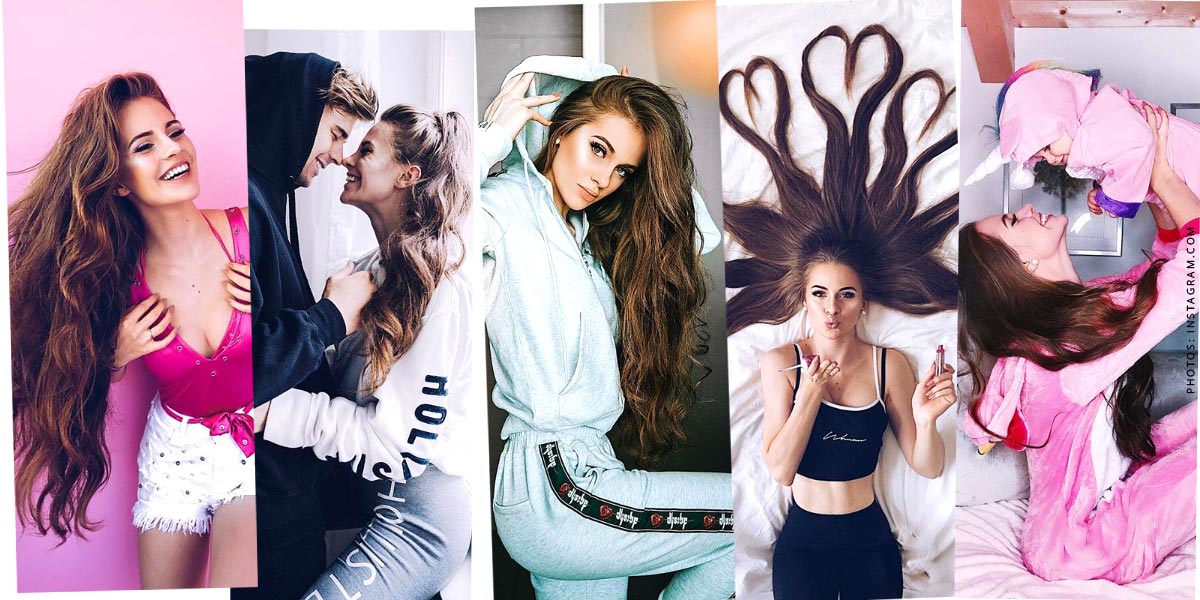 Lisa-Marie Schiffner – Success through mobbing and acne
With 943 thousand subscribers on Instagram and 253 thousand fans on YouTube, Lisa-Marie counts as one of the most successful social media stars in Austria at just 17 years of age. But her life wasn't always as perfect as it is today. Mobbing, acne and her family have made her the enchanting girl she is now.
Father, mother, child: Schiffner family
The beautiful YouTuberin was born on 28 April 2001 in Austria, where she lives with her younger brother Noah, her much younger sister Emilia Sophie and her parents (Andrea Schiffner and Christian Gruber). It is not only Lisa-Marie who shares many of the contents of her life with the public. Her parents and brother also have Instagram accounts.
Sister Emilia Sophie
The mere sight of sweet babies makes hearts beat faster. Lisa-Marie makes no secret of her younger sister Emilia Sophie. Even on the contrary: The YouTuberin posts many photos and videos and thus expresses her sibling love. This is done, for example, as in the following video about a re-styling of her sister, which was particularly well received by her fan community with 600 thousand clicks, including 36 thousand Likes.
In love thanks to music: All about her boyfriend
Last year the single "Kaltes Wasser" by YouTuber and musician Moritz Garth was released. In the music video to the song Lisa-Marie got the opportunity to act at Moritz' side. And from the first scene it was all about her. The sympathy was right from the first moment on and she immediately fell in love with the 23-year-old. Moritz didn't need a long time to remember either and the two quickly became a couple. They regularly share their love happiness with their fans.
Fevered because of acne
Believe it or not, about three years ago, Lisa-Marie suffered from acne. Every look in the mirror caused a burst of tears. She felt very uncomfortable in her skin and nasty mobbing actions of her classmates made Lisa-Marie ashamed of her appearance. Self-confidence ? At that time she was still a long way from that.
life change after common harassment actions
But Lisa-Marie couldn't be kept down. She quickly realizes that she must first love herself before others can. She learned to get up, not to let herself get down because of some skin blemishes. The then 14 year old used a few tips and tricks and her skin improved bit by bit. She also pursued her hobbies and posted photos and videos of herself. Her fans supported her and a new phase in her life could begin.
Lisa-Maries Message
Influencerin only became as strong as it is today because it could learn from its past. Now she obviously feels comfortable in her skin and loves her life. She wants to be a role model for her followers and help everyone with a similar fate to love themselves and make the most of their lives.
Lisa-Marie let your hair down
A special feature of the 17-year-old Austrian is her full and long hair. The secret recipe for such a splendour of hair is: a lot of care, patience and good genes. The influencer is happy to pass on her styling tips. No matter if your hair resembles Lisa-Marie's or not, if you are interested you can try to style her look.
As YouTuberin on Germany's Next Topmodel ?
Young, pretty and enthusiastic about make-up and fashion, you have to apply for the casting show Germany's Next Topmodel (GNTM)! Many think so and not only ask themselves this question, but also Lisa-Marie herself whether she would not be interested in it. The pretty Austrian was not yet a participant of the show but she would be fundamentally interested in it. Since she is a very spontaneous person, she does not exclude the possibility of applying for the upcoming season.
https://fivmagazine.com/wp-content/uploads/2018/09/lisa-marie-schiffner-blogger-baby-boyfriend-fitness-hair-fashion.jpg
600
1200
Lisa-Marie
/wp-content/uploads/2023/08/fiv-magazine-logo-news-influencer-fashion-interior-travel-real-esates.svg
Lisa-Marie
2018-10-21 12:00:51
2020-11-11 12:11:18
Lisa-Marie Schiffner – Success through mobbing and acne