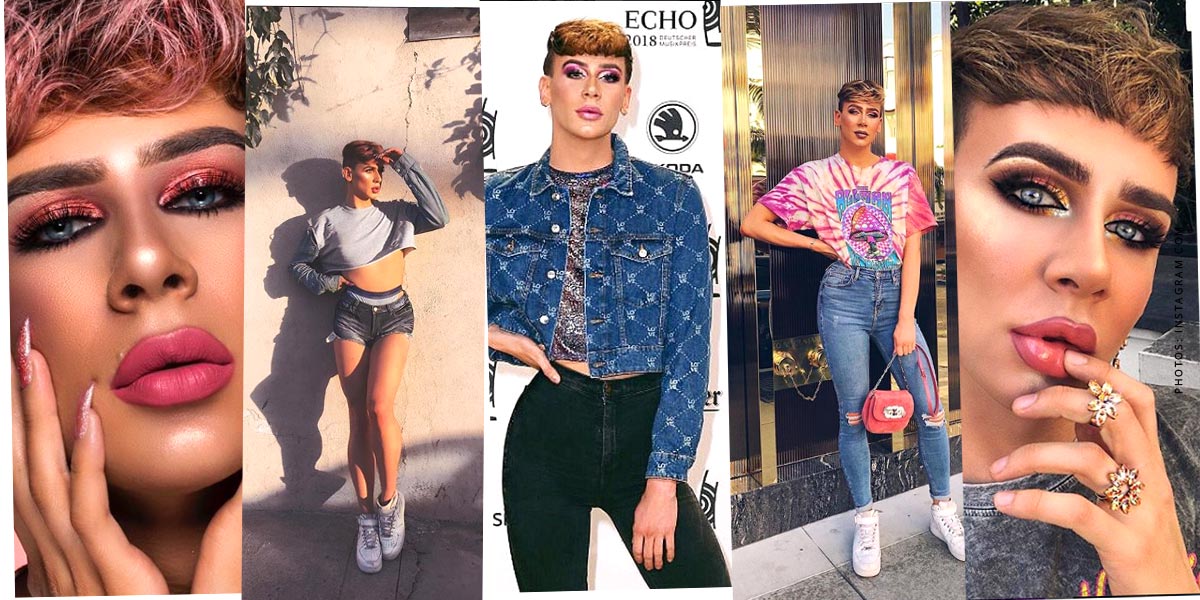 Marvyn Macnificent – Bullying, Merch and Make-Up
Shrill, humorous and glamorous. This might be a suitable description for the German YouTube star Marvyn Macnificent. He enchants his fellow men and impresses with his appearance as well as with his character. Girls envy the 26 year old for his make-up arts and the social media world can't get enough of him. But his life wasn't always as easy as it is today.
All important facts: Age, brother, place of residence
Marvyn Macnificent was born in Germany on 27 June 1992. The social media star has a brother and a sister.  After finishing school, Marvyn trained as a makeup artist with Maggie b. and then worked for MAC Cosmetics as a freelancer. He opened his YouTube channel on 06 October 2014 and has been living in Berlin for three years.
Marvyn's brother: Ossi Glossy
The 14 year old YouTuber Oskar, better known as "Ossi Glossy" resembles Marvyn very much. The two often shoot videos together and share the same interests. Spectators and fans ask themselves whether the two Beauty Gurus are brothers. No, they're not. But in the meantime the two have become so fond of each other that they call each other brothers.


Germany - Spain - USA
Brotherly love: Marvyn gets makeup
In the following video you can see who Marvyn's brother really is and if his make-up skills can keep up with Marvyn's.
A make-up man in front of the camera: Why ?
At the time of his puberty, the YouTuber did not yet have a clear idea of his identity and sexuality. He was looking for advice on the internet and came across the YouTube channel of Gigi Gorgeous, then still Gergory Gorgeous, a man who put on make-up and that was available for everyone on the internet.
This encounter, these videos have been a great help to Marvyn. He slowly but surely learned to be himself and also started to put on make-up. Marvyn finally felt comfortable and wanted to be a role model for others as Gigi was for him then.
Coming-out, mobbing and swimming against the current
Meanwhile Marvyn has over 775 thousand subscribers on YouTube, 419 thousand on Instagram and via Twitter he reaches 94.5 thousand fans daily. The influencer is particularly popular with viewers because it swims against the current. Because the 26 year old is different. He's colorful, flashy, shrill and just an eye-catcher.
But for him, that's quite normal. He's learned who he really is and what makes him happy. He reports on his experiences and deals with topics such as bullying, coming out or how it is unintentional to stand out in the crowd. Because the YouTuber knows how it all feels thanks to his experience.
YouTube, Instagram, Twitter and Musically
So that you don't have to search long, I've picked out Marvyn's usernames for you on various networks.
YouTube: marvyn macnificent
Instagram: marvynmacnificent
Twitter: MrvynMCnificent
Musical.ly: Marvyn Macnificent
Merch: Marvyns Shop
The demand from the YouTuber fan community is high. They love him and always want to carry him with them. They even want to show publicly that they stand behind him and admire him for his own kind. But Marvyn doesn't have an official shop yet, but a first own product of the Social Media Star is already available.
Make-Up range: Cooperation with BH Cosmetics
"Marvycorn by Marvyn Macnificent" the YouTuber christened the make-up palette created by him. In cooperation with BH Cosmetics he created a make-up palette with 13 colours. Including ten matt, shimmering, colourful and metallic shades and three glittering highlighters.
The palette not only looks really cool and doesn't conjure up a perfect look but is also vegan, gluten-free, animal-free and allergy-tested. Marvyn's Wunderpalette can be purchased for 17.50 €.
Copy the look: 3 make-up looks for make-up
Here Marvyn presents you three make-up looks for different occasions and uses only colors from his "Maryvcorn Palette".
Marvyn is in love ! – Friend or girlfriend ?
YouTuber Marvyn confesses: He's in love ! Thanks to his public statement about his sexuality, his fans learned three years ago that Marvyn was gay. So we won't see a woman at his side, only a man. Which one will be the lucky one we don't know yet and Marvyn probably also not yet. He fell in love with a make-up look created by Isshehungry.
Confession of Love
The look of Isshehungry's make-up, which Marvyn immediately fell in love with, can be seen here.
Partners: Sephore, Urban Decay and more.
2018
Social Media Cooperation 'Misslyn'
Social Media Coopration 'Sephora'
Social Media Cooperation 'Urban Decay'
Video production for the 'dm beauty campaign'
Social Media Cooperation with 'Netflix'
Video production for 'eBay Beauty'
2017
'Join the Revolution', Social Media Cooperation 'Makeup Revolution', Rossmann
'L'Oréal Colovista', Brand Ambassador, L'Oréal
'On the toilet', FUNK
'#unique campaign', dm drugstore market
2016
'L'Oréal Colovista', Brand Ambassador, L'Oréal
'Maybelline Trendsquad', Brand Ambassador, L'Oréal
'Style Bible 2017', Model with Kelly Osbourne, Lifeball
'Glossy Talk', Talk guest, Maybelline YouTube channel, L'Oréal
2015
'Makeup for photo gallery with Bonnie Strange/Grossraumindiefresse', IndieMagazine
'Articles and Makeup Photo Gallery Feature 'The Bold & The Beautiful', NakedButSafe
https://fivmagazine.com/wp-content/uploads/2018/09/marvyn-macnificent-beauty-fashion-blogger-men.jpg
600
1200
Lisa-Marie
/wp-content/uploads/2023/08/fiv-magazine-logo-news-influencer-fashion-interior-travel-real-esates.svg
Lisa-Marie
2018-10-23 07:00:48
2020-11-11 12:15:23
Marvyn Macnificent – Bullying, Merch and Make-Up