Exclusive Interview with Laura Blair from London about Fashion, Beauty & Travel
Wonderful and amazing women from London, Laura Blair is one of the incredible influencer to follow on Instagram. She is used to give precious tips and advices about beauty and to share outstanding outfits and fashion haul everyday. She works with a lot of  international fashion and beauty brands like Dior, Lancôme, L'Oréal, Guess, Marc Jacobs or Nivea. FIV Team has prepared an exclusive Interview with Laura Blair about fashion, beauty and travel for you!
Fashion & Beauty Influencer Laura Blair: Sucess Story of a Fashionista
FIV: Hi Laura! How are you? Has anyone ever told you that you look like Victoria Beckham? You're an outstanding fashion and beauty influencer with more than 180K followers on Instagram. When did you start blogging and what was your motivation for getting started?


Germany - Spain - USA
Laura: I started blogging properly in 2016. I say properly as prior to this I had an Instagram account where I just shared pictures I loved – like a Pinterest board with my friends. I then started taking pictures of my outfits on my lunch break and then youtube videos. So it was a staggered process but overall it's taken me approximately four years to get to the stage I'm at now. There was no real motivation at the start, it was just something that I loved to do and then it turned into a career. I just loved every aspect of it so I just found myself working on it every hour of every day. Regarding Victoria Beckham – thank you as I absolutely love her! I think she really understands what women want as they mature. You will find most of her clothes are suitable for all ages and that's definitely something I try to create on my channels too as my audience is a slightly older demographic for social media.
FIV: You have an exceptionally unique style. Where did you get your sense of fashion?
Laura: I first fell in love with fashion at school. There were a number of occasions when I got sent home because my outfit was too crazy for the smart dress code – let's just say I liked to take the scissors to my suits. I created a whole fashion line for my A-level art and got a scholarship for the fashion design course at London College of Fashion (which I actually turned down). I used to go round my local charity shops as a teen and just find gems to create different styles. I loved scrolling through the internet for celebrity pap shots to see what they were wearing for inspiration, which back then (the noughties) was quite a difficult task! I've just always absorbed fashion from such a young age that what I do now is so ingrained into my life that it comes very naturally to me.
5 favourite items of clothing for this Summer 2020
FIV: You are used to share amazing haul videos with your followers. What is your 5 favourite items of clothing for this summer 2020?
Laura: Well this Summer I'd have to say my slippers and my pajamas as I've spent the best part of four months in bed struggling with Corona. Now that I'm finally getting my strength back I'd have to say I love loafers – I think for the first time ever I'm opting for flats over heels. A pair of straight leg denim jeans – they're that perfect mix of comfy and smart. You will never see me without a straw fedora on my head – Zara has a great one at the moment. I've actually spent most of my days in a silk kimono from One Hundred Stars for just lounging around my flat when it's hot. Lastly I've invested in core pieces that will last me a lifetime rather than fast fashion during this time – my favourite being a Prada tote bag big enough to fit everything in. I think I've definitely had a shift in mindset toward fashion during the pandemic and want to invest more in quality pieces over quantity. I really want to help promote recycling outfits and wearing them more than once as it's so easy with social media to get sucked into wanting a new outfit all the time.
Fashion Travel: Tips, Crush city & Top essentials to pack when travelling
FIV: You're trying to travel the world in stilettos and you've already lived in the US, Beirut, Cannes and London. What is your "crush city" in the world and what do you love to do there?
Laura: Beirut will always have such a special place in my heart. It's very misunderstood in the western world and is honestly the most incredible place I've ever been. I was only meant to go for a few months and just kept extending my stay, it was so amazing and never what I imagined in a million years. It breaks my heart that the explosion recently has destroyed most of the city – my old flat was actually minutes away from the incident.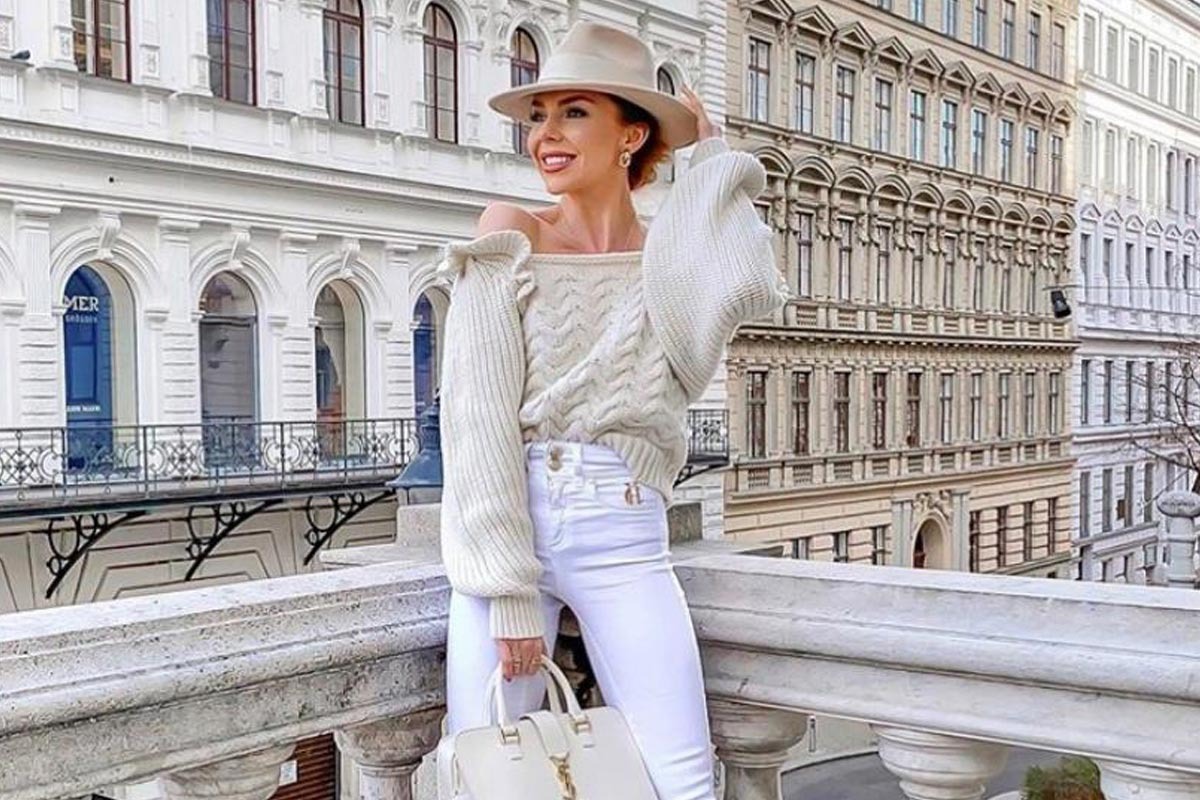 The Lebenese people have such a wonderful spirit about them – so welcoming with a great outlook on life. I find in England we are very work orientated and the pace of life is so fast especially in London that sometimes we forget to live. Beirut has the most amazing night life with arena style clubs that have open air fireworks every night. In the day the beach clubs are beautiful looking out over the Mediterranean sea. At the weekend you can ski in the mountains and have the whole apres ski experience then be on the beach again a few hours later. Parts feel similar to Dubai and then other parts you can really see the ruins from the war and the poverty, but the one thing that really makes Beirut special is the people. It was so family orientated and people you would meet once would invite you to their family Sunday dinner and just open up their homes to you. It gave me a whole new outlook on life after I left.
FIV: As a fashion traveller, what is your Top 5 essentials to pack when travelling?
Laura: I plan my outfits beforehand so I know exactly what I'm wearing each day. I find this so useful to really not overpack and then I store the photos on my phone to refer to later. La Roche Posay sunscreen is a must – it's great for sensitive skin like mine. Both a casual and a smart shoe no matter what the style of holiday as you just never know! St Tropez face mist is a good one too as it gives you such a natural looking glow if you don't tan much. I always like to travel in a gym kit as I find the best way to beat the jet lag is working out even if it's gentle.
Beauty tips: Skincare Routine & Summer make-up with Laura Blair
FIV: You are used to work with beauty brands like Dior, Marc Jacobs, Lancôme, L'Oréal and to share some precious tips with your community. Do you have some advices for people who want to have a natural make up this summer? Which product do you recommend?
Laura: I love the Estee Lauder BB Highlighter – it's great for a quick fix to make you look less tired. It just really brightens up the eye area. I mostly just wear this in the Summer and leave off the foundation.
FIV: Can you share with us your five steps to achieve our summer skincare?
Laura: People are always so shocked when I share my skincare as I actually don't have five tips – I don't do much at all. I really suffered with my skin in my twenties and learnt that the less products I use in my skincare routine the better. I just wash my face with warm water then cold water – when I dropped the face wash my skin just started to glow! I use Simple cleansing wipes to take my makeup off. I know cleansing wipes are frowned upon in the beauty industry but they really work for me as I think I have quite oily skin and it helps keep that at bay. I'm using a moisturizing mask from Codage – a brand that I can't recommend enough for sensitive skin! A lash serum is something I've become a lover of – I was always skeptical but having tried and tested it my eyelashes have never been longer.
Summer Workout exercise tips with Laura Blair
FIV: What are your top workout exercise tips leading into summer?
Laura: Clean eating and weight training. People always seem to crash diet and do excessive cardio before a holiday and it's so bad for your body and will make it really hard for you to lose weight in the long run. Having a clean diet and eating regularly combined with strengthening your muscles will speed your metabolism up so much.
FIV: What is your favourite quote you live by?
Laura: In terms of fashion my tagline on social media has always been 'a price tag doesn't define you, style does'. I'm such a great believer that you don't need lots of money to look stylish. In life there's a quote I love – "You don't have a right to the cards you believe you should have been dealt with. You have an obligation to play the hell out of the ones you're holding."You have no control over what happens to you but you sure as hell can control how you deal with it.
https://fivmagazine.com/wp-content/uploads/2020/08/laura-blair-influencer-image-fashion-beauty-travel-interview-exclusive-luxury.jpeg
800
1200
Clemence
/wp-content/uploads/2023/08/fiv-magazine-logo-news-influencer-fashion-interior-travel-real-esates.svg
Clemence
2020-08-21 07:00:15
2020-11-10 15:54:32
Exclusive Interview with Laura Blair from London about Fashion, Beauty & Travel