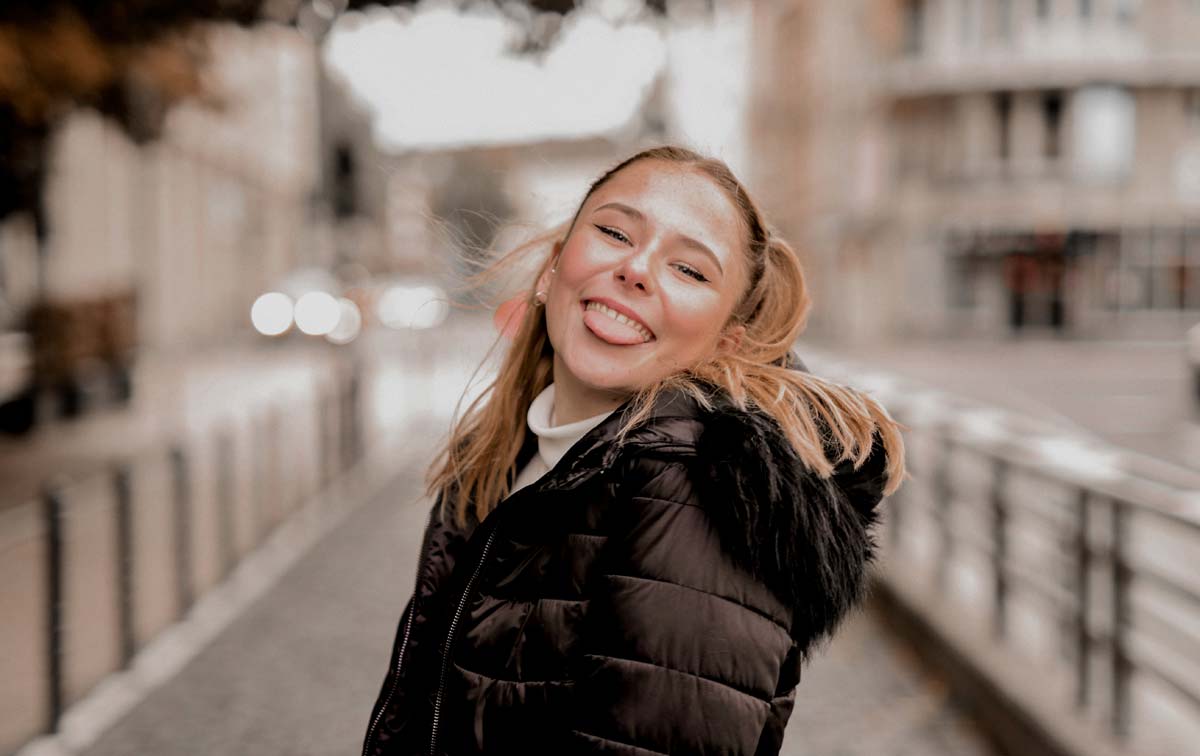 Itsbabyshelly_ Interview: TikTok, Friends & Co.
TikTok reaches more and more people every day. You can find all kinds of content on the platform and today we took a close look at TikToker Shelly (@itsbabyshelly_). She's only 20 years old and has been dreaming of using her humor to make as many people laugh as possible every day. Today she tells us how TikTok helps her to do that, what has changed in her life since then and how her everyday life looks like between TikTok and her internship.
I have to say that I find myself pretty funny […].
Her friends have always supported her
Although it took Shelly some time to upload videos to TikTok, she is now having a huge success on the platform. I talked to her about the things that have changed for her since then and what has happened in her environment. She talks about how she manages her day-to-day life despite collaborations, internship and TikTok videos all at the same time, while still always making for a good Lane. Her humor not only reaches her supporters spread out on Instagram, and TikTok , but also friends and family every day. Both have accompanied and supported her on her journey since March, for which she is also very grateful.
Fashion is very important to Shelly
I also talked to Shelly a bit about fashion and her style, which she likes to share with her followers. Like many, Shelly has a great interest in fashion and styling and has also found a new world through TikTok where she can show her style and find inspiration for it. But she also talks about how difficult it is sometimes to find the perfect outfit and that sometimes it has to be easy not to leave the house styled or made up at all. who doesn't know this feeling?
Life between TikTok and Internship: Perfectly Mastered
Hey Shelly, glad you have time to answer a few questions about yourself for our readers.
FIV: We are all in a special situation at the moment, which is especially noticeable in everyday life. What does your typical day look like at the moment?
Shelly: My day actually runs pretty normally. I usually get up around 8 in the morning and then ride my bike to my internship. After that I go home and usually record my TikToks or write with subscribers. Normally I would also go out for dinner or shopping with the girls from time to time, but unfortunately that's not possible at the moment.
FIV: Despite the changes, we all have to leave the house from time to time, as most of us still work, go to school, etc. What is most important to you when styling in the morning? Is there anything you could never do without?
With me there are also days where I do not style myself at all.
Shelly: With me there are also days where I do not style myself. But what must always be is a day care! Without the nothing goes, because otherwise my skin always feels so dry that I can not stand the day. Apart from that, eyebrows and a little concealer are also very important to me! Simply for a fresh look.
FIV: On Instagram you show your followers the outfits you put together and they always look great! Is it important to you that you are always well dressed?
Shelly: I'll put it this way: It would be a bit more important to me to dress well. On weekends that's usually the case, but during the week when I get up early in the morning and have no motivation, it can be a loose sweater with jeans. I would like to be more consistent.

In a particularly good mood? She shows it with clothes
FIV: How important is fashion to you? It's certainly a big part of your life, since you're in front of the camera every day.
Shelly: Fashion is very important to me. I just love clothes so much and the constant combining of new pieces. You can always reinvent yourself and wear something new for every occasion. Above all, you can evoke certain emotions..
FIV: I'm sure you have someone who inspires you in fashion like you do your followers. Who is that with you?
Shelly: Actually, TikTok inspires me a lot. Through the videos that I see daily on my For You page, I always see new styles and quickly find things that I also like. Like the trend with the sweaters at the moment, where my grandma was totally shocked when she saw that young people wear them in the most colorful colors.
Shelly makes the whole family laugh
FIV: There's no question you excel in your content with your insanely funny sense of humor. Are you the same in your personal life as you are on TikTok?
Shelly: I have to say that I find myself pretty funny and I entertain my friends well. This ironic way is just my way and seems to go down well with many. I also often joke around with my family.
FIV: You must have received some reactions after the TikTok thing worked out. Has something changed in your life so far, if so what?
Shelly: My life has changed a lot because of TikTok, because I can finally do what I've always wanted to do and that's comedy. I've been secretly making YouTube accounts and Snapchat vlogs since I was 15, but somehow I was never seen. Through TikTok I got the big chance to be seen, which I really appreciate. I'm just totally happy to put a smile on people's faces. Of course, I also get to work with really great companies. Back then I said to my friends as a joke: "Imagine I would get products sent to me" and now I can hardly keep myself from being offered them, which is totally unreal for me.
Through overcoming to success
FIV: As you can see on your TikTok profile, you've been on TikTok since the beginning of March. How did you get on TikTok and why not Instagram or YouTube?
Shelly: I have to admit, before I started using TikTok, I thought it was very cringe-worthy to upload videos there. But when the first lockdown by Corona came, the boredom came too and I got carried away and downloaded TikTok. Suddenly, I totally loved the videos because the algorithm had me so hooked that it tickled my own fingers. I had to make videos myself. Then I started using other people's sounds and then I made my own videos, which to my surprise were very well received.
FIV: Obviously your kind reaches hundreds of thousands, as you can easily see from your 300,00+ followers. How did your friends react when you became successful on TikTok?
All my friends have reacted positively to it […].w
Shelly: All my friends reacted positively to it and somehow already thought that something like that would happen. I've always wanted to be in the public eye and of course my friends have noticed that. Of course, now I'm being teased as a "TikTok" star even though I don't feel like a celebrity at all, but I guess I have to deal with that now. I'm just super happy that my friends support me and indulge me.

Coming soon to the big stage?
In the future, I might even see myself on a stage […].
FIV: What are your plans for TikTok? Is there anything you can tell us about for the future?
Shelly: Where the future goes I do not know yet exactly. Of course, I'll continue to provide my subscribers with good humor! In the future I might even see myself on a stage as a stand-up comedian. I would love to stand in front of a live audience and be close to my subscribers. That would be a big dream of mine.
FIV: Thank you for telling us about yourself. Stay healthy and from the FIV team and me all the best!
Shelly: Thank you for the lovely questions!
Love, Shelly
Where you can follow Shelly
https://fivmagazine.com/wp-content/uploads/2020/11/itsbabyshelly_-interview-influencer-mode-beauty-shoppen-kledung-frau-maedchen-online-shopping.jpg
756
1200
Lisa-Marie
/wp-content/uploads/2020/07/fiv-magazine-news-instagram-youtube-tiktok-influencer-fashion-interior-jewelry-real-estate-tips-help-logo.png
Lisa-Marie
2020-12-06 12:00:30
2021-07-17 17:08:18
Itsbabyshelly_ Interview: TikTok, Friends & Co.