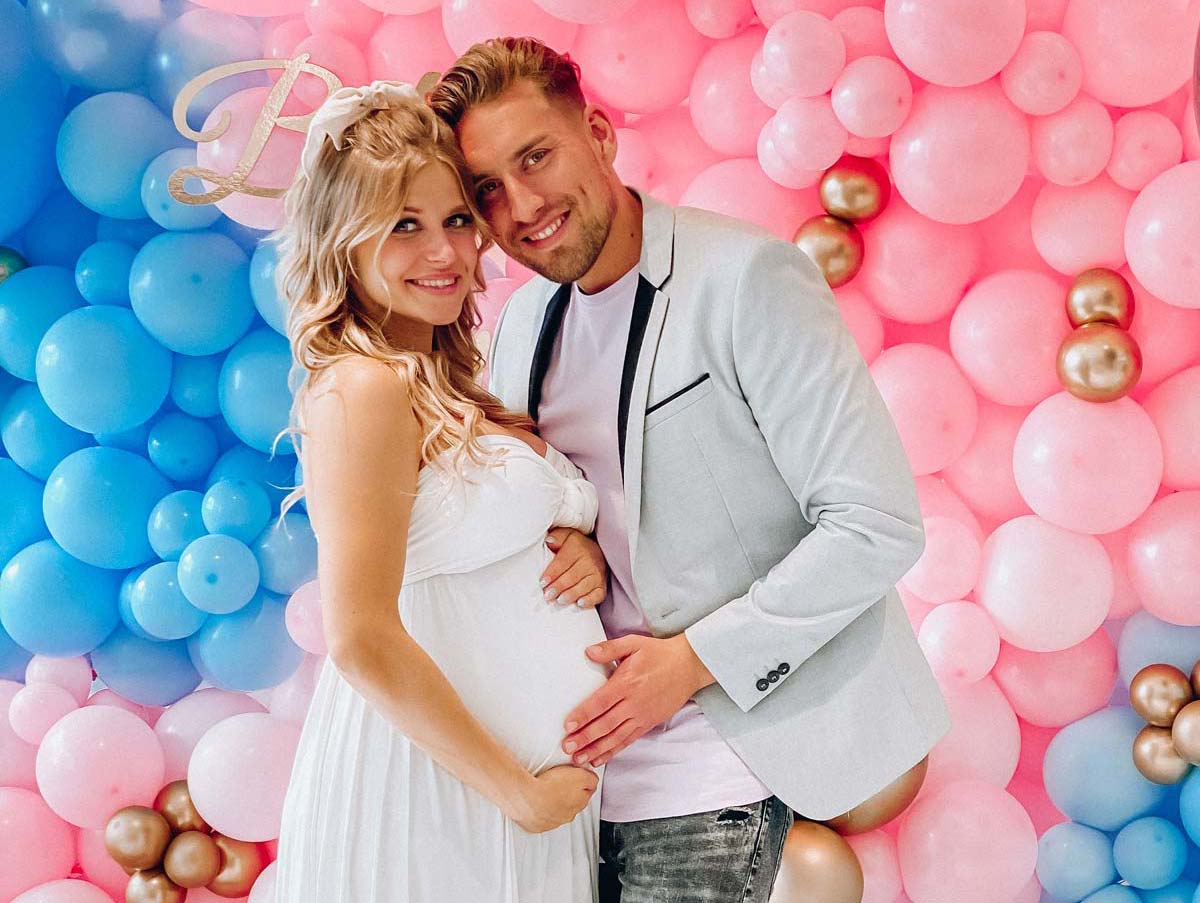 Interview with TikTokern Jenny and Marco: Fun couple, parents-to-be & life in public
Jenny and Marco have a huge success with soon 3 million followers on the internet platform TikTok! Every day they serve their fans with funny videos – no wonder, because the two are a real dream team with their easy-going and humorous way: they got married in 2019 and are expecting their first child in the near future. In the following interview you can learn more about the life of the – as they call themselves so beautifully – "child heads".
FIV: You've had great success on TikTok with 2.7 million subscribers! Are you happy that you went this way and that you have so many followers behind you?
J&M: Absolutely. It was the best we could do.
FIV: You seem to enjoy pranking each other or competing against each other in a challenge and sharing these jokes with your followers. Are you in the same mood in everyday life that you don't take yourselves too seriously and are so relaxed with each other?
J&M: Yeah. We're both very goofy. We always have a lot of fun with each other and romp around like kids sometimes. We're very alike that way. Real kids' heads.
FIV: How did you actually get the idea to start with TikTok? In the beginning, did you just shoot videos for your private use, or did you post them directly?
J&M: We had recorded each other before without uploading anything. Jenny's little sister was visiting us and then she showed me TikTok. I made dance videos with her. When Jenny saw that, she wanted to do the same with me. That's when we started uploading videos.
FIV: TikTok has become your main job now, right? Was it your plan and goal to achieve such a reach on TikTok, or did you have other plans? If so, what were they?
J&M: Yes. We do social media for a living. Actually, we just uploaded videos for fun. It wasn't really planned that we would achieve such a huge reach. I had just finished my studies and Marco was employed. Our plan was actually to get married and travel a lot. Social media gave us the independence to travel a lot and work on the road. We got married in August 2019.
TikTok career with child: This is how Jenny & Marco plan their life as parents
FIV: You will soon be in the final stages of your pregnancy! How do you plan to keep your social media accounts going? Are you going to minimize your TikToks for now, or do you plan to continue to share as much as you can with your fans and share with them your daily life as new parents?
J&M: We definitely want to take our community with us and let them participate. Of course we have to see how Jenny and the baby are doing after the birth. Depending on that we will decide if we will take a break.
FIV: Your life will change a lot with a child and your everyday life will certainly have to be different. Do you have any plans for the future, both professionally and privately? What is your biggest dream?
J&M: The baby will enrich our lives even more. We would like to travel a lot with our son as long as he doesn't have to go to school yet. Hopefully that will be possible again soon. Professionally we would like to continue exactly as before. There are still new cool projects planned. We are very much looking forward to that.

"Hate comments bounce off us": here's how Jenny & Marco deal with life in the public eye
FIV: How has your life changed since you took the step to be in the public eye? What are the advantages and disadvantages of the job and what do you like most about it?
J&M: We can be creative, we are independent and can spend a lot of time together and then also with our baby. We can both just be there 24/7 for our baby. We are incredibly lucky to have this opportunity.
But of course there are also disadvantages. Being out in the open like this also means less privacy. You are recognized everywhere. On vacation at Lake Starnberg we couldn't walk 20m without having to take a picture. But we chose this and without our community we wouldn't be where we are now. That's why we always like to take photos with fans who politely approach us. There are also a lot of people who don't like it and write hate comments and messages. But there will always be those and it just bounces off us.
FIV: What could/wouldn't you do without in your everyday life? Do you have a certain routine or workflow when you shoot your TikToks or do you shoot when you have time and feel like it?
J&M: We are already very busy with the production of videos. This includes brainstorming for video ideas, searching TikTok for new trends, shooting the video and finally editing and uploading it. In addition, we try to respond to comments and reply to messages. Most of the time we are most productive from morning to afternoon. Quite often, however, we are still sitting there in the evening at 11 p.m. and then comes the idea, which we then still quickly shoot.
FIV: Do you have a point in your career or in your private life that you like to look back on and that has shaped you? Your wedding was certainly a super nice day, wasn't it?) What was the most beautiful thing you have ever done in your career?
J&M: The wedding was really the most beautiful day in our lives. Our trip to Los Angeles in February 2020 had the biggest impact on us. We produced videos there with all the international TikTok stars and were able to learn a lot about professionalism and acting. We were there for 4 weeks and enjoyed shooting videos during the day and watching the sunset over the ocean in the evening on a cliff in Malibu.
https://fivmagazine.com/wp-content/uploads/2020/12/image00001-1.jpg
903
1200
Lisa-Marie
/wp-content/uploads/2020/07/fiv-magazine-news-instagram-youtube-tiktok-influencer-fashion-interior-jewelry-real-estate-tips-help-logo.png
Lisa-Marie
2021-01-05 11:00:37
2021-07-17 17:43:30
Interview with TikTokern Jenny and Marco: Fun couple, parents-to-be & life in public