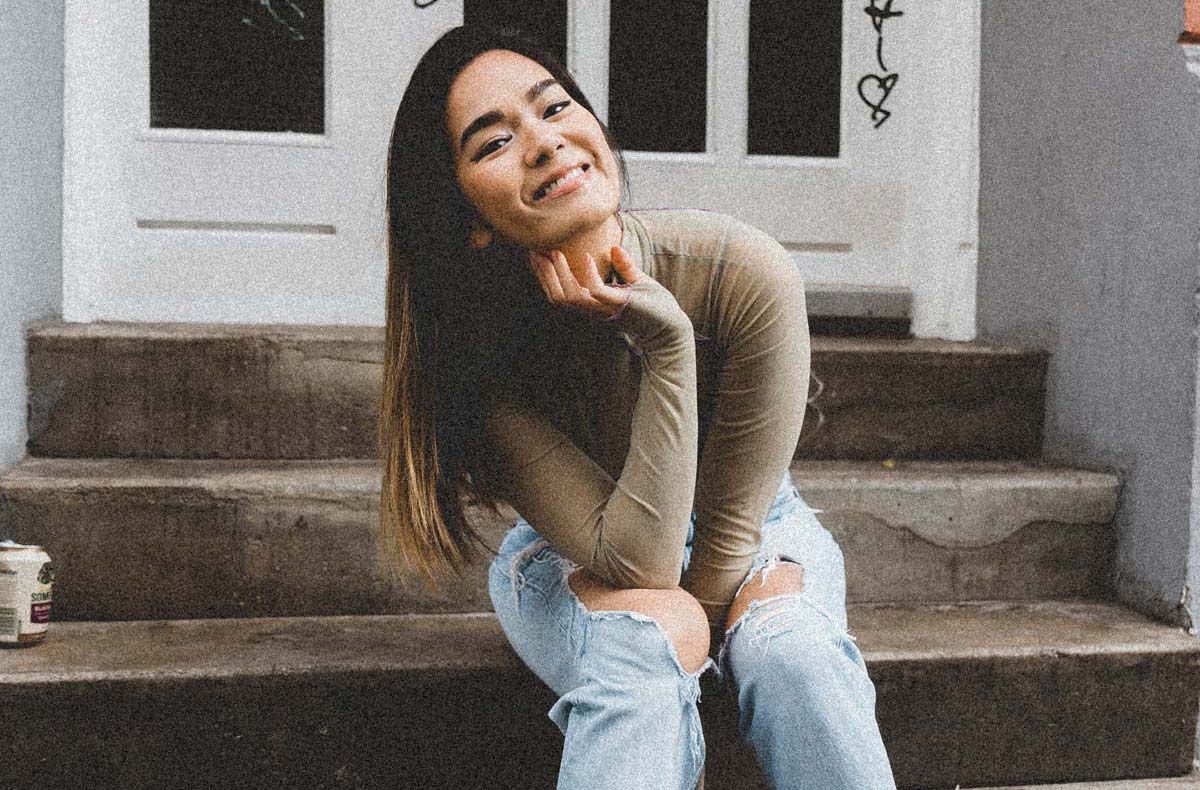 Saint Linh interview: Daily routine, big change in her life & plans for singing and TikTok career
Saint Linh is riding high with over 600,000 followers! But she didn't plan it this way: a holiday fun with her brother eventually became her breakthrough on the popular social media platform TikTok. Within a very short time, her life changed to one she couldn't have dreamed of before – her videos, which were once just for fun, quickly became a habit and today even her main job! For Linh, it's clear: she wants to increase her reach, but stay true to herself and do what suits her. In the following interview, the beautiful brunette reveals even more about her lifestyle and her plans as a successful TikToker.
"I find it hard to give up my morning routine" – Linh & her regular daily routine.
FIV: You now have over 600,000 followers on your TikTok channel – that's a big success! It's probably a great feeling when you know that your followers are behind you and follow your TikToks regularly, isn't it?
Linh: It's definitely a great feeling to know that so many people follow you and find it exciting and interesting what you produce – I'm very grateful for that.
FIV: Besides your singing, you like to post beauty videos, like transforming into celebrities. Is beauty an integral part of your everyday life? You seem to have a lot of fun getting involved with makeup.
Linh: I like to create new looks, not only in beauty but also in fashion. I get super inspired by other accounts and then implement these looks on my account. It's so satisfying when you look at the result after work and it looks good.
FIV: What does your everyday life look like? What could you not do without? Do you have a certain routine, that is, when you shoot your videos, for example?
Linh: My daily routine consists of my morning routine, which consists of jogging, exercising, meditating and having a cup of tea. In fact, it's hard for me to do without my morning routine. Should the case arise that something gets in the way, I'm still a little out of rhythm:)
Succeeding through fun videos: How Linh's Life Changed 360 Degrees
FIV: How did it actually come about that you started so intensively with TikTok? Was it your plan and dream to live the way you currently do? If not, what was your actual plan?
Linh: It was actually my brother who motivated me to do it. I was only visiting Germany, but since I had just returned from Vietnam and had to go into quarantine afterwards, it actually started. Son had school holidays at that time. So we had all the time in the world and I thought why not. Let's dance a bit and do our everyday nonsense. Over the months it eventually became a habit and you couldn't stop. Eight months later, my life has changed 360 degrees.
FIV: The production for your content probably takes a lot of time. Do you do anything else besides your job as a TikToker or is this your main job?
Linh: I used to be a dance teacher and a singer in Vietnam. When I came back to Germany, I started directly with social media and made this my main job.
FIV: As you can easily see on your channel, you love to sing. Do you have any plans for the future as far as singing goes? Or do you just want to keep posting videos on TikTok and Instagram?
Linh: Yes definitely, I want to continue with the music. That's what my soul lives and burns for. How and when I can not say exactly. Due to the current situation, everything is still a little limited, but hopefully a door will open for me very soon.

"I don't want to create an image that I'm not" – Linh unfiltered and genuine about her job
FIV: You produce content every day – I don't imagine it's easy to always have new ideas for posts on your social media accounts. Do you have role models that inspire you? People or motivations of your own that you keep in mind on a regular basis? If so, what would they be?
Linh: In the beginning, I have to admit, I only produced content that I enjoyed. I paid less attention to who was watching and who wasn't. In the beginning, I actually only uploaded one video a day or every two days. Then, as I said, it became a habit and I uploaded two to three videos a day, experimenting for the first time. Sometimes it was dance-, fashion-, lifestyle- or singing videos etc. But you always look at the trends in between and see if that's something for you. I want to stay as authentic as possible, because I don't want to create an image that I'm not.
FIV: Finally, I have a question for you: Do you have certain things that you would like to achieve?
Linh: I definitely want to increase my reach and am working diligently on it. It's important to me to have fun and enjoy it and not lose myself in the process. The one thing I definitely want to do and continue to push is the music and perform here. I hope that will work out very soon. Solang I sing in front of the camera:)
Saint Linh: Social Media
https://fivmagazine.com/wp-content/uploads/2020/11/saint-linh-interview-titelbild.jpg
790
1200
Lisa-Marie
/wp-content/uploads/2020/07/fiv-magazine-news-instagram-youtube-tiktok-influencer-fashion-interior-jewelry-real-estate-tips-help-logo.png
Lisa-Marie
2020-12-15 14:00:24
2020-12-15 14:00:24
Saint Linh interview: Daily routine, big change in her life & plans for singing and TikTok career