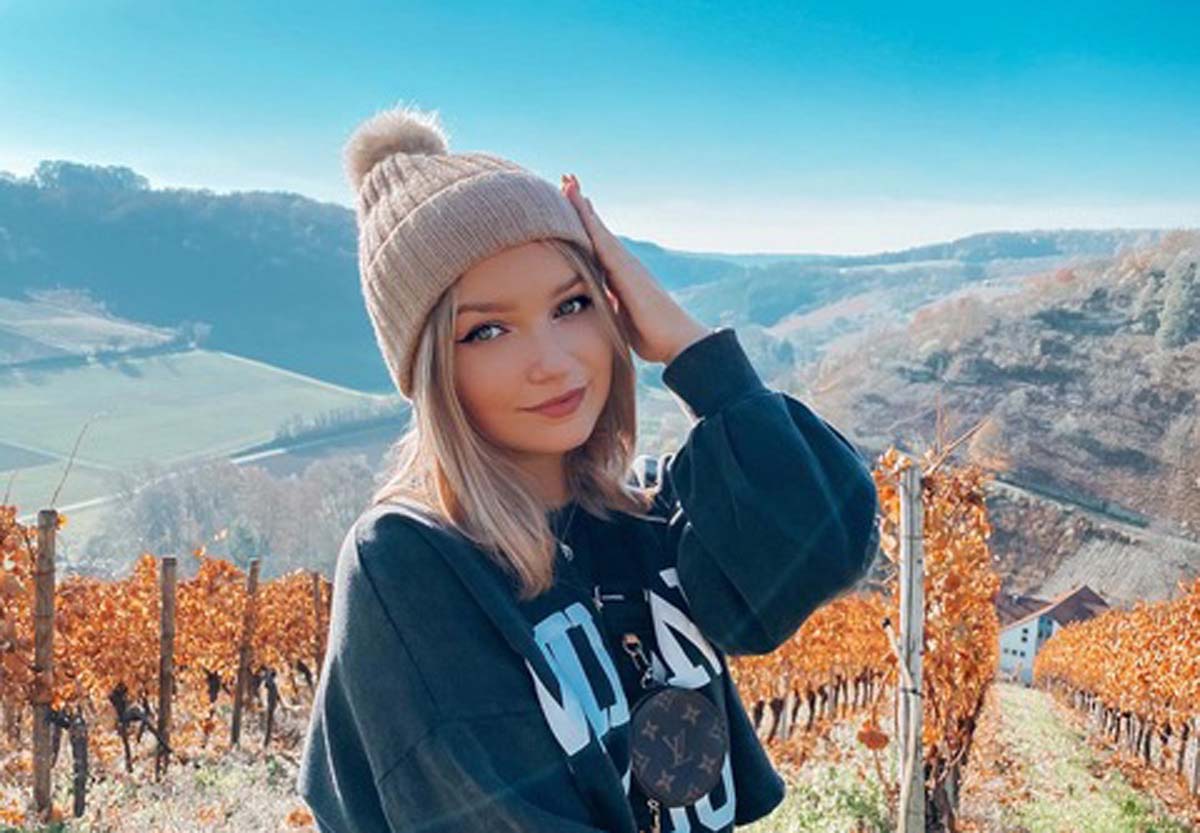 Alina Mour interview: Young content creator's breakthrough – Insta, TikTok, Youtube
Alina Mour – Numerous collaborations, awards and her own advent calendar: she has made it! But such a big success doesn't come from nowhere. With us, she talks about her early career start, her favorite jewelry, and making friends as an influencer. Alina proves to us that hard work and determination pay off in the highly competitive social media business! Finally, she gives us a little preview of her projects in the coming year. Be curious and read the whole interview with Alina here.
Insta, TikTok, YouTube: Road to Social Media Queen
FIV: Hey Alina! Se're so glad you took the time to talk to us today about yourself and do an interview with us. Tik Tok, YouTube and over a million followers on Instagram – you could say you're a true social media queen. It must have taken a lot of work and patience to get there. When did you realize: Yes, I made it?
Alina: To be honest, I don't really realize it until today. Now and then when people talk to me, or when I held my first award in my hand, I become aware of it. These are events that I will never forget!
FIV: You are 18, your Tik Tok career started during school. How did your classmates and teachers react when the success came? Do your teachers sometimes look at your channel?
Alina: It wasn't always pleasant for me at school! Many smiled at me, called me things and the teachers weren't always nice to me either! But hey, it just made me more self-confident and steadfast!
FIV: School and Tik Tok – Full Time Jobs. Followers waiting for new posts on Tik Tok and Instagram every day. How did you actually balance your life as a star and a student?
Alina: Well, my graduation is now 1 1/5 years ago and I have since started my own business! At that time it was definitely stressful to take care of my 'online life' after school. But luckily I had plenty of support from my mom!
Hard work, determination & close friends
FIV: With a total of 4 million followers on Tik Tok and Instagram, you are already a real social media expert. Many young people are totally inspired by you and are encouraged by you to also work on their own Instagram or Tik Tok account. That's why we're asking: What is THE starter package to get started in social media?
Alina: The most important thing is to stay yourself! There are so many different content creators nowadays, so it's hard to assert yourself, but if you're determined, work hard and believe in your goal, it will work out!
FIV: The social media world is getting bigger and bigger and consists of many different characters. Which interesting people have you met while working as a social media star? And where would you say real friendships have developed?
Alina: You do get to know a lot of people, but rather fleetingly and unfortunately only rather superficially! However, I have also met many people who I have taken to my heart and who are now very close friends: Ana Kohler, Leoobalys or Marie Sophie. There are so many lovely people and I am grateful to know them!
Christmas Greetings: Alina's Jewelry Advent Calendar!
FIV: We came across your collaboration with Ana Lisa Kohler. You two collaborated on a design for an advent calendar. Not every Tik Tok star gets the cool chance to have their own Christmas calendar. What was it like designing your own advent calendar?
Alina: It came as a total surprise, but I'm very happy! It was definitely fun and I'm proud that it turned out so cool.
FIV: As a child, we all had an Advent calendar with chocolate and Christmas motifs printed on it. Was it strange when you saw your face on the advent calendar for the first time?
Alina: YEAH, full! It was totally unusual, but also a very great feeling. Especially with such projects and of course with my community you realize that it was really worth it to never give up!)
FIV: Rings, necklaces and bracelets – your advent calendar offers great pieces of jewellery. You often wear jewelry in your posts, too. What is your favorite piece from the advent calendar or your favorite piece of jewelry?
Alina: I appreciate the necklace with the star! It's simple, but also so cute!
Own jewellery collection and move to Cologne!
FIV: And one more little question: What are your plans/goals for your professional future? Is there anything coming up in the near future? Will there be something special in our news feed in the near future?
Alina: Well, of course I try to keep going and work on myself every day to get better. I will also move into my first own apartment in Cologne next year and I am already very excited! I'm also planning a lot of new projects right now, like my own jewelry collection that's coming out soon. And I've been working on a really big project for a while now, a project of the heart that I hope to be able to tell you more about soon.
FIV: Thank you very much for the interview, it was a pleasure to learn more about you. FIV Magazine and I wish you all the best for your future and continued success.
https://fivmagazine.com/wp-content/uploads/2020/12/all-in-pr-alina-mour-interview-social-media-influencer-muetze-himmel-blond.jpg
833
1200
Lisa-Marie
/wp-content/uploads/2020/07/fiv-magazine-news-instagram-youtube-tiktok-influencer-fashion-interior-jewelry-real-estate-tips-help-logo.png
Lisa-Marie
2020-12-27 07:00:47
2021-07-17 17:38:15
Alina Mour interview: Young content creator's breakthrough – Insta, TikTok, Youtube