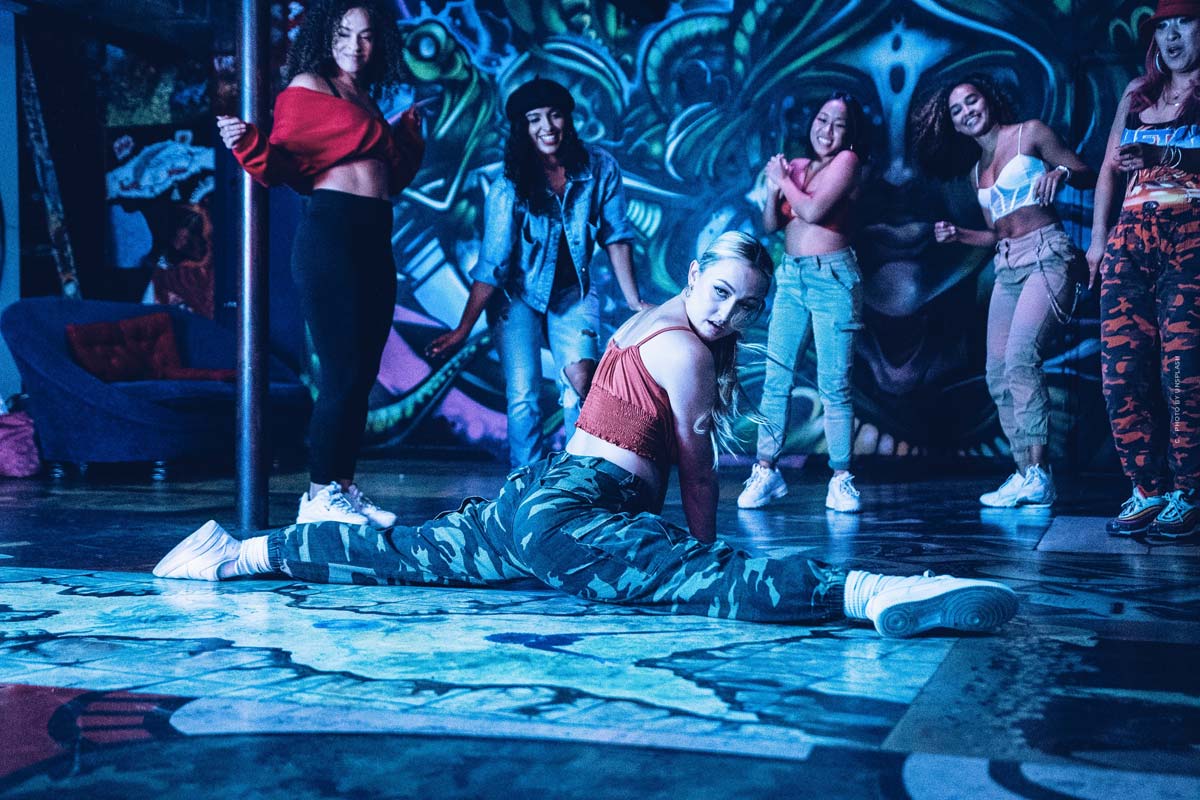 Shirin David: Instagram & YouTube star, rapper, feminist
Shirin David – Today, probably one of the most successful female musicians in Germany. "Give him", "Just with you", one hit after the next, but even before her music career and her album "Supersize", the extraordinary beauty was known from the net. Extraordinary look, a sexy body and again and again, she reinvents herself. In this article, I'll air the most frequently asked questions about Shirin and give you an insight into her life and history. You will learn about her career and her beginnings. You are interested in how tall she is? Who her sister is and with which label she is signed, you can find out all that here.
Top Charts – A steep music career for Shirin
Shirin started as a Youtuberin in 2014 and quickly built up a network with other Youtubers and a large fanbase. There she posted a few videos of her singing, but only rarely and so she never made the breakthrough until the debut of her songs: "Orbit" and "Gib ihm! In 2019 she got a deal with the label Universal Music, founded her own label, released her first studio album and landed high up in the German charts with features with musicians like Xavier Naidoo. Today she is unstoppable and with over 7 million fans on her socials you can see that!
Even before her career on social media, Shirin trained at the "Youth Opera Academy" in Hamburg. There she focuses on singing, acting and dance. In 2015 she sings the chorus of "Du liebst mich nicht" with Ado Koyo for the first time on YouTube. Meanwhile she belongs to the big ones and her fans in Germany, Austria and Switzerland can't get enough of her. One single after the other and a few projects on the side, make Shirin a real power woman and that at the age of 24.

Source: Universal Music<
<Shirin's Visions – "Give Him", "Only With You",… every song a hit!
Shortly after the release of the song "Gib ihm!" in March 2019, it was clicked a million times. With a lot of irony, she defends her style and looks and that's what goes down well. Many girls can identify themselves and look up to her. With eye-catching videos, outfits to look at and lyrics full of self-confident statements, Shirin is in the focus and draws every eye to herself. Her career doesn't stop, in September 2019 she releases her debut album: "SUPERSIZE" and a matching fan box with exclusive articles. Shirin maintains her connection to the fans all the time, whether it's just through social media or by raffling for an exclusive release party, where she gives her superfans a wonderful experience.
"Give him" – Statement for self-confident women
A catchy tune for millions of fans, Shirin's song Gib him and the official video.
SUPERSIZE Fanbox – do you need the ?
On 20.09.2019, just in time for the release of her album, the 23-year-old also presented the matching fanbox for her album. In a video on YouTube she gives her fans a closer look at what the box is filled with. Her album as a CD, a perfume sample of her new fragrance, a handbag, stickers and many other such little things can be found in the box. In her video Shirin talks enthusiastically about the box and can't wait to get the reactions of her fans.
VIP Fans – Pre Listening Session by Supersize, Exclusively for some fans
Here you get an insight from Shirin's pre-listening session of her debut album Supersize.
Social Media Beginnings – Shirin David on Youtube
In 2014 Shirin David launched her Youtube channel. On her channel you won't find many make-up tutorials or beauty videos, Shirin rather entertains her fans with pranks, challanges or videos in which she does street surveys. With her big mouth and her self-confidence, she fits perfectly into the scheme of a woman who knows how to entertain people. Through this and her friends with whom she collaborates and publishes videos on YouTube, her fan base grows rapidly.
Shirin's Style – a lot of self-confidence
The appearance of the 24 year old is for some very artificial, their secret to success. Constant criticism of her appearance, such as her nails are too long or her outfit is too short, simply inspired the rapper to make a statement and thus wrote her hit "Gib ihm", which was so well received that it got over 44 million clicks on YouTube alone.
It is clear for the blonde that she can do what she wants with her body! The 24-year-old is also very open to cosmetic surgery and has even made a whole video on YouTube about it. Her viewers have different impressions on the whole topic, some think she deserves respect for her honest way and others not. They don't interest Shirin at all, she is much too busy for that. "It always annoyed me when people say: 'Oh my God, your nails are too long or your dress is too short or you have too much lipstick or eye make-up on it. And then it was just like, "Give him". That's probably the best quote Shirin can use to sum up her opinion.
The self-proclaimed feminist – equal acceptance for women
Shirin often has to struggle with criticism of her appearance. Words like "plastic Barbie" are not uncommon. Although the Hamburg native conveys a rather specific image, especially when posing naked in front of the camera, she is nevertheless a self-proclaimed feminist. "Feminism for me is taking off as much as you want." Her wish is that nudity of women will finally be accepted in society. She does not want to be condemned for her body or what she does with it. The equality of men and women is simply important to her. Shirin also thinks that the comparison with other women is nonsense. Especially through the media women are often stirred up against each other, she distances herself from that.
<Shirin's own perfume at Douglas.
As if a steep music career, her own music label and her social media activity on YouTube and Instagram weren't enough, Shirin just makes her own perfume on the side. Her fragrance "Created By The Community" was created by her fans in person through voting. Oriental, with aromas of cassis and liquid caramel, that's how you can imagine the fragrance. 2 years later, Shirin releases her second perfume, "Created By Shirin", a fragrance of lychee, Moroccan rose, apple and tea.
Family is written very big – origin, sister & Co
Shirin's family plays an important role in her career but also in her personal career. Her mother and her nationality, her little sister Pati and even her father, who has never been close to Shirin, have a great influence. Shirin takes all this up in her music and makes it her creative output.
Did you know? Many think that Shirin is her real name. Her real name is Baraba. The stage name Shirin means translated "the sweet," "the beautiful," "the pleasant" and "the charming. The name has an ancient Persian origin.
nationality & family
Even though the beautiful blonde was born in Hamburg, her roots are quite international. Her father is from Iran and her mother from Lithuania. The singer was born in Hamburg, but spent the first years of her life in Lithuania. There she grew up with her parents and a younger sister. The singer is proud of her roots and makes this clear. Her mother supported Shirin at an early age to encourage her creativity. Shirin received piano and ballet lessons and later also violin and oboe lessons. Shirin never had a closer relationship to her father. She sings about this in her pop ballad "Fliegst du mit", in which she sings to a stone spray and tells how intangible her father is for her. "You never taught me to value myself. And instead of myself, I look for you in every man I meet." This is how the 24-year-old expresses her feelings about her father in her song.
Pati Valpati – Influencerin & sister of Shirin
Shirin is not the only one with a significant media presence. Her little sister Pati Valpati follows in her footsteps. On Instagram she already has over 300,000 followers and they regularly follow her lifestyle and outfits. Since September 2016 she has been living in London & she studied "Journalism and Media" at the University of London.  She received her Bachelor in Journalism and Media in July 2019 and has been very active on Instagram since then. She has support for her sister all the time and is a big fan of Shirin.
Shirin David: Social Media – Instagram, Youtube & Co
Behind the scenes during the video shoot – Making of Brillis
A Shirin David ice cream? – With ice cream van through Berlin
questions and answers
Here you will find the TOP questions again briefly and concisely compiled. Are you also interested in how big Shirin actually is? You can find this information here.
Shirin is signed by the label Universal.
Shirin has a sister, her name is Pati Valpati. She has a public life herself and is influencer.
She was born in Hamburg, but spent the first years of her life in Lithuania. Her mother comes from Lithuania and her father from Iran.
Barbara Davidavicius is her native name.  Shirin David is only her stage name.
She was born on 11 April 1995.
Shirin David is 24 years old as described above, born in 1995.
Her sister is found under the name Pati Valpati.
How tall is Shirin?
She's 163 cm tall. Just like other big stars, for example Sylvie Meis or Pamela Reif.
What does the name Shirin?
The first name Shirin means translated "the sweet," "the beautiful," "the pleasant" and "the charming. The name has an old Persian origin.
https://fivmagazine.com/wp-content/uploads/2019/12/shirin-david-deutsche-rapperin-frau-dance-video-neon.jpg
800
1200
Stephan
/wp-content/uploads/2020/07/fiv-magazine-news-instagram-youtube-tiktok-influencer-fashion-interior-jewelry-real-estate-tips-help-logo.png
Stephan
2019-12-20 15:47:17
2021-07-07 10:13:29
Shirin David: Instagram & YouTube star, rapper, feminist