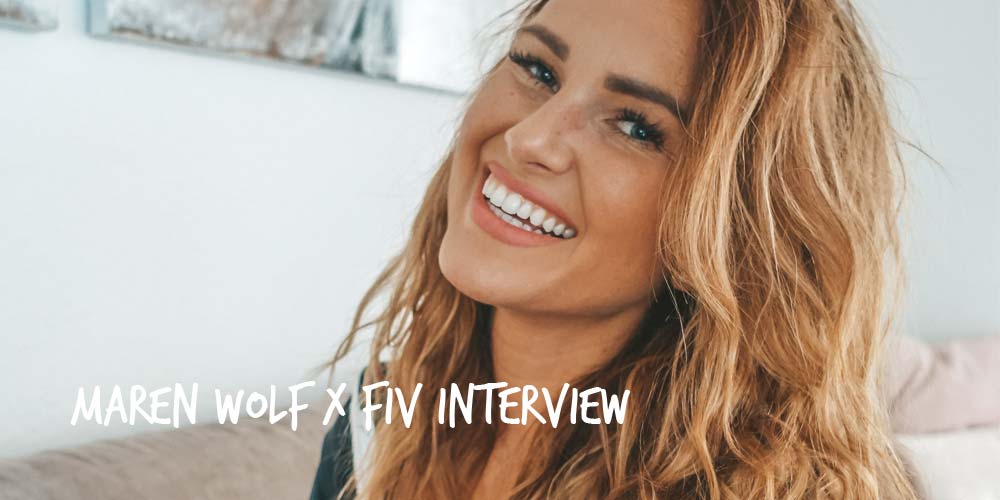 Maren Wolf x FIV Interview – About love, young talent and new projects
With 1.2 million followers on Instagram and over 850 thousand subscribers on YouTube, Maren Wolf is one of the most successful influencers in Germany. In an exclusive interview with FIV, the pretty blonde talks about her marriage, friendship and desire for a child.
Maren Wolf about her influencer life, boyfriend & trends 2019
FIV: Hello my love! If you are a successful influencer like you, you have the opportunity to see and travel a lot. What was for you the most beautiful place you have been so far and which place do you want to see?
Maren: Hello dear ones! First of all: Thanks for the compliment! The world is so big and there is still so much to discover. But so far Los Angeles and Bali were the most beautiful places I was allowed to see. I am looking forward to discovering new things.
FIV: You and your husband Tobias are both successful influencers. This is surely a dream come true to experience something like this together with your partner or?
Maren: I am very grateful that I can run this business together with my husband. We support each other and experience a lot together. It is nice to have a partner at your side who understands this business and shares the passion with you.


FragranceTip.com by FIV
FIV: Because both of you are in public it is not always easy to live a scandal free life, but you manage it. What is your secret to a successful relationship?
Maren: Our secret for a successful relationship is always to be honest with each other and to treat your partner with respect. Of course we also have a few small quarrels, but that is part of a healthy relationship.
FIV: This year you both celebrate your two year anniversary! Did you imagine it as a little girl when you thought about your wedding?
Maren: How time flies! In fact, we've been married two years in July. I must honestly say that our wedding was more beautiful than I imagined it would be. All these feelings that come up in you when you step before the altar are simply indescribable and unforgettably beautiful.
FIV: Is it actually easier for you that your husband is also known or do you think it might be more relaxed if you didn't know who your husband is?
Maren: We both consciously decided to step in front of the camera and I can't imagine it any other way. The way it is now, it's just perfect!
FIV: You are friends with Anna-Maria Damm, who is also a successful influencer. How can I imagine that, how does a day like this work for you when you meet?
Maren: There are actually no differences to any other friendship. In our friendship the number of followers does not play a role at all.
FIV: Many people know you as Tobi's wife, Anna Maria's girlfriend and so on. But, of course, you're so much more. What would you say makes you human, and what qualities do your friends and family appreciate about you?
Maren: I think I can say of myself that I always give 100% in a friendship and also in my marriage. I am always honest with my friends and family and have an open ear. That's mutual too.
FIV: I just saw your video about pregnancy, where you say that you are ready for a child, but there is always something in between. But you both certainly have a full schedule all the time, do you think there is a perfect time for you to have a baby?
Maren: Every moment in life, at least at a certain age, is perfect. A child can't be planned like an appointment and that's the beauty of it. It's a surprise! We're not gonna stress ourselves out, and when it happens, it happens. We are looking forward to it!
FIV: In addition, you both not only released your own products in cooperation with dm, but also opened your own shop! Are there more projects coming soon?
Maren: We still have a few projects in the pipeline! More about this at a later date. Currently our biggest project is our house building and the desire for a baby.
FIV: On your Instagram account and through your shop you can see that you are very busy with fashion and that you also manage to deal with the latest trends. When you're out and about in downtown Cologne, you might see some outfits you wouldn't necessarily wear. What would you say are the most important pieces and colors you should wear this spring to be a trendsetter like you are?
Maren: I think you shouldn't be so strongly oriented towards trends. If you're comfortable with your style, you've done everything right. What I can say, however, is that Animal-Print does nothing wrong this spring.
Maren Wolf
Here you find all important links to Maren Wolf:
https://fivmagazine.com/wp-content/uploads/2019/03/beitragsbild-influencer-maren-wolf-interview-mode-trends-leben-freund-1.jpg
500
1000
Lisa-Marie
/wp-content/uploads/2023/08/fiv-magazine-logo-news-influencer-fashion-interior-travel-real-esates.svg
Lisa-Marie
2019-04-07 07:00:51
2020-11-10 14:40:07
Maren Wolf x FIV Interview – About love, young talent and new projects