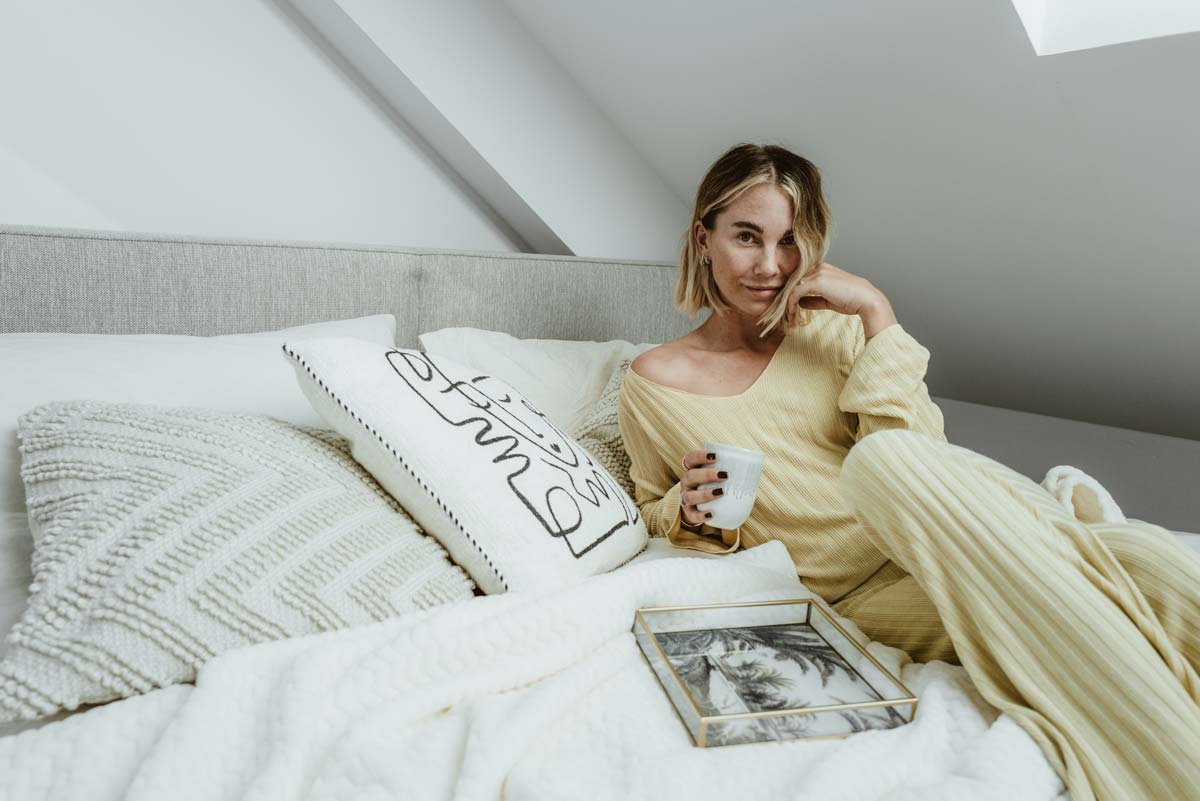 Interview with Constantly K – We talked to the famous German fashionicon and inspiration cannon Karin Teigl about her must-haves, her everyday life, her sources of inspiration and the happy relationship with her husband Georg. With wit and charm Karin takes us into the world of fashion blogging and gives tips and tricks on how everyone can be a little more stylish on the go. She also gives insights into her everyday life and her life as a successful Instagrammer. Find out what Karin's perfect day looks like, why she loves her new apartment in Vienna so much and which piece of clothing she thinks no wardrobe should be without!
+ AD + Kennst Du schon?
Moving to Vienna: Karin's highlights and why the apartment is so special for her
The recent move to Vienna was a particularly big step for Karin and Georg. Find out why that is and how touching Karin actually finds her new phase of life here. She also talks about her wardrobe, current trends, gives personal styling tips and tells us what the secret of the happy marriage between her and husband Georg is. And you can find out what a perfect day looks like for Constantly K.
Home together for Karin and husband Georg
FIV: You recently moved with your husband Georg from Augsburg to Vienna and into a brand new apartment. By now you seem to be mostly furnished, what exactly do you like most about your new home, is there something explicit? And do you feel as comfortable in Vienna and the apartment as you did before in Augsburg?
Karin: YES, I definitely and 100% feel as comfortable in Vienna as I do in Augsburg. For my husband Georg and me, Vienna is special in that we finally have a home together – and we're not talking about the beautiful apartment or furnishings. Georg's life as a professional footballer is in a way a nomadic one. You live a lot from one place to another and never have a real home. With the purchase of the apartment – which is now almost a year ago – we have fulfilled a small dream and created a real base, Georg and I together. We also own an apartment in Salzburg, but that was never really our home together, it was more my home. We were always at home wherever Georg played, whether it was Augsburg, Leipzig or Braunschweig. And Vienna is our first "real" home after all this time, where we can also say that we will stay here for the next years, we can imagine that very well. That's what makes Vienna, the apartment here and also the city so special. Apart from the beautiful interior of the apartment itself, that's actually the main point for me, and that makes it so beautiful, unique and just very special for us.
Wardrobe of a Fashion Icon & Karin's Appreciation for It
FIV: We would guess that for you as a fashion lover, your wardrobe is your personal highlight in the apartment or? While we're on the subject of your wardrobe: Do you currently have a fashion favorite or an absolute must-have that you love or something that you think everyone should have in their closet?
Karin: Yes, my wardrobe is definitely an absolute highlight. I have to pinch myself every now and then when I go in there and see what I have accumulated over the years. Whereby I have to say that I have parted with a lot of things for the first time before the move. Right now it's a bit difficult, but I usually organize a charity flea market on a regular basis, where the proceeds are always donated. Unfortunately that's not possible at the moment, so everything is bursting at the seams right now, but that's just the way it is. But soon there will be great fashion flea markets again. But yes, I actually find my closet mega myself. I have to pinch myself every now and then and think about how cool it actually is what I get to experience in there. I don't think that appreciation should ever be lost either, because otherwise…. – it's hard but you always have to remember how it used to be. And then I have to smile again like right now and think to myself "old swede, what kind of life do I actually live", that's unbelievable.
Karin's Trends & Must Haves: Oversize Trench Coat and Statement Shoes
Karin: To come to the trends: I would say I still love my Prada Combat Boots that I treated myself to at Fashion Week in Milan last year. They're rough, but I've already worn them in so much that the investment was worth it! But of course there are also great alternatives like Bronx or Zara. I love army boots, I think they are always cool. I also think it's always good to have an oversize trench coat in beige. There are now super great vintage coats from Burberry, they are also available at a reasonably affordable price – I bought mine in Paris for 220€, for example. Something like that should never be missing. Apart from that I really like leather, especially now in autumn. I also like to combine leather with leather, that's always cool. What I also find super cool in winter are Norwegian sweaters, I actually used to wear them with my racing pants for skiing and they are now back in fashion and I love that because it also reminds me of my childhood and youth – it triggers a very special feeling in me – and these sweaters are now fashionable again and I think that's just cool!
FIV: You always have new clothes in your repertoire and manage to inspire your followers with your new pictures and looks, so of course one wonders: Where do you get the daily/regular inspiration for your looks? Do you check out fellow Instagram followers, get inspired by collaborators or are you your own biggest source of inspiration?
Karin: I actually get inspired across the board. I rarely get to read magazines and I have a little "bird": When I buy magazines like Instyle, Grazia or Woman (Austria), I can't read them right away. It's a tick of mine, I always wait for the perfect moment – and then I get to look in 6 weeks later, after everything is already out again. My inspiration are also magazines, if I find the time for it, but otherwise the main source of inspiration are of course also colleagues – very clear. I love Scandinavian bloggers, for example, they do such a good job. But also with us, I get a lot of inspiration there. I also find Pinterest a great source of inspiration, I love surfing there and looking around a bit.
Karin: In the past, it was of course also the Fashion Weeks, where you were on the road before Corona, where you could get a lot of inspiration. Otherwise, I have – I'm asked it more often and it's hard to describe it, but I also just have a sense for it, for fashion and trends. I often see things where I know "I'm going to buy that now" and then it becomes trendy a few months later. But there are definitely also pieces that take me longer. Bottega Veneta for example was a brand trend, their bags and shoes have had quite a few and I haven't "felt" it that way for a long time. So with certain brands it takes me longer, while Isabel Marant for example is a brand I've been a fan of for years. Back when she had the collaboration with H&M – 2013 – I already loved the brand. So I think I also have a good sense and try to be individual for myself. It doesn't always work, but I still always try to do my own thing. Whether it's too crazy or not, I don't really care. At that moment I feel a lot of looks where I think to myself afterwards "what was I thinking when I wore that?", but at that time it was cool and at that time I wanted to wear it that way and that's why I stand by it.
Instagram, career pros and cons: diversity & ownership.
FIV: Your job is very extensive, you manage your Instagram account and other social media, plus your website. You're a content creator, marketing expert, model and entrepreneur all in one – and you're also in a happy marriage, which can be very stressful. But still, you seem to love your job a lot, because you share your gratitude and appreciation for this lifestyle with your followers more often. So what do you love most about your job? And is there anything you have to give up for this job that you miss or wish you could have again?
Karin: What I like most about my job is definitely the variety and the different being and doing, every day is different, no day is the same. I know that's a hackneyed phrase, but I'm 36 and I've already worked a lot as an employee, which was wonderful (I've had great jobs), but I appreciate what I do now even more – because no day is like the other and I can plan my days myself. But that also brings a certain responsibility with it. Because if I don't do anything for two weeks, that simply won't work. There is not a day where I do not post my 3 pictures and do not make stories. I'm always online 24 hours a day, 7 days a week, whether I'm on vacation or not, it doesn't matter – that's a curse and a blessing at the same time.
Karin: What I sometimes miss about this job, for example, is the conscious offline time. And that's even though I already take it – after 8:15 p.m. there's usually no cell phone for me anymore. But regardless of that, I still need to be present and like I said before, that's a curse and a blessing at the same time. That light-heartedness I used to have: I came home and put the cell phone away – that just doesn't exist in this job anymore. Sometimes I do miss that, but then again it's up to us to introduce rules and set limits for ourselves. For example, you should just say, "okay, now I'm not using the cell phone anymore!". But all of that for me is far outweighed by the positive aspects of the job, I love fashion, I've always had a "fashion bird", I say that in every interview and I'm just grateful that I get to do it. That's what I enjoy so much – that I get to live my dream!
Everyday life and routine are important: sports, time for two and the right outfit
FIV: With this varied and demanding lifestyle, you certainly still try to structure a certain daily routine for yourself. For some it's sports, for others coffee or an evening walk, is there something you could never do without in your personal "everyday life"?
Karin: Structuring my life and creating routines for myself is incredibly important! It's not always easy, especially in this job it's super difficult because, for example, I'm often not at home for 5 days in a month, but only on the road. In the current times it is much easier because I am at home a lot. On the one hand this makes it easier, but on the other hand it is also difficult, precisely because you are at home all day. That means I have to consciously get up, consciously dress nicely, because otherwise I'm out and about all day in a baggy look and then I feel accordingly "baggy".
For me, for example, all this does not work without sports, I do sports 6 times a week. Sport is the be-all and end-all for me to start the day. Coffee as well, although I'm trying to minimize my consumption a bit. I'm not a walker, at least not in Vienna, because that's a bit difficult here. I do like to go for a walk in the park, but it's not an absolute routine now. I would really say this fitness thing first thing in the morning – I'm someone who already does sports at 5 or 6 in the morning – and then coffee, that's part of my routine, I could hardly do without that.
Secret of their happy marriage: offline time together
FIV: It is always difficult to juggle everything, especially when you are professionally successful like Georg and you. Nevertheless, I'm sure you also try to consciously take time for yourself and both of you. What would a perfect day look like for you personally?
Karin: Of course Georg and I also consciously plan time for us, and that always looks like we both put the mobile phone away – consciously. Then you are in the moment, you can respond to your partner and I think after 10 years of relationship, 3 years of which were married, that is also a bit of our key to a happy relationship, that we consciously take time for us, listen to each other, communicate with each other and that without phone or any distractions, simply respond to the partner 100%. I would say that is my "secret" and the reason why it works so well between Georg and me.
This is what a perfect day looks like for Constantly K
Karin: For me personally, a perfect day starts in such a way that I definitely do sports with my husband when possible, such as going running together in Vienna Schönbrunn. We also both love to have breakfast, breakfast is the most beautiful meal for us. We enjoy it at home too, but right now we are craving for a cool café again…. But I always consciously take the time in the morning with me, it's the perfect start: sports, then get ready at home without stress and in peace – without content deadlines etc., then go for breakfast, then home again, in the afternoon maybe a bit of cycling or playing tennis (Georg and I love tennis), that's definitely part of it. You can tell we are very active people, but we can also be very lazy. In the evening we are really grandma and grandpa, because we usually go to bed before 10 o'clock, yesterday for example we went to bed at 20 past 9, there are days like that. Those are the perfect days: lots of exercise, time for us, activities together, a little time on the couch and then early to bed.
Styling tips from the pros: a quality pair of shoes, a classy bag & vintage it-pieces.
FIV: Finally, a question for our fashion-loving readers: As a fashion lover and professional in the field, do you have an ultimate styling tip – something you should definitely look out for or that could elevate any outfit?
Karin: I find it difficult to give the ultimate styling tip. There are different tips, it always depends on different factors. But I think, for example, that it's always worth investing in a cool pair of shoes. A cool pair of sneakers that are maybe a bit more timeless, that will enhance any look – and of course a nice handbag! I would go for a vintage bag, Dior for example has great offers at Vestiaire, where you can get such bags from 500-600€ – if you save a little bit. Or you can say you want a vintage Louis Vuitton or Chanel bag, you can get them from 800€ at Vestiaire. I think such an it-piece enhances every look. But if you don't have such a budget or don't want to spend it, you can also buy super cool look-alikes, at Mango for example. I think a classy handbag – no matter what brand it is, and if it's any classy up coming label – then it enhances any outfit. But so does jewelry! There are so many cool, young labels where you can buy quality jewelry on the cheap, it doesn't always have to be high-end. I'm also a huge fan of vintage, it's always worth it and above all it's an investment you can enjoy for a long time!
FIV: Thank you very much for taking the time for this interview. We hope you stay healthy and the FIV Magazine team wishes you and Georg all the best for the future!
You want more Constantly K content or you want to have a closer look at Karin's feed and website? Then just have a look at her website!
+
https://fivmagazine.com/wp-content/uploads/2020/11/constantlyk-interview-influencer-mode-fashion-privat.jpg
801
1200
Lisa-Marie
https://fivmagazine.com/wp-content/uploads/2020/07/fiv-magazine-news-instagram-youtube-tiktok-influencer-fashion-interior-jewelry-real-estate-tips-help-logo.png
Lisa-Marie
2020-12-04 17:00:25
2021-07-17 17:37:57
Constantly K interview: Fashionicon Karin Teigl about must-haves, happy relationships & her everyday life with Instagram