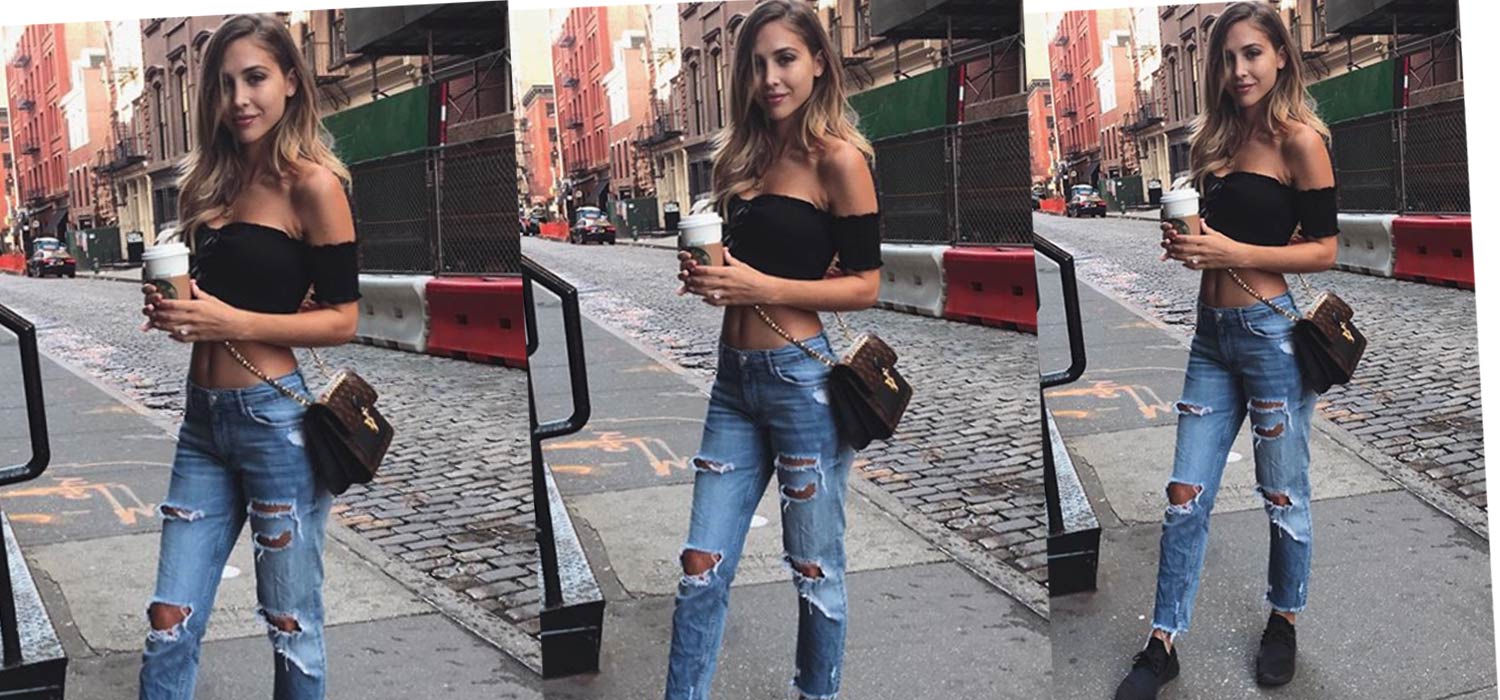 Interview with player and model Ann-Kathrin Götze: Fashion, Football & Profession
The pretty model has already participated in beauty contests at a young age and shortly thereafter started with her passion for modeling. Ann-Kathrin also has experience in music and in 2012 she appeared in Heidi Klum's format "Germanys next Topmodel". We talked to her about her job as a model, football and her past.
"Meanwhile, I notice how many of my female followers take a cue from me and I've been consciously trying to convey messages and values ever since"
FIV: Hey Ann-Kathrin, you are a beautiful woman and have been working successfully as a model since you were 15 years old. Also in social networks your name is mentioned more and more often. With all the attention around you, you don't only get positive feedback, but also have to deal with "hater comments" from time to time. How do you deal with it when you are confronted with inappropriate comments on social media?
Ann-Kathrin: Mario often says to me: "If people don't know you personally, then you can't take their comments personally." And I think that's 100% true. On Instagram I give insights into my life and conscious insights at that. Social media is not a reality and it never will be, so my followers can never be able to fully grab me as a person. They have glimpses and if you don't consciously choose them, then you can create an image of yourself that doesn't match reality and you may not even realize how misrepresented you are.


Germany - Spain - USA
I read all the comments and messages I get. On the one hand out of respect for my followers that they take the time for me and on the other hand because I also want to see what my followers think about me and can I possibly change that through other posts. Back then I just posted what I thought was beautiful, now I notice how many of my female followers take an example from me and since then I try to consciously convey messages and values.
FIV: Instagram always shows only the perfect side of a person. In your pictures, you're always styled to perfection, even if you've just gotten out of the ocean or bed. Of course, you always just want to show yourself beautiful. But who else is behind the pretty gamer woman? Introduce yourself! How would your friends describe you in three words?
Ann-Kathrin: That's exactly the difficult thing about Instagram. You only see pictures and insights, but no real values. But I have the feeling that values are more and more tried to convey by other influencers. My friends would probably describe my character as polite, hardworking and reserved.
Your tips for success and your own weaknesses
FIV: For many young girls it would be a dream to work as a successful model and to be in the spotlight on the red carpet. What tip would you give these girls and if you were allowed to make a wish yourself, what would it be?
Ann-Kathrin: I would advise the girls to be themselves much more. Develop a strong character and personality with values and opinions. I myself think that the most successful people are so interesting because they have such strong personalities. Rihanna for example is such a great woman because she just knows who she is and doesn't hide it. If you are authentic and follow your goals, you will succeed. If I could wish myself something, it would be to get rid of my shyness, because being shy always limits you. I've been modeling for 10 years and if you look at my pictures you wouldn't think I'm shy, but I am and that's a quality that bothers me the most about myself.
Modeling – a lifestyle
FIV: The profession as a model is often underestimated. You are constantly on your feet and on the road a lot. Tell us something about your everyday life as a model and would you describe modeling after such a long time more as a job or as your great passion?
Ann-Kathrin: I think that modeling is not only a passion for me after such a long time, but it has become a lifestyle. I think even if I don't work as a model anymore, I will do a lot of sports and eat healthy. Those are things I also learned during my time as a model and I like that lifestyle. What I won't miss is flying and the time changes in other countries.
"I like to be comfortable, but still feminine".
FIV: During my research I found out that you are a bikini addict. You also like to present your trained bikini figure on Instagram. But now winter is coming and you have to leave your bikinis in the closet if you're not on vacation or if you like indoor swimming pools. Do you have an absolute fashion favorite for the winter? What would the perfect winter look look like in your opinion?
Ann-Kathrin: Since I live in Germany and work as a bikini model, I wear a lot of bikinis because of my job, but in everyday life I don't walk around in a bikini. Therefore, my absolute favorite winter look consists of overknee boots, with a comfortable leggings and an oversized knit sweater. I like it comfortable, but still feminine.
FIV: As a model you are very often professionally made up and you can certainly sometimes elicit a tip or two from your make-up artists. you, tell me as an insider, which beauty essentials should not be missing in the handbag / make-up bag of any woman in the winter?
Ann-Kathrin: I am really lucky and get a lot of practical insiders. The most important thing in winter for every woman is a good moisturizer for the skin, because all the heating air is very stressful for our skin. I also love creamy foundations like Bobbi Brown's Contour Pencils. You can buy them in light and in a darker tone and then you look a little fresher despite winter pallor.
FIV: At events like Vogue Fashion's Night Out in Düsseldorf, you're constantly making new contacts in the fashion business. But if you deal a lot with fashion, you also often come across trends that you don't like at all or that have simply become "stale" over time. What is your personal no-go of 2017 and what would you describe as a fashion sin?
Ann-Kathrin: My absolute no-go of 2017 are the Gucci slippers with real fur. I find these loafers so cruel and also I don't think it's good to wear fur. So a complete no go!
Trina B between Heidi's top models?
FIV: Annkathrin, you are a real multi talent! I just saw on your Youtube channel that you can not only model, but also sing. However, I have found only two recent videos about it. In the past you made your first experiences in the music business under the name "TrinaB". Why don't you make so much music now?
Ann-Kathrin: I love music and I still sing, but only out of passion and not to make it my profession. I gave myself this silly name back then when I was 16, but luckily I quickly stopped doing it. Only unfortunately the internet never forgets and so I still have to justify myself for that name.
FIV: Meanwhile you are one of the most successful models in Germany and five years ago you were not good enough for Heidi Klum. What do you think was the reason for the failure back then?
Ann-Kathrin: I started modeling when I was 16 because I won a national beauty contest. I worked as a model on weekends or after school besides my A-levels and I really liked it right away. Then when I finished my A-levels, I applied to GNTM and got a rejection straight away. After that I trained for a year and tried to improve myself and applied for GNTM again.
This time it worked out and at some point I was among the top 50, but during the filming I noticed that at 21 I was already one of the older and one of the smallest and I quickly realized myself that this won't last and then I was kicked out relatively quickly. But that didn't mean for me that I would stop modeling. I simply looked at what my niche is. I'm smaller than other models, so catwalk was out of the question for me. However, I have a well-proportioned body, which is great for underwear and bikini fashion. That's why I placed myself in this field and it worked out. Everyone has their advantages and strengths, you just have to find them out and then give it your all.
"I watched absolutely no football before my relationship with Mario".
FIV: Just a girl question: Isn't it mega boring to sit on the sidelines so often and watch your fiancé play soccer?
Ann-Kathrin: Before my relationship with Mario, I watched absolutely no football and it bored me to death at the beginning, but when you start to get interested in football and you acquire background knowledge, then this sport suddenly becomes exciting. And when your own fiancé is playing, you're happy to watch anyway.
FIV: As a model and player's wife you are constantly on your feet and hardly have a break. Working on your own person and relationship takes a lot of time and effort but is ultimately worth it and makes you happy. Do you have certain goals that you would like to achieve and where do you see yourself in 5 years?
Ann-Kathrin: Yes, my life makes me happy and I wouldn't want anything else at the moment and that's a great feeling. I still have goals I want to achieve, for example it is my dream to work for Sport Illustrated and I still have hope that I will hopefully be able to do that someday. In 5 years I see myself with maybe 1-2 kids and still modeling.
https://fivmagazine.com/wp-content/uploads/2017/12/annkathrin-vida-model-topmodel-interview-influencer.jpg
700
1500
Lisa-Marie
/wp-content/uploads/2023/08/fiv-magazine-logo-news-influencer-fashion-interior-travel-real-esates.svg
Lisa-Marie
2017-12-14 18:00:43
2017-12-14 18:00:43
Interview with player and model Ann-Kathrin Götze: Fashion, Football & Profession