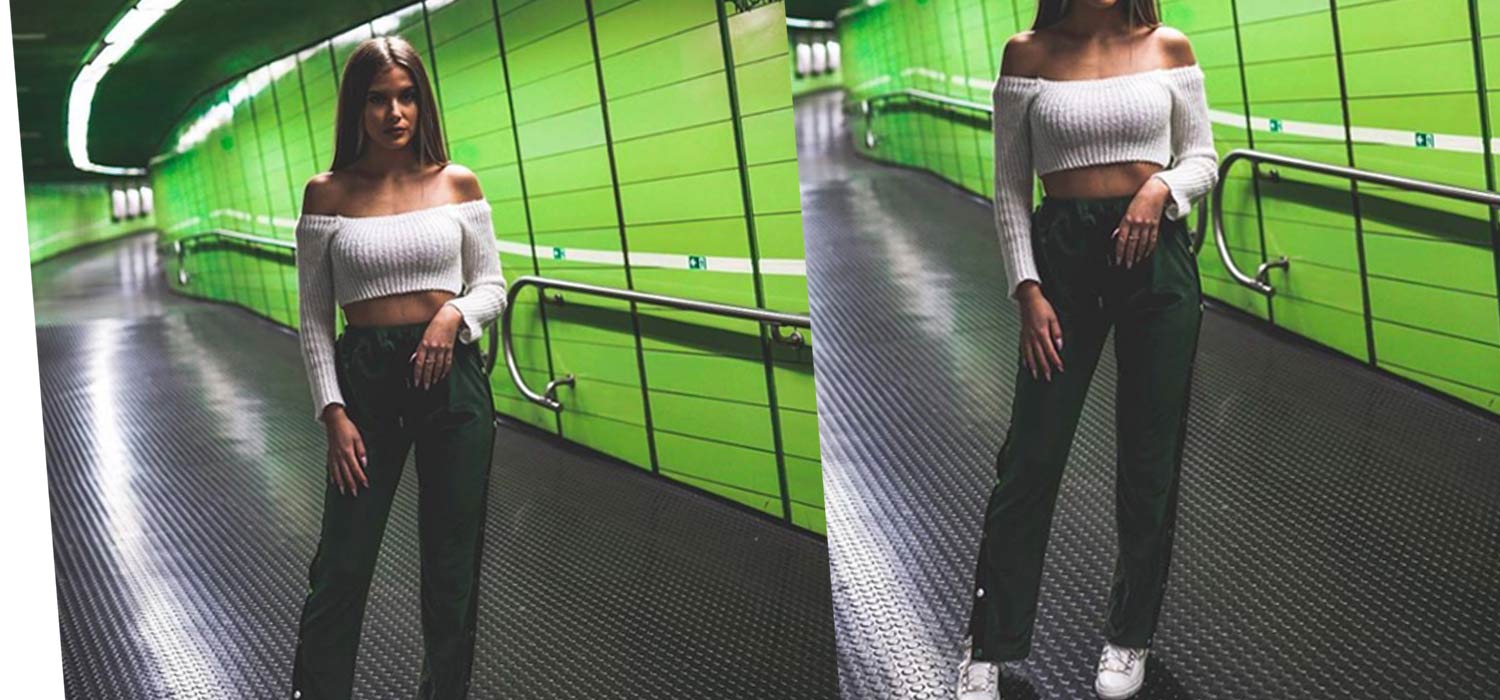 Beauty Fairy Jasmin about fashion, beauty and the latest winter trends!
The pretty 18 year old Jasmin Azizam from Cologne has been running her Youtube channel since the end of 2015, where she regularly uploads videos on the topics of fashion, beauty and lifestyle. We talked to her about her private life, her Youtube channel and her winter trends 2017. For styling tips and beauty secrets from Jasmin just read on.
Lack of privacy? Jasmin loves life in public!
FIV: Hi Jasmin, you are still very young. Early on, you've been sharing your life on social media like Instagram and YouTube. You take your fans on vacation, introduce them to your boyfriend and girlfriends. How do you feel about life in public and what kind of person are you in private? Describe yourself in three words.
Jasmin: Hi, first of all thank you so much for taking the trouble and asking me these nice questions! I think life in the public has really many positive sides, I try to share as much as possible with my viewers, give them tips etc., yet I am firmly of the opinion to be the same person in private as on social media, I would describe myself as cheerful, crazy and helpful, because these are simply the qualities of me that accompany me every day.


Germany - Spain - USA
FIV: You regularly try to upload videos on Youtube besides school time. Explain, what exactly does your content on Youtube consist of?
Jasmin: I try to relate my content on YouTube to beauty, fashion and lifestyle as much as possible, I just enjoy sharing my experiences and possibly helping others or even making them laugh.
FIV: Every now and then you post pictures on Instagram and videos on Youtube with your boyfriend. How long have you two actually been together and how do you cope with the fact that your relationship is very public, due to the fact that you are both very active on social media? Doesn't the lack of privacy bother you?
Jasmin: My boyfriend and I are now almost 2 and a half years happy together! We both love to be in the public eye and help each other where we can. Our inspiration for a long time are the Youtuber "Ace Family". They're just our absolute role models, so we both get on well with it and have a lot of fun doing it. I wouldn't say that we have a lack of privacy because we really do see each other every day and use our privacy – we do get approached on the street from time to time, but I don't think either of us would ever complain about that, which makes us even happier!
Multitasking: Jasmin between Youtube and high school stress
FIV: In your everyday life you spend a lot of time with him, your friends and your work on Youtube. What other things are part of your everyday life?
Jasmin: My everyday life consists of 50% school, which is why it is sometimes difficult to upload videos regularly. However, I try to focus on my videos in my free time and not neglect school. That takes up most of my time.
FIV: Following you on Instagram, it's clear that you love fashion and makeup. Your style varies from sporty looks to more chic outfits. Can you tell us if you have any fashion must-haves and if so, what are they and why every woman needs to have them in her wardrobe?
Jasmin: I think my fashion must have for fall or winter is just a cozy jogging suit! I love it when it's cold and windy outside to run around in a cozy suit, you just feel so much more comfortable!
Youtube Video: Jasmins most popular Fashion Haul
FIV: It's clear from your Instagram posts that you prefer summery outfits, but what do you think the perfect winter 2017 look would be?
Jasmin: My absolutely perfect winter look would therefore consist of a chic, sporty jogging suit with cozy boots, a warm winter jacket and a cute hat. In winter it is often not important to me to look chic, rather cozy and warm.
Jasmin's Top 5 Beauty Essentials
FIV: In the "Beauty" category on your YouTube channel, you tell your viewers tips for clearer skin, for example. Do you have an insider tip for my readers against dry skin in winter and what are your top 5 beauty essentials without which you would never survive the winter?
Jasmin: Luckily I don't have dry skin, but it's still very important to always have a hand cream with you in winter, it can save a lot! Also, make sure to get the perfect moisturizer that will always keep you fresh and not dry out. In my top 5 beauty essentials is the very most important in winter: LABELLO!!! My lips are so dry in the winter that I have to put chapstick on them every 5 minutes. Also, hand cream is an absolute must in my handbag, nothing goes without it either!!! What I personally find great about winter is to snuggle up at home and do nothing at all this is best done with a mask, especially masks with great Christmas smells are my favourites. Also, wouldn't survive the winter without a hand warmer!!! And last but not least, self tanner so I'm not too pale in the winter. I like to use the St. Moritz self-tanner.
Jasmin: down to earth and happy
FIV: You joined YouTube at the end of 2015 and after about two years you have almost 100,000 subscribers. How was it for you to see that people like what you do?
Jasmin: I think I still can't really realize that I have done all this in such a short time. I am so thankful for all the people who have supported me up to this point and still do! For me I'm just a normal 18 year old girl going to school, but as soon as you go to events like Glow, you realize that there are really some people who love what I'm doing and that makes me so happy.
FIV: In this time you have met a lot of people. For example, recently at Glow in Berlin. Which people were you particularly impressed by and why?
Jasmin: I find it hard to say who I am most impressed with because I think everyone deserves respect for what they do. Everyone puts effort into their videos and is special in their own way. I'm impressed by how many great YouTubers there are!
Jasmin's recipe for success: individuality
FIV: As a Youtuber, it's getting harder and harder to stand out these days. Many videos are duplicated on this platform and certain topics are already talked out of order. What is so special about your channel and how do you stand out from other Youtubers?
Jasmin: At first glance, it might seem like a lot of things are duplicated. However, every YouTuber is different and brings the topic across in his own way. The special thing is to be yourself and to convince with your way.
FIV: You are still very young and will graduate from high school at the beginning of next year. After that you are finally "free": Do you already have certain plans for after graduation?
Jasmin: In any case, I want to focus more on my videos, invest more time and become more active on YouTube. The rest will become clear!
Best Videos Of Jasmin Azizam
Jasmin convinces with videos on the most diverse topics. Especially popular are her make-up tutorials, pranks and videos in which she tells about herself.
Jasmin enchants with her make-up talent
Jasmin proves again and again: when it comes to make-up, no one can fool her. Even her everyday look, which she presents in this video, fascinates.
Jasmins Best Prank
Who doesn't like to fuck their loved ones? Also Jasmin does not save on pranks, which she publishes on her Youtube channel. This prank I like especially well, but convince yourself.
https://fivmagazine.com/wp-content/uploads/2017/12/jasmin-azizam-blogger-instagram-influencer-interview.jpg
700
1500
Lisa-Marie
/wp-content/uploads/2023/08/fiv-magazine-logo-news-influencer-fashion-interior-travel-real-esates.svg
Lisa-Marie
2017-12-05 18:00:27
2017-12-05 18:00:27
Beauty Fairy Jasmin about fashion, beauty and the latest winter trends!