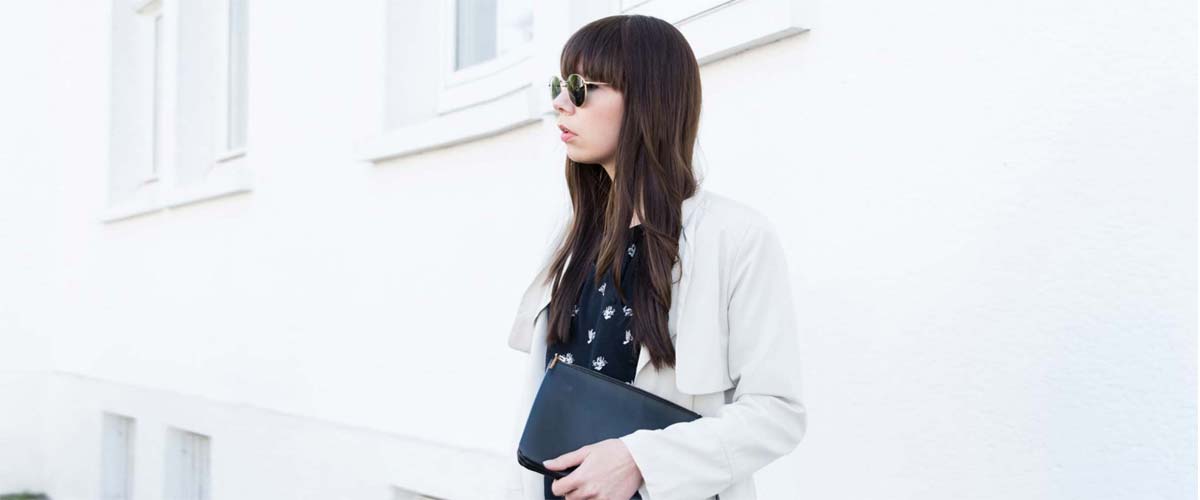 Outfits & Fashion Events – Interview with blogger SARAHVONH
Sarah from Oldenburg is very successful with her blog SARAHVONH with over 14,000 subscribers on Instagram. She takes her readers to big fashion events and presents herself every few days with new fancy styles. We talked to her about her work, got tips for blogging and got some insights into the person behind the blog.
FIV: Sarah, when and how did you start your career?
I started blogging about two and a half years ago. My blog was initially intended as a hobby while I was waiting for my place at university to study human medicine. After a short time, however, local media became aware of me, so that my blog quickly became better known. Through an assignment as a freelance fashion editor for a local women's magazine, I then grew the desire to pursue fashion rather than medicine. Meanwhile I study Material Culture: Textiles in my hometown Oldenburg and finance this almost exclusively through my blog.
FIV: What inspires you in your work?
I can't answer that in general. My inspiration has a variety of sources, but mainly these are other blogs, street style pictures from the fashion capitals of the world or magazines like Vogue or InStyle. Sometimes I also get inspired by other women on the street or at my university.


FragranceTip.com by FIV
Sarah is not only a fan of minimalism as a blogger
FIV: In the category "Outfit" you show new chic outfits every few days. Do you have a favorite designer and a favorite piece of clothing?
I love minimalist fashion, especially the designs of the Swedish label Acne Studios appeal to me a lot. But my favorite piece of clothing is a pair of high waist jeans by the Hamburg brand Closed. They are just super comfortable and can be combined with everything.
FIV: What are your beauty must-haves and why?
I also prefer a minimalist approach to beauty and wear almost the same make-up every day with just a few products. I can't do without my Chanel Le Beiges Healthy Glow Foundation, which makes a highlighter superfluous and lasts all day, and my eyeliner from YSL's Shocking series, which makes my eyeliner perfect every day.
FIV: What interesting people have you met while working?
First and foremost, I got to meet many other bloggers and representatives from different brands and PR agencies. But one of the best encounters during my work as a blogger was definitely a meeting with Udo Walz in his salon, where I was styled for an event during the Berlin Fashion Week in January this year.
FIV: What kind of person are you in private? Describe yourself in three words
Dog mum, family man, hobby cook
FIV: What makes you happy?
My work as a blogger, a walk in the woods with my boyfriend and our French bulldog Truffle, eating pizza with my family at our favorite Italian restaurant, and traveling.
Sarah's tips against stress: Just take a breath
FIV: Do you have a trick for stressful situations?
First take a deep breath and keep a cool head. When you're hectic, you often make mistakes, so it's better to do everything in order. Ideally, I try to avoid stress in the first place by planning well, whether at work or at university.
FIV: What advice would you give to other bloggers for starting their careers?
I think you should approach blogging with a high quality standard from the beginning. Even when I was still blogging as a hobby, high-quality images, good texts and interesting content were important to me. What you post should always add value to the reader and be based on your own ideas if possible. Looking for inspiration on other blogs is of course perfectly fine, but copying other bloggers is a no-go.
FIV: How important are well-maintained social media channels for bloggers today? How active are you in social media and to what extent do you share impressions from your private life?
Well-maintained social media channels are very important, especially when working with companies and PR agencies. I myself am active on several platforms such as Pinterest, Instagram, Twitter and Facebook. At the moment, I only share private impressions in the form of photos of our apartment or our French bulldog. So far, I haven't been able to decide to share insights into my private life via Snapchat, for example, but maybe I'll change my mind about that someday.
SARHVONH – Fashion, Lifestyle and Interior also on Instagram
FIV: Dear Sarah, thank you very much for the great interview!
You can find more information to SARAHVONH:
https://fivmagazine.com/wp-content/uploads/2016/07/sarah-von-h-interview-bloggerin-mode-fashion-lifestyle-blog.jpg
500
1200
Stephan
/wp-content/uploads/2023/08/fiv-magazine-logo-news-influencer-fashion-interior-travel-real-esates.svg
Stephan
2016-07-25 12:21:46
2016-07-25 12:21:46
Outfits & Fashion Events – Interview with blogger SARAHVONH