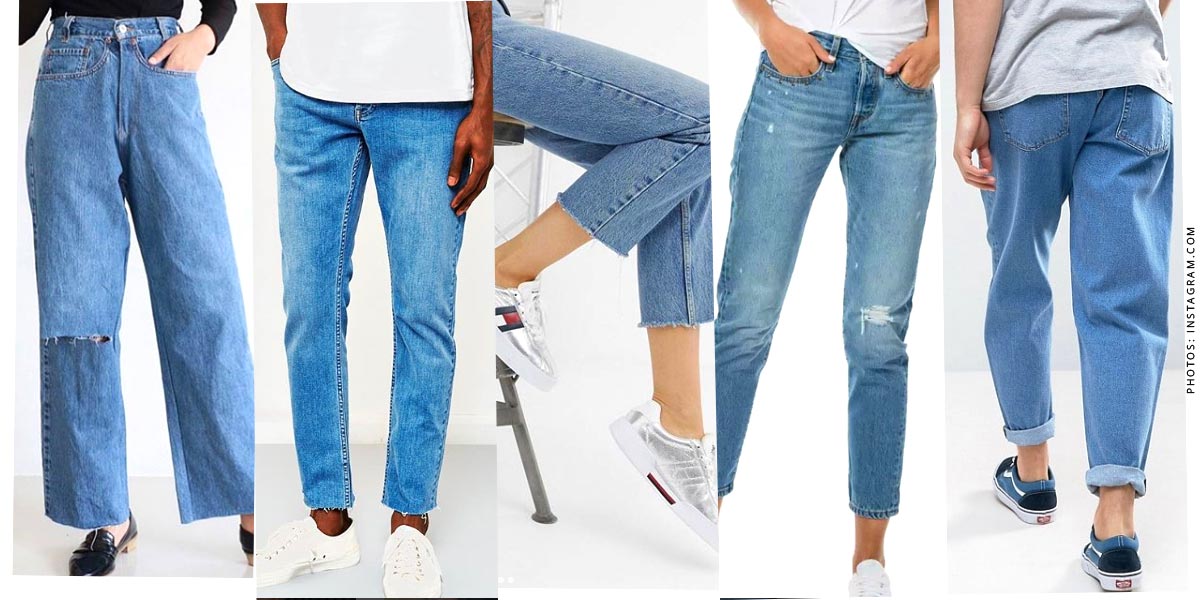 Never out of Style – Jeans
Finding a pair of matching jeans is not easy these days. Apart from different sizes, there are also new styles for men and women. Every fashion store, online shop and every brand now sells jeans.
4 Female Cuts
Bootcut jeans #1
The classic of jeans. Narrowly cut at the thigh and slightly flared at the hem. These jeans can be worn with almost any type of figure, only people with wide hips should try the cut first.
Straight Fit Jeans #2
Also called Regular Fit, they are body-focused, but rather straight cut. Fits perfectly to the classic casual look!


Germany - Spain - USA
Slim Fit Jeans #3
These jeans have a tight fit on the whole leg. So girls – if you have body-hugging and narrow silhouettes, she is very comfortable.
Super Slim Fit Jeans #4
Also known as Skinny Fit, these jeans are characterized by their particularly narrow fit.
Styling Tips For Woman
You can also make a normal pair of jeans look more beautiful, especially for women.
High-Heels make the legs longer and stretch them optically
a jeans should be a bit too long rather than too short
attached pockets make your bottom rounder and fuller
prefer rather dark jeans, lighter jeans often wear
As soon as a shopping tour is due, one is prepared to try on different trousers. Usually you try out every brand and are often desperate because no jeans fit right. What should the perfect jeans look like? Taff has tested the 3 newest jeans models for you and shows you what to look out for!
4 Cutting forms for the man
Loose Fit Jeans #1
These men's jeans stand out for their casual fit. Also at the waistband they are usually very loose and belong to the most comfortable models. Jeans with very straight legs are called baggy jeans – a real all-rounder!
Slim Fit Jeans #2
Also known as skinny jeans, it is a newer variant of men's trousers. Very narrow and body accentuated, these models are mostly seen in younger people.
Regular Fit Jeans #3
Straight and yet body-focused cut. These jeans are the most classic fit and can also be found under the name Straight Leg.
Shorts #4
An all-rounder in summer time. Loosely and casually cut cargo or skater fits.
Styling Tips For Men
Not only the woman, also the man can hide with the purchase of a jeans well!
do the trousers fit perfectly during fitting? – Buy one size smaller, because the trousers will widen after wearing several times
Undecided? Less is more, a classic model always fits
Rule: The further a jeans goes, the more can be carded
Belt: To decorate a jeans something, a man can very well tie a buckle
Today the trend is – jeans to jeans – you can combine jeans trousers with a jeans shirt or jacket as well
Men have the hardest time shopping. Often we all need good advice after all. In less than 6 minutes, this video explains exclusively for men which jeans are hip, now in autumn!
The jeans conquer the world
In addition to fashion chains that produce and represent their own trousers, there are labels that have been known for many years for their jeans. Not only through their quality, but also through name recognition or a certain trouser cut, the jeans become a unique specimen.
Levi's #1
A brand that has existed for over 150 years and has a turbulent history. Levis Strauss, a German Jew who emigrated to America in the middle of the 19th century and invented jeans.
1600 first production of denim fabric in France
1853 first production for cotton trousers from brown tarpaulin fabric
1882 first production with indigo dyed
1926 first jeans with zipper
1949 first German jeans are produced in a clothing factory in Künzelau
1990 new jeans forms and cuts like Baggy Pants – new foundations of many jeans labels
Diesel #2
The Italian fashion label was founded in 1978 and with the sale of jeans they managed to educate a billion dollar turnover as a global player. The assortment of Italians is constantly extended by shoes, wristwatches, glasses, perfumes and underwear. The philosophy of designer Renzo Rosso was, as diesel was an alternative to petrol in the oil crisis of the 1970s, not to equate fashion with current trends, but to develop its own style. So in 1985 the new jeans began to work with sandpaper and stones as if it had been worn for years. At that time the jeans style was called "saddle". Diesel's jeans jacket also achieves cult status. In 2008, the brand presents a luxury collection "Black Gold" for the first time. More expensive than the previous products, but worn by many celebrities.
Rossos success concept : "be stupid"
G-Star #3
G-Star has the revolutionary success with the G Star Elwood 1996, Pierre Morisset designed the first 3D jeans.  With more than 10 million pieces sold, these jeans are among the best selling jeans in the world. G-Star has always stood for a rejuvenated and harmonious image. While trends, styles and fashion epochs changed, G-Star always remained attractive and authentic.
G-Star property : " original and genuine, stylish, fashionable and functional "
Pepe Jeans #4
It's a story, like in the book. Three brothers – Nitin , Arun, Milan had a small market stall in the middle of London in 1973. Made of boring, anonymous trousers, the boys let their creativity run free and turned these trousers into detailed creations that the youngsters bought in Notting Hill. The fashion label was created on the street of London. Today, Pepe jeans are known for the perfect fit and urban look.
https://fivmagazine.com/wp-content/uploads/2018/10/jeans-look-men-woman-levis-luxus-long-short.jpg
600
1200
Lisa-Marie
/wp-content/uploads/2023/08/fiv-magazine-logo-news-influencer-fashion-interior-travel-real-esates.svg
Lisa-Marie
2018-10-31 12:00:32
2020-11-11 12:19:58
Never out of Style – Jeans