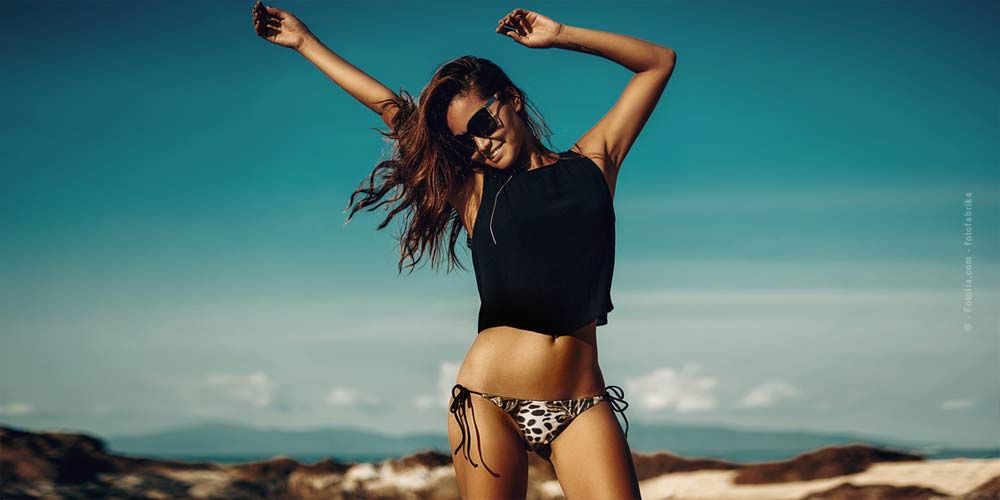 Summer and music festivals: these outfits will be worn in 2019
The Somme is approaching. The first festival tickets will be sold or given away on the radio. Who wants a summer with good music, cold drinks and stylish outfits? Meanwhile festivals are not as dirty as they used to be. Today you go shopping for the events and buy the best outfits for good photos. Coachella Festival is the best example of photos, fashion and music. If you want to prepare yourself perfectly for summer, you should read our trend tips.
Crown, flower wreath and sun hat – your headdress for the festival
Finally, you have a plausible explanation for wearing a crown and for your exaggerated floral wreaths – the festival. The matching headdress belongs to every outfit. Flowers and floral in general are a very popular summer look every year and that will probably not change in 2019 either, because who doesn't want to celebrate cheerfully colorful in heat and sun?
Perfect hairstyles for a festival – curls, glitter and color
At festivals you can always find people with exciting outfits. The last years a trend has developed to present the hair as suitable as possible for a festival and still stylish. Starting with different braided hairstyles and updos, up to coloured accents and glitter. Those who like to attract attention should follow this trend in summer. Different tutorials or descriptions show you how to get these hairstyles done! If that's not enough, you can also stick glitter in your face! An eye-catcher for everyone.
Kimono, and flower patterns – summery at the festival
The kimono is also very popular. The traditional Japanese clothing is a very popular piece of clothing for the summer. Of course, it does not consist of several layers like the original, but is available as a maxi kimono and a mini kimono. In many different colours and cuts the Kimono 2019 has been an incredibly popular piece of clothing, from which we can also expect our own variations. If you don't just want to walk across the meadow in a bikini, you can casually put on a kimono and still look very stylish.
When the sun shines, you hardly wear black. It is much too hot and the atmosphere at a festival should always be colourful and shrill. That's why girls and boys can dare to wear eye-catching outfits. Whether flower pattern or animal pattern – with these outfits you feel free and happy!
Sunglasses more than just sun protection
The sunglasses should of course primarily act as sun protection. Complete nonsense, if you are on the road on de,m Hurricane or Parookaville, you do not wear them to protect yourself. First and foremost it is one of the most important festival accessories and it will always be. There are so many different glasses, it's best to pack several at once. Whether it's mirrored pilot glasses you already know or something more discreet you can choose to match your outfit.
The bum pockets are back
Since 2018 there has been no escape of them – the fanny packs are back. We not only want style, but also efficiency. The fanny packs simply offer both. Meanwhile there are more and more designer belly bags. In addition, no bag offers better protection for your valuables, since you always have them right in front of you. Of course, FIV also has an article where you can read all about the coolest aboutbags.
Animal pattern: hat, jacket, shirt, trousers – everything works with Leoprint
The fashion trend for 2019 is badly headed Leo and Snakeprint. Of course, it should not be missing in your outfit. For 2019 it means crazy snake patterns and wild leoprints. Leo can be bought everywhere again – skirts, blouses, pullovers, leggings and the same goes for snake. Although the trend has already started in 2018, it will definitely be present in many collections in 2019 and thus also decorate your wardrobe.
https://fivmagazine.com/wp-content/uploads/2019/04/beitragsbild-festival-outfit-look-style-frisuren-schmuck-accessoires.jpg
500
1000
Lisa-Marie
/wp-content/uploads/2023/08/fiv-magazine-logo-news-influencer-fashion-interior-travel-real-esates.svg
Lisa-Marie
2019-04-04 07:00:08
2020-11-10 14:44:11
Summer and music festivals: these outfits will be worn in 2019