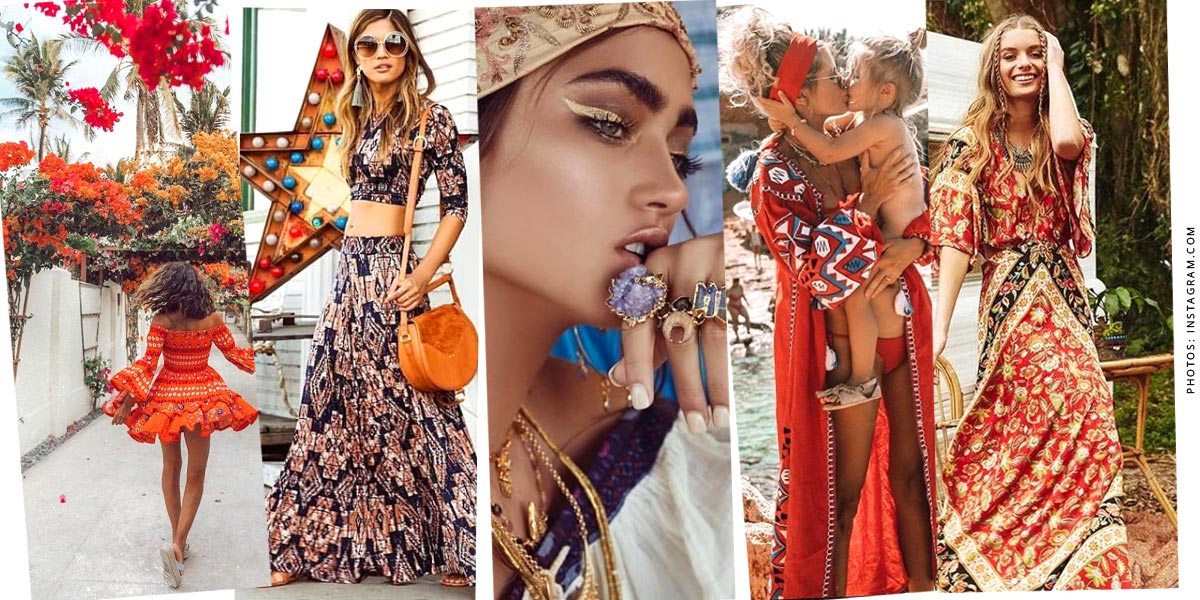 Festival: The perfect look – accessories, clothes, shoes
Every year summer, sun, sunshine and the festival season starts again. Whether Coachella or Lollapalooza. The question of the perfect festival look is a big challenge every year, because of course it should be the perfect festival outfit to shoot one or the other picture for Instagram. In front of the big Ferris wheel and the colorful fantasy figures one may of course not go under. But how do you get the perfect look and what are the possibilities? We will answer these questions today so that you are perfectly prepared for your next visit to your favourite festival.
Accessories – Jewelry, Hairbands & Co.
What should not be missing at all in the perfect festival look are the accessories. Jewellery is the be-all and end-all. Whether gold jewelry or silver jewelry does not matter, but in this case it means more is more. Bracelets and various chains, earrings, especially beautiful are always large creoles and if you have several ear holes in addition to small plugs. There is also no need to economise on the ankle. A anklet to round everything off and done.
Hairband – headdress for a cool style
Blaire by Gossip Girl has set a worldwide trend with her hairbands. If you like the cute girly look then this is probably the perfect accessory for you. There are hair bands in any form, in different colors and decorated with several patterns. There's something for everyone. If you prefer a more sporty style, we recommend a simple bandana, which you can either wear in your hair or look pretty cool on your wrist. You can either tie it around your hair like a headband or simply use it instead of a hairband to tie a braid, which can be very advantageous in the heat. Of course, the classic hair bands can also be worn in different variations. If it should be on the head then nevertheless somewhat more practical and one would like to be well protected against the sun see naturally Caps also with the girls again and again hammer out or also hats. These are also available in billions of variants and from several brands in different price categories.
earrings & chains
Feathers are also always an absolute eye-catcher, they look especially beautiful as earrings but also in the hair or as a chain tied around the neck simply class. The chains can also be easily made by yourself, with a few wooden beads and a leather cord this looks especially great. Even a simple belt with a great big buckle can perfectly round off a complete outfit if you're not a fan of too much jewellery. Last but not least, of course, your perfect sunglasses should not be missing.
Outfit: trousers, dress, skirt – the perfect look
It goes on with trousers, tops and and and and… Long dresses always look beautiful of course, decorated with flower prints for example simply mad. If you combine the dress with jewelry and a cute hairband you have created the perfect girly look. But also Hotpants look mega sexy. At festivals it can be really destroyed. Torn Hotpants with frayed seams, in addition a horny top and Voila. But also a jeans or leather skirt is always welcome. There are huge selections of tops, and it doesn't always have to be a "normal" top. Transparent tops or tops made of net fabric can look mega if you combine them correctly. For example, you could put on a sweet lace bralette underneath, or if you want to cover a little more, you could just put on a lace top. And a fringed hot pants and your outfit rocks.
Bikini as top
Tops can also be replaced by bikinis or swimsuits. You can take a Fransigen jeans skirt and put on a swimsuit underneath with pineapple or flamingos on it it looks playful and colorful (and getting wet isn't so bad either). Bikini tops can also be used as top replacements. For example, you can put them on instead of a ballet under a transparent or wide cut top. Bandeaus also offer a good alternative, they are also available in every colour and shape, with or without pattern.
Rockiger Look – suede, fringes & rivets
Should it not be quite so naked on the legs, fishnet pantyhose always look good on a shorts or nylon pantyhose with patterns. For the windier days, leather jackets and suede jackets with fringes or rivets always look good, whether on dress, trousers or skirt. Jeans jackets or corduroy jackets in oversize can make your look a bit more sporty and casual if you don't like so much frills. If it is actually a bit cooler, long flare pants made of fabric are always a good alternative. With or without pattern is up to you.
Perfect shoes for a festival
Your feet will go on, of course they shouldn't come away without it. DocMartens never get out and look great to any outfit. At the moment, white DocMartens in particular are very much in vogue. Of course the boots are also available in cheaper versions of other brands, just have a look in online shops. If the thick leather boots are a bit too warm for you, you should definitely equip yourself with sandals or Birkenstocks in colours such as silver, rose gold or gold, the shoes simply look wacky. Sneakers always do, of course.
Striking: glitter & tattoos
If you want to attract attention, you should definitely use flashtattoos and hair chalk and lots of glitter. Glitter always works. No matter whether in the hair, in the face or directly on the whole body. Flashtattoos can also be seen at almost every festival. Small arrows or suns or oriental patterns, on the arms, hands and legs… In general it can be colourful, glittering and even more glittering with your festival look.
Festival Must Have: Bags & fanny packs
To store your mobile phone, wallet etc. it needs of course a bag. Totally popular at festivals are always belly bags or belt bags called, which you simply strap around your waist and ready. They don't bother and everything is ready to hand. For your mobile phone you can also get a sleeve with a ribbon, they look stylish and your mobile phone is always near you. You can then simply hang it around your neck like a bag and you are also protected against thieves, because the mobile phone can no longer be pulled out of your hand so easily. If it is supposed to be a classic bag, we would definitely recommend something to wear, how about a fringe bag? Or a classic jute bag always does too, you can stow a lot in it.
Festival hairstyles: Dutch Braids and curls
For your hair we also have some tips in stock. With hair chalk you can give yourself a completely new look for a day, no matter if colored, pink, green, blue etc.. You may exaggerate. Also braided hairstyles are always trendy. The classic Boxer Braids or Dutch Braids are just right for everyone and look mega good. What also looks super cute is if you just make yourself two Dutts, if you have curled your hair a little bit beforehand this can look really messy. Open hair, either straight or curly, but always rock. Apart from the hair bands and caps we have just spoken about, flower wreaths are also among the most popular festival hair ornaments. The flower wreaths are most beautiful homemade from real flowers, but also from artificial flowers they fulfil their purpose and look fantastic.
Tense make-up: Festival glitter
Make-up also does not necessarily have to be saved. Many stick little stones over their eyebrows or make brightly coloured song shadows, a little glitter next to their eyes and eye-catching lipstick and the perfect festival makeup sits.

More tips for festivals:
https://fivmagazine.com/wp-content/uploads/2018/06/festival-look-boho-fashion-flower-dress-summer-vibes.jpg
600
1200
Lisa-Marie
/wp-content/uploads/2023/08/fiv-magazine-logo-news-influencer-fashion-interior-travel-real-esates.svg
Lisa-Marie
2019-04-19 07:00:58
2020-11-10 14:32:08
Festival: The perfect look – accessories, clothes, shoes