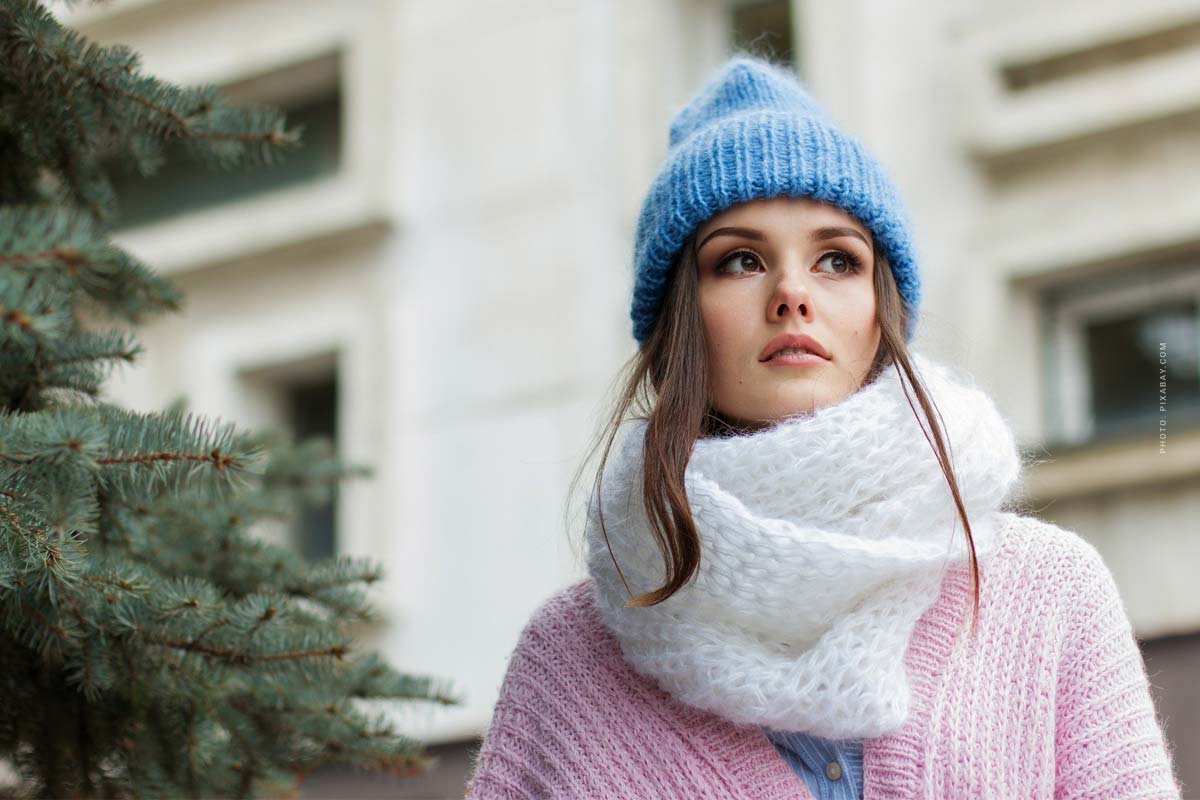 Sustainable fashion in winter: Fair fashion, compiling a Capsule Wardrobe & Co. – Our tips!
Sustainable fashion in winter – fair fashion has long been on the rise! Fair working conditions, fabrics from ecological cultivation and resource-saving production and delivery are in the foreground. Here we show you how to get through the cold season in a sustainable yet stylish way. Plus: All the benefits of an environmentally conscious Capsule Wardrobe!
More sustainability in your closet: Winter Edition
So you want to bring more sustainability into your closet? Combine fashion and functionality? It's much easier than you think! Find out here how it works. From cleaning out your closet to putting together a Capsule Wardrobe to buying new pieces.
Get an overview: What clothes do you already have?
Before you banish your summer dresses and sandals to the back of your closet for the next few months, you should get an overview of your clothes. What can you wear in winter? Which items of clothing from last season would you like to part with? And what would you like to keep? Can broken clothes still be mended, or should you buy new ones instead? Over the years, you often accumulate an unnecessary amount of pants, T-shirts, sweaters, dresses and skirts. So if you decide to make your closet more sustainable, you need to be aware of what you have in your closet and what you want to keep or get rid of.
Tip: Get an overview and sort it out!
Here are some of the most important questions you should ask yourself:
What do I still wear?
Which items can be mended?
What can go and what do I want to keep?
What can I still wear in the winter?
Must-haves in winter: comfortable and functional
Winter is the coldest season. It rains or snows, the temperatures drop to record lows and the days are short. Make sure your clothes are not only cozy and comfortable, but also functional. After all, it should not only keep you warm, but also protect you from cold wind and precipitation. So once you've cleaned out your closet, the next question is: Which items of clothing are absolute must-haves for winter? Which ones do you already have and which ones are still missing?
Tip: Make sure you have the most important winter clothes in your closet!
The most important winter must-haves at a glance:
Winter coat / jacket
Leggings and tights
Sweater
Winter boots
Scarf
Hat
Gloves
Wool dresses and skirts
Capsule Wardrobe: Perfect concept for sustainability
Have you thought about putting together a Capsule Wardrobe? A Capsule Wardrobe is a small collection of different clothes that you can mix and match at any time. The advantages? You spend less money, the different pieces of clothing can still be combined with each other next year and you save yourself a lot of stress and decision fatigue in the morning.
Tip: It's better to have a small collection of your favorite pieces, which you can combine with each other in different ways, depending on your preferences!
To make sure that the clothes are easy to combine with each other, you should pay attention to the following:
Buy clothes made of comfortable and breathable fabrics.
Look for colors & patterns that are easy to mix and match
Quality over quantity
Ignore trends!
Avoid impulse buying when shopping
Everyone knows it: You grab your girlfriend or boyfriend, you go for a coffee stroll through the city and suddenly the beautifully decorated window stores invite you to stroll. Be careful here! If your eyes fall on a piece of clothing that you absolutely want to have, you should ask yourself in advance: Do I already have something similar in my closet? And can it be easily combined with the other pieces you already have? This way you'll get sustainability in your closet and still be able to get inspired while shopping.
So now to the question: where to buy new clothes?

Never ending discussion: buy second hand or new?
So you know which clothes are already in your closet and which are still missing. Slow fashion doesn't mean you can't go shopping anymore. It's just about knowing how and where you should go shopping. You can buy second hand as well as new clothes.
Second Hand Shopping: Online & Offline
Buying second hand clothes is the most popular sustainable alternative to buying a new skirt, coat, pants & co. The best way to find out about the closest second hand store in your city is to check online. Otherwise, you can also buy second hand online. Whether at home on the couch or via smartphone in the train on the way to work – ordering online is not only convenient, but also time-saving.
Buy new clothes: The most important seals of approval
Of course, you can also buy new clothes in typical fair fashion manner. There are many seals of approval to look out for:
Fairtrade Cotton
Natural textile IVN certfied best
Global Organic Textile Standard (GOTS)
Fair Wear Foundation
Better Cotton Initiative (BCI)
Woolmark
Videos: Warm and fashionable through the cold season
Still looking for inspiration for your winter outfits? Then check it out here:
Tips for winter: Layered look, turtleneck sweaters & Co.
Fun statement socks, warm turtlenecks and sophisticated winter jackets with belts – winter fashion doesn't have to be boring. Find out here how to stay warm and stylish through the winter.
Fashion tips for men from Doctor Mike
Stylish through the winter! Of course, men also want to look good in winter. Doctor Mike has the best tips for this. From stylish trench coats to matching accessories.
Trends that make you look ten years younger
Dark coats and wide woolen dresses make every woman look older quickly, especially during the dreary season. If you want to cheat yourself a few years younger here, you should go for figure-hugging garments, bright colors and playful boots.
https://fivmagazine.com/wp-content/uploads/2021/11/nachhaltige-mode-winter-herbst-capsule-wardrobe-fair-fashion-tipps-frau-schal-muetze-tannenbaum.jpg
800
1200
Laura
/wp-content/uploads/2020/07/fiv-magazine-news-instagram-youtube-tiktok-influencer-fashion-interior-jewelry-real-estate-tips-help-logo.png
Laura
2021-11-15 07:49:30
2021-11-20 12:50:15
Sustainable fashion in winter: Fair fashion, compiling a Capsule Wardrobe & Co. – Our tips!