FIV Issue #7 – Betty Taube, Fata Hasanovic & Become a Model (GNTM Tips)
FIV Magazine Issue #7 – The new issue ISSUE #7 is now available online. In this issue you will find an exclusive interview with our cover girl model Betty Taube, in which she gives modeling tips and talks about her career highlights. You can also expect more exciting interviews with influencers Fata Hasanovic, Fabian Arnold, Enisa Bukvic and Anna Paulina Scherg. The influencers give private insights into their lives and provide you with helpful fashion and travel tips. Super interesting for all who want to become a model or want to get an insight into the model business is our model guide! Here you will find tips, information about the Fashion Week in Moscow and you can expect a professional model coaching with model coach Lutz Marquardt and photographer Oliver Rudolph. All fashionistas can also browse the world's most sought-after and best fashion labels in our fashion brand guide. Have fun reading!
New issue: ISSUE 7 with Betty Taube
Here you can find a short overview of the topics that are printed in the new issue:
Read online! Now on fivmagazine.com
Read the whole magazine online too: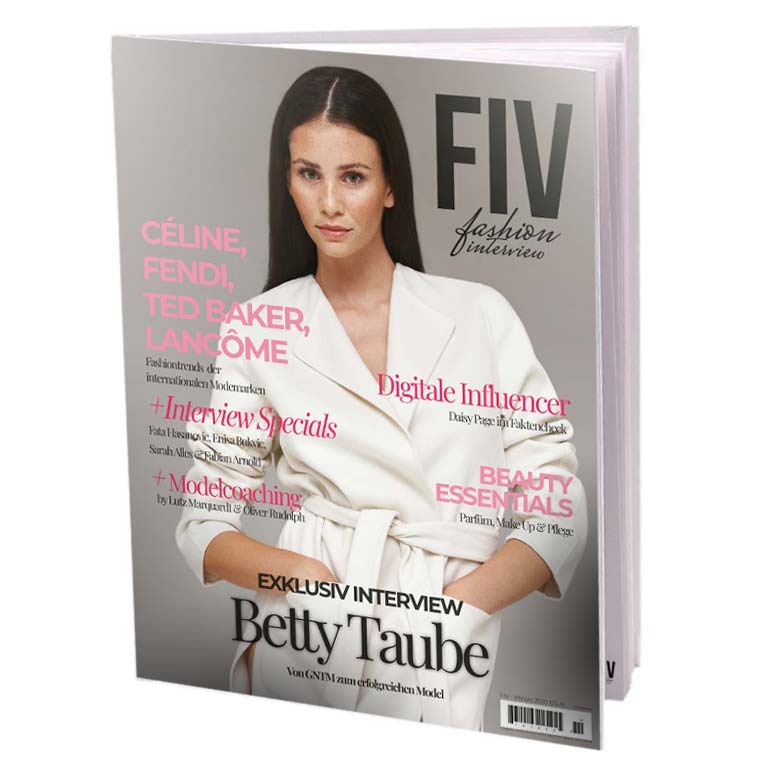 Interview with Betty Taube: Model tips & career highlights
Model, actress and presenter Betty Taube has already achieved a lot! Her participation in the TV show "Germany's Next Topmodel" has opened many doors for the likeable brunette. Together with two other contestants, Betty came in fourth place. After GNTM, Betty was seen on the TV show "Verbotene Liebe" and the styling documentary "Shopping Queen", among others. However, Betty has never given up her modeling career. Cooperations with big fashion brands or well-known car companies: The curly-haired beauty is not only popular with her fans! Betty told us what you have to keep in mind in the model business and how you too can realize your dream as a model. We interviewed the humorous and funky model for you to learn more about her life behind the camera.

Interviews. Fata Hasanovic, Fabian Arnold & Enisa Bukvic
Exclusive and exciting interviews with relevant influencers and models like Fata Hasanovic, Fabian Arnold, Enisa Bukvic and Anna Paulina Scherg can be found here. You can look forward to helpful model, fashion and travel tips and exclusive insights into the private lives of the influencers.
Fata Hasanovic: About her life in Dubai and GNTM
Blogger and model Fata Hasanovic took part in the TV show Germany's Next Topmodel a few years ago. The pretty brunette came in third place on the show and has since taken off on social media. Four years after her participation in GNTM, Fata built her own YouTube channel, a successful Instagram account and even her own podcast. However, one thing has always been clear for the beauty: she wants to be in the media industry! With her fun-loving and fun nature, Fata takes her followers with her and gives them private insights into her life, which many envy. Dubai, sun, beach and lots of travel – the model is living the real dream! In the interview, Fata reveals to us what her most beautiful travel destinations are, her tips for a successful participation in GNTM and her favorite travel partner.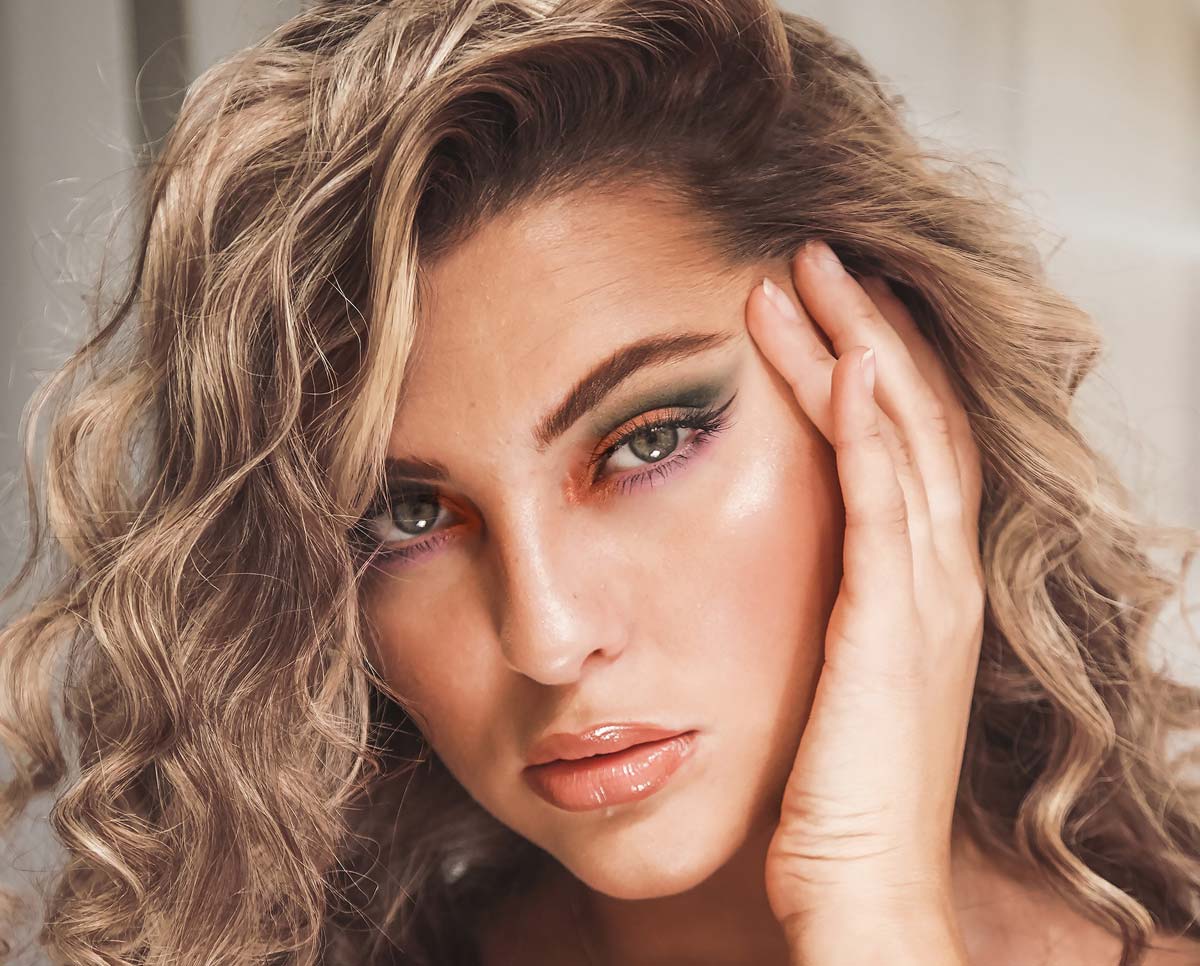 Fabian Arnold: Own brand and future plans
Who hasn't heard of influencer "fabianxarnold" these days? He currently has more than 120,000 followers on Instagram and the number is constantly growing. With us he has fully unpacked, he talks to us about former self-doubt, how he got into sports, his own fitness brand and his dream woman!

Enisa Bukvic: Career as a model and life in Dubai
Model and blogger Enisa Bukvic has had quite a career as a model. Ever since she was little, she dreamed of entering the modeling business. But the road to get there was often not easy. However, Enisa never stopped trying to make her dream come true and fought her way through. Now, a few years later, Enisa has achieved the lifestyle that many envy her for. She lives in Dubai with her boyfriend Simon Desue and her French bulldog Charlie and works as a model and influencer. The blogger also proved her skills on the TV show Germany's Next Topmodel. We interviewed Enisa for you to learn more about her modeling career and her life with Simon and Charlie in Dubai.

Anna Paulina Scherg: Tips for styling and self-confidence
Anna Paulina Scherg is mainly known on social media for her fashion content. With her excellent fashion sense, the Regensburg blogger posts her daily outfits and styling videos, with which she inspires her followers. The business student has been active on Instagram for two years and has already achieved a lot: collaborations with big fashion brands and her own bag label. We interviewed Anna for you and asked her questions about life as an influencer, the foundation of her own brand and her affinity for fashion.

Special: Becoming a Model – Casting Tips
In our Model – Guide you will find everything about modeling: Tips on how to become a successful model in Milan, virtual models and an exclusive model coaching by Lutz Marquardt and Oliver Rudolph.
Daisy Page: Virtual model takes off
Daisy Paige is the latest up-and-coming digital supermodel from Los Angeles. She already has a modeling contract with Lipps LA – a well-known modeling agency from California. Daisy was designed by the start-up company Spark CGI. Lipps LA is known for working with famous faces like supermodel legend Helena Christensen, rapper Cardi B and rocker Courtney Love. Daisy is being marketed by the agency along with her other talents. CGI and its agency hope to enter an age where people in many traditional roles will co-exist with CGI characters. Back to the overview: digital influencers.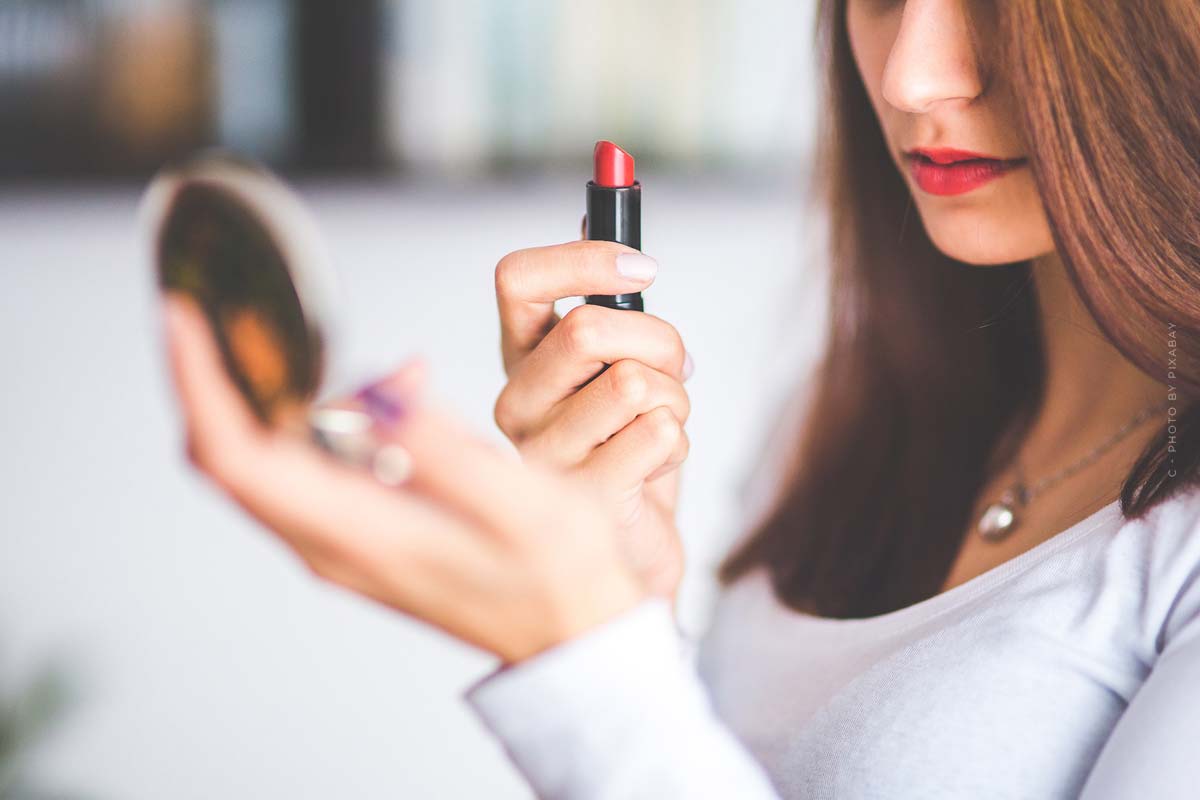 https://fivmagazine.com/wp-content/uploads/2021/11/Betty-Taube-GNTM-Model-Modemagazin-Issue-7.jpg
600
1200
Caren
/wp-content/uploads/2020/07/fiv-magazine-news-instagram-youtube-tiktok-influencer-fashion-interior-jewelry-real-estate-tips-help-logo.png
Caren
2021-11-02 15:38:22
2021-11-23 11:59:13
FIV Issue #7 – Betty Taube, Fata Hasanovic & Become a Model (GNTM Tips)