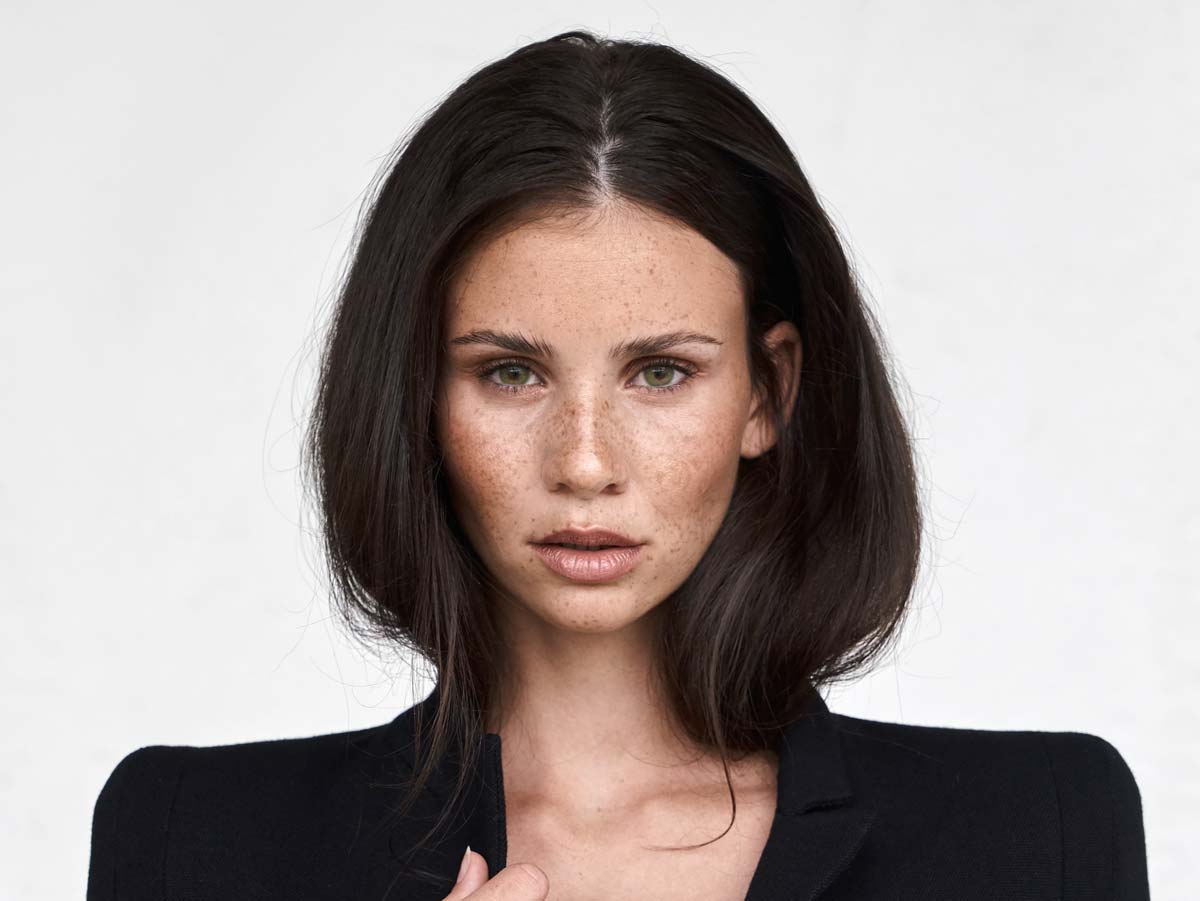 Model, actress and presenter Betty Taube has already achieved a lot! Her participation in the TV show Germany's Next Topmodel has opened many doors for the likeable brunette. Together with two other contestants, Betty came fourth. After GNTM, Betty was seen on the TV show Verbotene Liebe and the styling documentary Shopping Queen, among others. However, Betty has never given up her modeling career. Cooperations with big fashion brands or well-known car companies: The curly-haired beauty is not only popular with her fans! Betty told us what you have to keep in mind in the modeling business and how you too can realize your dream as a model. We interviewed the humorous and funky model for you to learn more about her life behind the camera.
Betty Taube: From GNTM to successful model
FIV: Since competing on Germany's Next Topmodel, you've taken off on Instagram, currently with around 1 million followers. Modeling is still an integral part of your career. What motivated you to take part in GNTM back then and how do you think it changed your life?
Betty: Actually, my application was just fun and the curiosity to see how such a casting actually runs. My best friend came up with the idea of registering me there. However, I never thought that it would really work out. My life has turned 180 degrees to the positive, even if it is rather unpleasant for me today to be an "ex-Gntm candidate". I think so after six years you can also leave the "ex-Gntm" times.
FIV: Do you still have much contact with former GNTM contestants?
Betty: Unfortunately, there is no regular contact with all the girls from the squadron. Sometimes you see some of them at events, but then the joy is huge. I can't imagine my life without two of the girls – Anna and Jana. They have become my closest friends.
Model tips & must-haves before each shoot
FIV: But modeling must of course also be skillful. Pose, shoot a photo and that's it – unfortunately, it's not that easy. But you've got it! What are your tips for the perfect photo? How do you prepare for an important shooting?
Betty: I try not to eat three kebabs the day before :). I'm turning 26 now and you really have to watch out for that by now (it used to annoy the hell out of me when older people said exactly that to me, but it's true, unfortunately). Eye patches for dark circles are a must almost before every shoot. When I first started modeling, I also practiced in front of the mirror more often beforehand. The sillier a pose feels, the better it looks in the picture.
FIV: Many young girls and guys are also planning to realize their dream as a model. What are your top 3 tips to make this dream come true?
Betty: My first tip: Don't let yourself be bent. In the meantime, it's not only your appearance that counts, but also your personality.
My second tip: You have to learn how to deal with rejection. The choice of models is huge. Getting a job through a casting depends on many factors. Only if all of these factors really fit together, you can be happy about a job acceptance. This is not always the case and it may well be that you get several rejections in a row. This is completely normal in the modeling world. No time for bad moods…off to the next casting!
My third tip is to have fun. When modeling you are on the road a lot and get to know many new people and projects. No day is like the other. It's super exhausting (yes, it really is…I never thought so before), but you should have fun first and foremost. Of course there are also bad days, but they should remain a rarity.
Adrenaline Junkie & Humorous: That's Betty
FIV: On your Instagram account you post not only the new collection for the underwear brand Intimissimi, but also for the clothing company Armed Angels or advertise the new Samsung mobile phone. What has been your most exciting collaboration so far and why?
Betty: Very difficult question… Being a total adrenaline junkie, I get bored with a lot of things very quickly. I like collaborations where you have an experience, not so much a product. I had a collaboration with BMWi a few weeks ago that I found very exciting. Unfortunately I can't say anything about it yet…soon you'll see… 🙂
FIV: Your fans like you especially for your easy-going and funky style. What do you think are the best qualities about you? What do your friends and family like you for?
Betty: I think they appreciate it about me that I am available for everything, no matter how crazy the ideas and plans may be. And otherwise as you already said: My loose and funky nature. I don't think I'll grow up in this life :D. I am very low maintenance.
FIV: Besides your job as an influencer and model, you also have other very interesting hobbies. Being a pilot and a race car driver are not your typical pastimes! How did your interest in these hobbies develop? What do you like most about flying and racing?
Betty: I love the risk and the speed. That's pure joy for me. That's always been in me, too. When others start crying because they're afraid of heights, for example, I say, "Move that crane even higher." I am a person who actually has several thoughts in his head 24/7. My hobbies are a kind of therapy for me, because I can completely switch off and just think about nothing.
Career Highlights & Future Projects
FIV: Overall, you've been through a lot in your career! You've been in the public eye more than often, whether on TV or social media. What moment do you always remember fondly? What was the absolute highlight of your career?
Betty: Getting into the car, plane or train every time and not knowing what exactly awaits you at your job today is a great feeling and never gets boring. There have been quite a few highlights in six years now, such as walking on the same catwalk with Adriana Lima, or my own little show "Betty goes…" on Pro7.
FIV: In the last few years you have gained a lot of experience in the field. Where do you see yourself in 5 years? Are there any important projects coming up in the near future? We would be happy if you could already tell us something about it!
Betty: Betty translates as – not having a plan (not really, but explains me quite well). I never have a plan, just a lot of ideas.
For example, one project I've had in mind for a while is to write a book about my past in a children's home.

Together with Anna and a friend there is a really very crazy product idea that I would like to implement.

Next year I would like to concentrate more on classic modeling.

TV is a lot of fun for me and I would like to do a cool project again.

Currently I don't want to stop modeling yet, but someday I would like to do something sensible. Flying or something with cars for example.

However, I am not allowed to reveal some projects yet
FIV: Thank you for the interview Betty, FIV wishes you all the best for the future!
Betty: Thank you so much!
https://fivmagazine.com/wp-content/uploads/2020/11/betty-taube-gntm-model-karriere-interview-tobias-dick.jpg
901
1200
Lisa-Marie
https://fivmagazine.com/wp-content/uploads/2020/07/fiv-magazine-news-instagram-youtube-tiktok-influencer-fashion-interior-jewelry-real-estate-tips-help-logo.png
Lisa-Marie
2020-11-08 12:00:14
2021-07-17 17:34:32
Exclusive interview with Betty Taube: model tips, career highlights & hobbies