Enisa Bukvic Interview: Model Career & Life in Dubai with Simon and Dog Charlie
Model and blogger Enisa Bukvic has had quite a career as a model. Ever since she was little, she dreamed of entering the modeling business. But the road to get there was often not easy. However, Enisa never stopped trying to make her dream come true and fought her way through. Now, a few years later, Enisa has achieved the lifestyle that many envy her for. She lives in Dubai with her boyfriend Simon Desue and her French bulldog Charlie and works as a model and influencer. The blogger also proved her skills on the TV show Germany's Next Topmodel. We interviewed Enisa for you to learn more about her modeling career and her life with Simon and Charlie in Dubai.
Life in Dubai & daily routine with dog Charlie
FIV: You moved to Dubai with your friend Simon Desue and there you even have a cute dog named Charlie. Is your life now more stressful or more relaxed in Dubai than your previous life in Germany?
Enisa: I always think, as long as you can organize and plan well, then you can also avoid this "stress". With me, it's all just like in Germany. The only advantage is that the beach is always available when you want to relax. I love the beach!
FIV: Would you say your dog is a kind of resting place for you, besides work?
Enisa: Charlie, my Frenchie, is definitely a kind of calm pole for me. I don't know why (maybe because she is so incredibly sweet and cuddly haha), but as soon as I take her in my arms or when we go for a walk, I am super relaxed again. My walks are like little "me times" for me.
FIV: Could you describe to our readers your typical walking route that you take with Charlie in Dubai? Do you walk past any nice hotspots?
Enisa: I mostly walk Charlie in our community here, there is a lot of green for Charlie but also a beach which she loves. Otherwise I also like to go to different dog parks. In Dubai there are a few parks but also many beaches for dogs.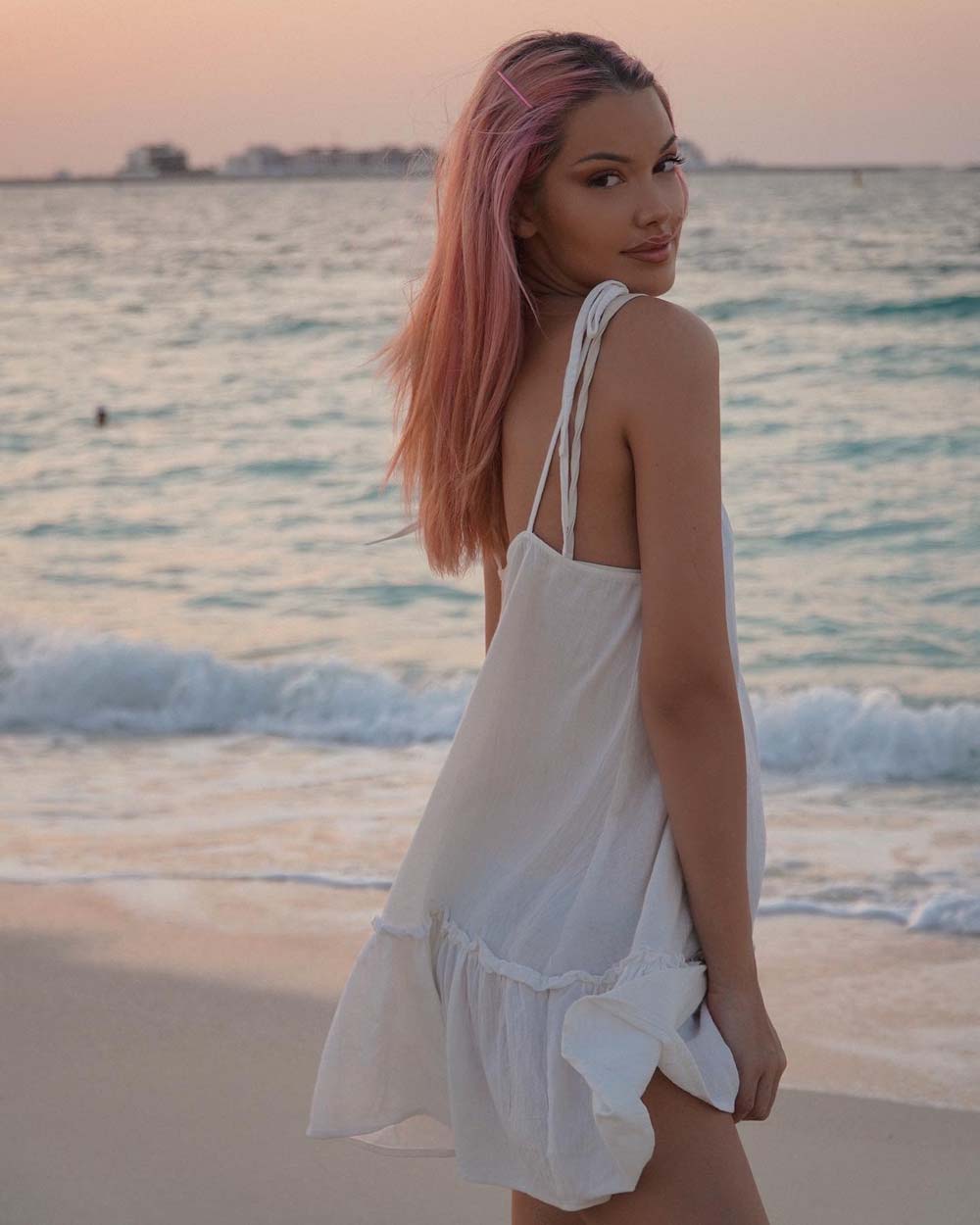 Simon and Enisa's Favourite Places & Best Trips
FIV: Dubai is knownfor luxury shops, huge skyscrapers and a beautiful beach. Tell us 3 places where you and Simon like to spend time together.
Enisa: Simon and I love beautiful views and in Dubai there are beautiful skyscrapers everywhere. The views there are so beautiful! We love Ce La Vie, for example. It's a café/lounge/restaurant in Dubai. There you have a very nice view and can see Burj Khalifa directly. Additionally, we also like Nammos Dubai, which is a beautiful restaurant on the beach with very delicious food. I also have to recommend the Mall of the Emirates, I like it better than the Dubai mall. It is smaller but has a lot of nice shops. There I always go to Laduree to get my daily dose of macaroons haha. If you are looking for good beach clubs, Cove Beach and White is an absolute recommendation from me!
FIV: If you hadn't moved to the metropolis of Dubai, what other city would you have liked to move to and why?
Enisa: I really don't know, but I think maybe Berlin. I think Berlin is very nice, luckily Hamburg is close to Berlin and I could spend a lot of time there. But in general I also love Miami, I lived there for a short time before I moved to Germany.
FIV: You and your friend Simon Desue have travelled a lot together, be it Miami or the Maldives. What's the best trip you've taken for a job so far?
Enisa: I have to say, it was really nice to be at Swim Week in Miami. It's like Fashion Week, but only for swimwear. It was really fun! Miami is a tropical paradise for me, but at the same time it's a very beautiful city. There is so much to do and see there!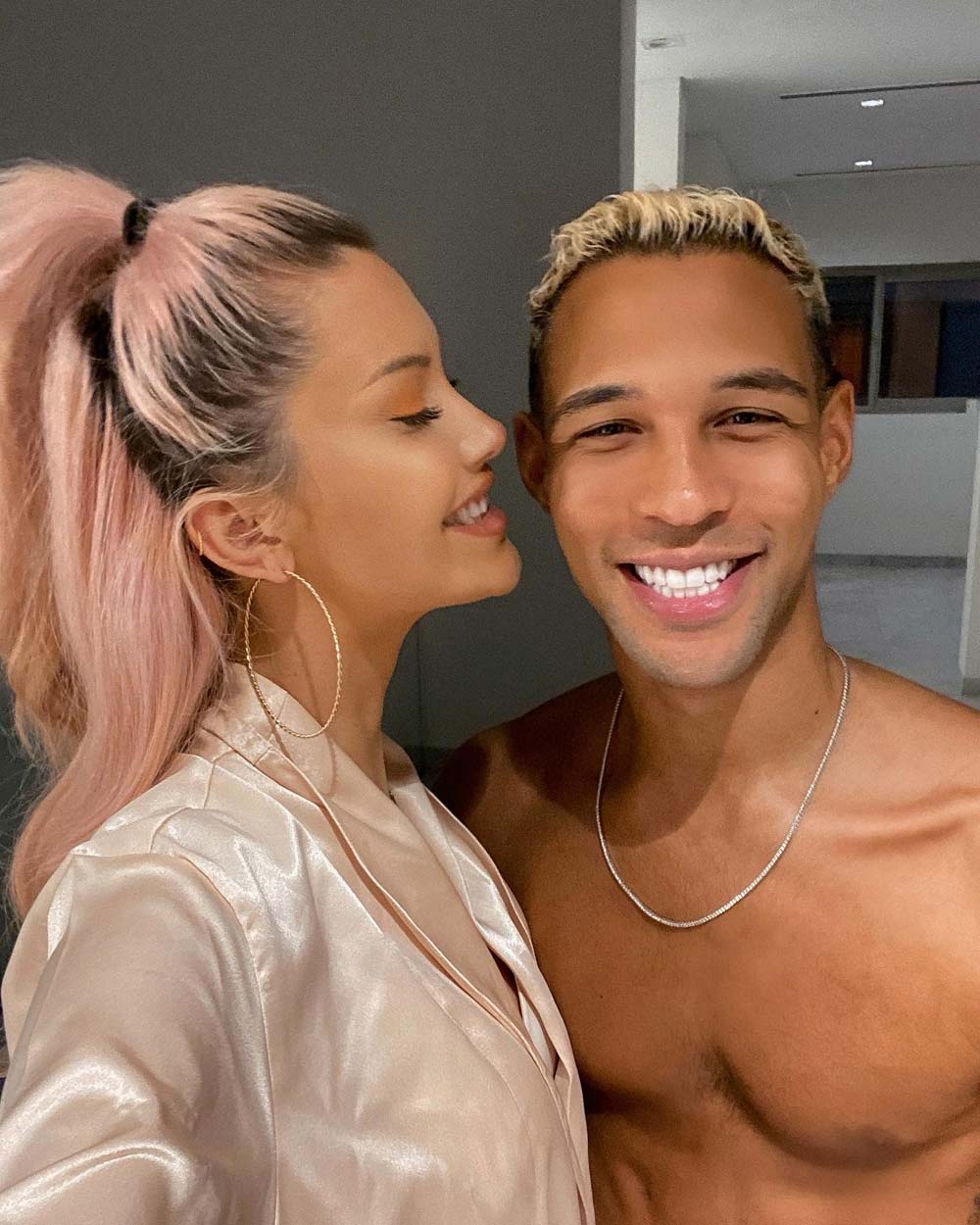 With a hip over 90 cm no chance as a model!
FIV: You lead a very successful influencer lifestyle, lovingly care for your dog, and model on the side. When did you start your career and where did your self-confidence come from, which many of your viewers admire you for?
Enisa: I started my modeling career when I was 14 years old. The self-confidence wasn't always there. When I started, I was told "no" right away at my first model casting. My hips were too wide for "the industry". There is this sick 90-60-90 ideal in models that many don't have because models are generally tall. A 180 cm woman does not naturally have a 90 cm hip width. I had to do a lot of struggling with that. An agency promised me (back when I was 17) that I could be in Fashion Week in NYC if I could just lose weight. I didn't get my period for a whole 6 months because my body was in such bad shape. I was owned by a hip width of 94 cm from the beginning and had lost 11 kilos until my hip width was 88.5 cm. I looked so incredibly sick. Then the one at the end just said it wasn't going to work. So I told them I didn't want to be with the agency anymore because it was so incredibly sick. There are better agencies that don't pay so much attention to body measurements.
After that, I finished my diet and cried when I could eat my first piece of bread in months. Yes, sometimes the world is really crass. It wasn't all that easy and sometimes you didn't get paid much either. But I always studied on the side. I finished political science and always had extra jobs on the side. Since then I have learned to love and appreciate my body. Health is the most important thing! Today, thank God, it has become more normal that models don't have to be so skinny. So that was the beginning, later I found a very good agent from Miami/Copenhagen. Thanks to her I was able to work with a lot of professional brands and was even at Fashion Week.
Tips for young models to make it in the model business!
FIV: You have already gained a lot of experience in the model business. Do you have some tips for our young readers for their modeling career?
Enisa: My tip is not to give up. Even if you get a rejection more often, or for example you don't think you can make it, don't listen to that. You can do anything at the end of the day, but only if you try and fight. "With every failure there is also a lesson and sometimes even a hidden blessing." That's how I always think and that's why I keep going. Your mindset is the most important thing. "When you put your mind into something and work for it nobody can stop you". It also helps me a lot to write everything down. Set a goal and then more smaller ones to reach your final goal in the end!

Now also in the magazine: Enisa Bukvic
You can also find the interview with Enisa Bukvic in the magazine. Now on fivmagazine.com, the whole magazine is also online: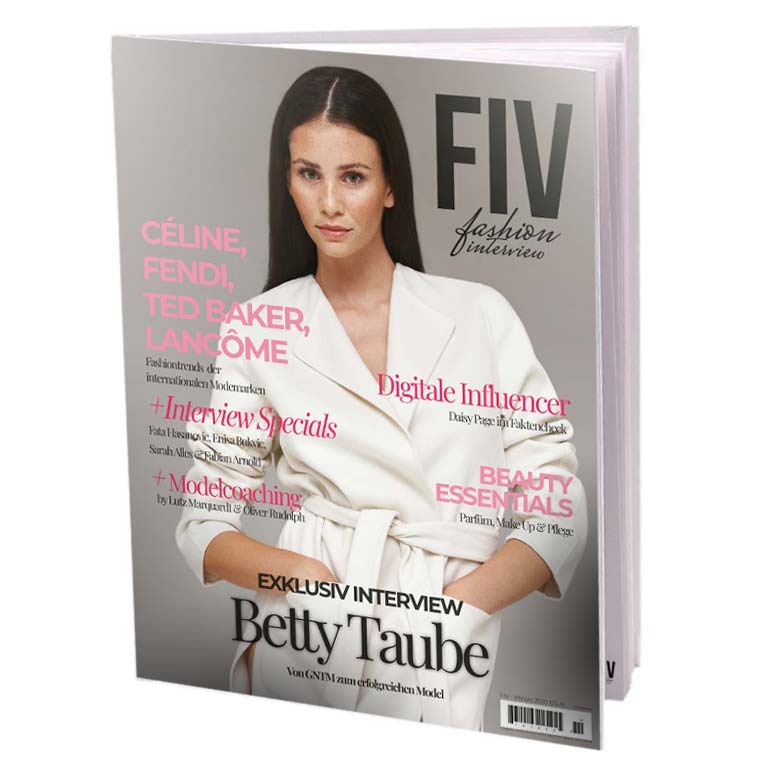 https://fivmagazine.com/wp-content/uploads/2020/12/enisa-bukvic-model-social-media-interview-instagram-freund-dubai-youtube.jpg
870
1200
Lisa-Marie
/wp-content/uploads/2020/07/fiv-magazine-news-instagram-youtube-tiktok-influencer-fashion-interior-jewelry-real-estate-tips-help-logo.png
Lisa-Marie
2020-12-06 12:00:48
2021-11-02 16:54:50
Enisa Bukvic Interview: Model Career & Life in Dubai with Simon and Dog Charlie