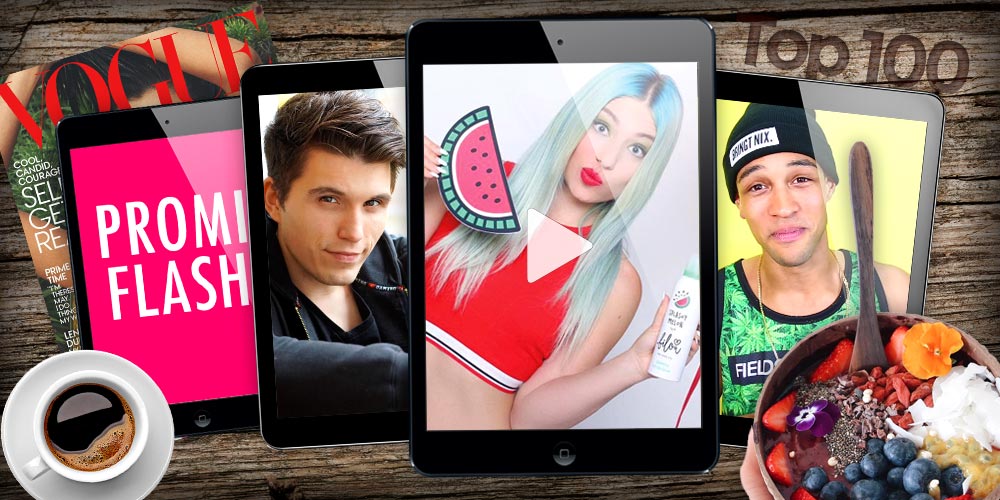 Top 100 Youtuber in Germany: You have to know these Youtube stars!
Whether teacher, student, firefighter, lawyer or salesman, on Youtube everyone can be who they want and present themselves how they want. That is exactly what attracts millions of viewers and Youtubers to the video platform every day. In the last few years Youtube has developed into a real career for some. In this ranking you can see the most successful YouTube channels in Germany, none of which will regret having started with Youtube. We have analyzed for you the subscribers, clicks, videos and much more. Whether beauty, entertainment, promitalks or pranks, there is something for everyone. Check out the most successful female Youtubers from Germany here!
Want to start blogging yourself? From camera to continuous light and memory cards, here's a guide to setting up your YouTube studio.
1. promiflash – VIPs, bloggers and gossip
Promiflash is probably the fastest star magazine in Germany. Every day it reports on the latest from the world of stars and starlets. Who is now a couple, new merch is released or a baby is born. Promiflash is always up to date and shares this news with all its subscribers.
2. paluten – Minecraft, Vlogs & Gaming
Paluten is a channel that is probably mostly liked by gaming fans. On this channel there are daily new Minecraft videos. In addition, interesting vlogs, cartoon games and just everything that has to do with gaming. Paluten makes every gamer's heart beat faster.


FragranceTip.com by FIV
3rd KinoCheck International – trailers, news and reviews
KinoCheck is the perfect place to go for the very latest trailers, news and reviews. KinoCheck is Germany's largest movie entertainment network, whether you want to see blockbuster or indie movie trailers, on Kinocheck everyone can find a trailer for their next favorite flick! But not only that, they also produce original content like movie reviews, mashups, compilations & movie events.
4. BibisBeautyPalace – Pranks, Challenges & Tutorials
BibisBeautyPalace is no longer a foreign name for most people. She entertains her over 4,000,000 followers every Thursday and Sunday with funny challenges, vlogs, pranks and tutorials. In the beginning, her channel was meant to give beauty tips, but together with her Youtuber friend Julienco, the channel quickly evolved into a colorful mix of entertaining videos.
5. prosafiagaming – Gaming
ProfisaGaming is probably especially something for Mario lovers. Whether you just want to watch the gaming or the evolution of the kiss of Mario and Peach this channel leaves nothing to be desired.
6. Kontor.TV – Electronic Dance Music
At Kontor.TV you will find over 1000 videos of the best 'Electronic Dance' sounds. Kontor Records is an internationally recognized dance label that has already released stars like Scooter or ATB.
7th Clips Mix – Electronic Dance Music
Clips Mix publishes videos for children. Everything about toys, children's movies or even what's hiding in the next surprise egg you can find out on this channel.
8. the voice kids – highlights from the voice kids
The Voice Kids is a show that is broadcast every year on German TV. Fittingly, you can watch all the highlights on the YouTube Channel. From blind auditions to the finale, you can watch the best of the best voices collected on this channel.
9. ConCrafter | LUCA – Entertainment
ConCrafter | LUCA wants one thing above all: Entertainment! On his channel there are funny new videos every day. New challenges like 'The Floor is Lava', how female Youtubers would look like as men or funny reactions to children's books, Luca comes up with something new for his subscribers every day to provide you with guaranteed entertainment.
10th Rammstein Offical – Music
Rammstein Offical is the official channel of the music group Rammstein. New tarilers, music videos or making ofs. Rammstein fans will spend hours here.
11. MySpass.de – Comedy
MySpass.de is a free VoD platform for comedy in German-speaking countries. German comedy legends such as "Stromberg", "Pastewka", "Ladykracher", "TV Total" or "Schlag den Raab" are at home on this channel. After the TV broadcast, you can watch the entertainment formats here. You can also watch formats that are produced especially for the Internet on MySpass.de, e.g. "Stups" with Korinna or "Nightwash live" with Luke Mockridge.

12. latest.news – Comedy
Neuste.news always has the latest news for you. Every day you can find crazy stories from all corners of the earth – what happens to a drunk man on the way to work or how it is to drink cucumber water for 7 days, here you can find informative news as well as very crazy stories.
13. robin schulz – music
Robin Schulz is probably one of the most famous DJ's in the world and tours all over the globe. Hard to believe that this exceptional talent comes from Osnabrück. Less surprising is that his Youtube Channel is so successful. Whether new remixes, features or live concerts Robin Schulz Channel offers the complete music package.
14. entertainment access – movies, games & series
Entertainment Access is the place to go for movies, games and series that everyone loves! This channel features trailers, clips, rankings and more.
15 Julienco – Challenges, Pranks and Vlogs
Just like his Youtuber friend BibisBeautyPalace,Julienco produces funny challenges, pranks and vlogs every day. Julienco stops at nothing!
16 JulienBam – Photography, Dancing, Music & Lifestyle
JulienBam produces a colorful mix of fonography, dancing, music, lifestyle and special effects on his channel. His fans love him especially for his varied, crazy and likeable way.
17. selected – music
Selected is fully dedicated to 'House' music, moreover Selected is also a record label/event brand and originally comes from Berlin. Here you will find the perfect song for every house fan!
18. moviemaniacsDE – Film
moviemaniacsDE publishes daily trailers of movies from all over the world. From blogbusters like Planet of the Apes to independent productions, moviemaniacs has everything your movie heart desires.
19.CrhymeTV – Music
CrhymeTV is the official channel of the guys around the 187 Straßenbande, probably the most successful rap group in Germany at the moment. On this channel you can find snippets, new music videos and behind-the-scene videos. Maxwell, Bonez Mc, Raf Camora, Gzuz and Bonez belong to the list of the most successful Youtube channels.
20th JuliensBlogBattle – Music, Entertainment & Criticism
JuliensBlogBattle publishes daily new rap battle videos on his channel. But JuliensBlogBattle is only one of his 3 channels. In addition to this he has his main channel Juliensblog on which he gives his opinion on one or the other topic, as well as JuliensBogGames for his gaming videos. However, only his Rap Battle channel made it into the top 20.

21. rewinside – Minecraft, Vlogs & Challenges
Rewinside mainly publishes Minecraft content and formats like Castlerush with Unge, Masterbuilders, Craftattack or Whos your Daddy. If that doesn't ring a bell, it's worth a look at Rewinside's channel. From time to time there are also funny vlogs and challenges!
22 Gronkh – Gaming
Gronkh mainly publishes Let's Play videos on his channel, in which he plays and comments. He became known with his series on the game Minecraft, of which he has filmed more than 1,200 episodes until 2014. He also publishes travel documentaries and comedy videos with his 'Superhomie' Sarazar, but only on his channel Superhomies.

23. cinemaCheck – Film
KinoCheck is your one stop shop for the latest movie trailers, news and reviews. Here you can find national and international trailers in German.
24. sing with me – children's songs – music & entertainment
On Sing mit mir – Kinderlieder you will find classic children's songs, Christmas songs and lullabies – newly interpreted and lovingly animated.
25 DannyJesden – Gaming & Entertainment
DannyJesden plays games of all kinds, from free indie games to world famous games like Mario. He also publishes V-Vlogs with his comments.
26. 385idéal – Music
385idéal is the official channel of the German rapper Nimo. 385idéal publishes music videos, behind-the-scene videos and much more for all Nimo fans.
27. zb Disney Cars TV – Cartoon
ZB Disney Cars TV releases new episodes of the self-produced cartoon Spiderman Disney Cars every day.
28. nuclear blast records – music
Nuclear Blast Music is the number one in extreme music! It is the world's largest independent heavy metal label, on the official channel new music videos, interviews, live performances and much more from artists like Slayer, Machine Head, Nightwish, Children Of Bodom, Dimmu Borgir, Avantasia and many more are published.
29. JONAS – Entertainment
JONAS publishes daily entertaining videos on his channel that make everyone laugh.
30 Womens Division HD – Sport
Womens Division HD publishes daily women's wrestling videos from the WWE.
31. play with me – children's toys – entertainment
At Spiel mit mir – Kinderspielzeug you can find everything about toys! Unboxings, demos, reviews, stories, experiments such as with toys from LEGO, PLAMOBIL and Co. In addition, there are children's songs, parodies, fairy tales and much more.
32. pietSmiet- Gaming & Entertainment
PietSmiet consists of 5 gaming maniacs who record their daily gaming nights and of course publish them for our entertainment.

33 Galileo – Education & Entertainment
Galileo is a knowledge show that actually runs on Prosieben, but since Youtube is becoming increasingly popular, especially among young people, you can now watch the shows on Youtube. Galileo resit with you through the world of knowledge: physics, history, nature and Internet phenomena, society, politics and everyday questions.
34. LOGO – Gaming & Vlogs
LOGO is a channel all about Minecraft, Minecraft maps, mods & Minecraft PvP, from Bedwars to Survival Games you can find everything here and also Vlogs!
34. domtendo – gaming
Domtendo publishes Let's Plays of the games for Nintendo Switch, 3DS, PS 4, PC & – in HD, WQHD, 4K and 60 FPS.
35. in brief – In a Nutshell – Explanation & Knowledge
In a nutshell – In a Nutshell explains different areas with a postive nihilism. In the video they try to show science, politics and more in a nice way. Definitely worth a visit.
36. freekickerz – Sports & Entertainment
freekickerz is the biggest YouTube soccer channel with lots of tutorials, free kicks, challenges, soccer boot tests, amateur goals and soccer tricks.
37. xKito Music – Music
xKito Music promotes a variety of different electronic dance music on his channel.
38. lisaandlena – Music, Fashion & Entertainment
lisaandlena promote their own fashion line J1MO17 on this channel, publish music videos and answer their fans' questions. Lisa and Lena are currently the most successful Musical.ly artists and are now also taking off on Youtube.
39. theFatRAt – Music
TheFatRat is a German music producer. On his YouTube channel he puts several of his tracks online. His music style goes in the direction of glitch-hop.
40. Simon Desue – Pranks, Vlogs & Comedy
Simon Desue is one of the most successful Youtubers in Germany and is currently turning the life of his girlfriend Enisa upside down. He pranks her on his channel almost every day and always takes her with him in front of the camera.
41. xLaeta – Entertainment, Lifehacks & DIYs
xLaeta entertains her subscribers with a colorful mix of DIYs, lifehacks and entertainment videos. On her channel you can see what happens when you throw several bath bombs into the bathtub at once.
42. freshtorge – Comedy
freshtorge publishes new comedy videos every Saturday in which he occasionally takes other YouTube colleagues like Simon Desue for a ride.
43. felix from the store – vlogs
Felix von der Laden takes you into his everyday life on his channel. Funny vlogs come daily.
44. prankBrosTV – Pranks & Entertainment
PrankBrosTV consists of 2 brothers who like to prank themselves or others once. Every day there are new entertaining videos.
45th BangerChannel – Music
BangerChannel provides all videos from and with FARID BANG, KC REBELL, SUMMER CEM, MAJOE & JASKO, 18 KARAT on his kanel.
46. devotees of Mary – Music & Education
Marioverehrer produces learning videos for piano and piano for its subscribers. With Marioverehrer everyone learns how to handle a piano.
47 Domtendo – Gaming & Entertainment
Domtendo regularly posts Let's Plays videos of the best games for Nintendo Switch, 3DS, PS 4, PC & – in HD, WQHD, 4K & 60 FPS online. The channel for every gaming fan.
48. JP Perfomance – Cars & Entertainment
JP Performance is the channel for every car tuning fan. In his workshop he regularly pimps cars and presents the results to his community.
49. Benx – Gaming & Entertainment
On Benxchannel you can find daily Minecraft videos like Lucky Blocks, TNT Wars or Minecraft School.
50. craftonix – animation
Craftonix produces Minecraft animation videos. The channel for all who can't get enough of Minecraft.
52. monsterchannel24 – RC Tractor, Excavator, Truck & Construction Machine Shots.
60. tuberides1 – Sports & Entertainment
64. theLochis – entertainment & music
66. zombey – gaming
67. JERYKO – Entertainment
70. SPORT1 – News & Sports
71 Emre AMV – One Piece Content
73 Taff – Lifestyle Magazine
78 Leon Machère – Music, Entertainment & Pranks
83 Kojo – Entertainment
84. briQle – Lego entertainment for kids
85 Fireman Sam – Entertainment for children
89. Jumanji TM – Life Hacks & Entertainment
91 TopWorld – Life Hacks, Experiments & News
93 Brotatos – Challenges & Entertainment
94. RayFox – Entertainment
95 Hansgrohe – Advertising & Life Hacks
98th Jay & Arya – Film, Television, Comedy & Entertainment
99th FoxKino – Film & Television
https://fivmagazine.com/wp-content/uploads/2017/08/youtuber-top-100-bibi-simon-desue-promi-flash-ranking-influencer-video.jpg
500
1000
Stephan
/wp-content/uploads/2023/08/fiv-magazine-logo-news-influencer-fashion-interior-travel-real-esates.svg
Stephan
2017-08-09 15:29:21
2017-08-09 15:29:21
Top 100 Youtuber in Germany: You have to know these Youtube stars!