Make-up tips, relationship and cooking – Influencer Sanny Kaur in an interview with FIV
Sanny, a young Indian woman with an interesting history and a promising future. She is a business student and successful influencer. Sanny is mainly about beauty, Bollywood inspired looks, her lymphatic styles and most recently cooking. If you want to get authentic tips, inspiring impulses and an authentic insight into the life of an ambitious young woman, Sanny is the right place for you.
Sanny Kaur: Social Media
Sanny Kaur on Instagram
Sanny Kaur on Youtube
Sanny Kaur Website/Blog
Interview: The Indian Beauty Queen Sanny Kaur
FIV: Your first video was a Justin Bieber concert look 6 years ago, maybe you remember ? What was it like back when you shot your first videos and
You uploaded to Youtube? How did friends, family and classmates react ?


Germany - Spain - USA
Sanny: In the beginning I didn't tell anyone that I was making YouTube videos. I didn't want anyone to know. So I used to shoot my videos when my family wasn't at home. I secretly took the video camera out of the closet, put it on a pile of books and shot my videos. Then I quickly put the camera away again – totally funny in the end. My friends from back then hardly watched YouTube themselves, but they thought it was cool. My parents also knew at some point and were totally on my side and supported me in all things. The problem was more my classmates. During my high school graduation I got a little bigger on YouTube. Then they started running my videos during class just to annoy me. Or campaigns I campaigned for were taken as WhatsApp status, but in a pejorative way. So it was definitely disgusting. But I didn't let it stop me. I had a good support system with my closest friends and they helped me a lot.
Sanny Kaur: Tips for a healthy relationship
FIV: Our readers are often younger – as a married blogger, can you give us tips on how to have a healthy and beautiful relationship?
Sanny: Having a relationship isn't always easy. You have to make compromises, but you also have to be able to express and explain your wishes. Communication is really the be-all and end-all. You have to be able to talk openly about everything with your partner. This creates a deep trust. Besides, respect is a very important factor. In a relationship respect should be very important. If you have ever gone too far yourself, you must also have the courage to apologize for your behaviour. Loyalty also plays a big role. Love and I would leave everything standing and lying for each other. That's super important and that comes with time. Every relationship gets stronger every year and through every hurdle. The main thing is that you don't give up on each other.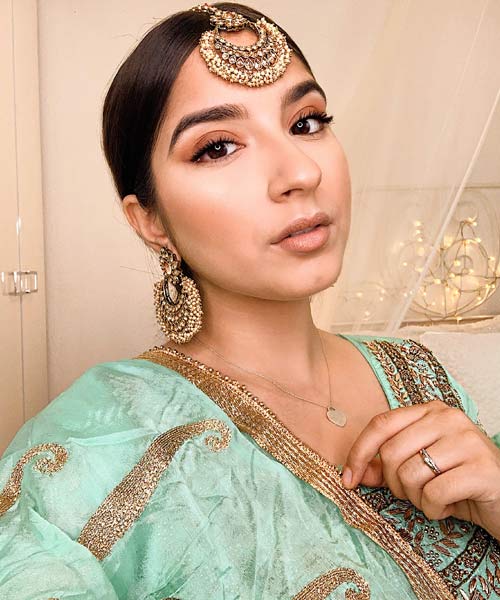 Make-up like the Bollywood Stars
FIV: As you are very well known in the field of beauty, we would like to know what your 3 best make-up tips are!
Sanny: My 3 best make-up tips – oh God, there are so many! So the 1st Make-up Tip: White Kajal on your waterline makes your eyes look bigger and you just look more awake. The 2nd Make-up Tip fits very well & Color Correcting. With an orange concealer you can neutralize your dark eye rings and thus cover them much better than without color correcting. The 3rd Make-up Tip: With soap you can totally control your eyebrows and they will last all day. You wonder how something like this works? You just grab an eyebrow brush and walk over the soap. Then you brush through your eyebrows & voilà they have the perfect hold for the whole day.
FIV: If you want a weekend without Instagram, Youtube etc. – how can you switch off and what do you prefer to do in your spare time?
Sanny: I prefer to be out in nature. I love long walks with my dog. And then they chill at home, eat and watch movies.
Influencerin Sanny: Cooking tutorials of an influencerin
FIV: Recently you uploaded your first Koch tutorial to Youtube. Is cooking your passion? And which specialties do you cook best?
Sanny: Cooking is just such a great balance. I love to try different recipes, to learn something new. Of course, the best way to cook is Indian. So my Butter Chicken have all been so celebrated here at home and the traditional dish "Malai Kofta" is also one of my best recipes.
FIV: You are Indian and wear the traditional costumes on some pictures and videos – what does India mean to you and how can you best discover the Indian culture?
Sanny: I love Indian culture. I love the colors, the clothes and the music. Since we fly to India several times a year, India is actually my 2nd home for me. Indian culture can best be discovered in New Delhi, but also in places like Jaipur or the golden temple in Amritsar. There are such beautiful, breathtaking places in India. You have to see this once. I also always try to integrate the Indian culture on my YouTube channel by creating Bollywood looks or showing Henna tutorials.

Travelling & Dreams of an Influencerin
FIV: What was your best trip so far and where do you want to go again?
Sanny: My best trip so far was last year in the Bahamas. I love the sea and it was so beautiful. I really want to go to New York again, I was there 5 years ago and it's just such a cool and inspiring city. You should definitely go there.
FIV: You are a successful influencer, married and business student, do you still have unfulfilled dreams? If so, which dream would you like to realize?
Sanny: In any case, I still have dreams that I would like to realize. For example, I've always wanted to bring my own product to market, but I'm still working on it. Apart from that, I just want my family and I to stay healthy and happy.
Sanny Kaur on Instagram
Sanny Kaur on Youtube
Sanny Kaur Website/Blog
https://fivmagazine.com/wp-content/uploads/2019/11/sannykaur-beitragsbild-mode-influencer-blogger-fashion-mode-inderin-schminke-make-up.jpg
450
900
Stephan
/wp-content/uploads/2023/08/fiv-magazine-logo-news-influencer-fashion-interior-travel-real-esates.svg
Stephan
2019-11-08 07:00:07
2020-11-11 11:58:48
Make-up tips, relationship and cooking – Influencer Sanny Kaur in an interview with FIV