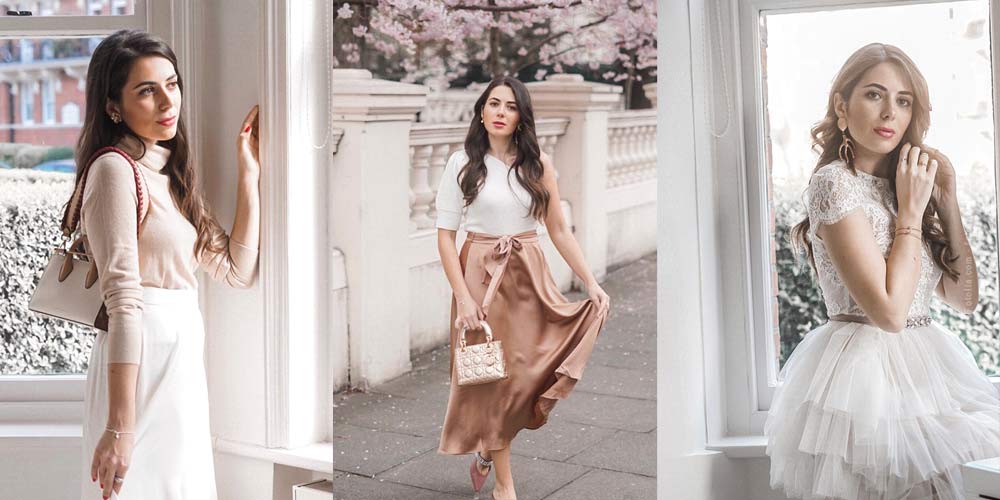 Fashion, Lifestyle and Beauty Influencer: Nurce Erben – Exclusive Interview
Nurce Erben is an elegant influencer from London. Her chic style allows her to participate at the biggest events in London and to work with well-known brands. It´s through her instagram account and her blog London Fashion Story that she shares her pastel and poetic universe. The FIV Team has prepared an exclusive Interview with Nurce Erben for you. Fashion, lifestyle and beauty are the main subjects of this special article.

Nurce Erben – London Fashion Story: Bloggerlife
FIV: Hi Nurce! You are a sophisticated fashion, beauty and lifestyle influencer in London. How did you get your start as influencer and how has your life changed since becoming an influencer?
Nurce: Hi FIV Magazine! When I was a child, my mother was a fashion designer, and I was born inside the fashion world. When I was 4 years old, I used to run around with my mother's pearls. Having an Online Marketing Masters Degree from London School of Economics really helped me to curate my blog, and I started to blog part time back in 2015. Over time I made a choice to stay true to what I loved the most, and became a full time blogger in 2017. Since then my blog London Fashion Story has a highly engaged community of 108.000 people following my life and fashion journey. It was a life changing decision because doing what I love and loving every moment of what I do was the best decision I ever made. Even though it wasn't easy, I worked very hard and success comes from combining your passions with very hard work.
FIV: You are rather know in UK. How would you describe your universe and your style for people who don´t know you yet?


FragranceTip.com by FIV
Nurce: As the creator and editor of the London Fashion Story since 2015, I focused on writing/sharing about a mix of luxury and high street fashion, beauty and lifestyle. I worked with numerous brands including Charlotte Tilbury, L'Occitane, Guerlain, Tag Heuer, Karen Millen, Jimmy Choo, Russell & Bromley, Oscar de la Renta, AUDI, Nespresso and many more. I share daily and weekly content on my blog's website: www.londonfashionstory.com and social media page, Instagram: @nurceerben with over 100.000 followers. I love using natural and pastel tones on my imagery, and creating high quality and artistic images for my blog's content. I attend fashion weeks twice every year, and I always aim to include the newest fashion advice from the runway to my readers through my blog London Fashion Story.
Influencer in London
FIV: As a fashion Influencer, what are the essential pieces you must have in your closet?
Nurce: I am a super classic person, for me an essential closet includes these items in a neutral colour palette: a lot of blazers, comfortable white/cream pants, beautiful and colourful occasion dresses and iconic coats. Living in London made me collect a large coat wardrobe, and I love just being able to put on white comfortable pants, cream turtleneck jumper and an elegant beige coat for a casual day for example. Styled with cream leather gloves and Celine sunglasses, it's the perfect effortless every day outfit. When there are occasions such as fashion events and fashion week shows, I always dress combining my favourite classic style with the latest trend (print, checks, sneakers for example) and create a classic, yet stylish look. Here are some of my favourite looks from the latest Winter fashion week.
FIV: I saw on your website that you´re fluent in French and you used to go to  Paris, la ville de l´amour. What would you say is the major difference between London woman style and Parisian woman style ?
Nurce: My grandmother is French and we go to Paris quite often, and I grew up between Parisian and English culture which showed me the style differences. I would say that London Women love being comfortable and warm with their clothes, and they prefer quality over quantity. They like fabrics such as cashmere and silk, and they like wearing what they buy over a long period of time, they love durable clothes. Whereas French women are driven by style and trends, and are very stylish in their clothes and follow the latest trends more I would say.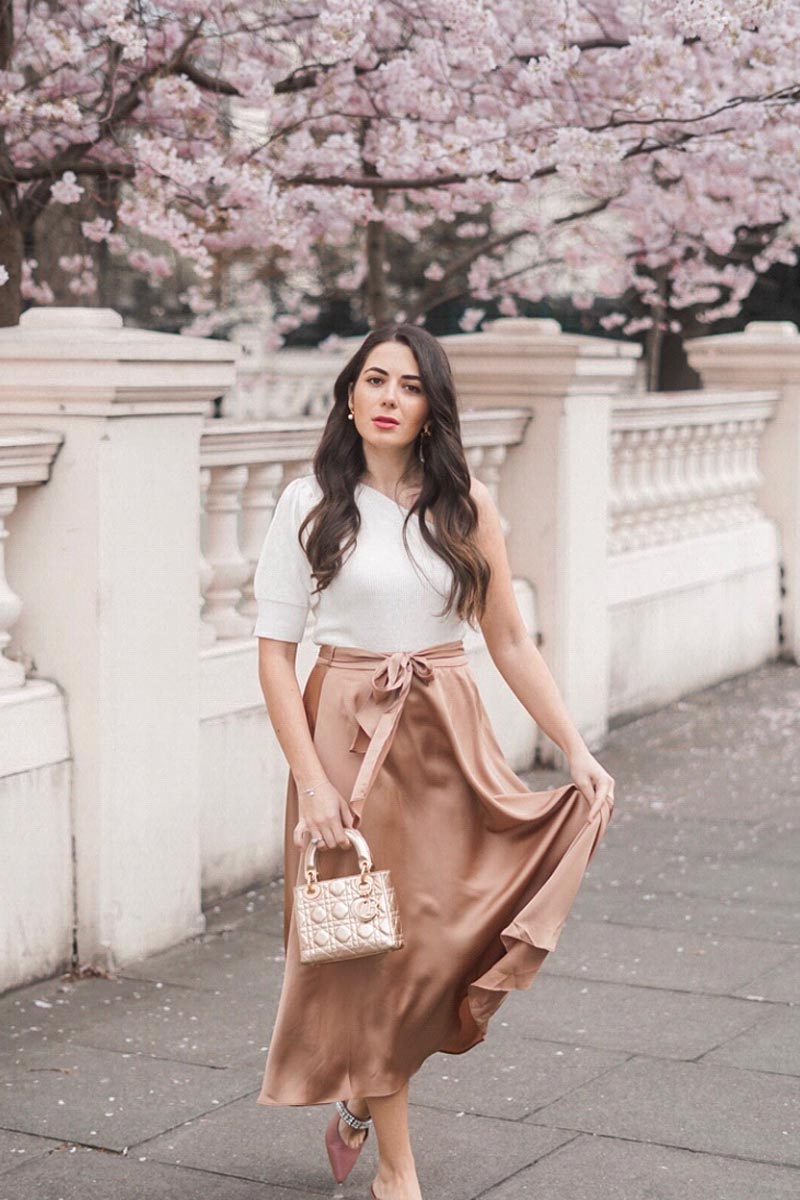 London Fashion Week : Best Dressed 2019  for Harpers Bazaar
FIV:  You´re part of Harpers Bazaar Best Dressed 2019. Where do you get your sense of fashion? Is there a person that is a fashion inspiration to you?
Nurce: I was very proud to be featured there with my style during London Fashion Week 2019, and I think it's my classic sense of style with a twist of the latest trends. I was wearing a white suit with a dior belt, bulgari bag and over the shoulders trench coat. In the past I was also featured in Forbes as one of the successful young female entrepreneurs of 2018, along with regular appearances in Harper's Bazaar, Daily Mail, Evening Standard, and Life Magazines. I often attend several events each week and have become a recognised name in London society with my style and blog. Recent events I've been to include: British Fashion Awards, Cartier, Tag Heuer x Cara Delevigne, Guerlain and more.
My style is very classic with a twist of modern and trendy, which allows me to be distinguished with my authentic style and personality in the fashion world. Following the latest fashion trends, I created my own style by mixing high street with high fashion brands, which appeals to a wider audience, as it's fashionable, as well as affordable. My biggest inspirations come from my mother, and the style of classic fashion houses such as Chanel and Dior. My mother was always the most creative and colourful person who could wear 10 different colours and materials together, whereas I am a much more classic person. I still dress as if I was born in the same era as Chanel, and Chanel's sworn enemy Dior.
Tips by Nurce Erben – Influencer Trends
FIV: You probably know the trendiest places in London where we can drink delicious tea. Where are the best tea rooms in London located?
Nurce: This is one of my favourite questions. I love tea and drink it so much, that I think it has become a part of my life now. In terms of tea rooms, I love Ladurée more than all of them as it's a nice rooftop in Covent Garden or Harrods and serves the best Jasmine Tea with Vanilla macaroons. This might be my favourite combination ever. Other places I love include: Brasserie of Light in Selfridges, Mandrake Hotel Tea Time, Ham Yard Hotel Tea Time, Chiltern Firehouse and Petersham Nurseries in Covent Garden.
FIV: Nurce, you have marvellous long hair! What´s your secret to having such beautiful hair? What are your 3 tips and favorite products for maintaining your hair?
Nurce: Thank you! I absolutely think haircare is very important as hair changes a person's appearance and moods! I love using organic and natural products on my hair and I'm quite strict on it, as I've seen some shampoos are made from the same ingredients as Dishwasher liquid! I love Rahua Moisture shampoo and conditioner in a cute pink bottle, all made from organic natural ingredients and smells incredible! I love Nuxe hair oils for the ends that keeps it nice and smooth as well.
FIV:  You used to work with international brands like Pinko, Tommy Hilfiger, Nespresso and a lot of others. What´s most important to you when pursuing brand partnership?
Nurce: The most important thing is people and relationships. I've worked with many brands over the years and some were seeing bloggers as robots, while others saw us as friends and valuable assets/marketing channels. I've built a lot of long term relationships, and friendships along the way and that is one of the best parts of my job I'd say. Building long term relationships with your favourite brands is the best way to reach to your audience as well, as they know the difference between forced campaigns and genuine love for the brand. I never take campaigns/product ads that I genuinely don't believe in and wouldn't recommend to my audience. I try to always show them my favourite products in the industry, mostly organic cosmetics brands along with sustainable, comfortable and highly fashionable brands!

https://fivmagazine.com/wp-content/uploads/2019/04/beitragsbild-nurce-erben-influencer-london-paris-fashion-week-blogger-beauty-tipps.jpg
500
1000
Clemence
/wp-content/uploads/2023/08/fiv-magazine-logo-news-influencer-fashion-interior-travel-real-esates.svg
Clemence
2019-04-20 07:00:17
2020-11-10 14:32:21
Fashion, Lifestyle and Beauty Influencer: Nurce Erben – Exclusive Interview