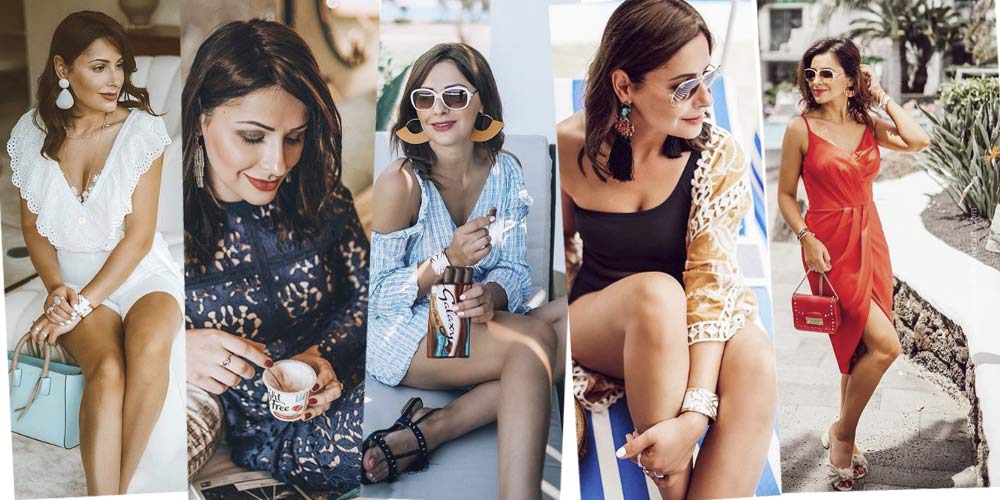 Mother and Lifestyle Influencer from London: Elena Sandor – Exclusive Interview
Elena Sandor is an incredible mother and a lifestyle influencer from London. Her outstanding fashion style allows her to participate at the biggest events in London, to work with well-known brands and in the same time take care of her cute little girl Emma-Chloe. Elena's goal is to empower and inspire modern women and busy moms through her personal style.  The FIV Team has prepared an exclusive Interview with Elena Sandor for you. Lifestyle, travel, food and beauty are the main subjects of this special article.
Lifestyle Influencer – Eat.Wear.Travel
FIV: Hi Elena, How are you? You are an amazing mother and influencer. When did you start blogging and what was your motivations for getting started?
Elena: Thank you for your kind words. I started this journey about 12 years ago with a cooking blog when I was living in Romania. It started as a hobby, as blogs were quite new back then. I never thought it could ever become my main activity and lifestyle. I was quite bad at cooking and I started documenting my journey in the kitchen, trying different recipes and cooking techniques. The website kinda took off and it got a lot of traffic. I was still a student, but I kept cooking and posting almost every day, which I think it is a recipe of success in this industry.
After about 4 years I moved to London and in two years I rebranded my website, started writing about lifestyle, beauty, travel alongside food. I was working in investments, but it didn't really spark any joy, so I decided to become full time blogger/influencer 4 years ago. It was quite hard at the beginning making a living, but with a lot of work, dedication and passion, I can say things are much better and I am moving in the right direction. The influencer world is still new, we can't say when things are shifting in social media so we have to always adapt to changes, but if you're passionate about what your blog is all about, then influencing can't be a business, but a lifestyle you share with the world.
FIV: You are rather know in UK. How would you define your style for people who don't know you yet?
Elena: I am quite focused on travelling at the moment. This is my favourite thing to write about, because it merges my passion for food, fashion and seeing new places around the world. I work with lots of beauty brands as well, since I discovered looking after yourself is mandatory no matter the age and I love sharing new tips, products that work, on my feed.
I am also a mom, and although my page is not focused on parenting, I do post from time to time different aspects from motherhood.
You would find a mixture of everything on my page, beautifully curated and stylised, dedicated to driven women (and men) passionate about living at their best.
FIV: What central message do you hope to impact to followers through your posts?
Elena: I'd love to know that people who follow me see the world through my eyes and through each post I make their lives a little bit better. I am all about positivity, discovering new places, new products to use that I have experienced myself and I can't rave enough. I am not selling a lifestyle, I am living one.
Mother & Influencer – Typical day
FIV: Elena, you look like very busy between your blog, your travels, your fashion events and your role as a mother. What does a typical day in your week looks like?
Elena: My weeks are never the same to be honest. I have a brilliant childminder that helps out with Emma whenever I need to go to London, or travel abroad. My husband supports me as well, and it's really important to have a partner that trusts you and gives you all the space you need.
I do go to bed really late, because I work better when the house is quiet. That's when you'll find me in my office editing, replying to emails and planning shootings.
I dedicate my mornings to Emma, who is almost 3 and really needy (hehe). Then it's cleaning time, which takes me quite a big chunk of my time (a little bit of ocd here), cooking for the family, which is one of my favourite times as it relaxes me. When I have to be in London, I tend to mix up restaurant reviews, meetings, beauty treatments and events in one day, but I quite enjoy being busy. I get bored so easily, so a 9-5 desk job would depress me. I need to rest though and take it easy, but I just don't have time for a holiday right now. We're taking on month off in July for travelling but I will still be working. I am enjoying it, can't you tell? 😉
FIV: You are a fantastic mother and your cute daughter Emma-Chloe already has an Instagram account. How did you get the idea to create an Instagram account for your daughter ? Do you think she will follow your path?
Elena: I created an Instagram page for Emma because I wanted to sort of separate our accounts. I have lots of photos with Emma which I post on her account. I still post some with her on mine; but because I have quite a lot of sponsored posts, I can't do that as often and the photos might get lost. It will be a nice album for her to enjoy when she grows up and eventually takes over her account. And my "business";)
Beauty advices for a natural summer make up
FIV: You are used to work with Beauty brands and to share some precious tips on your blog. Do you have some advices for people who want to have a natural make up this summer ? Which products do you recommend?
Elena: I absolutely love summer looks, especially when you're living or travelling to hot destinations and nothing seems to stay on your face. I believe a good routine for a perfect summer makeup would be to start prepping your skin. A clear, bright complexion is sometimes enough. Regular exfoliation, hydrating masks and a good serum would do wonders. Don't forget your moisturiser at night and a good SPF during the day. Always cleanse religiously. I love Alpha H, La Mer and Alumier MD at the minute for amazing skincare.
For makeup, I would use a lasting BB cream such as Guerlain BB Beauty Booster. A bronzing powder from Tom Ford, a bit of lipgloss from La Mer or a matte but hydrating lipgloss from Revlon, a coating of mascara and you're good to go enjoy the sun.
Travel – 5 tips for travelling in style this summer
FIV: As a fashion traveller, Can you please give us your 5 tips for travelling in style this summer?
Elena: I am absolutely loving the tea dress and button down dress trends at the minute. A simple flowing dress will save you on any occasion this summer.
Shorts and bodysuits are making a comeback and they are the perfect compromise for comfort and style. I would choose a tropical print for the shorts for that holiday vibe.
Rattan bags are still in, and now there are so many options to choose from as all major high street and designer makes them in all colours and shapes. I think I bought more than 10 pieces this summer, all affordable. They can enhance a simple outfit in no time.
Hats are just my favourite accessory for summer holidays. Although it is quite difficult for me to find a small enough hat without shopping in the kids section, they can really glam up anything you choose to wear on holiday.
I am massively passionate about stacking rings and lots of bracelets, as they scream summer! Loving Pandora (on sale) for good quality and affordable rings. Les Georgettes has the most beautiful customisable bracelets you can find and they always get so much attention whenever I wear them.
Eat & Lifestyle – Top 3 best restaurants in London
FIV:  One part of your blog concerns eat. Could you please tell us your Top 3 favourites restaurants in London where we can take beautiful and outstanding lifestyle pictures?
Elena: There are so many beautiful restaurants in London, but my favourite for location, decor, natural light and food is Sushi Samba in Covent Garden. Expect luxurious vegetation, velvet booths, the best Asian food, all overlooking the busy but charming Covent Garden square.
Sketch is another favourite for their afternoon tea served in the pink room. So beautiful, girly and a must when in London. Their cocktails are amazing too!
The Ivy Garden in  Chelsea is another favourite for food, location and exquisite greenery.
https://fivmagazine.com/wp-content/uploads/2019/10/beitragsbild-elena-sandor-influencer-travel-lifestyle-blogger-interview.jpg
500
1000
Clemence
/wp-content/uploads/2023/08/fiv-magazine-logo-news-influencer-fashion-interior-travel-real-esates.svg
Clemence
2019-10-02 07:00:38
2020-11-11 10:17:10
Mother and Lifestyle Influencer from London: Elena Sandor – Exclusive Interview