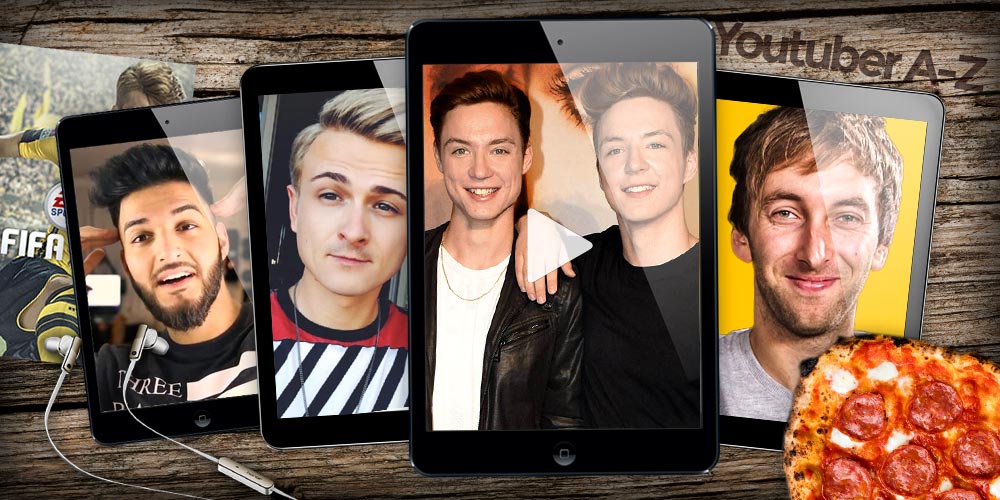 Youtuber A-Z: Pranks, Beauty Tutorials and Games
Youtube is the most successful 'Broadcast Yourself' platform in the world. On the video platform there are videos on various topics around the globe. Pranks, news, life hacks, comedy, sports and much more. One thing is guaranteed on Youtube everyone finds the right entertainment program. With the huge range of videos, however, you quickly lose the overview. If you are looking for a Youtube ABC and want to get to know new Youtuber, you have clicked exactly the right page. In our Youtube A-Z you will find the most diverse German-speaking Youtuber. Take a look at the most successful female Youtubers or the Top 100 Youtubers.
Youtuber
Want to start blogging yourself? From camera to continuous light and memory cards, here's a guide to setting up Youtube Studio.
BibisBeautyPalace – Pranks, Challenges & Tutorials
BibisBeautyPalace is probably one of the most famous Youtubers in Germany. Every Thursday and Sunday she entertains her over 4.000.000 subscribers with funny challenges, vlogs, pranks and tutorials. If you want to learn more about Bibi, check out her Youtube channel.
Bonnytrash – The Queen of Challenges
Bonnytrash produces new entertaining videos and challenges for their subscribers every week, such as the "Make Up Only With Your Feet Challenge" or "500 Layers of Nail Polish".


FragranceTip.com by FIV
Youtuber with C
ConCrafter | LUCA – Challenge Master
ConCrafter | LUCA Channel is one thing above all: entertainment! Every day the Youtuber publishes new videos and challenges like 'The Floor is Lava', how Youtuber women would look like as men or funny reactions to children's books. You can find more from Luca on Youtube and Instagram.
Youtuber with D
DannyJesden – Gaming & Entertainment
DannyJesden is a gamer through and through. On his Youtube channel he plays games of all kinds, from free indie games to world famous games like Mario. His content also includes vlogs and reaction videos. Check it out.
Domtendo – Let's Play Gaming Channel
Domtendo is definitely something for gaming lovers. On the channel there are weekly Let's Plays of games for Nintendo Switch, 3DS, PS 4, PC & – in HD, WQHD, 4K and 60 FPS.
Dagi Bee – Entertainment, DIY's, Beauty & Vlogs
Dagi Bee is one of the most famous German Youtubers and regularly inspires her fans with videos and vlogs from her life. She takes her subscribers on almost every trip, hairdresser visits or the like.
Dima – Entertainment & Comedy
Dima regularly uploads entertainment videos in different formats like 'The 5 most unnecessary Amazon products' or 'My sister learns youth language.
Youtuber with E
Emrah ! – Lifehacks & Facts
Emrah regularly presents new tricks, tips, lifehacks and facts to his subscribers. Not always meant to be taken seriously but always guaranteed to be entertaining.
Youtuber with F
Felix von der Laden – Daily Vlogs
Felix von der Laden takes his subscribers on a daily journey. Most of his content consists of vlogs, but Felix started with gaming videos. If you want to follow Felix through his life, check out his YouTube channel.
Youtuber with G
Gronkh – Gaming, Travel & Comedy
Gronkh is one of the most famous gaming Youtubers in Germany. He is best known for his video series on the game Minecraft, of which he has filmed more than 1,200 episodes until 2014. In addition to his Let's Play videos, in which he plays and comments, he also publishes travel documentaries and comedy videos with his 'Superhomie' Sarazar, but only on his channel 2nd Superhomies.
Youtuber with H
Hey Aaron!!!- Entertainment, Interviews & Funny Star Talks
Hey Aaron!!! That's what Youtuber Aaron hears a lot during his spicy questions. He regularly takes the Youtuber and celebrities of Germany on the joke, some take it with humor, but some are ehr less enthusiastic. What the reactions to Aaron's questions look like you can watch on a channel. It's worth it!
Youtuber with I
Inscope21 – Entertainment, Pranks & Comedy
inscope21 shows his fans on his channel especially his humorous side, where he shows formats in which he e.b subscribers personally calls, or the most diverse people prankt. One of his most famous formats is "Nico verarscht YouTuber". It's worth a look.
Youtuber with J
JONAS – Entertainment & Types of…
JONAS is a Youtuber and moderator. On his channel you can find different entertainment videos, also with his girlfriend like "30 ways to kiss" or "What couples do gross".
JulienBam – Photography, Dancing, Music & Lifestyle
JulienBam combines elements of photography, dancing, music, lifestyle and special effects in his videos. His fans love him especially for his varied, crazy and likeable style.
Julienco – Challenges, Pranks and Vlogs
Julienco stops at nothing for his videos. With his girlfriend Bibi he publishes weekly the weirdest challenges such as an outfit change with the mini skirt of his girlfriend or melting 1700 Skittels.
JuliensBlogBattle – Music, Entertainment & Criticism
JuliensBlogBattle content consists mainly of rap battle videos. JuliensBlogBattle is just one of his 3 channels. In addition to this he has his main channel Juliensblog on which reaction and entertainment videos are published, but he does not make himself popular with everyone.
Jay & Arya – Film, Television & Comedy
Jay & Ayra: When it comes to film & television there is no better source. The two film lovers put new content online every day about the world of film and television. In their videos they reveal the biggest movie mistakes or show us the funniest outtakes.
Youtuber with K
Katja Krasavice – Entertainment & Erotica
Katja Krasavice entertains her nearly 1,000,00 subscribers with very provocative videos. Katja talks about everything most people don't want to talk about.
Youtuber with L
Lisaandlena – Music, Fashion & Entertainment
lisaandlena actually became known through another platform. Now they also want to take off on Youtube, on their channel the two promote their own fashion line J1MO17, publish music videos and answer fan questions.
LIONTTV – Gaming & Vlogs
LIONTTV uploads mainly comedy & entertainment videos every Tuesday and Friday. However, there are also more serious topics on his channel such as depression.
Youtuber with M
Melina Sophie – Entertainment, Real Talks & Vlogs
Melina Sophie regularly shoots funny videos like and sometimes takes her subscribers with her for a whole day and uploads these recordings as a vlog. Her followers love her especially for her open, crazy and playful nature.
Maren Wolf – Beauty, Hauls & Entertainment
Maren Wolf regularly uploads formats like 'My Top 10 Products' or 'Fashion Haul'. So that her fans also get something of her private life, she has created an extra vlog (TheDailyWolfs) channel on which you get an even more private insight into her life.
Youtuber with N
Nilam – Lifestyle, Beauty & Fashion
Nilam offers her subscribers a colorful mix of lifestyle, travel, beauty, fashion and food. Nilam wants to give tips, inspire and above all entertain in her videos.
Youtuber with O
OSSI. GLOSSY – Lifestyle & Beauty
OSSI. GLOSSY is one of the most famous beauty youtubers in Germany, which is partly due to his make-up skills but also due to his age: At just 13 years old, he outshines many of his female and male youtube beauty colleagues.
Youtuber with P
Paluten – Minecraft, Vlogs & Gaming
Paluten makes gaming hearts beat faster. On this channel, new Minecraft videos are published daily. His content also includes exciting vlogs, cartoon games and simply everything that has to do with gaming.
ProsafiaGaming – Gaming
ProfisaGaming is the top channel for Mario lovers. From the evolution of the kiss between Mario and Peach to the introduction of all the characters, this channel leaves nothing to be desired.
PietSmiet- Gaming & Entertainment
PietSmietare 5 game crazy men who initially published their game nights on Youtube. Today they have a more varied content, but they have remained true to the theme of gaming.
PrankBrosTV – Pranks & Entertainment
The PrankBrosTV publish new exciting pranks every day. It can happen that one of the brothers comes home and finds an empty room.
The brothers are always coming up with new things for their subscribers.
Paola Maria – Beauty, Lifestyle & Entertainment
Paola Maria inspires her fans with her beauty and lifestyle videos and especially with her format "Call of Beauty", where she tests and reviews different make-up products. On her channel you can also see many entertaining videos with her Youtube partner and husband Sascha.
Youtuber with R
Rewinside – Minecraft, Vlogs & Challenges
Rewinside regularly posts Minecraft content and formats like Castlerush with Unge, Masterbuilders, Craftattack or Who's your Daddy Online. From time to time interesting vlogs and challenges are coming!
RayFox – Entertainment & Challenges
RayFox is best known for his challenge videos, such as 'The floor is lava in the supermarket'.
Rebekah Wing – Comedy & Entertainment
Rebekah Wing wants one thing above all: to entertain people and make them laugh. She tries to do that with videos like 'Who eats that?' or 'Never admit that you never have bad luck'.
Youtuber with S
Simon Desue – Pranks, Vlogs & Entertainment
Simon Desue is one of the first and most successful Youtubers in Germany and is currently turning the life of his girlfriend Enisa upside down. He regularly posts them on his channel.
Youtuber with T
TamTam – Entertainment, Lifestyle, Fashion & Beauty
TamTam regularly gives her subscribers beauty tips, e.g. against blackheads, for more volume or a beautiful complexion. Here you can find everything about beauty and DIY's.
Tiny Tina – Entertainment
Tiny Tina offers entertainment videos of all kinds.
Tobias Wolf – Lifestyle, Fashion, Motorsport & Technology
Tobias Wolf covers many topics on his channel. From lifestyle to technology, Tobias has it all. A large part of the videos he shoots together with his Youtube partner and wife Maren Wolf.
UnsympatheticTV – Entertainment & Comedy
At unsympatheticTV there is a colorful mix of comedy, entertainment and reaction videos.
Youtuber with X
XLaeta – Entertainment, Lifehacks & DIYs
xLaeta entertains their subscribers with a crazy mix of hacks, beauty, DIYs & trends. From makeovers to self-made slime lip gloss, no video wish goes unfulfilled here.
Youtuber with Y
Yeeeh – Entertainment
yeeeh. The name is as simple as his videos, as most of them don't go longer than 20 seconds, and yet the channel already has over 40,000 subscribers.
YTITTY – Entertainment
YTITTY was originally a comedy trio. They produced skits and parodies for the most part. Unfortunately, the trio has disbanded. Of course you can still watch the old videos on the still existing Youtube channel.
https://fivmagazine.com/wp-content/uploads/2017/08/youtuber-a-z-apo-red-dima-lochis-influencer-video-webvideo.jpg
500
1000
Stephan
/wp-content/uploads/2023/08/fiv-magazine-logo-news-influencer-fashion-interior-travel-real-esates.svg
Stephan
2017-08-13 17:23:08
2017-08-13 17:23:08
Youtuber A-Z: Pranks, Beauty Tutorials and Games