Angelina Lilienne: Vacation spots, travel & beauty tips from an influencer
Angelina, also known as angelina.lilienne on Instagram, enchants her followers daily with what beautiful places the world has to offer us. She inspires her fans with her beauty and shows herself in the stylish outfits of the seasons.
Angelina Lilienne about the most beautiful travel destinations – Bali, Marrakesh or Mykonos
FIV: Dear Angelina, your Instagram sto4rys are filled with beautiful places like Bali, Marrakech or Mykonos. What are the best experiences you could have abroad? Which holiday destination do you recommend to stressed people?
Angelina: I am infinitely grateful to have seen so many great places in the world. Meeting new people and seeing how they live in their different cultures and religions fascinates me every time. Also, I always realize how important it is to be grateful for everything and not take anything for granted. Bali has simply wonderful places, but unfortunately I have also had to see a lot of "poverty" there, which the locals of course know no differently. However, it always grips me very much to see something like that and I am more than grateful for everything I have. There are still many places in the world that are on my list. I would also love to travel to Kenya. Partly because of the wonderful nature, but also to help a little bit where there is poverty.But if you are stressed and just want to switch off, then off to the Maldives. Every cent saved is worth going there! 🙂
FIV: How many suitcases do you take with you on your travels and what should not be missing? Our readers are interested in what your 3 must-haves are when travelling.
Angelina: In fact, I travel with only one suitcase. I am quite uncomplicated and do not (yet) need 2-3 suitcases. What is much more important to me is the choice of clothes. Less, but the right things. In addition, I always pay attention to good hair care products, because I also like to lie in the sun a lot. A good sunscreen for the skin is consequently also very important to me. My 3 must-haves:


FragranceTip.com by FIV
Elisabeth Arden – 8h Intensive Lip Repair Balm
Benefit – Brow Pencil
Wella – Suncare Shampoo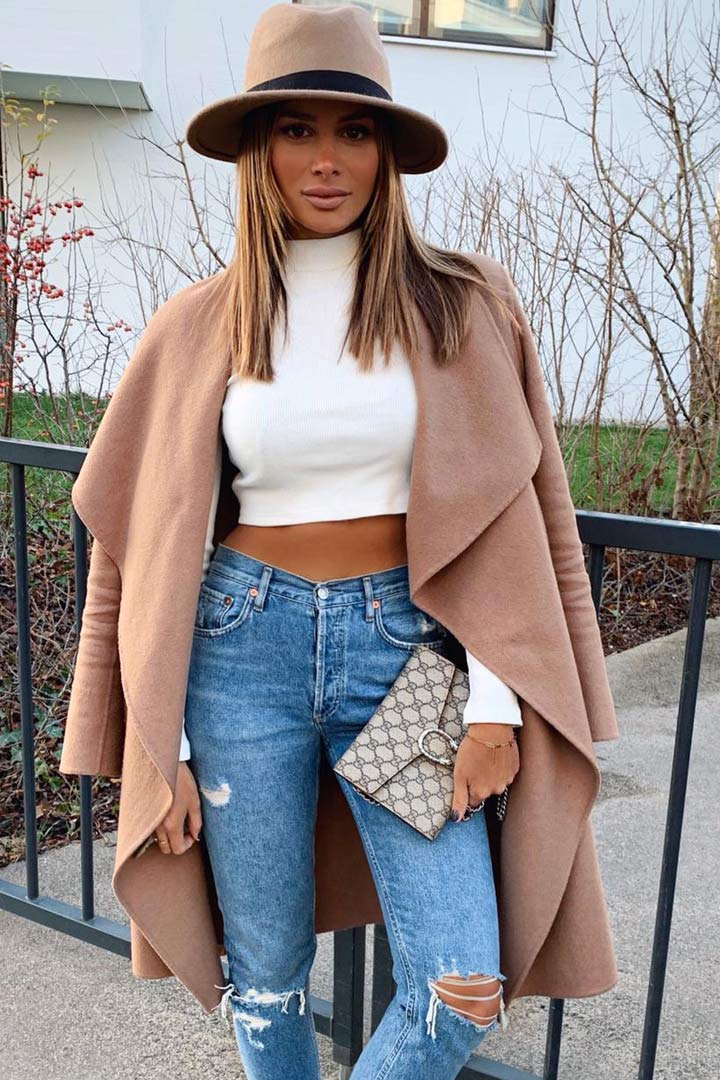 © – Image material: Fab4Media
FIV: In your Instagram photos, you show your followers a wide variety of looks. What is important to you in your outfits? What do you look for when putting outfits together?
Angelina: I have definitely discovered basics for myself in the last few months. I like the timeless and they can be combined individually at any time. You simply get something out of it for longer and can therefore also rely on a better quality with a clear conscience. Generally you can take a certain simplicity from my style. Sporty-elegant, but still feminine. On the whole styled with little effort.
FIV: You have more than 480K on Instagram – wow, a lot! How did you come to be successful on IG? Do you often think about what your followers might like in your free minutes?
Angelina: I am very happy and grateful that it has come to this. However, I never planned this and I never thought that I would be able to live out my hobby as a profession at some point. For the new year, I have resolved to respond to all that my followers want to see the most. Of course, you can not do justice to all, but I will try as best I can.
Influencer Angelina Lilienne's Favorite Look
FIV: What are your favorite looks and clothes for winter?
Angelina: This winter I have a huge soft spot for flashy bomber jackets (so much for basics :D). There could not be enough. Cool hats and stylish sweaters, but which may be rather simple, or should be well combinable, if the jacket is already a big eye-catcher.
FIV: The beauty industry is well known to you – what are the most important products that no woman should be without?
Angelina: For me, a good lip care, an eyebrow pencil and a concealer are the most important for a natural look. In addition, of course, may also like a bronzer and a blush here.
FIV: New Year's Eve is coming up! What are your plans for the New Year's night? Do you have wishes and goals you want to share with us?
Angelina: Realize your dreams and never give up, because everything is possible. You just have to believe and prove it to yourselves. Have a wonderful start into the new year and stay healthy!

© – Image material: Fab4Media
https://fivmagazine.com/wp-content/uploads/2020/01/angelina-lilienne-influencer-reise-urlaub-blogger-food.jpg
500
1000
Lisa-Marie
/wp-content/uploads/2023/08/fiv-magazine-logo-news-influencer-fashion-interior-travel-real-esates.svg
Lisa-Marie
2020-01-10 07:00:22
2020-01-10 07:00:22
Angelina Lilienne: Vacation spots, travel & beauty tips from an influencer