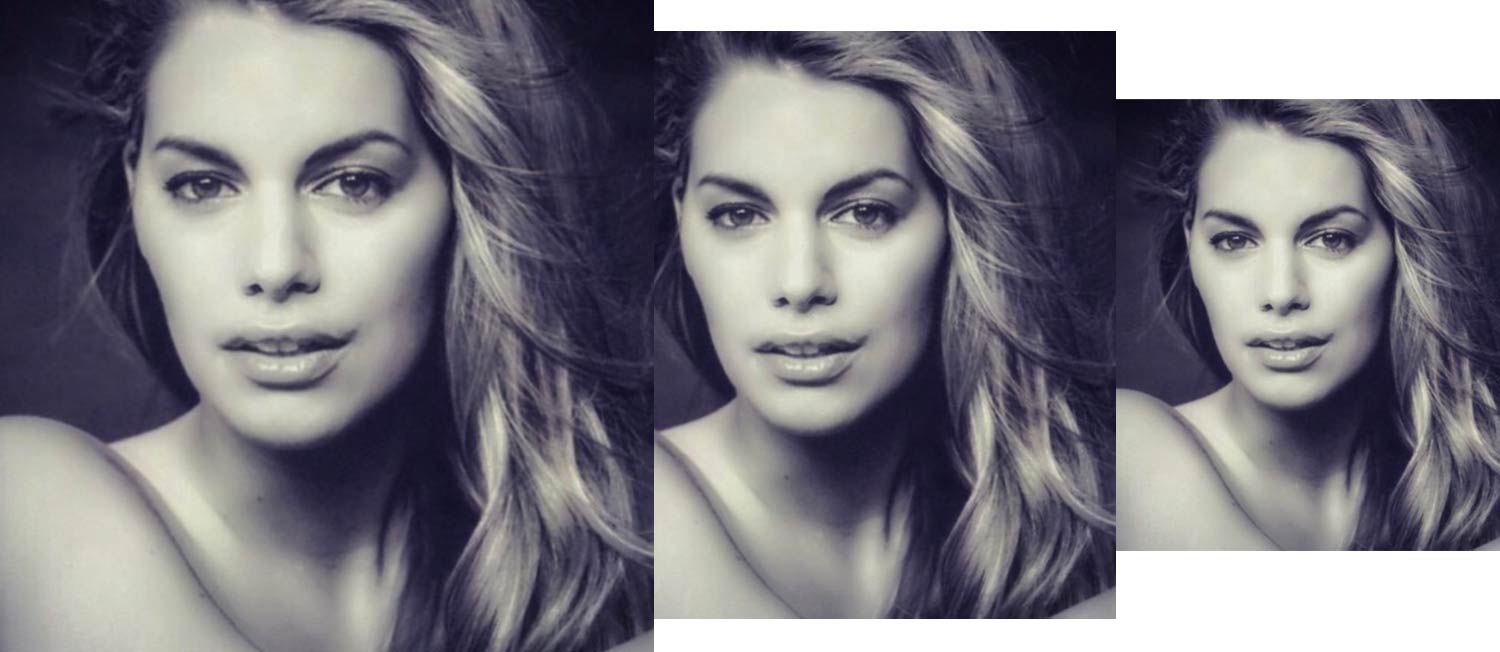 Plus Size Model Angelina Kirsch – Inspiration for Curvy Women
Model Angelina Kirsch – a young woman who perfectly showcases her curves. She is one of the successful plus-size models in Germany. Her mission: to bring the beauty of curves closer to the women of this world. Whether in Milan, Madrid or London – the self-confident 26-year-old has already walked the catwalk for various designers or posed in front of the camera of famous photographers. I talked to Angelina about her experiences as a plus-size model and the development of the model business.
The interview with the man who discovered them can be found here Place Models owner Yannis
New. Angelina Kirsch as a juror on Curvy Supermodel on RTL2
Angelina Kirsch – With her look she is an inspiration for women
FIV: Plus-size models are now more and more in demand – you have great success, have already walked the catwalk in Milan or Madrid, had shootings in Barcelona and London. How proud are you as a plus-size model? Do you see yourself as a role model for young women?
I am of course very happy that I got this chance and that I can be an inspiration and motivation for the girls and women out there to love and accept their body, with curves and as it is. I think that I can help to bring the beauty ideal on a healthier and more realistic track.


FragranceTip.com by FIV
FIV: In your opinion, to what extent is the "plus-size" trend changing the fashion world and the image of women?
I think that many women breathe a sigh of relief and are happy that they can now "officially" be who they are and underline that fashionably. Because the average size of women in Germany is 40/42 or larger. And now the labels and designers have also understood this and are designing more and more great fashion for great women.
FIV: The evolution of the modeling world, in terms of plus-size models, is fast. Where do you see the fashion scene in 3 years? Do you think plus-size will prevail in the future? What still needs to change from your point of view?
I would love for this trend to catch on and for curvy models to get a permanent place in the industry. At the moment, curvies are largely shown as sex bombs, which certainly does a lot for women's self-esteem, but I think that more fashionable shoots can and should also be done well with curvy models, so that this segment can establish itself more firmly in the fashion industry and become more natural. But I think it can be done. A look across the pond shows that America has already taken a big step in this direction. There are already some plus-size supermodels there. I would like to see the same in Germany.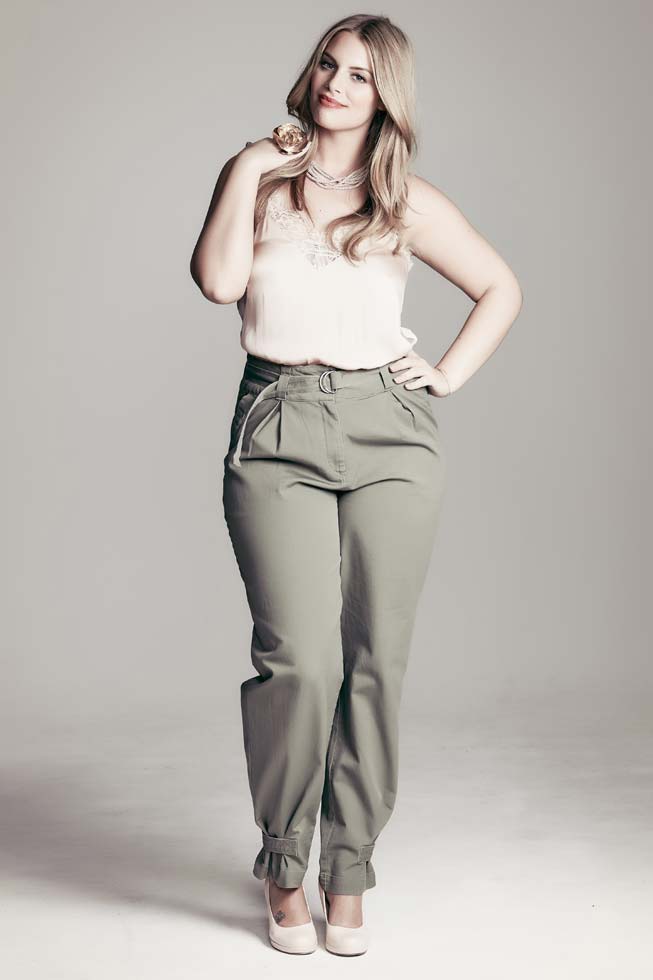 Credit: PLACE Models
Angelina Kirsch: "A Model Needs Patience"
FIV: How did you get into modeling? Where were you discovered?
I was approached, just like in a fairy tale, while on vacation in Rome by Jan-Eric Lütjen, the head of the agency PLACE Models in Hamburg. At first I didn't want to work with him, because I thought he would offer me a job as a regular model and for that I would have had to lose weight. But since I didn't want that, I let myself be persuaded very late to come to the agency. Then Jan-Eric explained it to me and then it could already start.
FIV: What has been your most interesting job so far?
Oh I think that's a difficult question! I think all jobs have something interesting! Whether the label is a special one, like H&M or C&A, or the job has a special challenge, like commercial shoots or fashion shows or even catalogue shoots. I just think that this whole job in general is very interesting and exciting because there are always new tasks waiting.
FIV: What does an average day look like for you?
I usually get up early in the morning. When I have a job, I can start relaxed, because I don't have to do my make-up or hair…it's all done for me. So first I go to the set and to the make-up. There I get made up and then it's time to change. And when I'm styled and made up, I go to the set and the job begins. What many people don't know is that a model has to have a lot of patience, because a big part of the job is waiting. Waiting for the lights to be set up or the background of the set, waiting for the clothes to be set, waiting to be dressed. Waiting until the photographer has time or just until everything is ready. But that's okay, that's just part of the job.
FIV: Where do you see yourself career-wise in the near and distant future?
Phew, I can only hope that it continues for me as fast and successful as before! I wish myself great jobs, beautiful locations and nice customers and of course that the interest in me and the Curvy models continues and does not evaporate again, as it is sometimes with trends. As long as I can do this job, I am happy and grateful for every job I get and do.
FIV: How do others, be it your family, friends or even strangers react to your career? Is the feedback positive or negative?
Most of the people around me are very proud and think it's great that I have this opportunity and that I fill and use it so well. So far, there has only been one person in my circle of friends with whom I have actually felt envy. Then there were sentences like: "You're nothing special, I've never seen a fat supermodel!". But the overwhelming reactions are extremely positive, because the women breathe a sigh of relief and are happy that this trend is getting bigger and the men are happy that they get to see "real" women.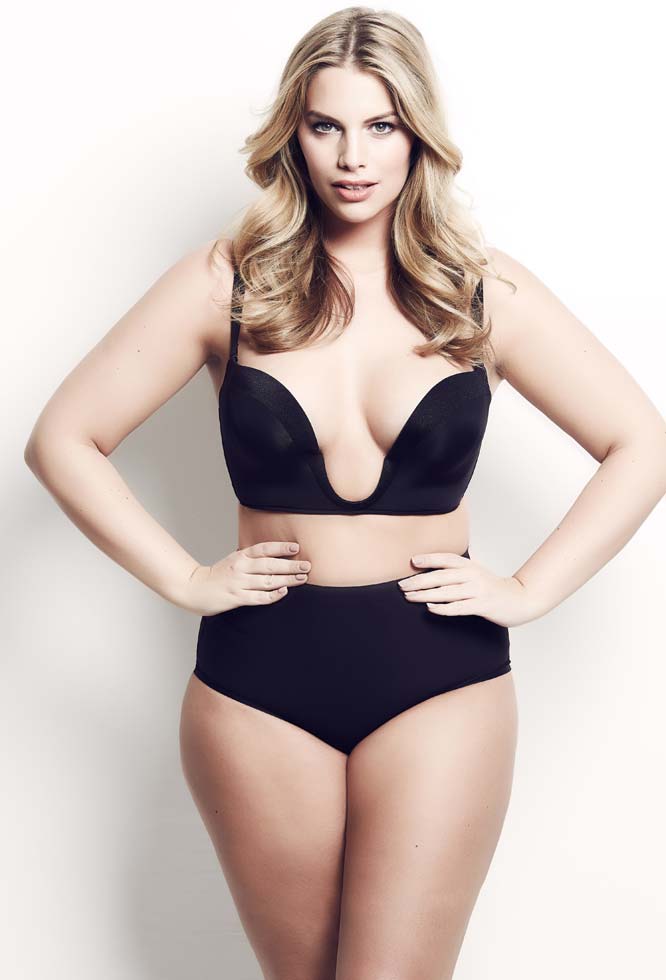 Credit: PLACE Models
Angelina about self-confidence & charisma
FIV: What should plus-size models keep in mind when styling and choosing an outfit? What looks particularly good on curvy women?
The most important thing is that you like yourself. That is the be-all and end-all. And if you are still unsure about your curves, then you can conceal them with body-flattering fashion and if you want to be brave and like to show your curves, you can of course also reach for tighter cuts, like the pencil skirt or the jumpsuit. There are no limits!
FIV: What is your fashion favorite?
I myself love my curves and I love fashion. Therefore, I try out many trends and style them so that they show my curves beautifully. I love dresses and skirts and especially now in summer it can be a jumpsuit. I also love the broken jeans trend and I'm addicted to any kind of jackets…not shoes, but jackets! I like to wear shorter styles that show off my tight butt. It's hard for me to decide, because I love fashion and think that you can express so many things with it. And as versatile as I am, so is the fashion I wear.



Credit: PLACE Models
FIV: How does it work behind the scenes of a photo shoot? Are there poses that are especially beneficial for curvy women? Are there differences to the posing of size zero models?
When it comes to posing, curvy models basically have the same pose catalogue as size-zero models. We just have to be considerate of our curves. That means if I want to create a gap between my legs, I have to open them wider or make them steeper than a skinny model, but I don't have to contort myself to conjure up crisp curves, because they're already there.
FIV: If you had one wish, would you change your body or are you 100 percent comfortable in your skin? Is there anything you would like to pass on to young plus-size girls?
I feel great and I don't want to change anything about myself. And that's not just saying it. Customers and many others who see me notice that. That makes me authentic and that's the only way to do the job right. If you feel comfortable in your own skin and think you are beautiful, then you radiate that and then the pictures will be great and the message will be received positively by everyone. By the way, this is also my tip to all curvy women who are still insecure about their curves: If you feel beautiful, then you radiate that and then everyone who meets you will also find you beautiful!
FIV: Thank you for the interview dear Angelina!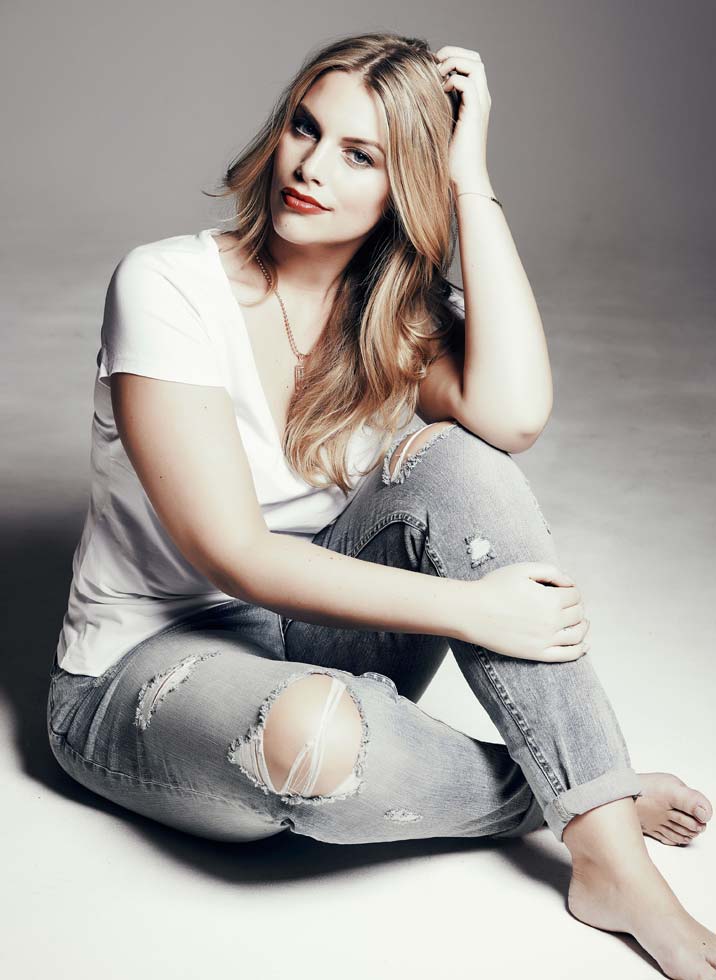 Angelina Kirsch – The Interview: Now also printed in Fashion GUIDE Magazine

More information about plus size model Angelina Kirsch:
Credit: PLACE Models
Angelina Kirsch – Interview with agency and model booker Yannis Nicolaou
Yannis Nicolaou is one of the founders of the successful model agency Place Models in Hamburg. He discovered his passion for fashion and photography as a child. He discovered Angelina on the street in Rome. While she was sitting in a cafe with a friend, Yannis sat down with her and asked Angelina if she would like to work as a model? At the time, plus-size models were so new – Angelina was also skeptical about the offer. But agency boss Yannis was to be proved right – today Angelina Kirsch is one of the most sought-after plus-size models in Europe. Read here the interview with model agency boss Yannis from Place Models.

photo credit: PLACE Models
https://fivmagazine.com/wp-content/uploads/2016/08/angelina-kirsch-curvy-model-instagram-influencer.jpg
652
1500
Stephan
/wp-content/uploads/2023/08/fiv-magazine-logo-news-influencer-fashion-interior-travel-real-esates.svg
Stephan
2016-08-02 11:26:26
2016-08-02 11:26:26
Plus Size Model Angelina Kirsch – Inspiration for Curvy Women