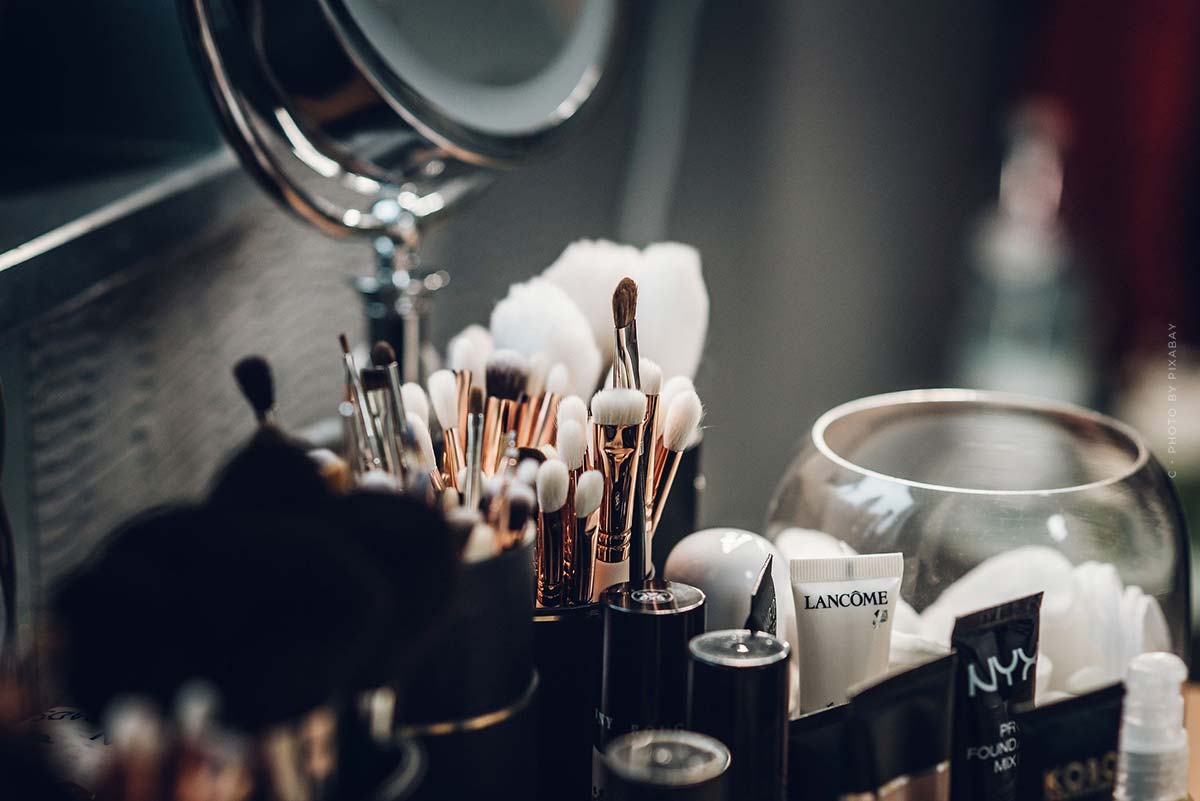 The most popular Beauty YouTuber ever – income, subscribers and scandals
YouTube: Make Up Trends Are Born Here
Ten years ago, anyone who asked young girls what they wanted to be when they grew up usually heard the following: dancer, teacher and astronaut. Here and there the word princess came up. The same was true for boys. Here, policeman and fireman were often mentioned. It is undisputed that the invention of the Internet has also made many new professions possible. But currently there is hardly a profession in the online world that no teenager has: YouTuber. Even more specifically, Beauty YouTuber. For those who are good with mascara and a sponge, there seems to be no more exciting profession than dipping brushes into bright colors in front of a running camera and then skillfully applying them to cheeks and eyelids. But what exactly is YouTube?
YouTube is an American video portal that allows its users to upload, watch, rate and comment on videos. In addition, popular channels can also be subscribed to. The uploaded content is mostly clips from movies and television, sound recordings, movie trailers, educational videos, vlogs and short, original clips.
Hint: Keep reading until the end, because then we'll introduce you to the first ever Beauty YouTuber!
History: How an internet giant was born
There are now millions of tutorials on the platform – from smokey eyes to red lips, you can find any makeup look. But it wasn't always that way. Like most stories, YouTube's starts small. So the year is 2004.


FragranceTip.com by FIV
Jawed Karim, Steve Chen and Chad Hurley work at global player Pay Pal. Janet Jackson accidentally exposes her nipples at the Super Bowl and a tsunami causes a ruckus. So the three employees come up with an idea: why not develop a site where people can post videos?
So they launch YouTube. With an investment of around $11.5 million, they register the domain name in California. Nike is the first company to post a video the following December. Less than a year later, Google buys the company for $1.65 billion. In 2007, the site goes live in more countries. The YouTube craze spreads like wildfire – now there are HD videos.
In 2011, YouTube set a record for the first time: the Internet portal recorded almost three billion views a day. Thanks to rising advertising revenues, the job of professional YouTuber is now the career aspiration of many adolescents. Another record is set: The Korean singer Psy breaks all records with his hit "Gangnam Style". With one billion views, the video becomes the most clicked YouTube video of all time.
Meanwhile, the former small company from California has now become a multi-billion dollar company. Around 5 billion videos are watched per day. More than 1.3 billion people use the website every day and almost 300 hours of video material are uploaded every minute.

Facts: A platform worth billions
Foundation: February 14, 2005
Founders: Jawed Karim, Steve Chen, Chad Hurley
Headquarters: San Bruno, California, USA
Umbrella organisation: Google LLC
CEO: Susan Wojcicki (2014)
Revenue: $15 billion (2019)
Besides music videos and daily vlogs, videos about make-up, hair and skin care are also among the favorites of the YouTube generation. Since we also deal with these topics daily, we have summarized an overview for you here.
The most popular Beauty YouTuber of all time
The beauty community is growing every day. It's constantly changing, setting new trends and regularly providing fodder for new gossip. Of the 200 most viewed beauty videos on YouTube in 2019, around 86 percent were uploaded by professional YouTubers. Only 14 percent were uploaded by big makeup brands like Chanel, Lancôme & Co.
To give you a quick overview, here's a short list of the most popular beauty YouTubers of all time:
James Charles
Jeffree Starling
RCLBeauty1010
NikkieTutorials
Zoella
SaraBeautyCorner
Tati
Grav3yardgirl
Safiya Nygaard
Kylie Jenner
The most popular Beauty YouTuber ever – Video
You can also see the latest developments in the beauty community over the last 7 years:
James Charles: The first male ambassador for CoverGirl
Leading our list of the most popular beauty YouTubers of all time is James Charles. At just 17 years old, he made history as the first male ambassador for CoverGirl. But first, let's rewind a few years. More specifically, let's go back to 1999 – on May 23, James Charles Dickinson, a native of Bethlehem, New York, saw the light of day.
At the tender age of only twelve, he came out as gay. To support his love for make-up, his father built him a glam room in the basement of the house. The official launch of his YouTube channel followed in 2015. He gained worldwide attention shortly after when he spread the word on Twitter that he had a ring light with him during his prom so that the highlight on his face would come out well in the photos. This was followed by a collaboration with Covergirl and his famous appearance on the US Ellen Show.
We've rounded up the three most glaring controversies about James Charles for you. But for now, here is one of his most popular videos of the beauty icon:
Quick Facts: This is how many subscribers he has
Name: James Charles
Born: 23 May 1999
Active since: 02.12.2015
Subscribers: 18.8 million
Total views: 2.16 billion
Net worth: $12 million dollars
Loss of 1 million subscribers
How did James Charles lose 1 million subscriptions on his channel? Scene of the crime: The infamous Coachella Festival in California. Perpetrator involved: YouTube star Tati Westbrook. Trigger: A pair of gummy bears.
Read the story here: James Charles
Jeffree Star: Loved and Hated at the Same Time
At the forefront of this is Jeffree Star. The beauty community icon first saw the light of day in Los Angeles in 1985 as Jeffree Lynn Steininger Jr. After his father's suicide, it was mostly his mother Marra Shubyann Lindstrom Steininger who raised him. Already in his school days Jeffree Star had a lot of fun with make-up and earned his money as a musician, model and also if necessary as an unknown make-up artist for the greats of Hollywood. He met them on weekends in the hippest clubs of the city, which he visited regularly despite his young age and thanks to a fake ID.
When you take a closer look at his career, you wouldn't expect the flashy Jeffree Star to be a make-up mogul one day. In the beginning, working with brushes and powder was simply a sideline. His real dream? To become a musician. So in 2009, Star released his first and, to date, only studio album. Although he was signed to the Konvict Muzik label shortly after, he left a few years later.
In November 2014, the former musician and now famous YouTuber officially became a businessman: The company Jeffree Star Cosmetics was born. He is currently one of the highest paid YouTubers of all time and recently earned a whopping 18 million dollars, according to Forbes – and that's just through YouTube.
How the beauty icon lives today, you can see here in the video:
Quick Facts: Crass net worth
Name: Jeffree Star
Born: 15 November 1985
Active since: 15.02.2006
Subscribers: 18.1 million
Total views: 2.16 billion
Net worth: $75 million dollars
Biggest controversies
Jeffree Star has been involved in the YouTube world's most blatant scandals from the very beginning. From racism to drug use to online bullying, he has left nothing out.
Check out the most heated controversies surrounding Jeffree Star here.
Rclbeauty101 – Beauty meets Comedy
In third place of the undisputed most popular beauty YouTubers of all time is Rachel Claire Levin, more commonly known by her YouTube name RCLBeauty101. She was born on February 24, 1995 in Philadelphia, Pennsylvania. The daughter of a doctor and a lawyer, she started posting videos of her daily makeup routines on YouTube when she was 15. One million subscribers and 5 years later, her channel officially became the fastest growing YouTube channel in the world. Her 2016 video 'Disney Princess Pool Party' received over 337 million views.
At just 16 years old, she was cited in the Wall Street Journal for her YouTube success and her candid approach to body image has been praised in countless magazines worldwide. Her public struggles with bullying and suicide have also been regularly praised, making her one of the most versatile and authentic YouTubers in the beauty community today.
Levin is also currently on the road as a musician. She released her first single "Myself" under Sun & Sky Records on February 14, 2020. The song is about acceptance and love. It was met with an excellent response from fans and critics.
Although Levin's great love for makeup continues to dominate her channel, we don't want to deprive you of her incredibly funny skits, which are currently even more popular on YouTube than the actual beauty videos:
Quick Facts – Over three billion views
Name: RCLBeauty101
Born: February 24, 1995
Active since: 14.12.2010
Subscribers: 14.5 million
Total views: 3.6 billion
Net worth: $5 million dollars
Compared to YouTube greats such as James Charles and Jeffree Star, there are no controversies in Rachael's career. And if you take a closer look at the history of the beauty community, it becomes clear that scandals don't always belong on the CV of a beauty YouTuber – even if it may seem that way today. After all, today's glitzy world of brand deals and ring lights was once a little retreat for the creative, the inspired, and the misunderstood.
The evolution of the beauty community
Beauty Pioneer Michelle Phan
American Michelle Phan is still considered the first ever beauty YouTuber. Inspired by her art studies, she started her own channel in 2007, on which she gave everyday make-up tips. Her first video received around 70,000 views in the first two weeks. A million more views later and she was considered the first ever full-time beauty guru. YouTube accepted her into its affiliate program and she came to the attention of the French makeup empire Lancome. The first YouTube collaboration was born.
Check out one of their first videos here:
Make Up as a Hobby – YouTube as a Career
After the purchase by Google and the implementation of AdSense, many hobby YouTubers became professional content creators. Through commercials on YouTube, the creators could now generate official advertising revenue. Later, affiliate links and Patron were added as lucrative sources of income.
Brands quickly realized the importance of YouTuber influence on the makeup industry. All it took was one video from a YouTuber and a product would either be a success or a flop. Instead of funding in magazine and television ads, companies were now setting aside extra budgets for YouTubers. Free PR packages turned into entire yacht rides, a review video quickly cost brands several thousand euros, and as YouTuber influence grew, so did tougher requirements. For example, since 2017 all video creators have to mention in their posts whether they were paid by a brand or not.
The meteoric rise of influencers
While the red carpet used to be reserved exclusively for the faces of film and television, the beauty gurus from the world of smokey eyes and false eyelashes now also cavort here. Anna Wintour's invitation to the American 19-year-old YoTuber James Charles, who had caused a stir on the web shortly before with his graduation photo, was particularly groundbreaking. A beauty YouTuber in a picture with the who's who of Hollywood? That had never happened before.
Meanwhile, the créme-de-la-créme of social media are being signed by the first talent agencies. They're moving into studios, scoring increasingly lucrative brand deals and, in some cases, releasing their own brands. The number of gossip channels that now turn to drama from the beauty community every day is also growing. It comes to the 'Cancel Culture' – a phenomenon that is mainly caused by the fast pace of the internet.
With brush and powder to the millionaire – and the dark side
As fame increases, so do the scandals – perfect cannon fodder for the countless gossip channels. Advertising revenue and sponsorship money lead to ever greater competition among creators. There are public accusations, smears and online bullying – reasons why established YouTube pioneers like Michelle Phan are now turning to other business projects.
Audiences and their entertainers are getting younger, and emerging platforms like TikTok are steadily giving YouTube more competition. Society's growing environmental awareness is leading to criticism of brands' glitzy PR packaging. The authenticity of many YouTubers is also becoming a point of criticism.
It comes to an era in which it becomes clear: All that glitters is not always gold.
https://fivmagazine.com/wp-content/uploads/2020/06/YouTube-Channel-Beauty-Guru-Schoenheit-Influencer-Pinsel-Schminktisch-Vanity.jpg
801
1200
Laura
/wp-content/uploads/2023/08/fiv-magazine-logo-news-influencer-fashion-interior-travel-real-esates.svg
Laura
2020-07-01 07:20:40
2020-07-01 07:20:40
The most popular Beauty YouTuber ever – income, subscribers and scandals