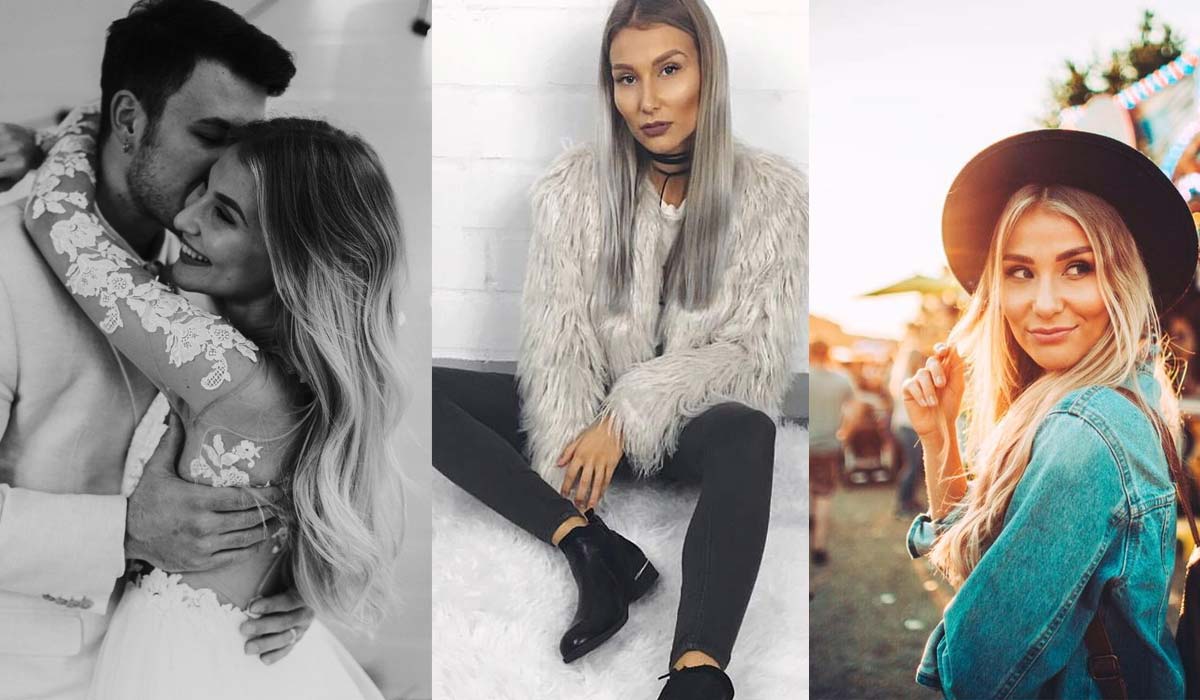 Anajohnson: make up, wedding, first book and much more
A sporty blonde beauty who started working as an educator and studied childhood education. During her studies she played in a Vlogger series on television and built up her social media presence. She regularly publishes videos, pictures and texts on her online channels about beauty, lifestyle, fashion and travel for you. If you want to know how Ana ticks privately, which pets she already had and what her new book is about, then this article is just the thing for you!
These 25 facts you should know about Ana!
Ana has an absolute favourite brand for beauty products, a fable for a particular animal and loves vegetarian burgers. Which is her favourite brand, for which animal her heart beats faster and in which restaurant you should definitely eat if you love vegetarian burgers, you can find out in her 25 Facts video.
Ana has her birthday on 04 June and is a sign of the zodiac Cancer. She was born in Germany and her date of birth is the 04.06.1993. Ana is about 1.72 m tall, with which she can be very satisfied as a woman, since the German average for the size of women is 1.65 m. Ana has an education as an educator and has worked for some years with children.   In May 2017 she was recruited with only 5000 Instagram followers at that time to participate in the RTL II You production "Daily Cologne" as a Youtube newcomer. The goal was a vlog series, a networking and cooperation of the Youtube women. In the series, the participants filmed their everyday lives. Ana studied filming and childhood education at the same time and successfully completed her studies. In addition to Ana, Jimi Blue Ochsenknecht, Carmen Mercedes and her husband Tim Johnson (then still Tim Black) also played along. She quit her job as an educator in favour of her Influencer career to be able to produce more videos for her fans. Together with her husband Tim Johnson she regularly releases the podcast The Johnsons on Spotify and Itunes. She has been eating vegetarian food for more than 7 years.


Germany - Spain - USA
Birthday: 04. June
Date of birth: 04.06.1993
Stereichen: cancer
Size: approx. 1.65 m
Training: Trained educator
Study: Childhood Education
Instagram: Anajohnsen
Youtube: Anajohnsen
Married to influencer Tim Johnson – Despite difficult start!
Ana and Tim have been married since July 2018. Although the two have known each other since they were 16, their story hasn't gone as smoothly as it looks in retrospect. Ana describes her first date in retrospect as a worst case scenario, but as they say so nicely: "You always meet twice in a lifetime" And so it happened, when the two arranged to meet again 3 years later, it obviously sparked. Afterwards it took only two weeks until Tim moved in with his lover with the surname Black.
Anajohnson's wedding video
Pure emotions – Ana and her boyfriend Tim have given each other the word and are now officially husband and wife. How excited they were before the big moment, who was there on their big day, and how exuberant was celebrated in the evening, you can watch each other in this video.
Anajohnson's Influencer Family
Ana's family is partly known from the social media. Her brother Marius is a studied engineer and regularly publishes pictures on his Instagram profile. He has also appeared in some of her videos on Youtube. Mother Gina Johnson also has a public instagram profile and regularly shares pictures of her private life, occasionally with daughter Ana and son Marius. Mother Gina is also married to Manni, who is the father of Joyce Ilg, the famous actress and vlogger. Thus Ana is the stepsister of Joyce Ilg.
Mother Gina Johnson
Brother Marius Johnson
Stepfather Manni
stepsister Joyce Ilg
Beauty Queen Ana – Make Up for strong women
Many of her followers want to keep up to date with what Ana is trying out and learning about beauty. Fortunately, she publishes helpful videos for you again and again, explains to you what is important with her looks and how you implement them. She herself makes a lot of effort to create an extravagant but natural make-up. Ana regularly cooperates with beauty brands, creates creative advertising campaigns and recommends her favourite products. She likes to use natural products because she doesn't want too much chemistry in her face – very reasonable as we think. Again and again she presents herself to her fans without make-up to show that even a beauty queen like her is not perfect and not every woman has to have the perfect lips to be beautiful.
Anajohnson – Fit without equipment
The pretty blonde has a body many could only dream of. Ana has also been training in the gym for several years now. In this video you'll get instructions on how to do your workout at home without any fitness equipment. Belly, legs and bottom are the focus in her program and she does many sentences with many repetitions, which is typical for a women's workout. If you want to be inspired or motivated to get closer to the perfect female body, we recommend you watch her workout.
Onlineshop, Pets & Own Book – F&Q
Where does Anajohnson live?
Ana and her husband Tim Johnson currently live in Cologne, a city with over a million inhabitants on the Rhine. She was born in Cologne and grew up in the popular Ehrenfeld district.
Was Anajohnson seen on RTL II?
Yes, at the Vlog series Daily Cologne she could be seen together with her friend Tim Johnson Black from January to May 2017. Her best friend Carmen Mercedes and the actor Jimi Blue Ochsenknecht could also be seen in the series. In addition to filming, she completed her studies in childhood education.
Ana published her first book in 2019. Inspire Yourself, is a creative everyday companion in which many inspiring Do It Yourself ideas are written down and illustrated. Whether you're looking for something tasty to cook or if you want to make something new, this book will give you a good idea.
Onlineshop – Does Ana have own products?
She's got an online store with a whole catalog of filters for your pictures. No matter if you want your pictures to have a colorful everyday look or if you need loud presets for a still picture, Ana has thought of all situations in which you can use a prefabricated filter well.
What did Anajohnson do before her career as an influencer?
Before her career as an influencer, Ana trained as an educator and then studied educational pedagogy. During her studies she got a role in a blogger series with only 5.000 followers at that time. Soon her number of followers increased and the opportunity arose for her to build up her online presence to such an extent that she can now make a living from it.
How does Anajohnson make herself up ?
Hardly any man looks perfect by nature. Influencer Anajohnsen is also not flawless, although the blonde beauty often looks that way. When she gets out of bed in the morning she is not quite as perfect as you usually see her. If you want to see what measures Ana takes to make herself up in a natural way, the video is just right for you.
Pets and Anajohnson – what is there to know?
Ana loves animals, already has some experience with various pets and wishes to have animal roommates again in the future. Her list of pets so far is long: she already had bertagams – an Australian lizard species, gerbils and fish… In the future she wants to buy a dog, because the four-legged friends are now her absolute love animals.
Influencer like…
https://fivmagazine.com/wp-content/uploads/2019/11/anajohnson-freund-influencer-fashion-beauty.jpg
700
1200
Stephan
/wp-content/uploads/2023/08/fiv-magazine-logo-news-influencer-fashion-interior-travel-real-esates.svg
Stephan
2019-11-11 07:00:47
2020-11-11 11:58:43
Anajohnson: make up, wedding, first book and much more