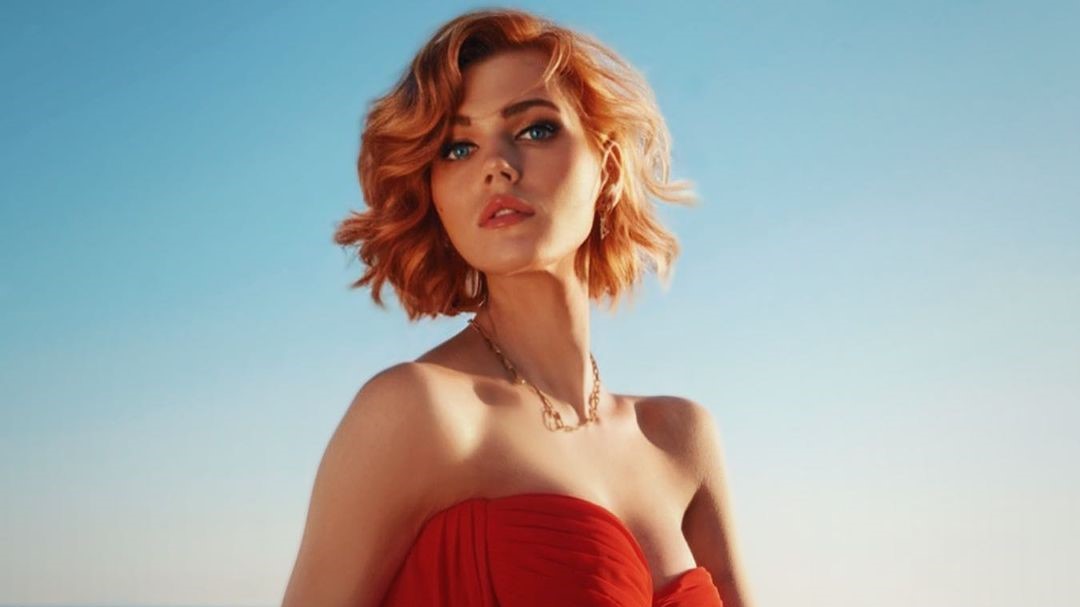 Lucy Hellenbrecht Interview: GNTM Tips, Unrealistic Beauty Ideals
Lucy Hellenbrecht Interview- Most people know Lucy from Germany's Next Topmodel. She participated in the 15th season. Since her participation in the casting show, a lot has already happened in her life. The model travels a lot for her shoots. Lucy told us a lot about her life after GNTM. Also, in this interview you will learn what Lucy thinks about the pressure on social media and social problems, such as unrealistic beauty ideals.
FIV: You have a great reach on social media. With that notoriety comes both positive and negative aspects. Criticism, among other things. How great is the pressure in the business to always be "perfect"? What's the best way to deal with it?
Lucy: Most of the time, I don't have the pressure of wanting to be "perfect. I've grown a pretty thick skin by now, so most of it doesn't bother me at all. But of course I have a certain quality standard for myself and my content, and that's why I sometimes get frustrated when I can't implement a concept as well as I'd like or when something I've put a lot of effort into doesn't go down so well. You still have days when it gets a little bit closer to you.
Social problems: Unrealistic beauty ideals
FIV: You also deal with social problems such as unrealistic beauty ideals. How important do you think it is that these are addressed?
Lucy: I think everyone has different problems that they struggle with in everyday life, and people on social media or in the public eye in particular should use their platform to address problems that they also struggle with themselves. That's why it's natural for me to use my reach to address things that have happened to me personally.
So different are beauty ideals for men and women
I had to learn very early on what is required of you if you want to be seen as a "real" man, and how it is the other way around when you suddenly have to come to terms with how women are supposed to look and how women are supposed to behave. And the problems definitely didn't subside when I started being active on social media.
How GNTM has changed Lucy's life
FIV: You owe your fame to GNTM, among other things. You took part in the penultimate season of GNTM and came 16th. Since then, you've been a successful model and active on social media. How has your life changed since you took part in GNTM?
Lucy: GNTM gave me my current life, so to speak.
It was only through this show alone that I got into the industry I'm in now, and luckily I found my dream job through it. I love being a model and I love being in the public eye. Of course, it also has negative sides, but I am infinitely grateful and love my life as it currently is.
Tips for participation in GNTM
FIV: Soon the new season of GNTM will start, what tips do you have for the aspiring candidates?
Lucy: What always helped me personally back then was the thought that I should just accept everything as it comes. No matter what challenges you're faced with, you shouldn't get in the way, but be open to them and simply accept the challenge.
What Lucy has planned for the future
FIV: Finally, a quick look into the future, we are curious what you have planned in the near future: Do you have big plans like a move or something similar or is there something special coming up? Give us a little teaser of what your fans and followers can look forward to in the near future!
Lucy: I don't want to go out on a limb, but I think 2022 will be an extremely good year for me. I already have projects lined up that are completely new to me, and that will open up completely different possibilities for me. For one project I will also change my place of residence in 2022. I don't know where I'll move to after that, but I don't think I'll be moving back to Kassel. It remains exciting!
More about Germany's Next Topmodel
Did you like the interview with Luca? Then read more interviews with former GNTM contestants here.
Interview with Jana Heinisch: Radio show & model career
Jana Heinisch is a true multi-talent: Since her participation in the 9th season of GNTM, the red-haired beauty is not only a model, but also works as a radio host and is a pilot. In the interview with us, Jana talks about her career as a stewardess and pilot, reveals her dream travel destination and talks about her radio show and her own podcast. Jana also talks exclusively to us about her participation in GNTM, her modeling career and her plans for the future.

Interview with Luca Angelina Vanak: Modeling & Future
Many know Luca from GNTM. She participated in the 16th season of Germany's Next Topmodel and reached the 8th place. In this interview Luca tells us a lot about her exciting time at the casting show and gives some tips for future GNTM participants. Luca reveals how she got into modeling, whether modeling is her dream job and how she manages to successfully study journalism alongside her modeling career. In addition, you will learn in this interview what Luca has planned for the near future.

https://fivmagazine.com/wp-content/uploads/2021/12/lucy-hellenbrecht-model-pose-strand-kleid-rot.jpg
607
1080
Caren
/wp-content/uploads/2020/07/fiv-magazine-news-instagram-youtube-tiktok-influencer-fashion-interior-jewelry-real-estate-tips-help-logo.png
Caren
2022-01-17 12:33:40
2022-02-26 17:29:25
Lucy Hellenbrecht Interview: GNTM Tips, Unrealistic Beauty Ideals