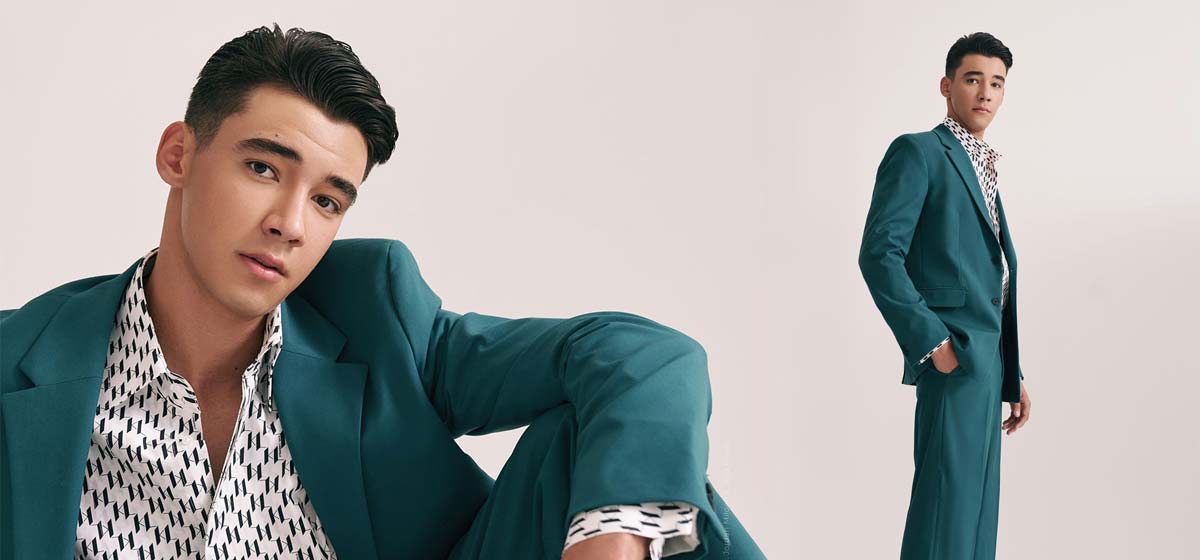 San Diego Pooth: Golfer, Model, Life & Training in the Sunshine State Florida (USA)
San Diego Pooth – golf talent, model, life in the USA! Who doesn't dream of this when he is just 18 years old? San Diego Pooth is pursuing his big dream of becoming a professional golfer, now no longer in his home country in Germany, but in the USA at Saddlebrook Academy. Now Diego Pooth is also on the cover of FIV Magazine #26, but who is Diego Pooth anyway? Here's a look at one of Germany's newcomers.
San Diego Pooth: Model Newcomer
San Diego Pooth has just signed his first modeling contract with Elite Models, where Kendall Jenner and Naomi Campbell are also under contract. Now, the first cover shoot, What's Next?! Learn more about
San Diego Pooth Interview

In the past it was boxing and martial arts, but today San Diego prefers to invest his time in golf, high school and modeling. Even at a young age, Diego was on red carpets thanks to his successful parents Verona Pooth, entertainer and former model, and father Franjo Pooth, successful entrepreneur. So it stands to reason that he, too, would aspire to a career in the public eye.
Whether SAT1, VOX or RTL, he was already actively seen on German television at the age of 15, mostly together with his mother. But one thing in particular distinguishes him, he does not behave, unlike others, like a star, so that Verona can proudly tell about him, how down-to-earth, uncomplicated and free of vanity he actually is. This makes Diego one of the newcomers in Germany, like Leni Klum, for example, who is working on her own career in an equally thoughtful and strategic way.


FragranceTip.com by FIV
FIV Cover Issue #26

Sports: Future as a golf pro
This can also be seen in his current life. In contrast to his initial plans, the boy is not studying business in London, but would like to become a professional golfer, just like his great role model Tiger Woods. He is now pursuing this dream in Miami, where he is trying to earn a golf scholarship in order to become as independent from his parents as possible.
But his affinity for sports didn't come from just anywhere. San Diego started boxing and martial arts at the age of six and was already successful there. Then he discovered golf for himself and, in addition to his daily 6-hour sessions on the golf course, went diligently to the gym. This diligence and ambition definitely shows.
For this, San Diego lives and learns in Tampa, Florida!
Great opportunities in the modeling world
So that he can afford the sport and his new life in the USA, Diego would also like to earn money with modeling. He has also already made his first contacts in the fashion world.
San Diego's first commercial for SKY (2020):
Now, however, his goals are bigger. He was already able to convince the model agency Elite, where models such as Kendall Jenner and Naomi Campbell are under contract. In Europe, he is under contract with CM Models. All this in the course of the year.
Frequently Asked Questions & Answers: San Diego
All the facts about San Diego Pooth!
Male model
Golfers
Girlfriend
Family
School
Social media
Model: In which model agency is San Diego?
San Diego Pooth signed his first modeling contract in 2022 with Elite Models (USA, Miami) and 3 months later with CM Models (Europe, Germany).
Model management:
Size: how tall is Diego?
In his model agency, San Diego is listed at 193 cm, making him one of the taller male models.
Golf: San Diego's "great love"?
As you'll learn in our interview with San Diego Pooth, he has a busy schedule in Florida! He is currently training at Elite Academy Saddlebrook, where he is also graduating from high school. The Academy was founded by over 40 years and trains in a variety of sports: In addition to golf, tennis, baseball, basketball, lacrosse, soccer, American soccer, track and cross country.
Girlfriend: Does San Diego have a crush?
Neither on Instagram nor on TikTok there is currently a girlfriend. San Diego seems to be fully focused on high school and his sport at the moment.
Family: What are the names of his parents?
San Diego's parents are both entrepreneurs. Verona Pooth (mother) is well-known in the entertainment sector, was herself a model, presenter and much-booked advertising face for major campaigns. Franjo Pooth (father) used to manufacture MP3 players (the predecessor to Spotify & Co.) and is currently building up the"Pacific Healthcare" brand, for which his wife has also appeared as a model in front of the camera.
Brother: What is San Diego's little brother's name?
San Diego has a little brother. His name is Rocco Ernesto Pooth.
Rocco Ernesto Pooth (brother)
The whole Pooth Family:
Check out this post on Instagram
Birthday: When was San Diego born?
San Diego was born in early fall, September 10, 2003.
School Graduation: What is San Diego's high school graduation rate?
Diego is currently graduating from high school atSaddlebrook Academy.
Residence: Where does San Diego live?
At the moment San Diego is at home in 2 places. His home is Düsseldorf, or rather the surrounding area, where he lives with his parents. His second adopted home is the USA, more precisely the location of the Academy, near Tampa / Miami.
Near Düsseldorf
Near Tampa
Instagram: Golf, Fitness, USA
Diego prefers to post on Instagram, mostly about his passion, sports and golf.
Check out this post on Instagram
TikTok: More video content from Diego?
San Diego is not that active on TikTok yet, but you can follow him here:
Wikipedia: How do I find it on Wikipedia?
There is no Wikipedia entry about San Diego Pooth yet.
Interview, cover + photo gallery
Which three people would you like to invite to a round of golf? You now train at Saddlebrook Academy in Florida, what do you like so much about living in the Sunshine State of the USA? Read the whole interview here:
Here you can find the new cover and the photo series with San Diego Pooth:

https://fivmagazine.com/wp-content/uploads/2022/09/interview-san-diego-pooth-golf-lernen-miami-reise-magazin-cover.jpg
560
1200
Lisa-Marie
/wp-content/uploads/2023/08/fiv-magazine-logo-news-influencer-fashion-interior-travel-real-esates.svg
Lisa-Marie
2022-09-01 16:02:06
2022-09-03 15:51:48
San Diego Pooth: Golfer, Model, Life & Training in the Sunshine State Florida (USA)