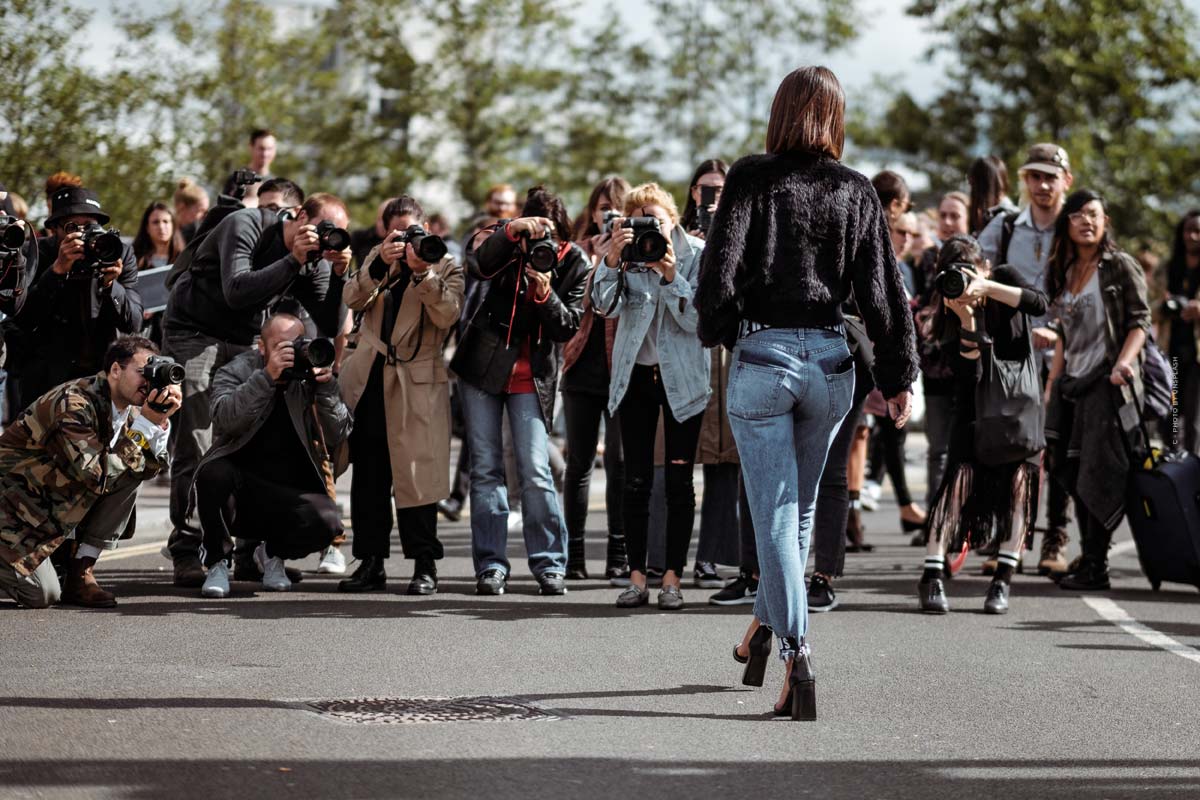 Kendall Jenner: Supermodel, Family & TV Star
She comes from one of the most successful, famous and scandalous families in the world. Among her successful sister she is one of them. Kendall Jenner has become a supermodel and self-made millionaire with her 1.79 m and her perfect model figure. She quickly acquired catwalks for designer brands and became one of the most successful supermodels.
Kendall's childhood in the spotlight
Kendall Jenner, together with her younger sister Kylie Jenner, is one of the most famous celebrities in the world. She became famous through the reality tv show "Keeping up with the Kardashians". But Jenner was just 12 years old. Together with her parents Kris Jenner and Bruce Jenner, today also Caitlyn Jenner, and her half-sisters Kourtney, Khloe, Kim and half-brother Rob Kardashian, they film their crazy and successful lives. At the age of 14, Kendall starts modeling. Even as a small child her bigger half-sisters were a role model for her. She saw that her siblings and parents were workaholics and therefore she was quite grown up already in childhood.
The Tv series was first released in 2007. Meanwhile the show has already 19 seasons. The idea was born when Bruce Jenner filmed his success and the end of his career. He released the show "The Secret of my Life". Kris had the idea to create her own show.
"The house is flooded with puberty and young adult and two parents with very different styles, it seems to me that it is something for television"
Kim Kardashian was already known to the public before the TV show. She was the personal assistant for Paris Hilton. Through a scandalous video with singer Ray J, the series " Keeping Up with the Kardashian" went through the roof. Will there be more families like the Kardashians in the future? This is possible with virtual models. Learn more here.
beginning of a model career
Despite the rising celebrity, Kendall decides to graduate from Sierra Canyon School. She was a cheerleader there until she decided to go to homeschooling and graduated. At the age of 14 and with a height of 1.79 m she was made for the catwalk. She got a contract with Wilhemina Models and got her first job at Forever 21. In 2013 Kendall changed to the agency " The Society Managment" and got there many numerous assignments. She ran for Sherri Hill and in 2012 for New York Fashion Week. In 2013, she was nominated and won the Teen Choice Awards, in the category Choice TV Realty Star: Female nominated, which she also won.
2015 Teen Choice Awards: Choice Model
2015 IADAS Lovie Awards: Internet Video- Viral Video
2016 Teen Choice Awards: Choice Model und Choice Female Hottie
2017 Teen Choice Awards: Choice Model
2017 Fashion Icon of the Decade
2018 Revolve Awards: Icon of the Year
2014 successful year
2014 was one of the most successful years for the young model. She presented the new collection of Marc Jacobs on the catwalk. Immediately afterwards, it will run for Givenchy and Chanel in Paris. She had the honor of being chosen by Karl Lagerfeld to run for Chanel in Paris. Kendall was mostly seen on two covers of Teen Vogue. By the end of the year she was running at New York Fashion Week for Donna Karan, Diane von Fürstenberg, Tommy Hilfiger and Marc Jacobs. At the Milan Fashion Week she ran for Dolce & Gabbana, among others. In November 2014 Kendall was commissioned to run for the famous Victoria Secret Show. However, she decided against it and cancelled this job. She decided to run together with Cara Delevingne at Chanel Metiers D`Art Fashion Show, in Salzburg. In 2016, however, she ran with Gigi Hadid in the Victoria Secret Show, in which she participated for 3 years in a row. Kendall became the new face of the famous cosmetics brand, Estee Lauder. The brand gained many new followers and increased its fanbase. At the end of the year the model was added to the top 50 list of Models.com. She owes her numerous jobs to her changeability, nothing is too bad for her and she is open for many new things. This year she proved that she is independent from her family and can stand on her own feet. A role model for every young woman!
Other successful years
In summer 2015, the siblings will also design a collection for Topshop. In 2016 she got her own wax figure in Madame Tussauds. Also this year the successful model ran for many different and well-known brands among others: Chanel, Vera Wang, Micheal Kors, Fendi, Versace, and many more. She appeared on the front pages of Vogue Brazil, W Korea, LOVE, and Harper's Bazaar. She also received many collaborations with Mango, Calvin Klein, and Denimlab. She became brand ambassador for Adidas. In 2018 she was listed by Forbes as one of the top highest-paid models. Kendall Jenner launched a fashion collection called PacSun together with her younger sister, Kylie Jenner. She was crowned by FHM as the second sexiest woman in the world.
Instagram
Kendall Jenner is under Taylor Swift, with her 134 million followers the second most followed account on Instagram. The self-made millionaire is one of the top earners on Instagram. She gets 547,000 Euros per mail.
Kendall Jenners Charity Actions
Besides "Keeping Up with the Kardashians" and her model career, she supports various charity projects. She sold her own clothes on Ebay and donated the proceeds to the children's hospital in Los Angeles. She focuses especially on the topics of children's rights and the fight against Aids. On her 22nd birthday she started a charity for clean water in poor countries. She collected $67,796. Together with her half-sister, Khloe Kardashian, they left their glamorous life to clean the beach with an organization. In the process they also got their hands dirty.
Love life of the Jenner
Although she is always in the public eye, her love life remains mysterious. Much of her love life she does not reveal. However, speculation and rumors have been circulating. Does the supermodel have a thing with Justin Bieber? The current husband of her best friend Hailey Bieber? Or did she have something with Lewis Hamilton? Or were there more sparks between her and rapper ASAP Rocky? We will probably never know. But what we do know is that she was together with singer Harry Styles in 2013 and they are still good friends to this day. Until 2019 she also had an on-off affair with NBA star Ben Simmons. The 23 year old is currently very happy with what she has. However, the second youngest sister is the only one in the family who has no children yet. Kourtney Kardsashian has 3 children together with her ex-boyfriend Scott Disick. Kim Kardashian West has 4 children together with the rapper Kanye West. Khloe Kardashian has her little daughter Dream and Kylie has her little Stormi. Kendall Jenner has 18 nieces and nephews from her half siblings and sister.
Influencer Marketing
Was Kim's scandal video the key to success? No, there is another way. Namely through good influencer marketing. well networked influencers can be very valuable for a company. With influencer marketing, companies wanted to achieve the greatest possible reach. They want to increase their awareness and get more likes and comments and sell a product, service or brand as good as possible. Would you like to learn more about it? Then click here: Virtual Influencer/ Models /Avatars: Social Media Marketing Strategy
Will virtual models replace the Kardashians?
Anything is possible in the future The 3D avatars bring a big advantage for companies: They are timeless! They can be changed individually and adapt to the brand image. For a Social Media Agtenur this is of course a catcher. The model can be directly available at a specific location. And doesn't have to sit in the plane first. The other advantages of a virtual Influencer can be found here: Advantages at a glance
https://fivmagazine.com/wp-content/uploads/2020/09/kendall-jenner-kardashians-familie-erfolg-tv-show-model-jung-kylie-jenner.jpg
800
1200
Lisa-Marie
/wp-content/uploads/2020/07/fiv-magazine-news-instagram-youtube-tiktok-influencer-fashion-interior-jewelry-real-estate-tips-help-logo.png
Lisa-Marie
2020-09-22 10:14:47
2021-07-08 11:39:23
Kendall Jenner: Supermodel, Family & TV Star