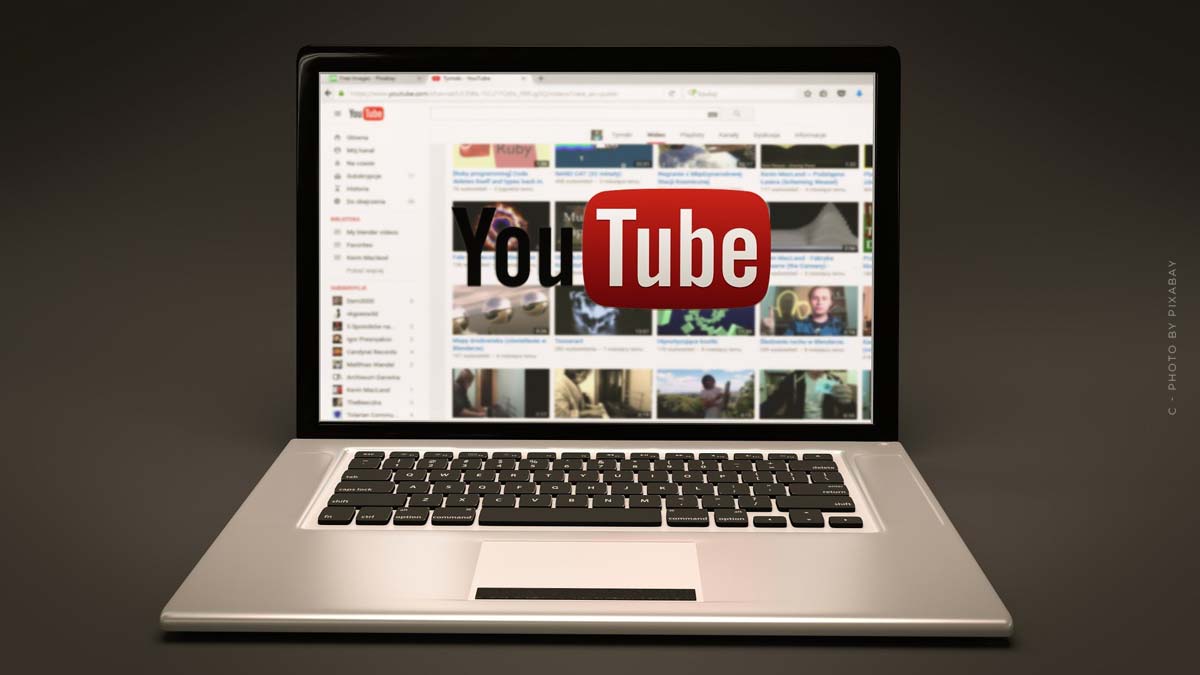 Social Media: Growth, Ranking & Video Charts
Social media networks over time: which social network is the biggest in the world? Here you can see the evolution of social networks over time and the top players in the world from MySpace, YouTube, Facebook, Twitter, Instagram to TikTok. There are now over 3 billion people active on social networks. They are successful, they have the biggest data trove in the world and people love to spend time in the apps.
Social Media: Hypes on YouTube, TikTok, Instagram
Who of us doesn't know them: short clips with concise choreographies that are easy to remember. Young girls with virtual flower crowns on their heads and the old familiar beeping of the mobile phone, followed by the notification of a new comment or like. It's impossible to imagine our daily lives without social media. While it's normal for 21st century kids to talk about the new trends on TikTok and the like on a daily basis, grandma and grandpa continue to struggle to understand the difference between a follower and a like. Scientists discuss the effects of daily social media use on TV as much as ever, and … How can we forget them here: Those who earn thousands of euros daily with outfit posts and selfies as influencers.
Even though social media is nothing new for us anymore, it's still worth taking a close look at the numbers. Who is actually using it all this way? Who benefits from it? And how did it all actually happen? So, from typewriters to butterfly filters on your face?


Germany - Spain - USA
Tip. After the video you will learn more about the history, the most popular platforms and important know-how for every future influencer!
Social media growth since the beginning of the internet – Video
Who were the first the first social networks? And who tops the list today? Find out here in the video:
History: Fall & Rise of Giants
Before we start throwing numbers and statistics at you, let's rewind a few years. It all started with the post-war years at the end of the 1940s. At that time, the first computers were created, but were not accessible to everyday users. First, the machinery of the computer apparatus had to be worked on until the Internet could finally be used.
It all started with CompuServe
The history of social media as we know it today goes back to 1969. Following the first technological advances in computing, the US internet service CompuServe was launched. Private households still did not have their own computers at home, but CompuServe made it possible to rent computing time. Companies in particular made use of it for their digital accounting and the first primitive form of e-mail was created.
Ten years later, the invention of UserNet now allowed users to create and send virtual newsletters, articles and posts in newsgroups.
Shortly after, the first home computers with social media as we know it today were made available to the public.
The first Internet service was CompuServe
Mainly used commercially
UserNet was the first form of e-mail
Great competition with GENie
Another revolution in the history of social media took place in 1985: Bill Louden, former product manager at CompuServe, founded his own online provider GENie. As an ASCII text-based service, it now represented the first commercial competition for the giant CompuServe. Popularity grew and the user base expanded unexpectedly fast. However, the operators at the time insisted they did not want to expand GENie. This eventually led to the demise of the platform, which even in the 1990s continued to be so popular that it still had 350,000 users.
GENie enters the market as a rival to CompuServe
Had 350,000 users in the 1990s
Could not prevail, however
E-mail revolution
The first program for mailing list management was created: ListServ. Developed in 1986 by Eric Thomas, it could initially only be used on the American online network BITNET. Later it was made available for other platforms as well. To this day, ListServ endures and manages nearly 400,000 mailing lists worldwide.
Don't forget: Today it is normal for us to reach several people with only one mail, but back then this was revolutionary!
Humanity begins to chat
After the official launch of the World Wide Web at the end of the 1980s, the first chat room was created. Starting in 1994, The Palace allowed its users to contact each other in several graphical chatroom servers, the so-called Palaces. Each user was given a graphical avatar and could send messages to the other avatars against a graphical background. Similar to ListServ, this program is still in use today, and enjoyed high popularity thanks to the Nu Metal band KORN, especially in the early 2000s.
The Palace is the first online chat room in history
Enjoyed great popularity in the early 2000s
The first social media website as we know it today was Six Degrees – a platform that allowed users to upload profile pictures and contact other users. This allowed people to make friends with each other, join social groups, send messages and see posts on other profiles. The platform was so popular that it was even bought out for a whopping $125 million in 2000. A year later, the website was briefly shut down, but after some renovations, it was relaunched a short time later.
Six Degrees was the first social network
Was bought out for $125 million
But lost popularity
Still online today
How knowledge connects virtually
Shortly after the turn of the millennium, another high point occurred not only in the history of social media, but also in the history of the entire Internet: Wikipedia. Both loved and hated today, it's hard to imagine the internet without the online encyclopedia. Even though Wikipedia isn't usually included in the social media category, we want to mention it here. Why? Because not only is it the first ever online encyclopedia, but also because it allows anyone to add and edit articles.
The history of the first online encyclopedia in the world, you can take a closer look here:
The first all-rounder came from Asia
Contrary to what the name suggests, the Malaysian platform Friendster was not only there to connect people around the world as a social network, but could also be used as a dating site, an event finder, as well as to find new hobbies and bands.
In 2011, Friendster also introduced social gaming, but was taken offline in 2015 due to shrinking user numbers.
Friendster came from Malaysia
Was both dating site and event finder
Was taken offline in 2015
The beginning of the new millennium saw the peak in the history of the colorful social media world. Especially at the beginning of the 2000s, there was a rapid increase in social networks and many a social media giant as we know it today was born:
2003: LinkedIN
2003: MySpace
2003: WordPress
2003: Flickr
2005: Youtube
2006: Facebook
2006: Twitter
2007: Tumblr
2010: Instagram
2010: Pinterest
2012: Vine
2018: TikTok
Today's overwhelming variety of social media outlets has revolutionized our lives. It has not only influenced everyday life as we know it, but completely turned it upside down. New professions have been born, entire sciences have been developed, and interpersonal communication has been transformed. Businesses today almost ceased to function without social media marketing and traditional media such as the newspaper and magazine are threatened with extinction.

More detailed information about the development of social media in Germany can be found here.
Social Media Giants of the Modern Era: Diverse & Innovative
Almost every day new portals and platforms are born in the field of social media, of which only a few really last long. We have summarized some of those that have made it into the Hall of Fame of networks here.
The now rather unknown MySpace is considered one of the most popular social media platforms ever. Unlike Facebook, MySpace allowed its users to completely customize their profile – from background photos, apps, layouts to adding music and videos. Despite its subsequent fall due to the launch of Facebook, MySpace had immense influence on the music industry and pop culture of the early 2000s. Users were able to download some of American pop singer Hilary Duff's songs for free, rock bands released previews of their new albums that only MySpace users could hear, and entire television careers, like that of reality TV icon Tila Tequila, were born here.
However, the fall of the Internet platform came just as quickly as its hype. User numbers grew, but were overtaken by Facebook in 2008, the first victims of cyber-bullying took their own lives and management positions did not know how to deal with the growing pressure. Bad investments and mass layoffs of employees eventually led to MySpace's demise.
Today, while the site is still active and continues to enjoy active users, it focuses more on the distribution of featured content, news and blog posts.
Foundation: August 2003
CEO: Timothy Vanderhook
Turnover: 109 million USD
Headquarters: Beverly Hills, California, United States
Founders: Thomas Anderson, Chris DeWolfe, Jon Hart
Users: 5 billion active and inactive worldwide
How it came to the turbulent turn in the history of MySpaces and why Friendster could not prevail in the social media jungle, you can find out here in the video:
Facebook: Virtual Friendships & Online Personas
The success of Facebook and its founder Mark Zuckerberg is so explosive that a Hollywood movie has even been dedicated to him. Initially, the online platform's membership was limited to Harvard students in 2006, but was later made available to any internet user over the age of 13 due to its popularity. This allows users to create profiles, share text, photos and videos, and connect with other users worldwide.
As many successes as the internet giant Facebook has had, there have also been just as many scandals. Controversies about the privacy of users' data, political manipulation and negative psychological effects on users have been the subject of extensive media coverage for years. To this day, critic voices persist, but Facebook continues to enjoy terrific numbers. For example, it is still considered the most downloaded mobile app of the 2010s.
Foundation: February 2004
Headquarters: Menlo Park, California, United States
Turnover: USD 70.7 billion
Founders: Mark Zuckerberg, Andrew McCollum, Eduardo Saverin, Dustin Moskovitz, Chris Hughes
Users: More than 2.5 trillion worldwide
Instagram: Models, Influencers and Brand Deals
Also on the list of most downloaded mobile apps of the modern era, is the American app Instagram. Compared to Facebook and MySpace, it is a pure photo and video sharing service and is mainly used on mobile phones. The app allows its users to edit and share photos, comment on them, and tag and location them. Sharing stories that disappear after 24 hours is also one of the most popular features.
The record for the most followed person is held by footballer Christiano Ronaldo with 218 million followers. The record for most popular woman is held by pop singer Ariana Grande with 184 million followers. The most liked photo is that of an egg, uploaded by the account @world_record_egg. The sole purpose of the photo was to break the previous record for most liked photo. This was previously held by reality TV star and lipstick mogul Kylie Jenner with 18 million likes.
Foundation: October 6, 2010
Headquarters: Menlo Park, California, United States
Turnover: USD 18 billion
Founders: Kevin Systrom and Mike Krieger
Users: More than 500 million worldwide
Tik Tok: Creativity with a musical background
For once, the last social media icon on our list doesn't come from America, but from China. TikTok has been captivating everyone with its short clips since 2018. A successor to the app Musical.ly, it allows users to upload short videos that mainly involve lip syncing popular songs, or short choreographies. It was among the fastest spreading mobile apps in the world shortly after its launch. Similar to MySpace back then, online trends are born here, songs become worldwide hits and just like Instagram and co. this app is also considered a popular marketing tool for many companies.
Foundation: September 2018
Headquarters: Culver City, United States
Turnover: USD 176.9 million
Founder: ByteDance
Users: 800 million worldwide
In order to really grasp the impact that the social media hype has on our lives, it's worth taking a look at the latest figures. We have summarized the share of private users and companies for you here.
Even though the first social media platforms already existed in the 80s, only very few people were drawn to the virtual world of friendships compared to the overall population. With each further development of the platforms, the number of users also grew.
Also crucial: the invention of the smartphone. From 2008 to 2020, social media enjoyed a 70% increase in users. Somehow logical, when we think back to those days. Back in the day, people waiting at the train station were more likely to listen to music on their MP3 players and play the popular Snake Game on their Nokia phones. In comparison: Today, most of us scroll up and down our Instagram feed while waiting for the bus, rather than helping some virtual snakes to feed.
+70% from 2008 to 2020
Here you can see the percentage of social media users in the U.S. population from 2008 to 2020.
2008: 10%
2010: 44%
2015: 70%
2020: 80%

Proportion of companies using it: Advertising and image cultivation
As mentioned earlier, we don't just use social media for the fun of likes and followers. Many companies around the world now have their own online marketing team whose job it is to stay in touch with customers via social media, cultivate the company's image and thus get their products and services out there.
Right at the top is still Facebook, closely followed by Instagram. These portals are popular in the marketing sector not only because of the many features that the company can use for the profile design, but also because of the Google Ads.
LinkedIn is mainly used for recruiting new employees and TikTok is also becoming more and more popular.
Facebook: 94%
Instagram: 76%
LinkedIn: 59%
Twitter: 53%
Here you can see the percentage of businesses using the following social media platforms: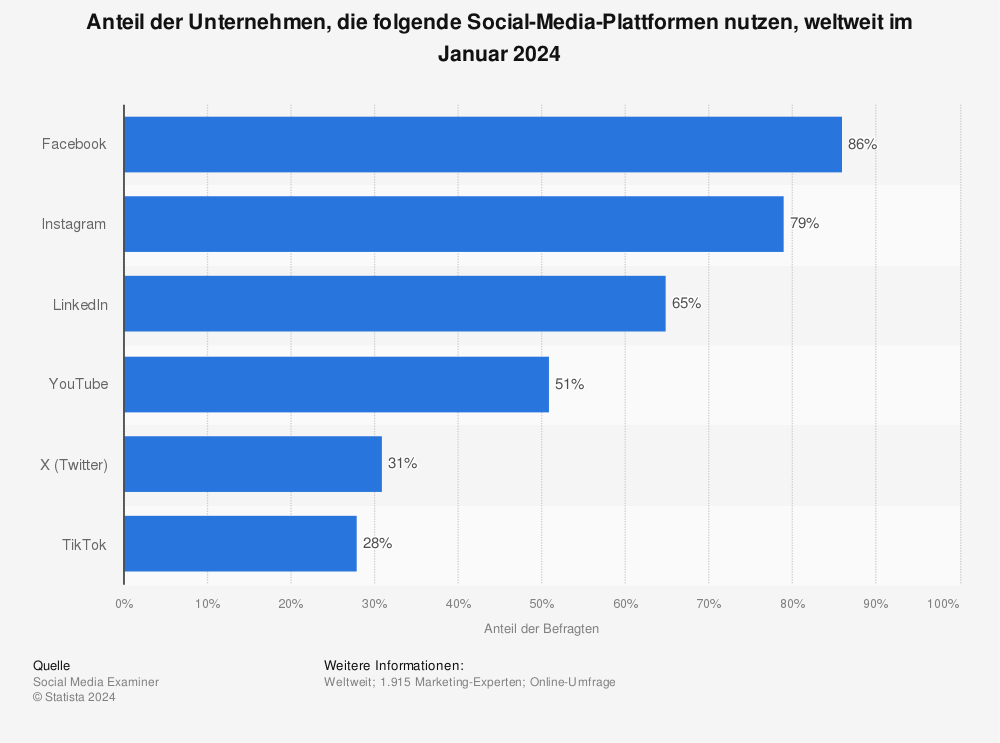 So as you can see, social media plays a huge role in our lives. The social media landscape doesn't just come from anywhere, but has evolved over decades. We at FIV Magazine are definitely excited to see how it all evolves and what trends are born.
https://fivmagazine.com/wp-content/uploads/2020/09/youtube-videos-abonennten-follower-viewer-likes-social-media-computer-notebook-laptop-internet-plattform-streaming-influencer-informationen-ratgeber-tutorials.jpg
675
1200
Laura
/wp-content/uploads/2023/08/fiv-magazine-logo-news-influencer-fashion-interior-travel-real-esates.svg
Laura
2020-01-04 12:56:50
2020-01-04 12:56:50
Social Media: Growth, Ranking & Video Charts