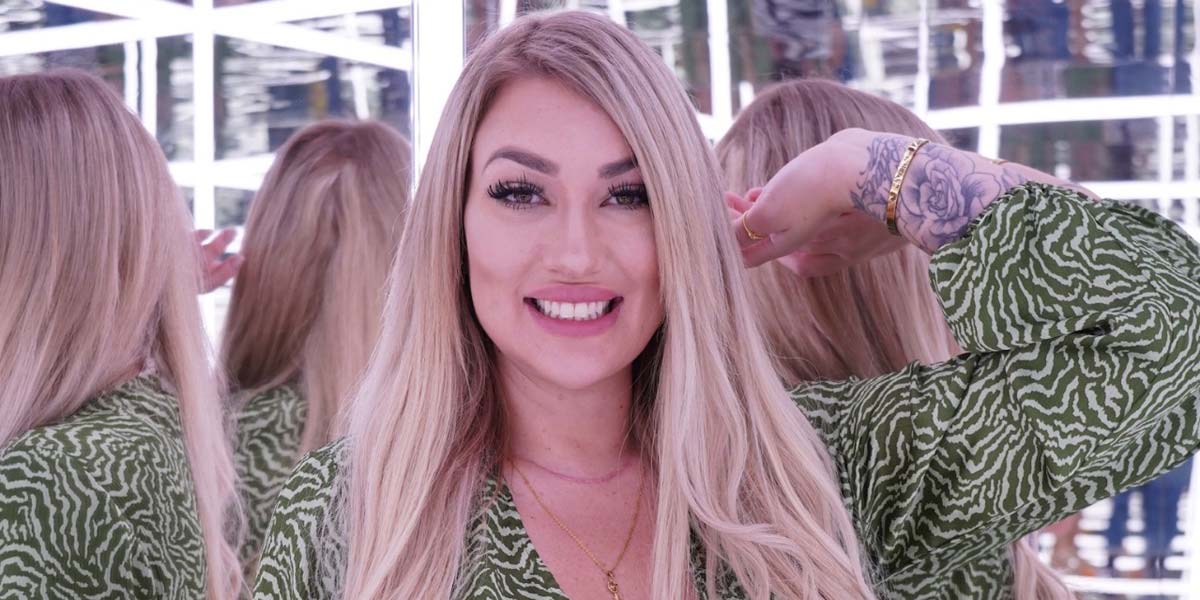 Itsonlyme.julia in interview: About Food Content, Weight Watchers & Plan B
Itsonlyme.julia in interview – On Julia's social media channels Instagram and TikTok you can find delicious and low-calorie recipes for weight loss. In addition to food content, however, she also shares her knockdowns with her nearly 500,000 followers. However, she is not only a food content creator, but also an author, as she has already published four cookbooks with likewise delicious and low-calorie recipes and manages her own weight loss course "Plan B". Find out more about Julia and what she's up to in this interview!
Food Content Creator, Businesswoman & Author
In this interview with our magazine, we talked to Julia about shopping, recipes and Weight Watchers. Julia is a food content creator, so we wondered what her fridge will look like and what she always takes with her when shopping at the supermarket. She also tells us about her signature dish and favorite recipe from her cookbooks. It's hard to believe, but Julia lost over 38kg in just eight months with the help of Weight Watchers. So she shares her experience with Weight Watchers and introduces her books. Last but not least, we talk about tips to deal with precipitation better. All this and more in this interview!
The refrigerator of a food content creator
FIV: Hello dear Julia, thank you very much for taking the time for this interview today. Let's get right into it! One of your passions is cooking. On your social media channels, you share low-calorie recipes that help with weight loss. So we're interested to know if your fridge is rather full or rather empty as a food content creator?
Julia: Well, in the past it was always overcrowded. I always had super many ideas for new creations when shopping, but since last year I pay more attention to what and especially how much I buy. Meanwhile, I plan my recipes, buy only the ingredients I need for the recipe and should something remain over, I create the follow-up recipe.
Shopping in the supermarket: what should not be missing?
FIV: This way you always use everything and don't have to throw anything away! Which foods should not be missing from your supermarket shopping?


FragranceTip.com by FIV
Julia: Seasonal fruit and vegetables. That's always the first thing that ends up in my cart. I'm also always on the lookout for new light products. It's important to make sure that they don't contain more sugar by reducing the fat. There are a lot of shopping traps, because not everything is light – where it says light on it.
Signature dish: 0 points goulash
FIV: Since you're just super into food and the cooking involved, we're interested in what your signature food is?
Julia: In fact, it's a dish. My famous 0 point goulash. I had done Weight Watchers back then and there were 0 points foods. From these 0 points foods I then cooked myself an indescribably delicious goulash, which has been recooked by my community for years.
Julia's experience: Weight Watchers
FIV: With Weight Watchers and without exercise you lost a proud 38 kilos, would you like to summarize your experience with Weight Watchers?
Julia: My biggest hurdle to losing weight was that I always had an excuse why the next Monday would be better to start. One night I was googling for experiences on a gastric balloon and came across Weight Watchers in a forum post. In fact, I only knew about it from my grandparents, but decided to attend a "meeting" as a result. Since I didn't know what was in store for me, I first went shopping for some nice underwear. Unfortunately, with size 52, there is not the nicest selection and I thought I would have to undress there to weigh myself. When I was there it was completely different and I didn't have to undress either. As a participant you count points instead of calories, which was easier for me to start.
The key to my success, however, was that I was weighed and thus had a certain pressure to deliver. I could no longer postpone my weigh-in days, which ensured that I was disciplined and did not cheat.
Books: "Happy Fast Food (Express)"
FIV: In addition to social media, you are also an author and have written two cookbooks "Happy Fast Food" and "Happy Fast Food Express". Would you like to introduce your books to us?
Julia: In fact, there are now 4. I sell two as a guide in my weight loss course. When my weight loss journey began, there was one thing I didn't want to do: go without! But how can you do that if you love fast food and hearty food, and so does your environment? It's simple! I transformed classic fast food recipes by cleverly substituting foods. This makes them much lower in calories and still suitable for the whole family. So you can lose weight without the feeling of constantly having to do without something.
Book publication: duration 6 months
FIV: Oh Wow! What was the process behind publishing the two cookbooks like? How long does it take you to have your cookbook ready in your hands for the first time?
Julia: In fact, the process takes a good 6 months.
Julia's favorite: Blueberry Cheesecake Muffins
FIV: With the publication of your cookbooks and the recipes you post on social media, you certainly have quite a few recipes piled up. Can you tell us your personal favorite recipe from your cookbooks?
Julia: My Blueberry Cheesecake Muffins from Happy Fast Food 2.
Weight loss course plan B, where plan A did not work out
FIV: They sound very tasty! As you mentioned yourself, besides your even 4 cookbooks, you also have your own weight loss course "Plan B". What can our readers imagine under it?
Julia: The course is for all those for whom Plan A did not work. I offer exactly what I was missing when I was overweight. I had the knowledge, but I did not get into the permanent implementation or fell too quickly back into old habits. We (a team of several experts) accompany our participants during the weight loss process. In addition, they receive a success box in which everything is inside that is needed to get started. Meal plans, more than 60 simple and quick recipes, documents to collaborate. At the same time, we take care of them in daily exchange rounds, which take place online. There is always a daily topic, such as metabolism, losing weight with family, beliefs and many more. We offer the course at intervals, but in the long term we want to change to a permanent support, because the demand is very high.
Tips for dealing with precipitation
FIV: Let's get to the last question. In your life you have had to experience a lot of precipitation, yet you never gave up and always kept going. Do you have any tips for our readers on how to better deal with precipitation?
Julia: You just have to imagine a toddler who would just lie down after the first attempt to walk when he falls. There will always be setbacks and setbacks, but in retrospect every setback was also an experience that helped me grow and become better.
FIV: Thank you again for your time! We wish you all the best and much success on your way!
More interviews with content creators
Did you like the interview with Julia? Then read more interviews with content creators here.
Blondbynana in interview: About the acceptance of getting older
Blondbynana or rather Nadine is a content creator on Instagram and TikTok and gained her notoriety by participating in "Big Brother" in 2003. Nadine has one goal: to make hot flashes sexy! She wants to encourage women to accept getting older and live your life the way you want for yourself without listening to what others say. She inspires with her extravagant, provocative style and dress. We talk to Nadine in this interview about her goal to encourage women. On her social media channels she presents herself as an encourager, but what exactly is that? She also answers questions about the fear of getting older and shares tips for you to accept getting older. Furthermore, she tells us about her dream to have her own show and her participation in "Big Brother" in 2003. Nadine likes to dress flashy and extravagant, so we asked her where she always gets her outfits from. She also has big plans for next year, which she tells us a little bit about. All this and more about Nadine you can learn here in this interview!
Franziskaelea in interview: About Riding & Mental Health
Horses, horses, horses! Franziska's passion is riding. Back when she was 11 years old, she discovered riding for herself and today it is a kind of therapy, because some time ago she was diagnosed with Boderline Personality Disorder. She is a content creator and shares a lot of horse content, but also her experiences with her disorder on Instagram and TikTok with her community to encourage others. But not only that! Now she is also an author and from January you can buy Franziska's own book about Borderline on Amazon. In this interview with our magazine, we talked with Franziska about riding and Mental Health. We went with her to the beginnings of her riding career and asked her how she discovered riding for herself and what meaning it has for her today. She also tells us where she buys her riding clothes. Franziska loves spending time with her horse the most, which is why she can be found in the stable every day. She tells us what her daily routine is like there and which must-haves always have to be there. She also talks to us about her borderline diagnosis and how she deals with it. You can find out all this and more here in this interview!
https://fivmagazine.com/wp-content/uploads/2022/12/itsonlemeee.julia-interview-woman-blond-hair-smiling-green-dress-tattoo-on-left-arm-mirrors.jpg
600
1200
Lisa-Marie
/wp-content/uploads/2023/08/fiv-magazine-logo-news-influencer-fashion-interior-travel-real-esates.svg
Lisa-Marie
2023-01-18 12:00:32
2023-01-18 12:00:32
Itsonlyme.julia in interview: About Food Content, Weight Watchers & Plan B