In a few days the Christmas markets begin and the most beautiful time of the year begins. Family gatherings, Christmas shopping for loved ones, and above all good food are the order of the day. Every year we want to eat the same delicacies, either because you associate them with beautiful memories, or because you simply can't get enough of the sweet or hearty delicacies.
Christmas – Food – Trends
We, at FIV Magazine, have put together some of the most popular Christmas food trends for you so that this year you can try some of the things you haven't seen before. From sweet to hearty food, everything is included. We have also collected the famous drinks, which are often served at Christmas markets, for you.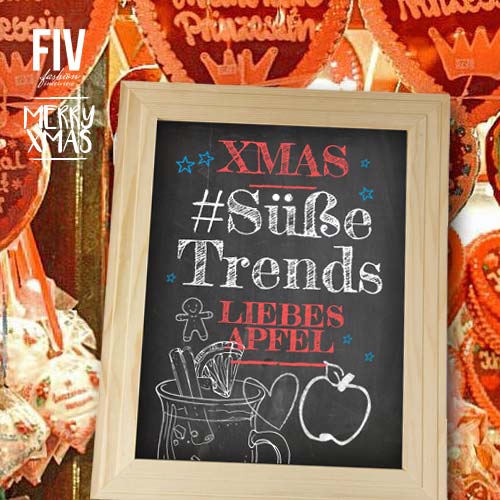 Germany - Spain - USA
Loving Apples
The apples coated with a red sugar icing are very popular not only for Christmas. They are also part of the confectionery for sale at every fair. This incredibly sweet, sticky affair can also be done by yourself in a short time. See this video:
Baked Almonds
Just like the love apple, roasted almonds are popular with most people all year round. The almonds are placed in boiling sugar water and get their delicious caramel crust.  This is also super easy and you can do it very easily.
Maronen
Marrons are a little more special than that. Not everyone can claim to have eaten something like this before. The chestnut is a type of chestnut that can be bought from the end of September until the beginning of the new year. Chestnuts can be processed and prepared in many different ways. It is typical for the Christmas market that chestnuts are sold roasted. Those who want to prepare the treat at home can also consider something special, like preparing a chestnut soup.
Cotton Candy
The famous cotton candy is probably something everyone has tried before. The soft sugar threads are especially popular with children. They are usually available in white, pink and light blue. Even though sugar is the only ingredient needed to prepare cotton candy, the clouds on the wooden sticks always look impressive.
Cinnamon Stars
Around Christmas time, often the first appointments for baking cookies are planned. The recipe of the cinnamon stars for Christmas is used by many people. Juicy on the inside – friable on the outside, that's how they should be. Getting them to do the same thing isn't that easy. Here we have a recipe for you with which you should succeed at home. Cinnamon stars are definitely a must at Christmas!
Crêpes
Crêpes always go. They shall be wafer-thin and soft. Whether hearty or sweet, crêpes are a wonderful snack for in between. At Christmas, the sweet varieties are especially popular. With Nutella, banana or apple sauce with cinnamon, this delicacy brings you into the Christmas mood!
Lard Biscuits
Lard cakes are pastries made from yeast dough that are baked in fat. These delicacies are offered at any festive occasion, such as carnival, carnival, fairs or of course Christmas markets! Those who have never tried them should do so as soon as possible.
Germ Dumplings
Germ dumplings are hemispherical dumplings filled with plum puree and boiled in water. They are usually served with melted butter, vanilla sauce and poppy seed sugar. Germ dumplings are not quite as well-known as other food trends from this article and are definitely worth trying.
Craps
Krapfen, often also known as Berliner, are traditionally eaten on New Year's Eve. They are available with different fillings, such as strawberry jam, orange jam or Nutella. They also consist of a yeast dough, which is fried at the end.
Hearty Trends
Champignons
The famous Christmas market – mushrooms are known by many. Roasted with onions, well seasoned, served with garlic dip and bread, a feast for many visitors.
Grater Cake
Who doesn't know them? The famous potato pancakes. The anticipation as a child was always great when the famous potato pancake was on the menu again. There are countless other names for this snack, but they know most do. Crispy crispy, fried in oil, a must for the Christmas season!
French Fries
French fries are eaten all year round. Whether at the snack bar in between, or in the restaurant as a side dish to the schnitzel, they are usually not considered a highlight. But, if you find the right stalls, you can buy handmade chips at the Christmas market. Crispy on the outside, soft on the inside and a full potato flavour – that's what you get when you find a stand like this. The fries are usually longer and wider, like here in this video:
Sausage
Bratwurst is particularly popular at the Christmas market. Many who go to the Christmas market look forward to their bratwurst and mulled wine the most. Served with a roll and mustard, a dream. It is probably not the best choice of food to lose weight with, but at Christmas time you should treat yourself to something.
Raclette
If you ask your friends or relatives what is on the table at Christmas, raclette, fondue and roast goose with red cabbage are the most common. If you now notice that one of these variants never existed at Christmas before, you should definitely change that. To eat raclette for Christmas, however, you absolutely need a raclette grill and then it can start. Everyone gets a raclette pan, a wooden spatula and can fill his pan with ingredients such as cheese, vegetables, potatoes and fruit. Then you can put the patella in the appropriate place in the raclette grill et Voilà! You can fry the matching meat side dish yourself directly over it on the grill plate.
Fondue
There are many different types of fondue. A distinction is made between meat fondue, cheese fondue and chocolate fondue. The meat and cheese fondue are particularly often taken out at Christmas. Everyone has his or her own fondue fork and can skewer the desired type of meat during a meat fondue and cook it in fat. In cheese fondue, crispy pieces of bread are dipped in melted cheese and simply enjoyed. Try it, it's worth it.
#Trend Drinks
Glühwein
Mulled wine is the drink most often drunk at the Christmas market.  When some think of visiting a Christmas market, they hope for a cosy get-together with friends and drinking mulled wine together.
Apple Punch
Some who don't want to drink alcohol at the Christmas market grab a non-alcoholic apple punch.  It can also be easily prepared by yourself when the family is due to visit and a drink is needed for a cosy get-together in the cold season.
Fire Tongs Punch
Feuerzangenbowle is not to be found on every Christmas market. Nevertheless, it is very popular at Christmas time and you can also prepare it at home. The Feuerzangenbowle consists of rum, red wine and a sugar loaf. The Feuerzangenbowle is seasoned with cinnamon and cloves so that it also tastes Christmassy.
Lumumba
Lumumba is a drink that is also often offered at the Christmas market. But this drink is not as well known as mulled wine. It consists of cold or hot cocoa with a dash of rum and, if you like, whipped cream. If you've had enough of mulled wine, you can try something new this year!
Egg Punch
The egg punch is also popular at the Christmas market. The drink typically consists of egg liqueur, white wine and cinnamon and sugar. This drink could also be a change from the annual mulled wine for you.
We hope FIV could inspire a varied Christmas!
https://fivmagazine.com/wp-content/uploads/2018/12/fiv-weihnachten-food-trends-kekse-liebesapfel-mandeln-herzhaft-süß.jpg
500
1000
Lisa-Marie
/wp-content/uploads/2023/08/fiv-magazine-logo-news-influencer-fashion-interior-travel-real-esates.svg
Lisa-Marie
2018-12-06 17:00:01
2020-11-11 12:25:37
Christmas Food Trends