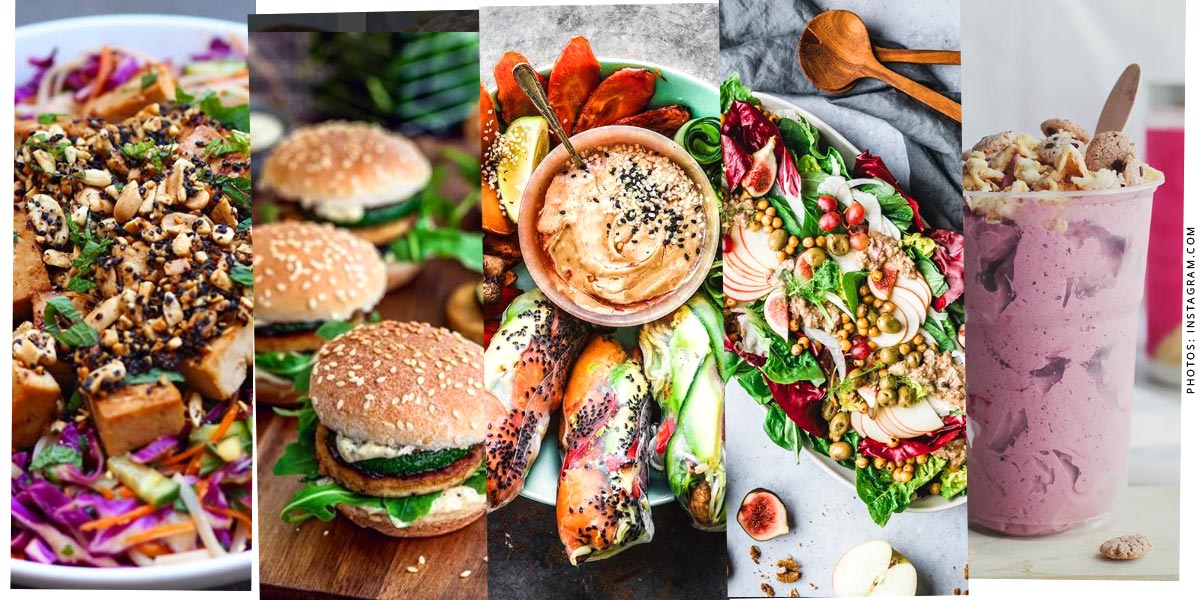 Vegan food in London – delicious!
No matter where you look, in London you will always find something to eat as a vegan. No matter if you like to eat healthy smoothies, bowls and salads or if you love to let off steam with all unhealthy things that are not vegan, in London you will find everything. Not as in Germany the usual French fries with ketchup but burgers, sandwiches, smoothies and above all vegan cakes or donuts. A paradise I find. Here are some of my absolute favorites I can recommend to you again and again.
Zizzi – A vegan restaurant
This restaurant is an Italian restaurant – completely vegan! Yes, you've read correctly. Pasta dishes, cheese pizza, ice cream. Anything that makes our vegan heart beat faster. And one of the delicious Italian wines tastes a little bit better.
The Diner
This restaurant makes you think you're in Riverdale. Arranged like a typical American diner with red sitting bays and neon signs as far as the eye can see. And now the best: really greasy American food BUT vegan! Vegan burgers, pancakes, French fries au gratin with cheese… in any case nothing for the healthy plant based vegan but once really tasty soulfood you can treat yourself!
Yorica – With a refreshment through the day
Vegan Fro-Yo with vegan toppings. What do I have to say about that? Shakes, smoothies and ice cream are also available here.
The Green House
Perfect for breakfast. Here you can find homemade granola made from oats, nuts, cinnamon and fennel, of course British porridge with fruits or avocadotoast.
Nama
Another top address for vegan breakfast: Nama. Here you get vegan scrambled eggs, but not as usual from tofu but from cashew nuts! There are also vegan walnut and mushroom sausages, aubergine bacon, mushrooms and walnut bread. Wraps, Pancakes or Avocadotoast can also be found here.
Farmacy Restaurant
Delicious, healthy food in a wonderful ambience. Vegetarian and vegan dishes without industrial sugar and dairy products.
By Chloe
Known from New York, "By Chloe" has now worked its way as far as London. Delicious sweets like cupcakes or cookies with a soft core compete with vegan Mac and Cheese and as topping there is even vegan bacon. Delicious!!
Vegan Cross – the insider tip
This restaurant is located directly at the King's Cross, for this play on words alone the restaurant is worth a visit. But it's not just tasty food, though. Beside all the unhealthiest vegan junk food you can imagine (hot dogs, wraps, kebabs, particles, cakes, etc.) you can also find vegan clothes here! So the whole project started and now there is even a second store in Bristol.
Tiosk
Here there are many nutritious meals for a quick stop at noon. Salads, homemade bread, soups and grilled mushrooms on toast with avocado are just a few of the delicious things you can order here. Add to this the typical British freshly brewed tea and perfectly strengthened and you can continue to explore the city!
The Hive Wellbeing
At noon healthy juices and smoothies with vegan lunch, in the evening it becomes a tapas bar! I like this concept. Cakes and other sweet things can also be found in this open and bright ambience. But be careful, some dishes contain honey!
Oi Hanoi
Surprise! A Vietnamese restaurant where vegan dishes can be found on the menu. But: a super sweet restaurant with very friendly staff. Good curry, vegetables and tofu. What more could you ask for?
Nama Foods
This restaurant is not only 100% vegan but also raw! There are many different types of pasta here, but they are made from vegetables. In any case a visit for the particularly healthy vegans among us!
https://fivmagazine.com/wp-content/uploads/2018/05/vegan-veggie-food-photography-clean-eating.jpg
600
1200
Lisa-Marie
/wp-content/uploads/2023/08/fiv-magazine-logo-news-influencer-fashion-interior-travel-real-esates.svg
Lisa-Marie
2018-10-28 12:00:25
2020-11-11 12:16:21
Vegan food in London – delicious!